Jonathan Anderson Wants You to DIY Your Loewe
Loewe's Spring 2021 Menswear collection presentation included a downloadable pattern for at-home sewers.
Necessity is the mother of invention, the saying goes. In the past weeks, the current Covid-19 restrictions have forced designers to rethink the way they present their new collections. For Loewe, Jonathan Anderson dispatched a box best described as a "cabinet of curiosities" to editors that broke down all the essential elements of the collection. A pop-up book recreated the set, a spin-yourself record player narrated important elements of the collection, origami cutouts became looks and accessories, and material and fabric samples made the the origami come alive. Included also in the box, was a project for anyone with a hankering for a new quarantine activity: a paper pattern for Look 23 of the collection, a billowing color-blocked tunic with near-universal appeal (the pattern is also available to download on the Loewe website).
Sharing these DIY patterns not only creates a new connection between its future makers and Loewe, it is also a way to highlight the craftsmanship that is at the heart of the Spanish label. (Ok and it's also really fun!) For those of us who can't sew—or once learned but haven't done anything more than sew buttons on coats—watching the process video the label shared on their website, is a way to better connect with the clothes themselves. It's a way to remember that there are people actually making these clothes, that they are responsible for all the little details; the little pleats, and pins, and tucks, that make them so special. The past X-number of months have notoriously encouraged people to learn new skills—we've gone through banana bread, sourdough starters, growing scallions, making jam, and now, making your own clothes.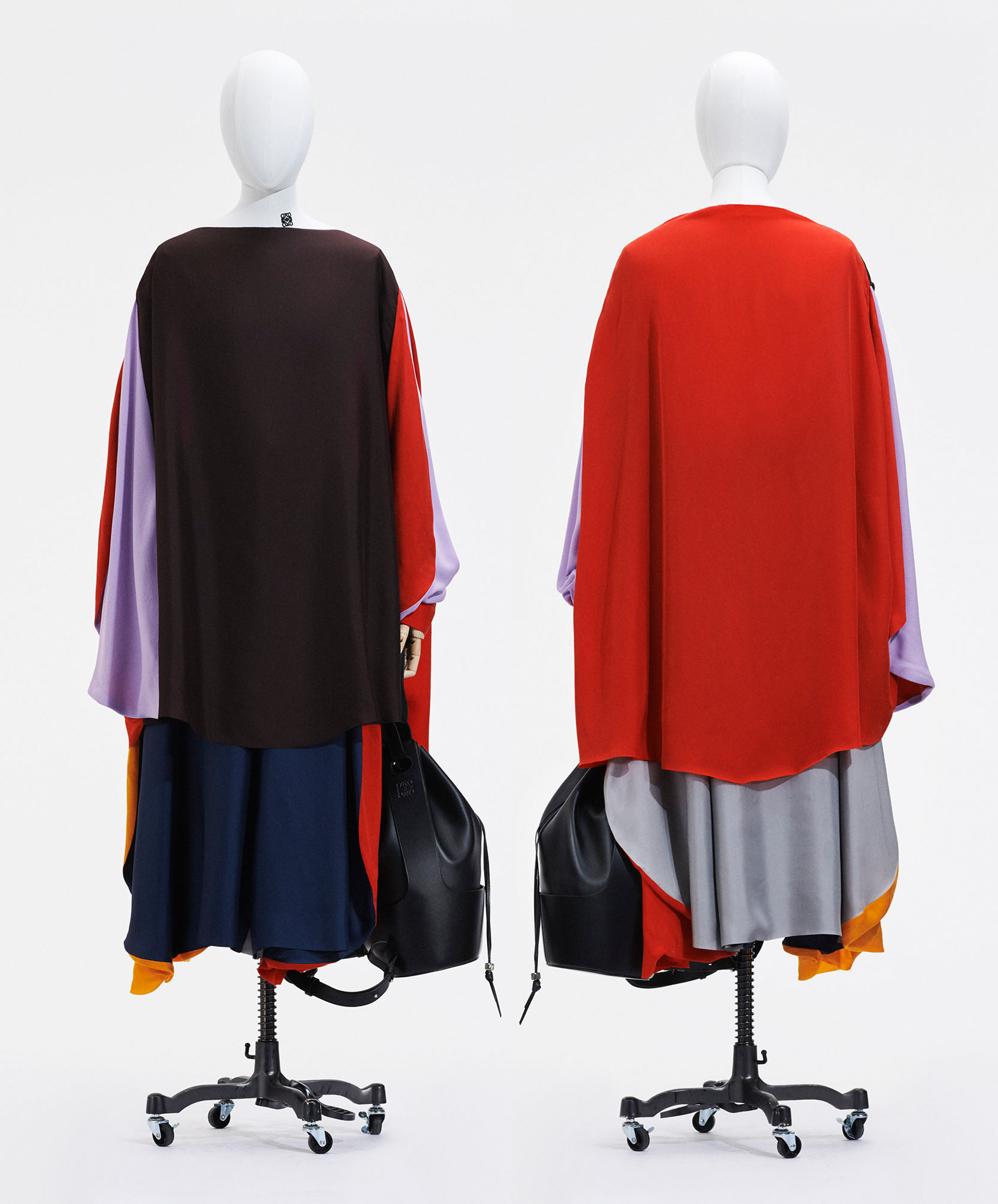 It seems surprising that a designer would want, nay, encourage, people to recreate one of their designs at home, but it's a great example of Loewe recognizing the influence of Gen Z's online habits and culture, and organically making it a part of their brand. Earlier this summer, a colorful knitted cardigan worn by Harry Styles (coincidentally made by Anderson's namesake label J.W. Anderson) went viral on TikTok after teens started knitting the pattern at home and sharing their results with each other. Soon after, Anderson posted detailed instructions for how to knit the cardigan on the JW Anderson website, adding: "I am so impressed and incredibly humbled by this trend and everyone knitting the cardigan. I really wanted to show our appreciation so we are sharing the pattern with everyone."
We've grown used to capital-F Fashion meaning something very specific—expensive! inaccessible!—but this hasn't always been the case! As recently as 1995, Vogue was in the habit of publishing editorials featuring clothes made from commercially available patterns, both from their own(!!!) Vogue Pattern brand, as well as the classic Butterick. Everything old is new again, and given conversations about sustainability in fashion, it seems not unlikely that fashion would once again pivot to exalting the pleasures of at-home sewing. We're very excited to see Jonathan Anderson, and Loewe, leading the pack.