Are You Ready For Blanket Time?
At Dior, Rick Owens, and more it was all about the blanket as outerwear.
Here is what I like to do at the end of a long day of blogging: wrap myself in a blanket. It could be any blanket, but I usually go for my friend Sarah's scarf, which is the size of a blanket. She moved to London, so when I wrap myself up in said blanket, it is in honor of Sarah and her big move. I never feel particularly chic in my blankets. Usually I feel like a septuagenarian, or someone with a cold. Blanket time is not a social activity. Also, blanket time is usually after I'm done being social for the day. Here's my daily schedule: work, gym, social activity, BLANKET TIME. For fall, however, designers have reimagined blanket time as something that is actually chic and socially acceptable. You could wrap yourself in a blanket and go to a cocktail bar. Negroni and a little plaid blanket? Yes, sir. A gray blanket and some well-tailored trousers at an art opening? Mais oui! A glass of champagne is a known blanket time-enhancer.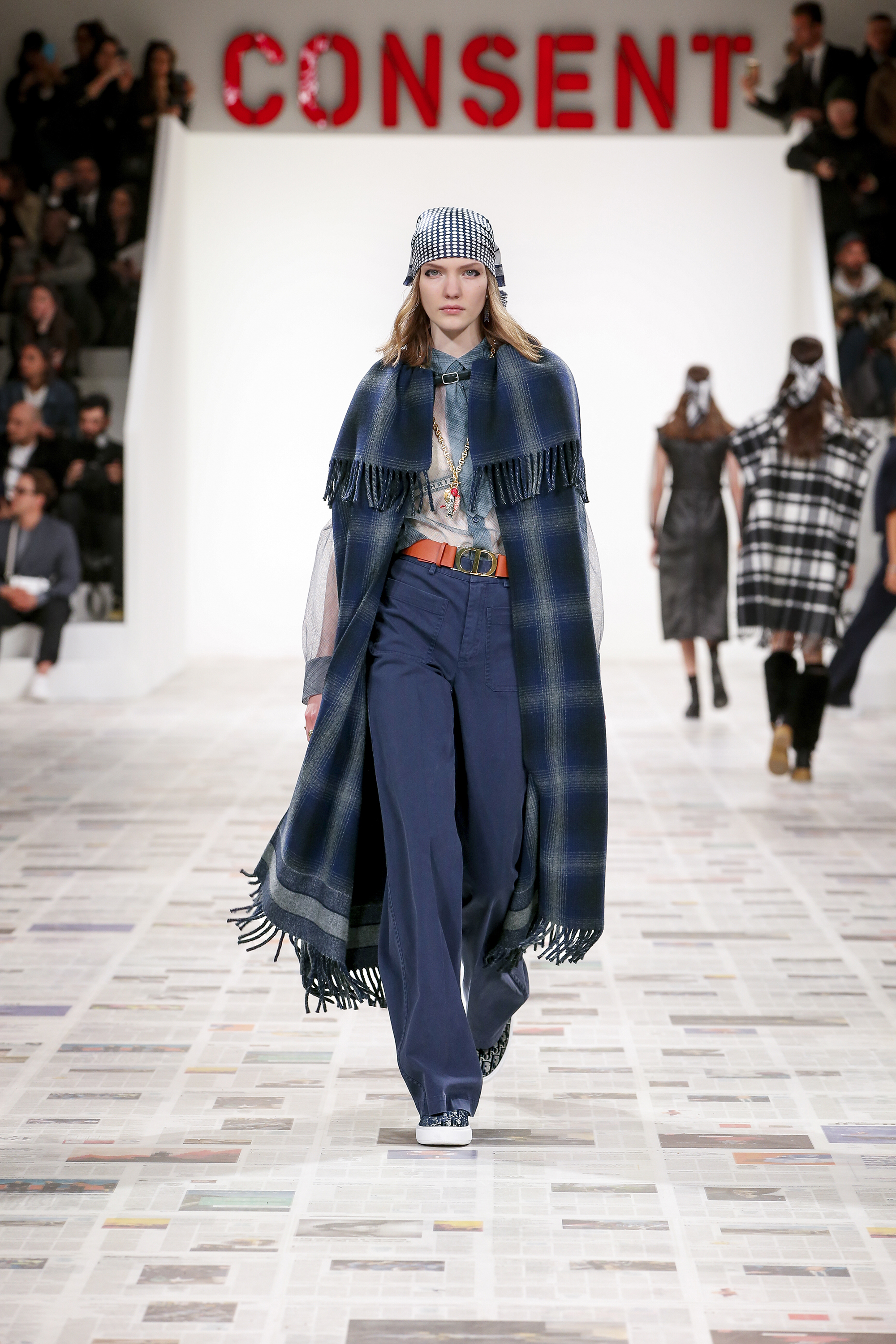 This season at Christian Dior, the creative director Maria Grazia Chiuri paid homage to the her own feminist awakening in Italy in the 1970s. This meant that there was a lot of eyeliner, short hair, and suiting. There were also several blankets that all looked very cozy, luxe, and very au courant. One particularly warm look featured a plaid, black and white blanket styled with some knee high boots, and crucially a very David Foster Wallace bandana. Another featured a blanket worn as more of a cloak. Navy with a soft light blue border, this outfit was styled with some trousers, a pair of slip on shoes, a dreamy see-through blouse, and another bandana that says "Yes, I have read all of Infinite Jest." I'd like for you to imagine for a second you are on a first date while wearing this stellar look. How do you feel? Confident? Warm? Exactly.
Meanwhile at notorious Goth uncle Rick Owens' show this season, the designer made some coats clearly inspired on oversized duvets. A version in black was styled with a pair of sunglasses that say to the world "I'm a biker chick who is secretly into getting bottle service." I would personally not recommend wearing this duvet cloak on a motorcycle (it's too long), but if you wanted to wear it to the club, people will be scared of you (this is a win in my book).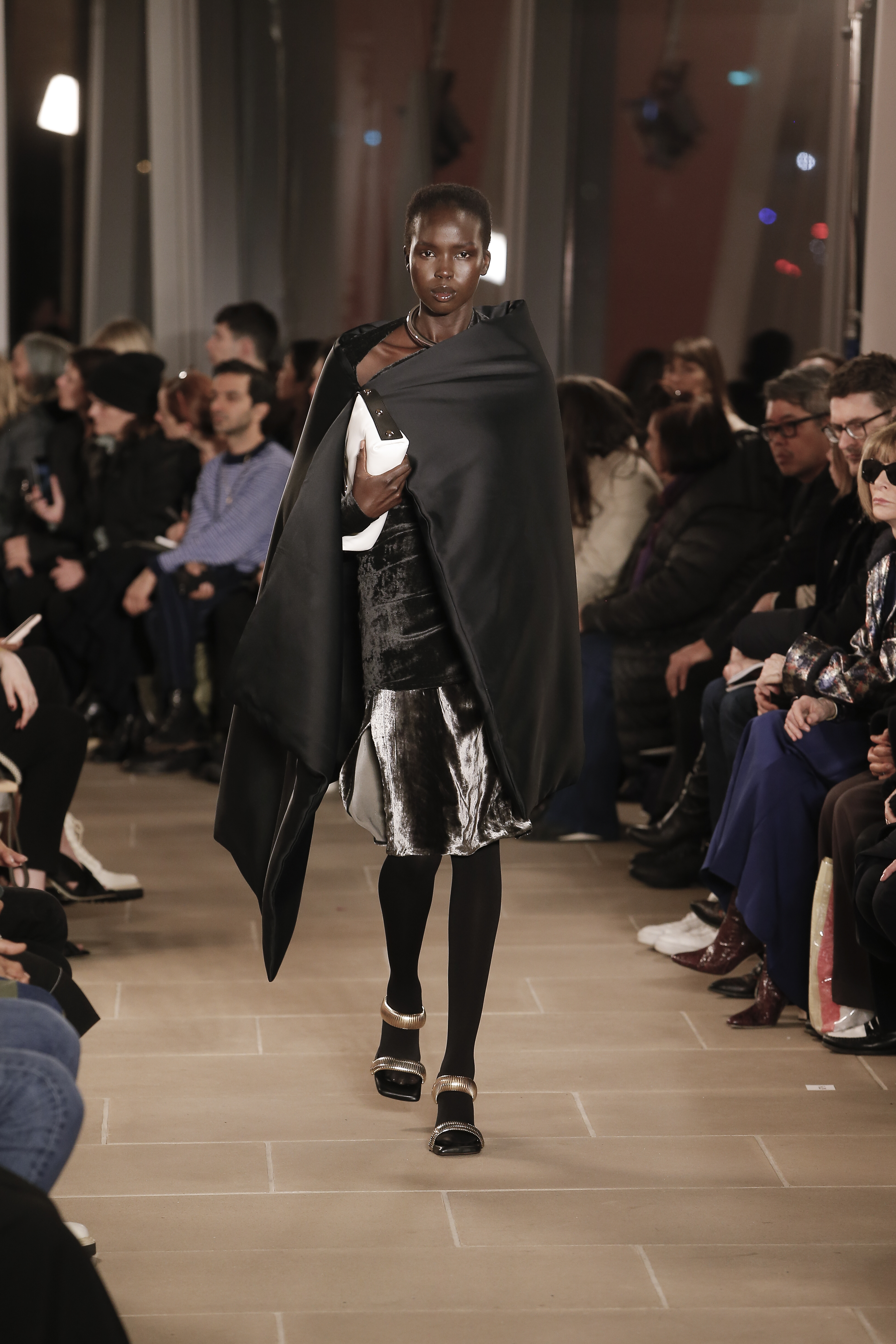 At Proenza Schouler, there was one model wearing a cute crushed velvet mini dress while clutching a dark satin blanket. It's the perfect outfit concept for those who have a year round wardrobe, and insist on wearing weather inappropriate mini dresses at odd times of the year. I am like this, and therefore always cold. Perhaps if I had a Proenza Schouler blanket to drape over my body like a baby or someone who just finished a marathon I would be less cold. The Hypebeasts at Palm Angels sent ponchos down the runway (a poncho is just a blanket everyone agreed you can wear as clothes). The blankets said "Palm Angels," on them, which is helpful if you have a lot of clothes and need to remind yourself where you got them from.
No matter how you spin it, Fall/Winter 2020 is all about blankets. I can't wait for 6 months from now when all of the stars will be walking their small dogs while draped in blankets. I am longing so very dearly for November of 2020 when I will inevitably go to the Standard East Village to use the bathroom and I see people of all ages wearing blankets as sweaters. For now, it is time to make a hot toddy, put on my slippers, and engage in BLANKET TIME.