Painter Katherine McMahon's new exhibition, installed inside an empty diner in Southampton, serves nostalgia old and new.
When you succumb to longing lately, what comes to mind? Maybe it's the banal: cold pats of butter between thin, warm slices of toast, greasy eggs, coffee and syrup and American cheese.

Take solace in the vision of an empty diner in Southampton that's been transformed into an art gallery—and, in many ways, installation art in itself—by way of a new exhibition from artist Katherine McMahon, whose paintings now hang in its windows. A drive-in gallery show, viewable only from a (social) distance.
The series, titled "The Roast Beef is the Story," covers a mix of pop culture portraits and recognizable ephemera, from Twin Peaks's Shelly Johnson to Coca-Cola mosaic lamps and stacks of pancakes. For McMahon, who is also an art writer and the director of programming at the Elaine de Kooning House in nearby East Hampton, it's a nod to our collective visual memory of diners and what they've come to represent in American culture.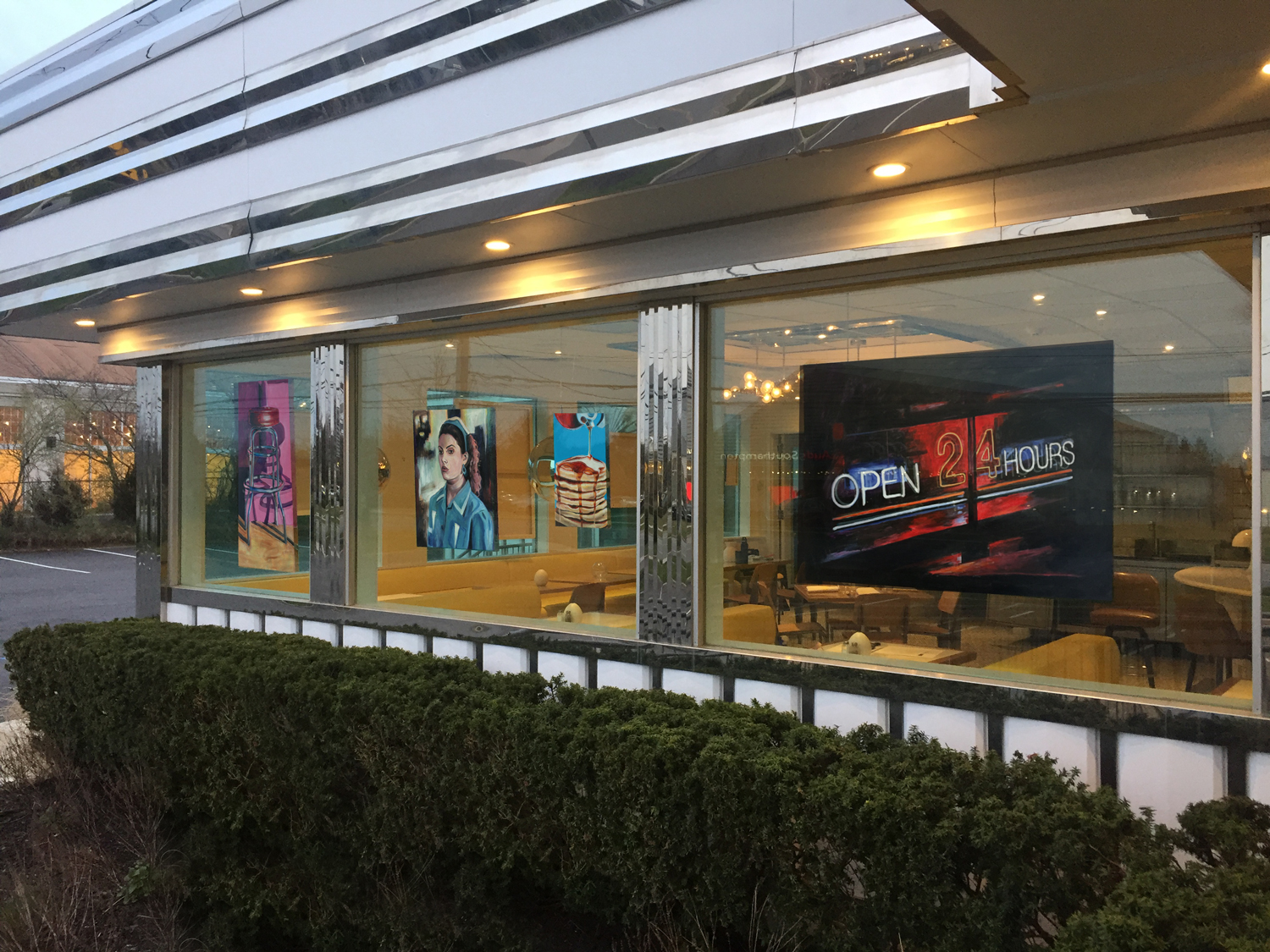 "I've always loved diners," McMahon said over the phone last week. "There's no space to have conversations or anything right now—it just feels very bleak. I thought that this could be a solution for presenting a populated space in a different kind of way."
"Without having these spaces to coalesce, and kvetch, I think everyone collectively suffers. We're all mourning the inability to share in life's mundane moments."
The exhibition, McMahon's artist statement reads, was "inspired by a conversation the film director Barry Levinson had with Vanity Fair about his 1982 film Diner, on which Levinson elaborated 'between the lines about roast beef lies all you need to know about [the characters] fear, their competitiveness, their friendship. The roast beef is the story.' In essence, the sandwich provides the framework for the formative, seemingly mundane interactions that prove to be the much more profound as the years progress."
In Diner—which, McMahon tells me, is "a good one to watch during quarantine"—"there's a line in that movie where, in this moment of anxiety, one of the characters tells his friends, 'Well, we always have the diner.'"
"It's that notion that [we'll always have] a place like the diner, or the local bar, but in this case, what if we don't?" she said. "At the risk of sounding too whimsical about it, I feel like restaurants play these significant supporting roles in our lives."
Earlier this year, McMahon began painting on the diner theme in her studio at the de Kooning House—not a bad place to paint, one might say—but the project took a turn, as the whole world did, when the COVID-19 pandemic took hold stateside. McMahon, who has previously worked in restaurants like the River Cafe and the Grill and the Pool in New York City, connected with a fellow hospitality industry friend, Seamus Branch, and began to paint commissioned portraits to benefit the Service Workers Coalition, a grassroots organization providing aid to service workers in the city. From there, she thought to bridge her diner painting study to bring support to her local diner, the Silver Lining Diner in Southampton, connecting with owner Eric Miller to bring her paintings to the space. (Coincidentally enough, Miller's father used to be in business with Michael "Buzzy" O'Keeffe, who was McMahon's boss at the River Café when she was a hostess there in college.)
Formerly the Princess Diner, the Silver Lining Diner—whose name, McMahon agrees, feels almost too poignant—now functions as a gallery space, and she's splitting the paintings' proceeds with the diner fifty-fifty.
"It feels a little trivial to mourn the act of eating out at restaurants," she said. "But then you think about the economics of it all, and on an individual level for hospitality workers who don't know the status of their unemployment check, or people who've worked their whole lives to open a restaurant and see that dream coming to a halt."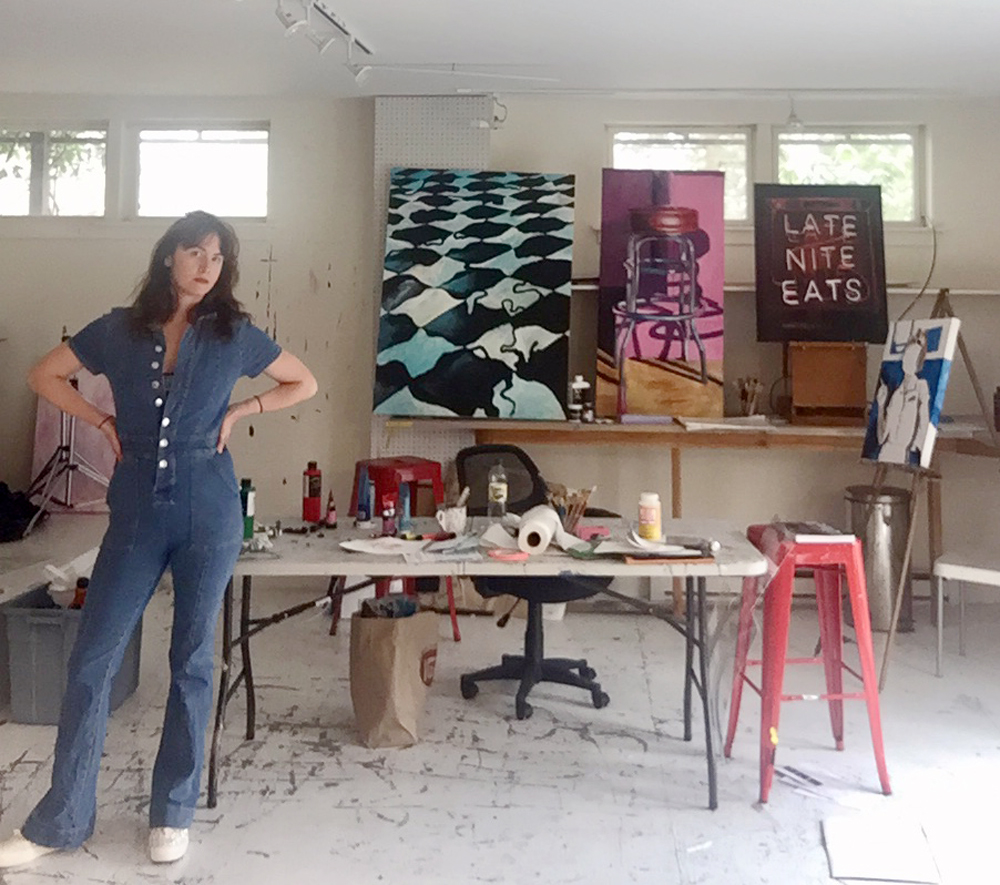 As McMahon's artist statement reads, "When approached aesthetically as a beloved institution of a bygone era, the diner can seem nostalgic and sentimental. From American Graffiti to Grease to Pulp Fiction and Coffee & Cigarettes, what is it about the portrayal of diners that have provided such an ideal backdrop in American cinema and in real life?" Symbolically, diners can easily evoke a queasy sense of yesteryear, which somehow both informs and feels at odds with how wonderful they are in reality.
The vision of this shuttered-diner-turned-gallery feels soothing and eerie in equal measure—in a way like the setting of its own movie, though perhaps of a different genre than those mentioned above. Imagine, if you will, extraterrestrials descending onto a deserted planet, only able to identify its former inhabitants by an empty diner in the Hamptons, filled with homages to fictional depictions of diners.
During the installation, McMahon said "it felt ominous to be in this empty diner. You just want people to come back, you want it to go back to normal again." As has always been the boon of the diner as archetype, whatever normal means—and whether or not we will ever be able to return to it, or if it ever existed in the first place—is a story in itself.
Tagged: