Photo by Alistair Matthews
Please Don't Burn Janie Korn's Candles
...unless you A) are Wendy Williams or B) do so with intention. Either way, maybe don't tag her on Instagram.
Photo by Alistair Matthews
Candles get a bad rap. This is unfair for a number of reasons—most of them related to the vague concept of "hygge"—though perhaps most of all, because some candles are simply delightful. Namely, the candle sculptures made by artist Janie Korn.
While Korn has only been making candles for about eight months, she's made art for a long time, from claymation to graphic novels—the latter of which she decided to take three-dimensional via ceramic sculptures, which eventually evolved into candles. She worked at a candle company when she first moved to New York, she recalls, incidentally picking up the ins and outs of the craft, plus an appreciation of candles as physical art objects.
"I was never emotionally attached to it or inspired by it," she said. "I think the idea sort of incubated for a couple years and, subconsciously, when I was trying to improve my sculpture making, candle making came back into my head."
"It seemed like it was out of nowhere, [but] I was like, 'Oh wait, you worked with candles for so many years. It was stored in you somewhere.'"
Korn took her creations to social media, where she found an audience that appreciated her candles with their nods to idiosyncratic, very-online pop culture. She also loves to make commissioned candle portraits (yes, she does weddings!) and has sold her works at artist pop-ups, the new Nordstrom flagship store in Manhattan, and soon, the Brooklyn Museum.
"I feel like things that have pop culture references really stand out to people," she said, though it "sucks to think about your audience [in a way] that changes what I share and, in some way, affects what I create."
"I'm trying not to be too disturbed by people's feedback," she said. "I'm trying to make work that [makes me think], 'Oh, this is, in my mind, beautiful or important.' The thing is, I do really care about references because I think I watch a ton of TV and [keep up with] a lot of media. So it's fun for me to make pieces that celebrate [that]."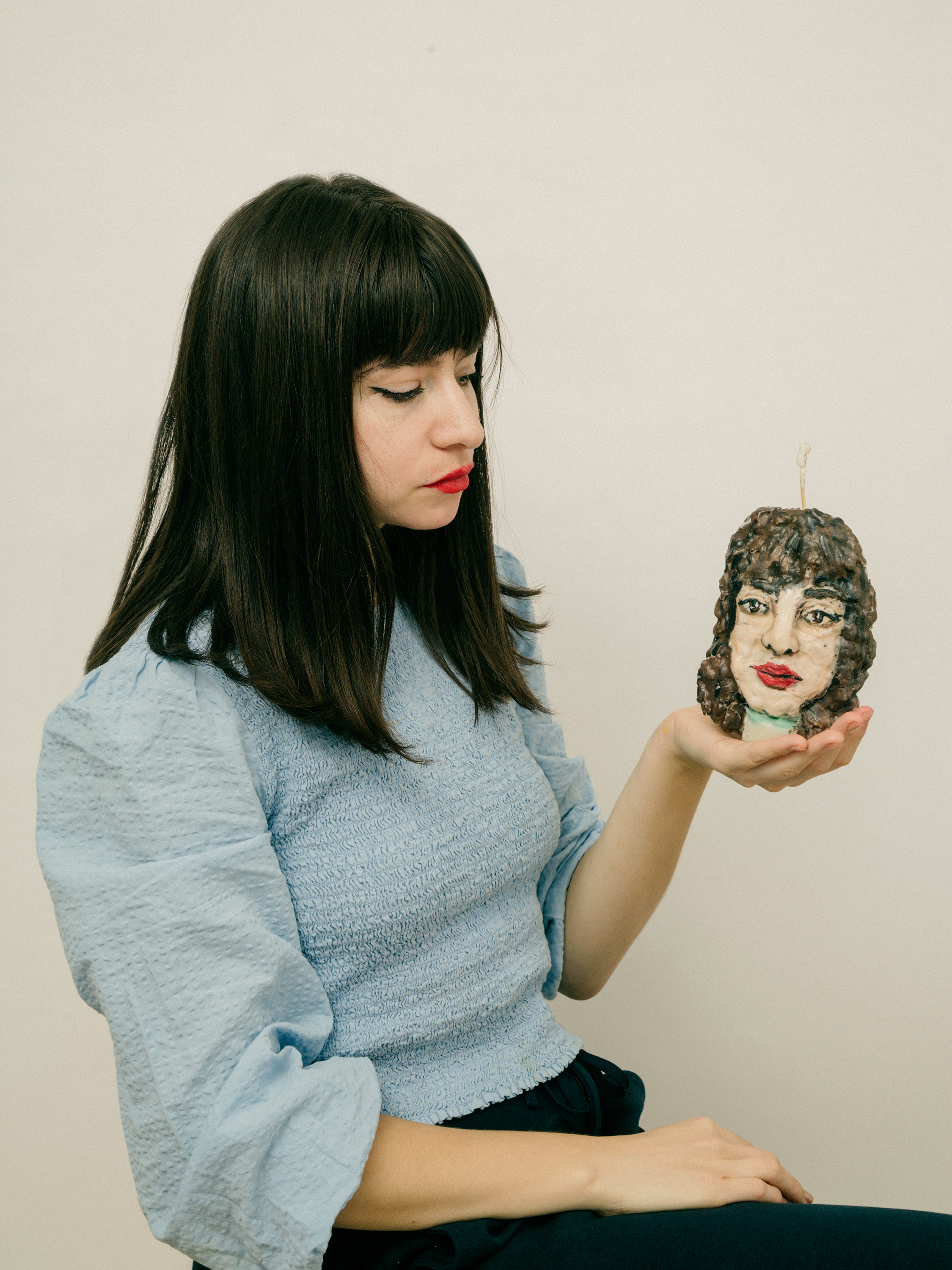 Janie Korn's candles are weird, freaky delights, occupying a space somewhere between fine art and design object but with "a human touch." Her tactile, figurative sculptures depict a range of subjects that, even just typing them out, literally make me laugh out loud: the Safdie brothers, a vial of Botox, New York media's acting boss Naomi Fry, that rotating Foot Clinic sign on Sunset Boulevard (R.I.P.), Timberland Manolos, the bowls of cigarettes that purportedly festooned tables at Mary-Kate Olson and Olivier Sarkozy's 2015 wedding, a "Robert Gober leg candle candle," canned sardines and a lemon wedge, Lady Di and Prince Charles with Peppa Pig, Succession's Kendall Roy rapping, and a bottle of Kewpie mayonnaise.
And of course, there's one candle to rule them all: a waxy bust of Wendy Williams, which Korn managed to give the TV hostess while attending a recent taping of The Wendy Williams Show in New York. (Korn says she watches every day while she works.) Before the show, Korn gave the candle to a producer, after which "it was held by security for like, a day" before making its way to Williams herself. Last week, she brought out Korn's candle on air during her "Wendy's Goodie Bag" segment.
"I love when she yelled at the audience because they started giggling at first," Korn said, "and she's like, 'No.'"
Indeed, as Williams holds up the candle to say, "Okay, now look—I love this," the audience begins to snicker, perhaps because of the object's splendid uncanniness. In true Wendy fashion, she shushes them: "Nope, nope, nope, you're gonna listen now."
"Now I will never burn it, Janie," Williams tells the camera, "only because I feel as though there could be some Wiccan problem with it, you know? Like as soon as I burn the candle, all of a sudden, I feel my real head burning down?" The candle, she says, now sits prominently in her office.
Williams may be right to feel wary. Korn calls her creations "magic candles," and says their power to materialize abstract outcomes is a key part of their essence. She's a big believer in votive manifestation candles, similar to the ones you can find at almost any New York bodega: "You can buy a candle for love or confidence or abundance," she said. "I know it's very woo-woo or whatever, but I love these candles."
"That potential to burn the candle is its own element," she said. Anybody with a Janie Korn candle in their possession "can destroy it in any second. It's an ephemeral quality that a sculpture wouldn't have."
Even so, it pains her as an artist when she sees others burn her works, especially if it seems they're doing so callously. While there are rare cases when she's down—for example, a couple recently commissioned a candle as a topper for their wedding cake, and they burned it symbolically during the reception—she winces whenever someone tags her in a post of her work aflame: "A couple of people have done that, and I'm like… side-eye."
"I only want them to be used for good," she said. "I want them to feel precious. It's a full sculpture—if you're going to burn it, really burn it with meaning, and then I'm okay with it. But maybe don't tag me."
Tagged: