Mark Bradford at the Hirshhorn Museum and Sculpture Garden with details of Pickett's Charge, 2017. Courtesy of the artist and Hauser & Wirth. Photo: Cathy Carver
Mark Bradford Goes into Battle Against the Age of Trump
"You don't resolve the tension, and that's what makes it interesting." With an eye to our current predicament, Mark Bradford's epic new commission for the Hirshhorn Museum carves out new, political, routes for abstraction.
Mark Bradford at the Hirshhorn Museum and Sculpture Garden with details of Pickett's Charge, 2017. Courtesy of the artist and Hauser & Wirth. Photo: Cathy Carver
On the heels of representing the United States at the 2017 Venice Biennale, painter Mark Bradford recently installed a sweeping new work at the Hirshhorn Museum—a cylindrical brutalist structure on the National Mall. For Pickett's Charge (The Thunderous Cannonade) (2016-17), Bradford made eight new paintings, each some forty-five feet long, and transported them in rolls to Washington, D.C. Once there, he attached them to interior walls and used ropes to blister and explode their dense surfaces. The work's title refers to a scene from the end of the Battle of Gettysburg, considered a turning point in the American Civil War. That scene was also painted by Paul Philippoteaux in 1883 for the Boston Cyclorama, a circular panorama that blended 19th-century appetites for genre painting and spectacular novelty. Bradford's own cyclorama exhumes this imagery for the age of Trump.
GARAGE: Are these new paintings made with the same belt sander-on-paper method you used for the Venice Biennale Pavilion this summer?
Mark Bradford: Because my palette is so limited even in terms of how I make my work, I decided that I wasn't going to use the sander this time. These became more about ripping and pulling, almost sculptural. The sander grinds it down, the rope kind of explodes it. It's very Jacques de la Villeglé or Gordon Matta-Clark. I used to look at a lot of earthworks, and what came out of Mexico City—Damian Ortega, Gabriel Orozco—those are some of my favorite people.

Obviously it's been an incredible year for black figurative painting, but with abstraction the meaning of the work becomes much more ambiguous.
I don't think there are such things as empty containers—just because something is abstraction, doesn't mean it doesn't have some form of figuration in it. What I do is I pull figuration through the abstraction.

You don't resolve the tension, and that's what makes it interesting. Can't we be inside of that space between figuration and abstraction when it comes to race? I'm always fascinated by why we need for it to be so solvable.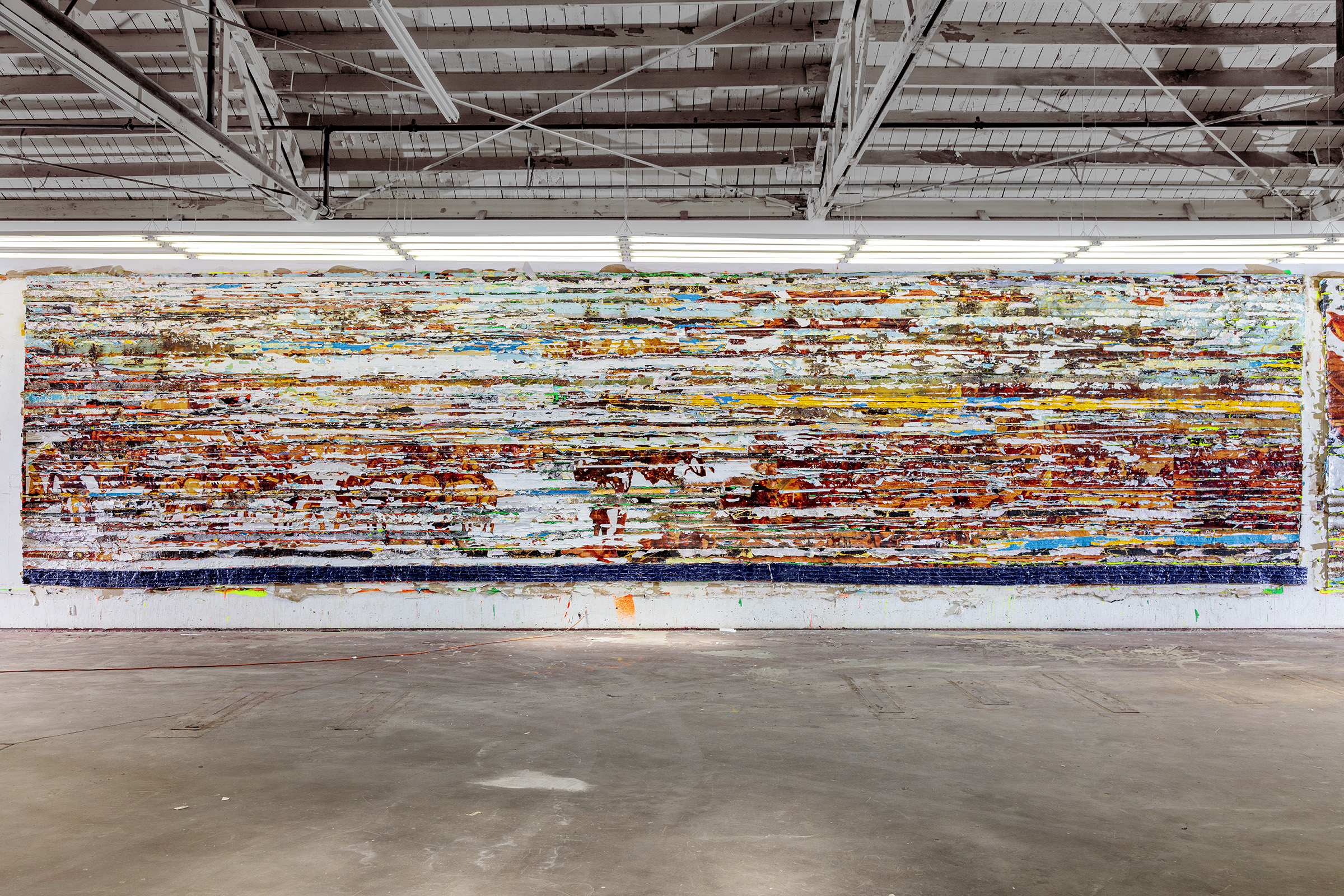 In the past you've talked about the symbolic weight of even using the color black—it's fraught.
Absolutely. And understanding why the color black is so fraught you have to go to how the history's been constructed.

Do you believe abstraction is a sufficient language for this political moment, or is it just the tool that you have?
I believe that abstraction is the mode that I make paintings out of, and if it moves to something else organically I'd be okay with it. But I wouldn't just jump to a kind of figuration because I felt that it's what's needed. It wouldn't be authentic to me. I think an artist should make the work that they make. Artists are grappling with this like everyone else—and the work will come out of that.
You employ famous Civil War imagery here—do you think it is particularly important now, more than even a year ago?
I started becoming interested about two or three years ago. What I was fascinated by was that this imagery and this history was really just below the surface. It was like molten lava right below the surface. Politically, we hadn't really dealt in depth with that history. I was fascinated how hot it still was. So, I thought about how to mine that history in the way that I mine it, through abstraction.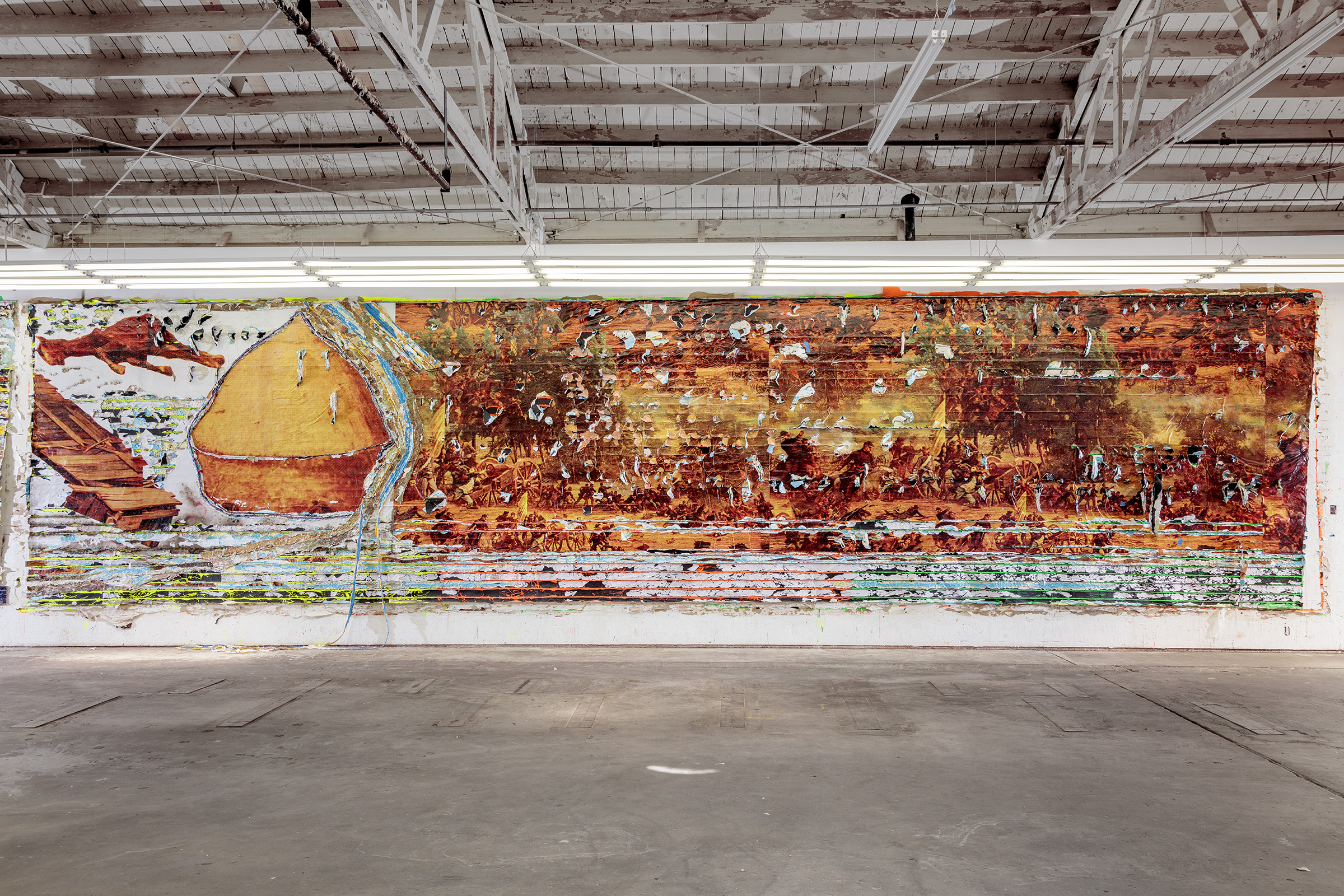 You came to these themes before Trump?
Oh, absolutely. I came to them two or three years ago, but I was already working with historical documents, I had done a show on the Constitution. I had become interested in the documents because when anything happens, we always go back to the law. So I thought, "Well what does the law look like?" It's interesting when it starts with "We the people." You immediately begin to think, well, which people?
After Obama was elected, I think there was a tendency by some to think, "Okay we've entered an era where maybe we can get to this kind of post-identity place." Did you ever buy into that logic?
Absolutely not. I think that's living in a utopian world. I know that when I leave my house, I'm a black man. I look in the mirror and I see me, but I understand what it means to navigate between objects and subjectivity. I never felt that the erasure of what was already there was going to change. Throwing a light on things is one thing, but it's gonna take a long time. A very long time.

And I do think that things are changing, they do change, but they change really slow. But that doesn't mean that we don't still push forward with things, does that make sense?
Do you have any strong thoughts about the Confederate monuments coming down?
This is all part of a conversation that we're having, and as an artist, I'm actually just standing in the middle of a question and looking and thinking about things myself. I don't really have a whole lot of answers. I do have a lot reflections, a lot of "What the fuck?"
You have a community-based program that does outreach in LA [Art + Practice]. Is it effective?
I think it is. I don't think that contemporary ideas just belong in the art world. I believe in the ideas that we talked about and we're talking about now, but I do believe that more people could actually have access to it. I have an interest in sharing some of the things that I've discovered. When I was younger, I was just a creative kid in the community, there was no word for it. When I went to a museum, I just went with everybody else on a yellow school bus and I looked at art, and then and felt nothing.

I realized you learn the masters of modernity, but when do you get to contemporary art? That's usually on the college campuses. So I thought, "Wouldn't it be great to be able to expose local people to contemporary ideas really early instead of having to go through the whole plethora of history"?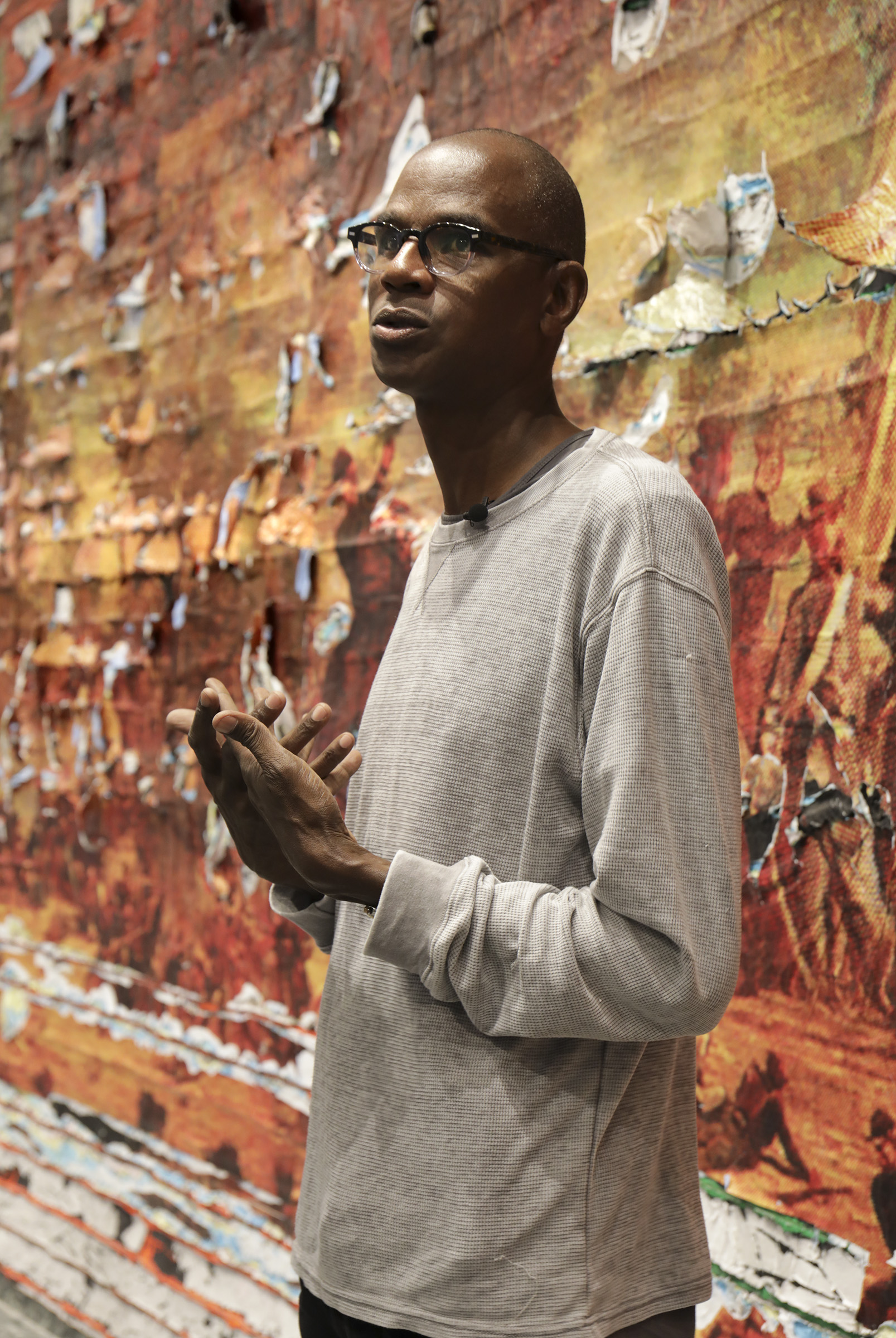 What sort of artists do you wish you had been exposed to in art school? Who belongs in the canon that you believe we've cut out?
I wish I could have seen Jack Whitten or actually Charles Gaines much earlier. What would that have looked like, if young people would've experienced David Hammons in sixth grade—work using materials that actually have ideas connected to them? My history is such a tactile history, but if you connect those materials with contemporary feminist ideas, it'd be amazing.

All those people who I discovered when I was in art school, I thought, "Man, wouldn't this have been great if it was the sixth grade?" You'd start to question the bullshit earlier instead of just accepting it.
I think there are many young artists who believe they can just focus on materiality, on form, rather than politics or ideas—or at least that being a good artist precedes becoming a political artist.
I think that the sooner you can read counter-narratives the better. You can look at someone like [Russian painter Kasimir] Malevich now, but understand at that moment when he was doing it was actually quite political. So, the sooner you find out what was going on politically and at the time, the better. Forget even undergrad, I think it should be in high school, middle school. I think it should be elementary school. As soon as you can!
Regardless, in the current climate a lot of people I talk to worry that we're collectively fucked—environmentally, culturally, politically . . .
No, I don't believe we're all fucked. I believe we have to work hard. I believe that sometimes it doesn't come easy. And I'm not offering a utopia—I'm certainly not offering a utopia but—I don't believe we're all fucked. But I didn't believe we were all fucked when I was being bullied. I never believe collective things. I just don't believe it.
Mark Bradford, Pickett's Charge is on view at the Hirshhorn Museum and Sculpture Garden until November 12, 2018.