Jonny Negron, Rubia, 2018. Gouache

on paper, 30 x 22 inches. Image courtesy of Chateau Shatto.
The Artist Who Sees Your Flood of Pollution and Raises You a Wave of Symbolism
Jonny Negron is dealing with information overload and literal trash through his iconic paintings.
Jonny Negron, Rubia, 2018. Gouache on paper, 30 x 22 inches. Image courtesy of Chateau Shatto.
Jonny Negron is a self-taught artist whose work—vivid, Symbolist-inflected paintings on paper—has been shown around Austin, Texas, and New York over the past two years. Most of the pieces in his latest outing, an exhibition titled "Small Map of Heaven" on view at Chateau Shatto in Los Angeles until September 1, deal with the aftermath of Hurricane Maria and Hurricane Irma on Puerto Rico, where the artist originally hails from. In the gouache painting Currents, two figures swim through a cluttered waterway. As Negron puts it, "I think about the Caribbean being filled with trash, islands of trash. But the flooding can also represent the overabundance of information. Figurative pollution as well."
The artist's distinct graphic style wears its influences well: ancient Egyptian or Assyrian art come to mind, given Negron's penchant for showing figures in profile with elongated eyes, as well as Henri Rousseau's sumptuous foliage and Pieter Bruegel's elaborate scenes. But beyond these canonical touchstones, Japanese anime and manga also shaped the artist: "I have a strong influence from comics. When I was kid, anime and manga weren't as distributed as widely as they are today. Finding a place with imported books was like opening a treasure chest. Katsuhiro Otomo's Akira was a big influence…and I remember just looking at the images of Dragon Ball Z and being perplexed."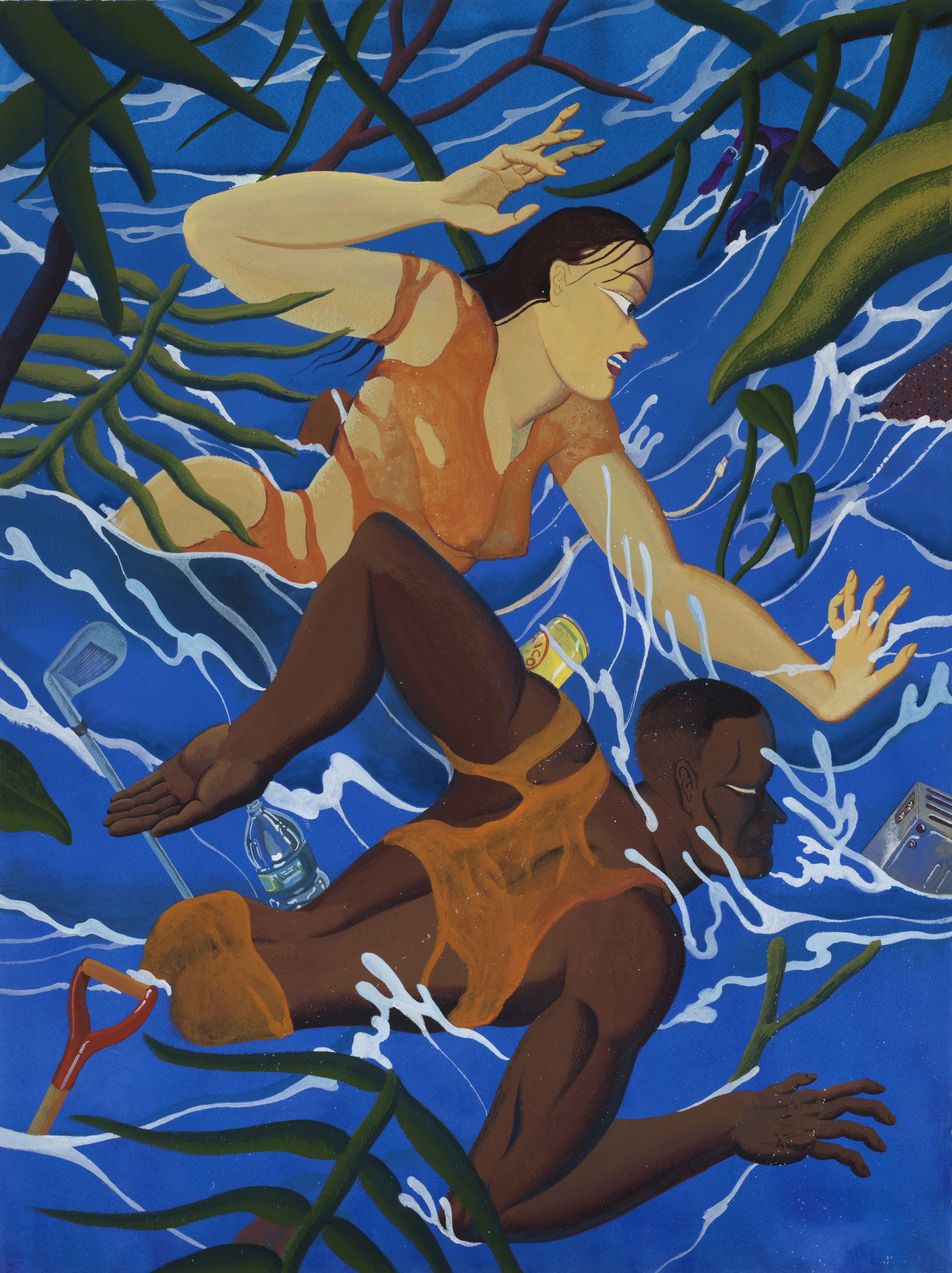 Though diverse, all these sources share certain qualities: strong color and a flattening and distortion of figures that result in iconic images. Several of his subjects are garbed in shredded, orange clothes—"It reminds me of a Buddhist monk or a prisoner," as the artist notes. "Religion has been a huge part of my life. I grew up in a fairly religious household. I don't subscribe to one in particular, but I read a lot about the occult and various religions. Generally the symbolism [from these are] a strong influence in my work."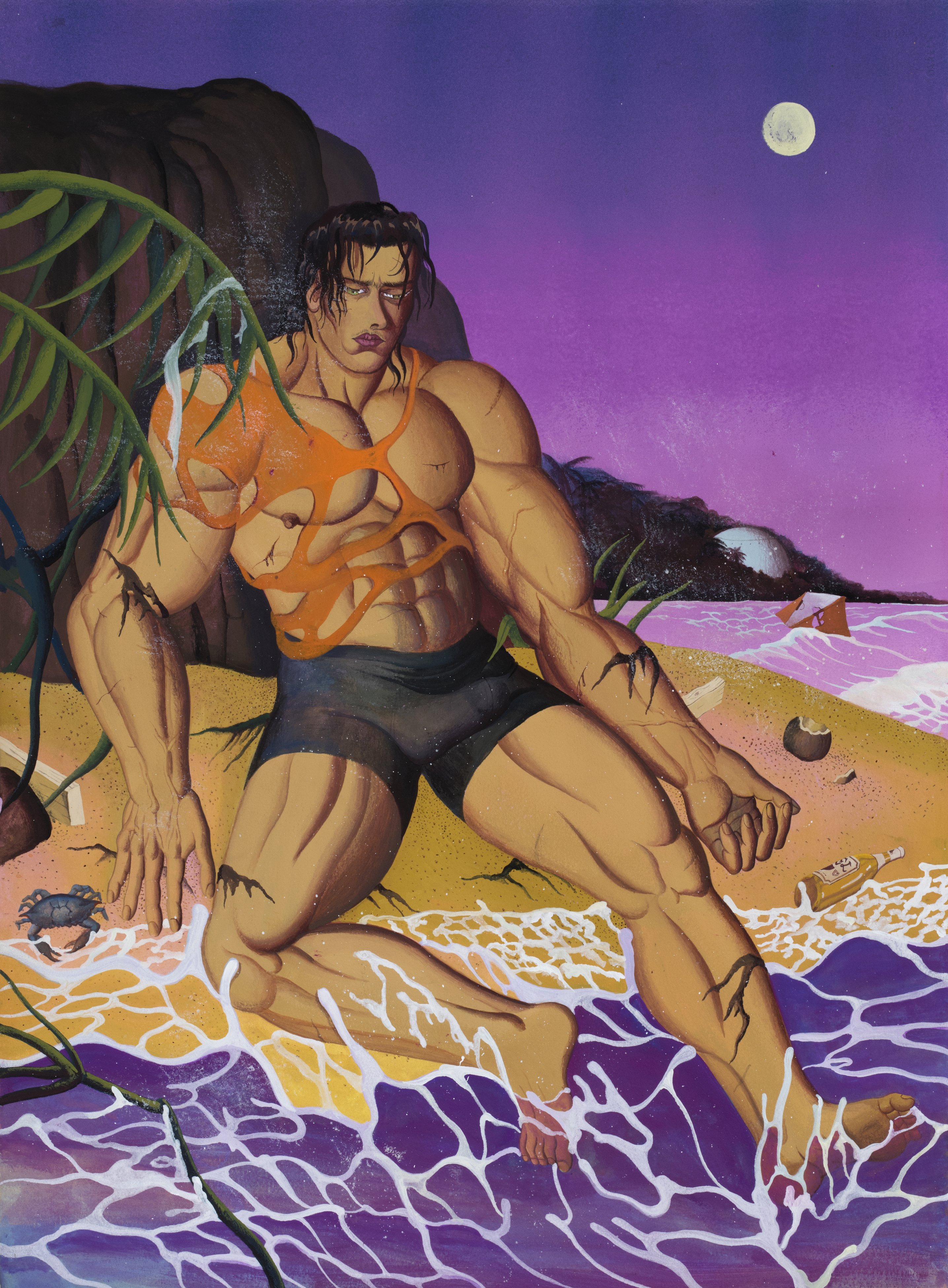 There is also a particular sense of place in his work, despite the broad, archetypal strokes that tend to characterize Symbolist works. Bonus, a painting centered on a hunky, orange-shred clad man on the beach, adds a subtle detail in the background for context: "a decommissioned nuclear power plant in Puerto Rico…I'm not sure if this is its official name, but they it call it the 'BONUS' reactor. It's in a resort town now."
The pink bathroom and tearful figure in To Live and Die in LA would seem to render a private moment, but the painting's emotional register connects it to the other works dealing with natural disaster, and perhaps our woeful responses to recent, cataclysmic events. "The bathroom is a private place. The room itself is pink. I was thinking of Rose Quartz…passion, emotions. It's sort of a vulnerable piece. I see all of my work as a self-portrait, to an extent, but this one is more directly a symbolic self-portrait."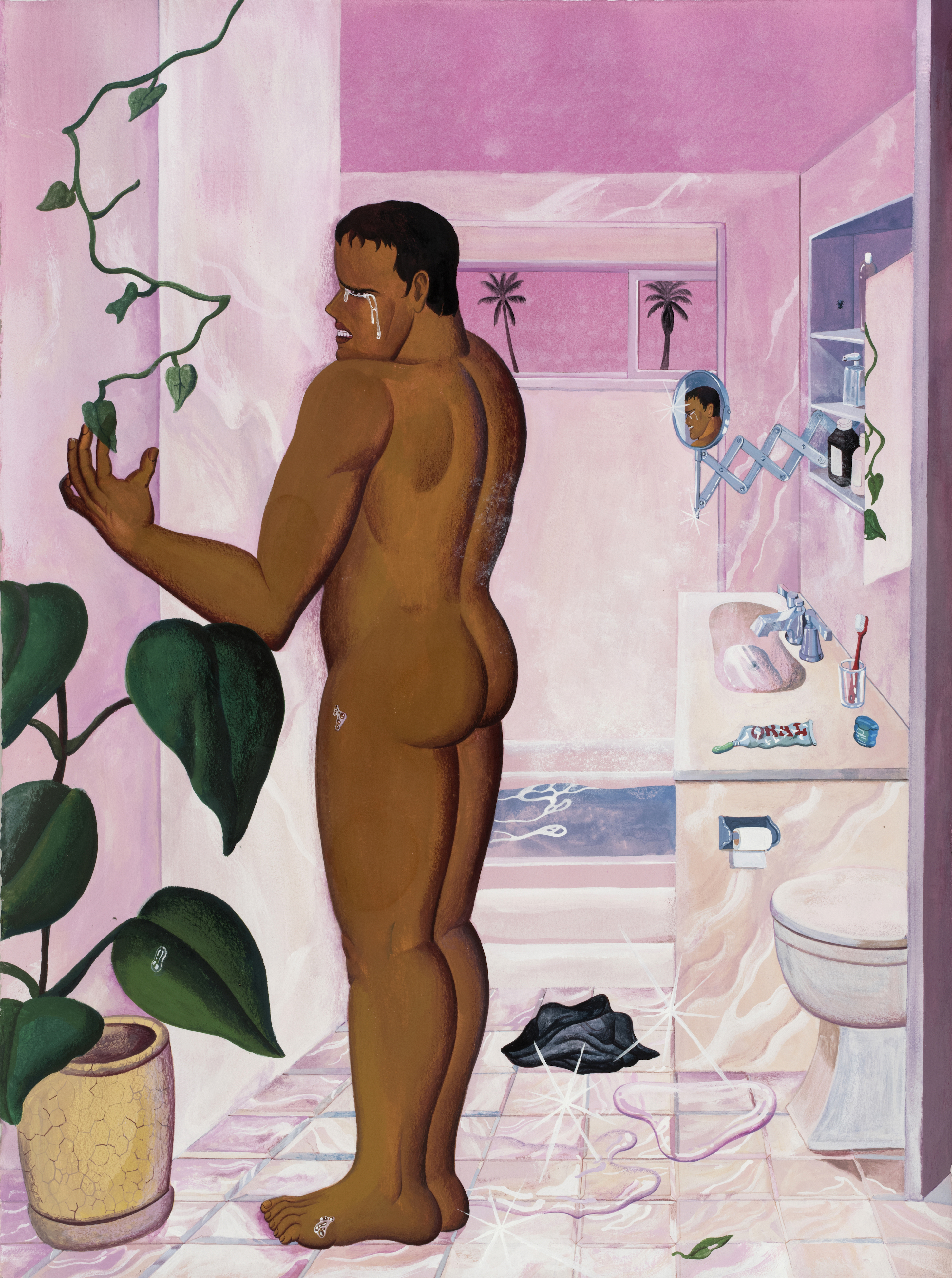 Small Map of Heaven runs through September 1 at Chateau Shatto in Los Angeles.