Bode: Men's Clothing Made From Women's History
As menswear remains dominated by a streetwear aesthetic, Emily Adams Bode creates clothing out of repurposed quilts, textiles largely made by women that provide comfort in an age of uncertainty.
Emily Adams Bode's Lower East Side studio is positively serene, like a garret but without the draft. A bedroom off the entry, curtained off and crowded with men's clothes, serves as a defacto closet. There's a spiral staircase tucked at the end of a galley kitchen, and an assistant can be overheard, softly puttering. A framed print of Bruno Munari's "Seeking Comfort in an Uncomfortable Chair" hangs on a wall, which is funny, because Bode's chairs are in fact uncomfortable: all low, Shaker-style wooden benches and stools. In the workroom, sunlight streams in onto a large, unfinished wood table, where proofs for the lookbook she just shot at a family friend's farm in upstate New York stick out in a messy pile. Bolts of vintage fabric are piled up to the ceiling.

On racks pushed up against the walls is the Fall 2018 collection of her menswear label, also called Bode, which she'll present Monday as part of New York Fashion Week: Men's. The racks bow under the weight of the garments, which are cut from a menagerie of rare and strange fabrics: shirts made from 18th-century tablecloths, gossamer Quaker lace, and vintage embroidered handkerchiefs found in the South of France; barn jackets cut from pre-1920s coverlets and cowhides the color of coffee milk.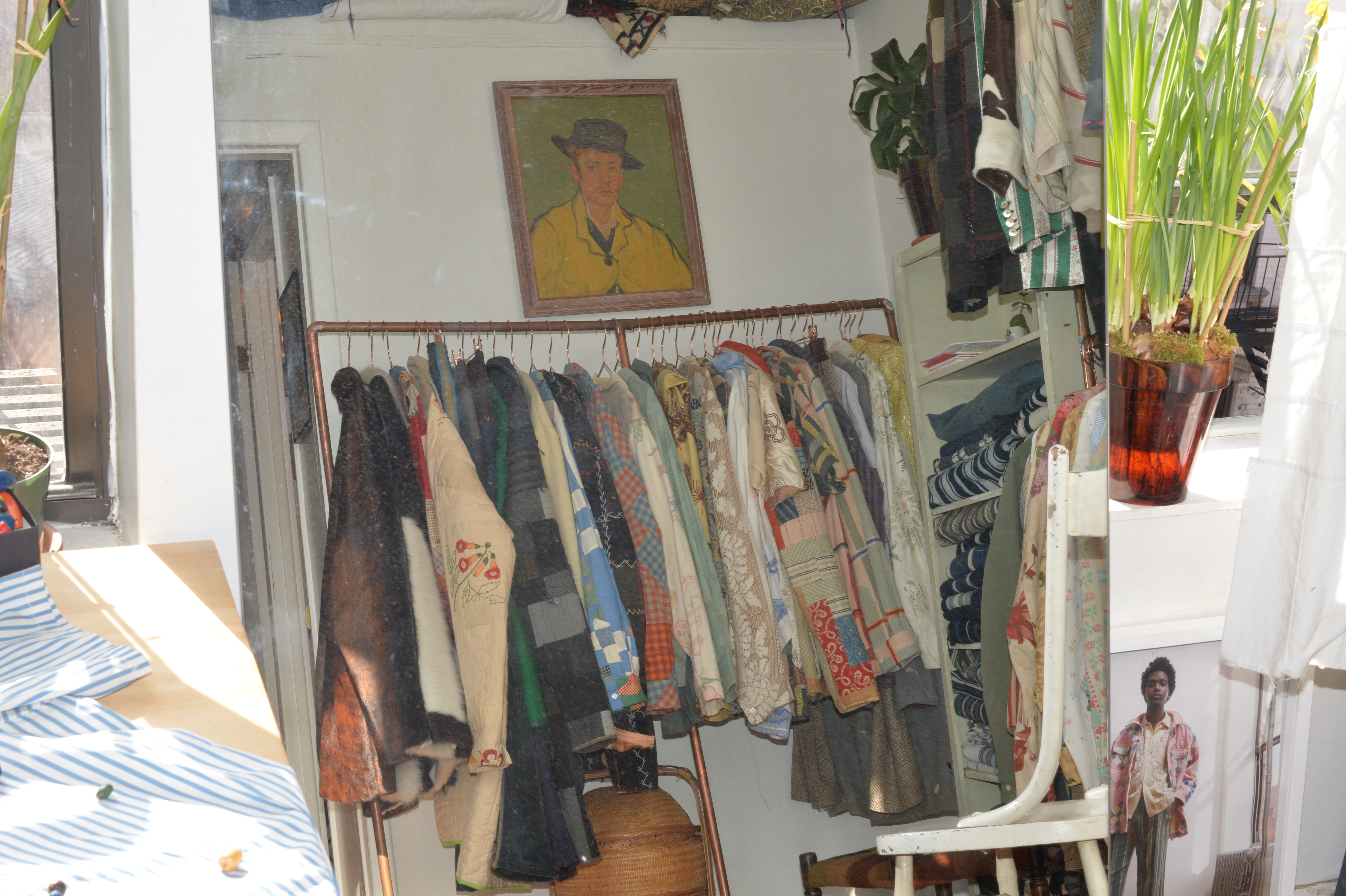 And quilts. Bode is big on quilts. Vintage ones reimagined into soft padded log cabin jackets, forgotten patchwork bedspreads she soaks for weeks before they're ready to be formed into the sleeves of a chore coat, expensive ones where the batting had rotted and she's mended for hours with historically faithful fabrics and shaped into a cropped Edwardian quilt jacket.
Bode's predilection for quilts has caused some friction between her and the online quilting community, a loose but vigilant guardianship sensitive to the misuses of a historically freighted craft. One of the more famous fashion-quilting contretemps, in the early 1980s, concerned Ralph Lauren's hacking hand-embroidered quilts into $1200 Little House on the Prairie skirts. More recently, a quilting blog, upon learning that not only was Bode reviving the practice of making fashion out of quilts, but that she had interned at Ralph Lauren, warned that "if her goal is to gain fame by stirring up old flames she should proceed with caution."
Bode's garments are made largely from textiles made by women. As she points out, the clothing she makes for men are women's history.
"They said, 'we're going to take her down like we took down Ralph Lauren,'" Bode said, smiling. "The best part was they were like, 'she's cutting up old quilts,' and they put up a photo of a quilt that I made. So that's what's such a bummer, because I totally understand what they mean. It drives me crazy, the brands that over-dye quilts, because that's actually destroying the textile." Bode approaches her practice as much as restoration and archiving, so the knock on her can feel doubly wounding. "I feel like I know what I can cut and what I won't cut. I won't cut things that are pristine. I've sold quilts that I'm not going to cut back to other dealers, because they're too precious."
Bode, who is 28 and speaks in a steady, languid clip, grew up in the suburbs of Atlanta. Her mother and aunts would take her to antique markets there and around Massachusetts' Capes, where her parents are from and where she spent summer months, cultivating a taste for the ways things used to look. "When I was little most of my toys were antique," she said. "I remember I got to pick my first high chair, and it was from the 1800s." In 2008 she moved to New York to study at Parsons School of Design, earning a dual degree in menswear design and philosophy at Eugene Lang College. While at school, she began using antique fabrics and experimenting with simple vintage forms. In 2016 she launched Bode. Less than a year later, she was the first female menswear designer to present at New York Fashion Week: Men's.
To source fabrics, Bode travels to places like Brimfield, Massachusetts. She stalks the brocantes and vide-greniers in France. More important, perhaps, she has connections—relationships with quilt dealers, a profession that sounds as enigmatic as "rug merchant" or "seltzer delivery man," yet endures. Bode's Fall 2018 collection is called "Dear Homer" after one such dealer, who in another life was a Harvard-educated botanist, and so employs a palette of loamy greens, mosses, algae and peat. The idea, Bode said, is less a collection about botany, but rather the ephemeral idea about wanting to be a botanist, or what botany might feel like to a child—the tactile nature of things, exploration, imagination. The clothes assume an air of the collegiate: 1940s wool suiting, sun-faded pants, dilapidated work shirts, a shirting print drawn in crayon in a whimsical, childish hand.
Bode's two presentations to date were quietly moving explorations of emotion. For her first, last February, she staged a kinetic, slow-churning mise en scène based upon the idea of the domestic space, which took the shape of models moving through deconstructed set pieces inspired by her mother's childhood home in Cape Cod. Bode said she had based the concept off of a conversation she had with her mother and aunts, in which they spoke about a kind of golden hour when the late afternoon sun streamed in through the house's windows. It was more Eugene O'Neill than perhaps New York Fashion Week was accustomed to, an elegiac tone poem that pulled from Hans Richter's 1920's Dadaist short films, Heideggerian existentialism, and Munari gestures.
Her next collection, presented that July, shifted to her uncle's house in the South of France, and its attic where Bode would sleep during visits. Models again figured into tableaux, slowly milling about, climbing into single beds and rising from them again, laying languorously in generously cut pants of thick-striped Cote D'Ivoirian cotton jacquard. It had as much to do with transience and a slow-blooming realization of mortality as crisp linens.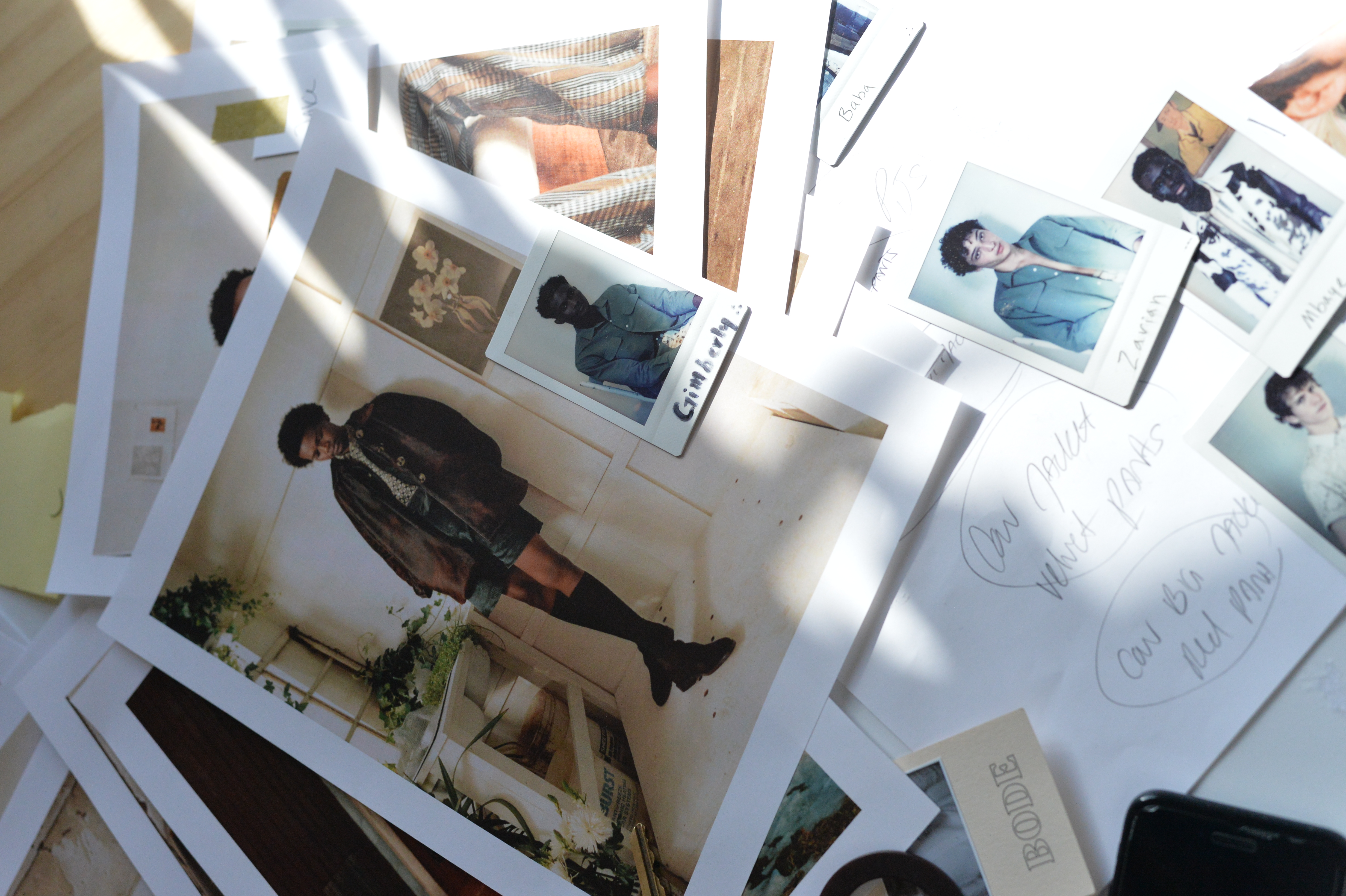 In a lot of ways, Bode functions as a rejoinder to the conventions of the fashion industry. An easy thing to point out is its ostensible anti-waste pose, and how it stands in opposition to the way fashion consolidates around some idea of what's new, berates us until we submit, and then coolly urges us to throw it aside. A protest is present to a degree—Bode at its most basic is old fabrics recycled into old shapes—but it's also not really the point. "I, of course, want to be someone who makes the shift toward sustainability for the rest of the fashion industry," Bode said. "I'm in a grant program that's focused on sustainability. And even though we are a sustainable brand, it's hard because to use that word really gives a very specific image of your brand."
The story of contemporary fashion is mostly the story of womenswear designed by men. Menswear has always been given short shrift, its progression demarcated by incremental vacillations in pant breaks or collar styles—a subset of fashion so antiradical that Ralph Lauren's introduction of 4-inch-wide neckties is still spoken about as a sea change. The beneficiaries of menswear's latter day revival have also largely been men: people like Virgil Abloh, Raf Simons, Demna Gvasalia, and Gosha Rubchinskiy, whose designs for men traffic in the day's dominant streetwear aesthetic, characterized by a kind of arrested adolescence and too-clever-by-half curatorial statements about our relationships to capitalism or branding or whatever else. Bode, a woman who designs beautiful, masculine menswear out of lace, would seem to be an inflection point in menswear's narrative. If her clothes are innovative, it's because they do what few others seem willing, which is be earnest. They speak in the vernacular of traditional menswear but also subvert it; Bode's garments, after all, are made largely from textiles made by women. As she points out, the clothing she makes for men are women's history.
Bode's clothes feel crafty, and so satisfy fashion's current appetite for nostalgia. Bode suggests that mood is to be expected, what with a maniac in the nation's driver's seat and the wheels coming off the bus. It's not dissimilar to the way restaurants in New York, in the aftermath of September 11, began to lean on cupcakes and macaroni-and-cheese, a collective groping for comfort in a fugue state of uncertainty. In September, models in Simons's second collection for Calvin Klein wore jackets lined in vintage quilts, or simply carried full-sized versions, as though acknowledging what we all desperately wanted to do: lay down on the runway and assume the fetal position. Simons too sourced his quilts from Brimfield, and gave them pride of place among a Sterling Ruby store installation. While Bode was shooting her lookbook at the upstate farm, Calvin Klein began rolling out its spring campaign, packing Kardashian and Gerber siblings into barns, their dusty floors made soft with Prairie Star quilts.
"Quilting is trendy now, which is weird," Bode agreed. "It's a return to craftsmanship, making things by hand, or things made locally, or returning to history, our grandparents. That's the other thing: we're at a point in our generation where our grandparents are passing. That generation that lived in the 20s and came over with all their heirlooms, linens from Europe, all of those textiles are now changing hands. The comforting aspect is there, and I think a political way of looking at it. How comforting it is."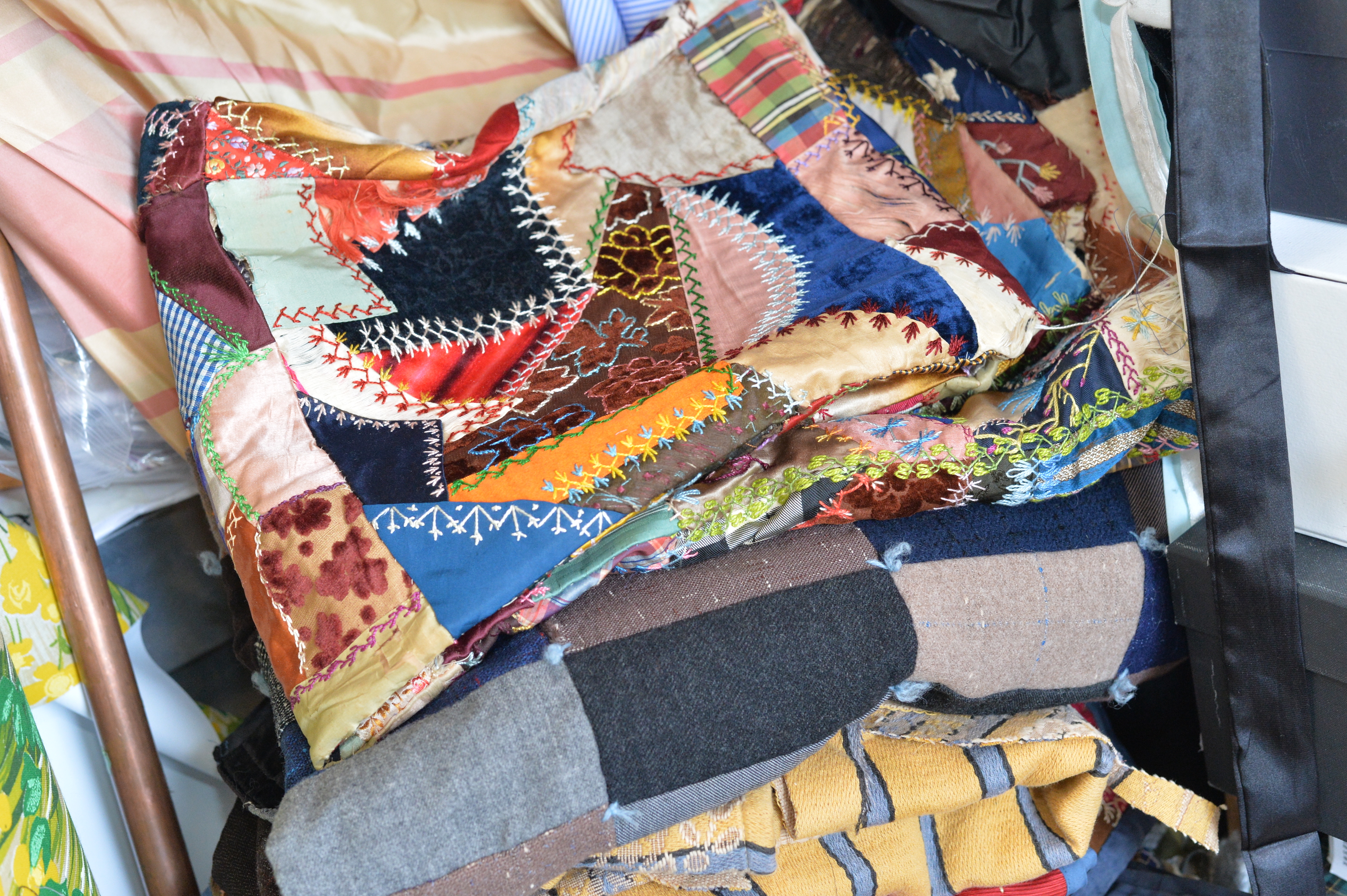 Quilts, in Simon's Calvin Klein and in Lauren's floor-length skirts thirty years ago, are easy signifiers. You couldn't manage a louder simulacra for Americana if you strapped 20 tons of Pennsylvania fireworks to an apple pie factory. In the end though, those Americas aren't real places, but imagined versions of a narrow idea: in Lauren's, it was a place where everyone owned a purebred, a WASP fantasia whipped up by the Bronx son of Jewish refugees; in Simons's, it's a road to nowhere, a dystopian wasteland offering the only dependable American comforts left: a blanket and its best reality television franchise. For Simons, quilts are both effigy and pacifier—swaddle the Kardashians in a few and calm down, it will be alright.
"The textiles I use are traditionally recognizable as 'the home,'" Bode said. "That's what we really honed in on evoking for the first season, was this space of the home, domestic life. It was right after Trump's inauguration, and a lot of people were feeling distressed. With something like the Calvin quilts, I don't think he's trying to tell a story, I think it's just the words that go along with it: America, family. For us it's like, this textile has a specific history that's intrinsic to that textile itself, which in and of itself makes it unique, and we can share that. We're not trying to create a marketing strategy. It's not about, 'Oh my gosh, we're using this sort of thing to tell a better story.' It's not that. There was someone who made this, this is why they made it, this is why the colors were used, this is why the stitches were used, and this is why it was probably put away for 40 years."
She recently acquired a Depression-era quilt stuffed with scraps of children's cardigans, which means that clothing repurposed into blankets could be repurposed again back into clothing, a dizzying feedback loop of utilitarianism, domesticity, temporality, and fashion record. It's a fair capsule for what Bode is trying to do. All fashion exists on a continuum, but Bode's actively engages it, each piece its own part of the whole story, each a way to remember.