Here's Why Models Were Carrying Their Own Heads at Gucci
Given Alessandro Michele's obsession with medieval and Renaissance art, the figures recalled cephalophores, martyred saints who carry their own heads—with a cyborg twist.
Gucci designer Alessandro Michele's free-spirited and wide-ranging references make him one of the defining designers of the digital age. Though his clothing is decadent, it collapses history together in the same way the internet does, making events and styles from centuries apart seem contemporaneous. The joy of Gucci's maximalism is the sheer unpredictability of what "everything at once" will entail: in the Fall 2018 collection he showed today, that included a teacup dragon in a model's arms, New York Yankees logos on dad cardigans, ladylike tweed jackets, giant disco lame blouses, coats with animé panels, and…models carrying their own heads.

In one look, one of the signature Gucci Boticelli-esque men was dressed in a plaid overcoat, simple white slacks, loafers, a button-down, and a giant chandelier necklace—and was also carrying his own head. In another, a fine-featured Gucci gal with baby blonde Rapunzel locks wore a scarf-print top over a plaid skirt with 80s-style trainers—and was also carrying her own blonde likeness under her arm.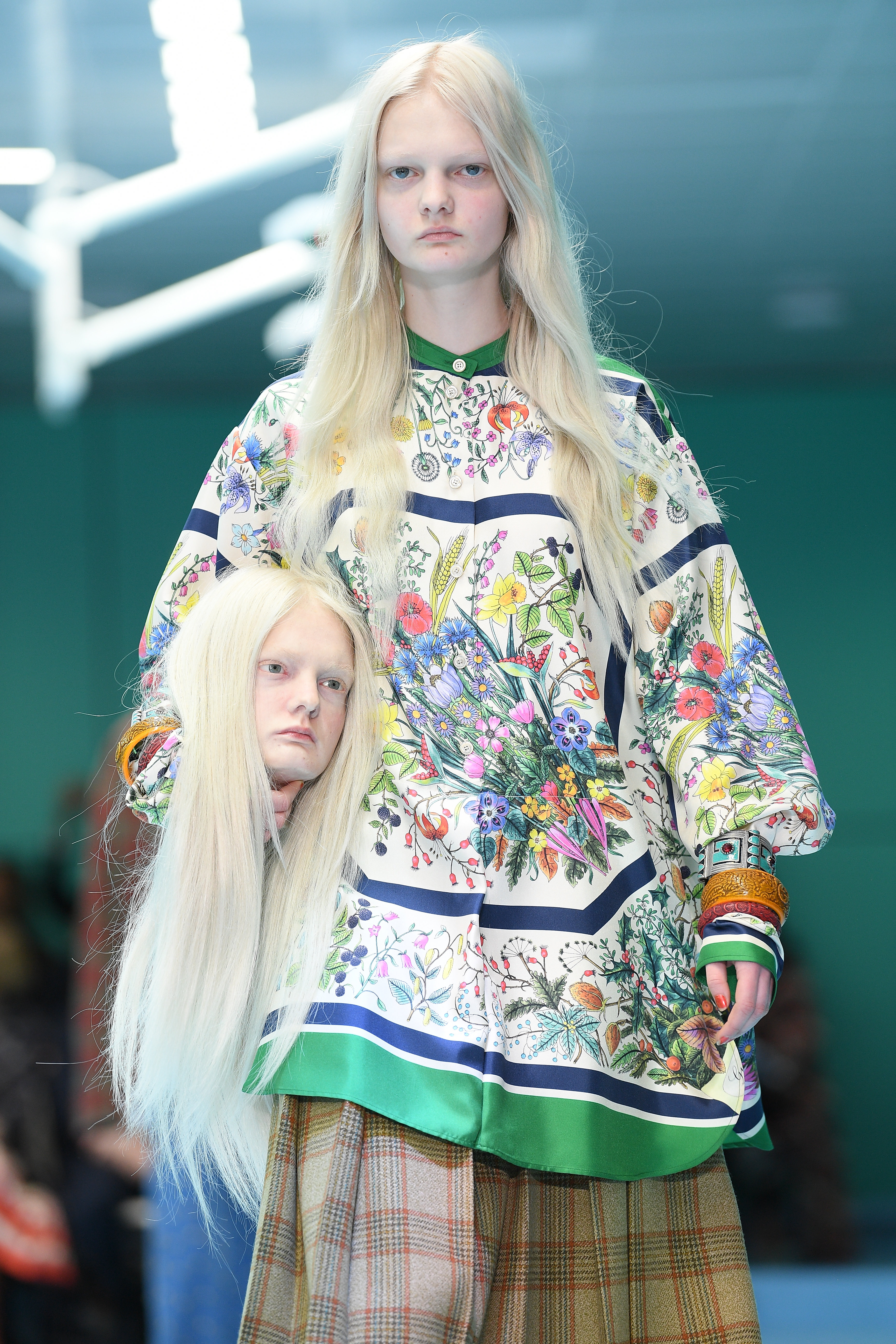 It was weird and delightful—but also: why?
Given Michele's previously established obsession with medieval and Renaissance art, I couldn't help but think of cephalophores, figurines of saints who carry their own heads to indicate that they've been martyred by decapitation (in Greek, the term means "head-carrier"). Cephalophores most commonly appear in statue form; Saint Denis is perhaps the most well known, and his statue—head in arms!—is on the front portal of the Notre Dame de Paris. According to medieval Christian tradition, cephalophores are said to have spoken the place where they wanted to be buried, then walked themselves to the location (have head, will travel!). It is believed, for example, that the saint's severed head determined the location of the Basilica of Saint Denis, outside Paris.
Shortly after the show, the brand quoted from technology historian and feminist theorist Donna Haraway's 1984 essay "A Cyborg Manifesto," adding another layer: "The hybrid is metaphorically praised as a figure that can overcome the dualism and dichotomy of identity." (Gucci might have a thing for Haraway.) Designers have also been playing with masks over the past few seasons to explore how we construct identity through social media and clothes. The show was staged in an eerie, cool blue operating room setting, which "reflects the work of a designer—the act of cutting, splicing and reconstructing materials and fabrics to create a new personality and identity with them," the brand wrote on Twitter. That's how social media works, too: piecing together the ideas and images of others into something that's somehow interpreted as "you." Like putting a decapitated head on the runway, it's gruesome and morose—but also really cool.
Gucci is one of the most unstoppable brands when it comes to dictating shifts in fashion: fur-loafers, track pants with sequin tops, and even the transparency with which designers reference their predecessors and peers. Will Zara soon be selling copies of you? Only your own severed head can tell you.