Isa Genzken Is Supreme's Newest Frenemy
The sculptor's new show at David Zwirner shows a mash-up master at work.
Slick and disheveled, superficial and mysterious, ambitious and anti-establishment, nonsensical and high-concept, funny and dour, avant- and post- all at the same time, Isa Genzken's work embodies contradiction. It also has one foot in 20th-century modernism and another in 21st-century consumer flotsam. It's a precarious balancing act, but the German artist has spent more than four decades honing her elegantly insouciant, influential aesthetic. She's a sculptress (her word) who also makes work that hangs on the wall, using spray paint, packing tape, and other scraps from her life. Anything around her is fair game, street fashion included.

Taking center stage in her current show at David Zwirner, Genzken's Schauspieler (Actors) are distinct from most of her work in that they involve actual human figures, in the form of mannequins swagged out with getups that make them look like svelte neophyte hominids struggling to get dressed. It can be tempting to make up stories about the figures, but they're finally inscrutable. In one, for instance, a Britney Spears-like figure sports wildly disheveled hair but wears nothing but a sheet held up by a clothespin, shades, and—in a sly joke—a Supreme baseball cap beneath another hat.

The white-on-red Futura look associated with Supreme is, of course, artist Barbara Kruger's invention, though this didn't stop Supreme from attempting to sue a designer for infringing their copyright on a style they appropriated in the first place. Kruger, for her part, got into the fray by publicly calling out the litigious Supreme crew and brilliantly responding to a reporter's request for comment with a blank Word file titled "fools.doc." If Genzken is providing oblique commentary here, one presumes she's in solidarity with Kruger, her contemporary.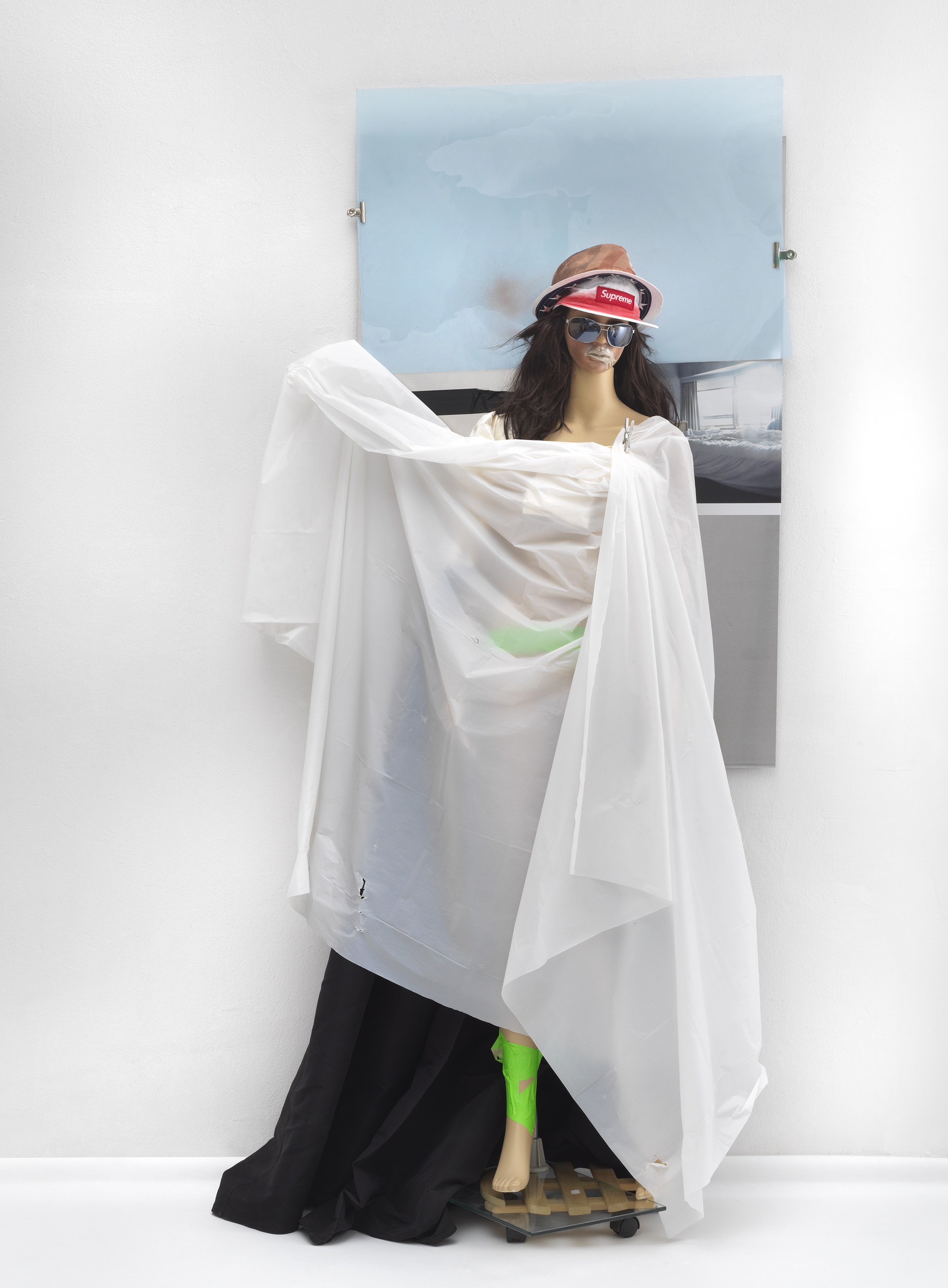 Almost all of the work in the show at Zwirner is from this year or the last: the Schauspieler (Actors) as well as paintings, assemblages, and a selection of weighty but unfinished-looking concrete sculptures. The exhibition derives its name, Sky Energy, from a sketch for an unproduced screenplay written by the artist in the mid-1990s, Sky (Fragments for a movie); it also evokes a Genzken exhibition from 1993, titled Everyone requires at least one window. Revolving around a shady secret in a suburban home, Genzken's unrealized script invokes several themes that animate the works now on view, including the cat-and-mouse interplays between public and private, and surface and façade. Windows and views play a starring role.
Rather than positing any particular angle in her work, Genzken literally frames multiple angles. There are, for example, eight large concrete sculptures here, all of which have differently shaped holes to look through. Four of them resemble gigantic hinged picture frames or dressing-room mirrors, angled to provide an assortment of views. What's being framed could be a projection screen, a gauze scrim, a mirror, a photograph or painting, or a transparent pane of glass. But Genzken gives us none of these. Looking at, or through, the sculptures, one faces either in, or out, or both, or neither. There's no single, correct way of positioning oneself in relation to the gray, industrial solidity of Genzken's frames; these assertive structures place unavoidable emphasis on human physicality.
Genzken's import is no longer up for debate. Her full-dress retrospective at MoMA in 2013, in addition to a lifetime of awards and critical plaudits, demonstrates her rightful place in the contemporary canon. Her particular elusiveness and allusiveness, however, take on special significance in our 2018, dominated as it is by the post-factual and the outright fake. But lest the artist seem aloof, she includes in this show a work she's shown before, a highly personal exploration of the possibilities of inside and outside. The lone object in the show with a title— X-Ray (1991/2012)—it shows the side of the artist's head as she sips a glass of wine. Here, as usual with Genzken, it presents the most transparent thing imaginable—yet it still isn't quite the whole picture.
Iza Genzken: Sky Energy is on view at David Zwirner, New York, through April 7.
Tagged: