Judy Chicago, The Dinner Party, 1979. Installation view, Brooklyn Museum. Photo by Jong Heon Martin Kim
We Need Judy Chicago's Dinner Party Now, More Than Ever
Judy Chicago's The Dinner Party, the pioneering 1981 installation and subject of a new show at the Brooklyn Museum, is serving blistering feminist critique for breakfast, lunch, and dinner.
Judy Chicago, The Dinner Party, 1979. Installation view, Brooklyn Museum. Photo by Jong Heon Martin Kim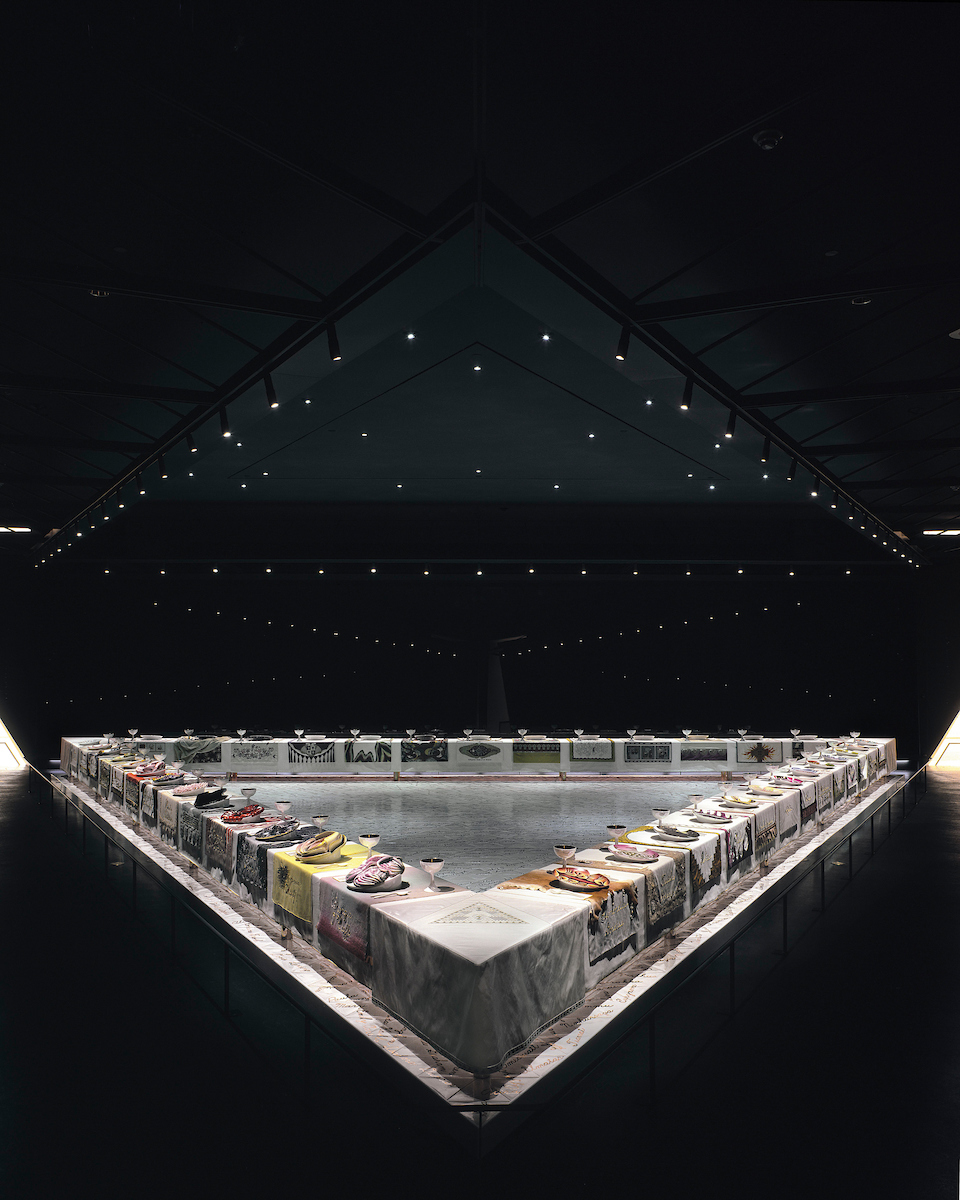 Everyone remembers their first time. For my partner, it was a slightly nauseous experience, perhaps due to overindulging in booze the night before. For my mother and sister, it was awe-inspiring. I remember being enchanted and not a little bit spooked, too young to fully grasp the import of every minute detail, but definitely intimidated by the overall experience.
I was six years old. Judy Chicago's The Dinner Party—now also part-inspiration for some spectacular plates that adorned the tables at a recent dinner for the digital launch of GARAGE—was making its US tour and enjoying its debut in the artist's hometown (and source of her nom de plume). It was 1981. I remember listening to Marlo Thomas's Free To Be… You and Me over and over, and observing the way my father hung his head in a gesture of absolute defeat after Reagan won the presidential election. At the time, The Dinner Party was "contemporary," having been completed just two years previously, but to my child brain, and even now, it appears medieval, Arthurian, churchy—like something that's been around for millennia and insists on reverence. I remember circling it slowly, one of many bodies crowding together, craning to view the elaborate ceramic plates and needlepoint runners under the dim lights, voices hushed, faces rapt. My head barely reached the top of the triangular table, and I lingered at Emily Dickinson's ruffled pink plate, because it was pretty, and also Georgia O'Keeffe's, because hers was a name I knew.

But whatever one thinks of The Dinner Party—and the critics outnumber the fans—one can't help but be impressed by the scale and ambition, the drama, and the pseudo-encyclopedic scope. To look at it afresh is to realize that it is still relevant, that women are still treated like second-class citizens and that so many of us unconsciously internalize this treatment that we are complicit in its perpetuation.
"When I was still an undergraduate art student at UCLA, I took a class on the intellectual history of Europe." Chicago recounts in her book on The Dinner Party, published in 2007 shortly after it found a permanent home at the Brooklyn Museum. "The professor, a respected historian, promised that at the last class he would discuss women's contributions to Western thought. I waited eagerly all semester and, at the final meeting, the instructor strode in and announced: 'Women's contributions to European intellectual history? They made none.'"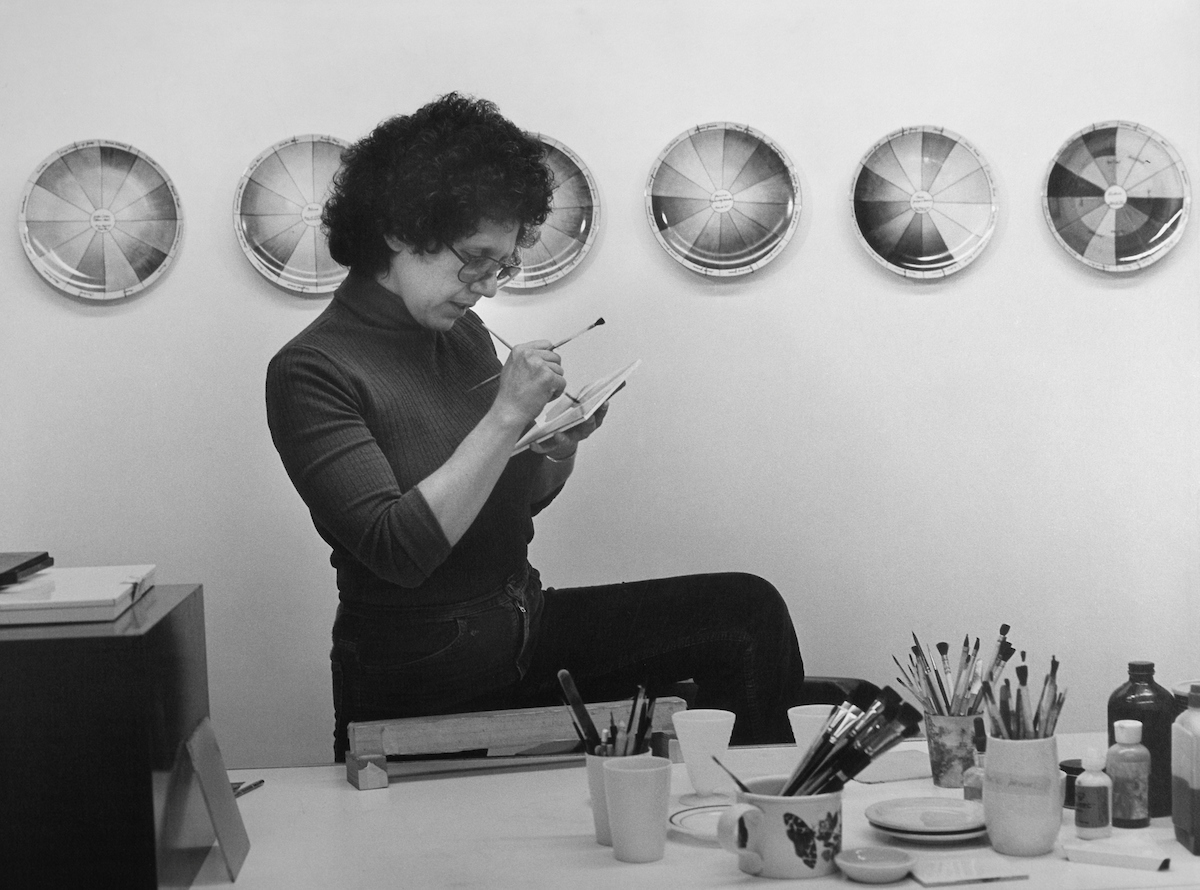 This heartbreaking anecdote likely resonates with all women, who have at one point or another felt like their interest in women's history was frivolous and amusing to others. As it is easy to ridicule women's desires to know and understand their place in history, it is easy to ridicule The Dinner Party. When Chicago embarked on the project that would become The Dinner Party, there were no women's studies classes and the feminist movement was still relatively nascent.
My childhood memory situates The Dinner Party as an event, something that happens once in a lifetime, a moment to treasure. Those who make the pilgrimage to the Brooklyn Museum solely to see it may feel the same way. The truth is that its having a permanent home depletes it a bit of its momentousness. But it is momentous, whether you see it once or a thousand times. At a time when nobody seemed to care about women's place in history, Chicago created a monument to the very act of restoring those unknown, forgotten histories. Its overt nature is mildly off-putting, especially to those of us who like our political messaging delivered with subtlety or irony. But subtlety was never really the point. The Dinner Party was not a commentary on women's absence from the history books; it was not meta, it was alpha—the gauntlet hurled, launching the battle for a place at the table.
Claire Barliant is a curator and writer based in Cambridge, MA.

Roots of "The Dinner Party": History in the Making will be on view at the Brooklyn Museum from October 20, 2017 to March 4, 2018.