"Oliver and Mrs. Nibbles" by Catherine Opie, L, courtesy of the artist; "Cameo" by Liz Swig, courtesy of the artist.
How Catherine Opie's Intensely Personal Art Became Jewelry
The artist gets real with GARAGE about her current inspirations, the state of queer life in Los Angeles, and that epic 2004 'The L Word' cameo.
"Oliver and Mrs. Nibbles" by Catherine Opie, L, courtesy of the artist; "Cameo" by Liz Swig, courtesy of the artist.
Los-Angeles based photographer Catherine Opie has made a career of turning the personal into the political, or vice versa, or both. Now, some of her most celebrated work, such as a da Vinci-esque 2012 portrait of her son Oliver with his pet mouse, Mrs. Nibbles, has been transformed into perhaps the most personal medium of all — jewelry — by Liz Swig.
Titled "Cameo," Swig's series of cameos featuring work by Catherine Opie and Cindy Sherman will be presented at the Venice Biennale on May 8th. Ahead of the big reveal, Opie spoke to GARAGE about Los Angeles, domestic life, and her son's sneaker obsession.
First things first, I have to ask; what was your cameo on The L Word like?
Oh, that! I had known Ilene [Chaiken, The L Word creator] for a long time, and she wanted me to do it. It was pretty nerve-wracking, even though you're just moving your mouth and faking a conversation.
How does it feel to have your work rendered in jewelry, when you've spent so much time rendering others?
To see the work be rendered in that way was completely satisfying, actually, and when I go to Venice I'll be able to try it on. I'll wear the Oliver pendant for sure; I love photographic lockets, and I love the idea that I can wear a photograph of my son.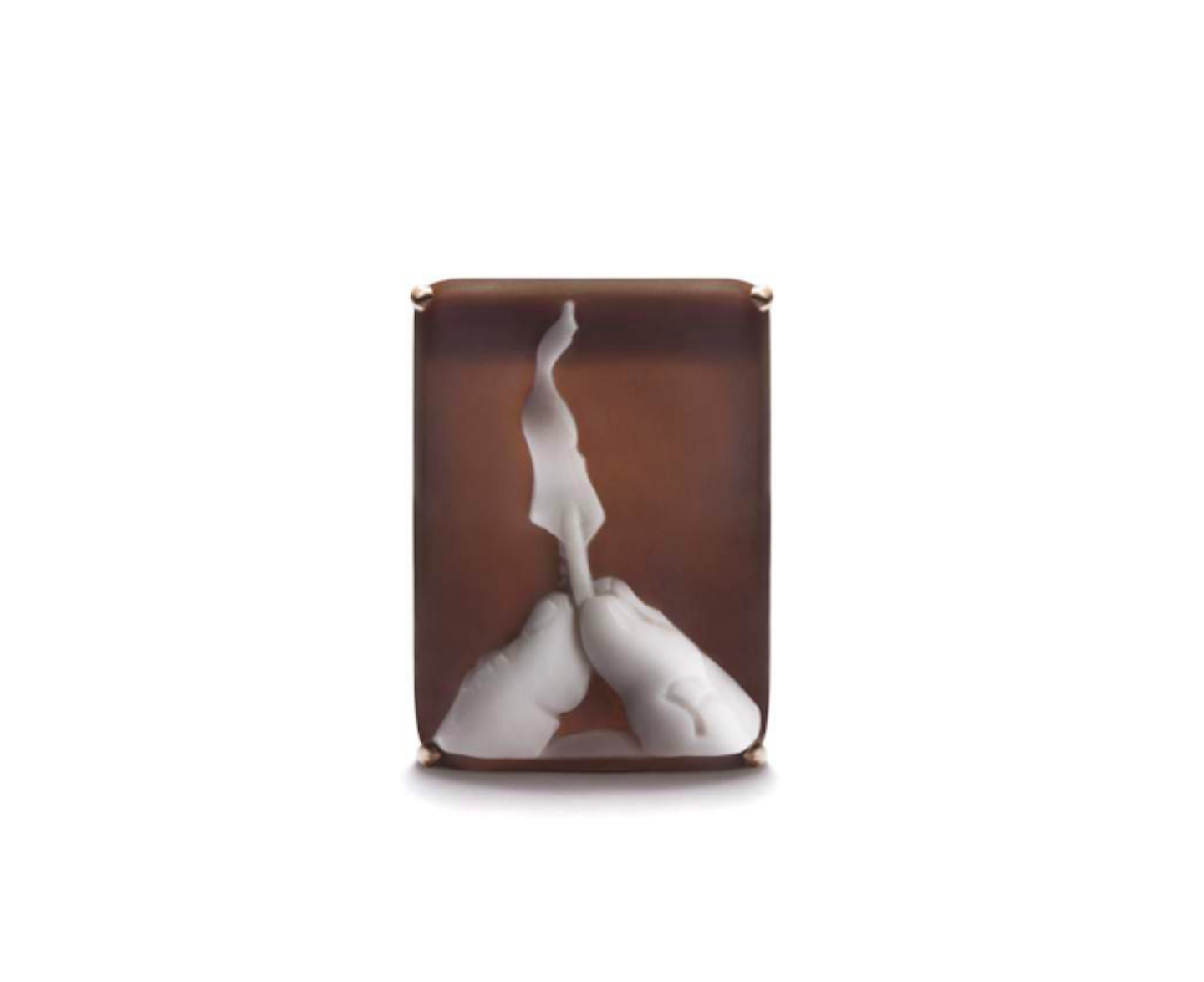 Would Oliver wear the pendant with his portrait on it?
He might wear the ring with the flame, but he doesn't really wear a lot of jewelry. He likes tennis shoes.
You're a fixture of the Los Angeles art scene; what would you say is the current state of that community?
I've been here since I got to Cal Arts in '85, — a lot of people are talking about it, it's always been an incredibly vibrant community, but now it's more of a hot topic. It's certainly an interesting time [for L.A. art], but it always has been in my mind, having been part of the education system here for so long and teaching and always in contact w younger artists. I'm happy that people actually fly from New York to buy work out here now.
Who are your favorite artists currently working in L.A.?
Lisa Anne Auerbach is amazing, she's awesome in terms of her politics. Andrea Bowers, who I grew up with Ohio, Laura Owens; we all come from northeastern Ohio. Ed Ruscha has a long history of being in L.A.; I've been close with John Baldessare since I was in my twenties. Frank Gehry and I have a lovely friendship; there are the older generations I've looked up to, but there's a ginormous list of people who are all really dedicated to being civically minded, teaching, being parts of museum boards, and showing up for one another in really good ways.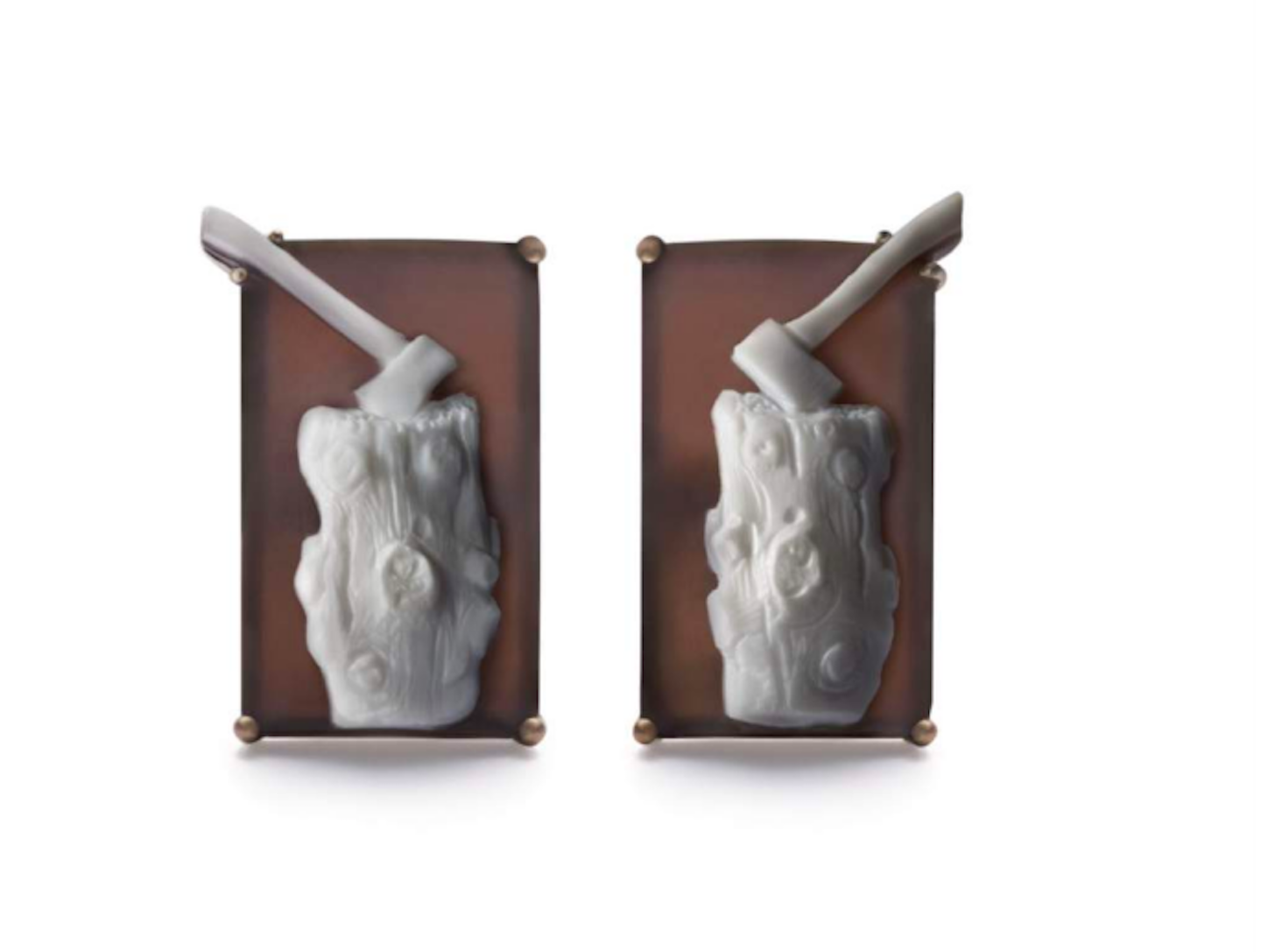 What are you working on these days?
I'm thinking about how language and landscape are connected, especially in terms of the political climate we currently live in. I'm trying to think about a new form of political collage, delving into what it means to transform these ideas and images in the same way that those cameos were made based on my photographs. I'm very interested in idea of transformation and creating other ways to view photography
You helped define so many people's visions of what queerness looks like; what kind of changes have you seen in L.A. queer communities since your twenties?
There's less specific queer space in the city, because cities are always morphing and changing. It'ts hard for me to understand social life because I'm married with a kid and I go home after work, so I'm not going out dancing like I was in my twenties and thirties in L.A.; The Palms, Club Fuck, Akbar, there was a club I really miss on Washington where Claudette Sexy DJ used to spin.
It's funny, because so much of your earlier work was about longing for domesticity, and now you have it.
I know. I achieved the cutting on my back!