Daft Punk's installation Technologic Redux from 2019 is displayed during the press visit of the exhibition 'Electro - From Kraftwerk to Daft Punk' at the Philharmonie in Paris, on April 8, 2019. (Photo by FRANCOIS GUILLOT / AFP)
How Daft Punk and Kraftwerk Shaped '90s Style
A sprawling retrospective at the Paris Philharmonic traces dance music in all its visual glory.
Daft Punk's installation Technologic Redux from 2019 is displayed during the press visit of the exhibition 'Electro - From Kraftwerk to Daft Punk' at the Philharmonie in Paris, on April 8, 2019. (Photo by FRANCOIS GUILLOT / AFP)
Daft Punk have always had close ties to the fashion world, being from Paris, the fashion capital. But their influence is finally captured in a new retrospective at the Paris Philharmonic. Electro: From Kraftwerk to Daft Punk, which opened last week, traces the history of electronic music from 1970s disco to German techno and French pop.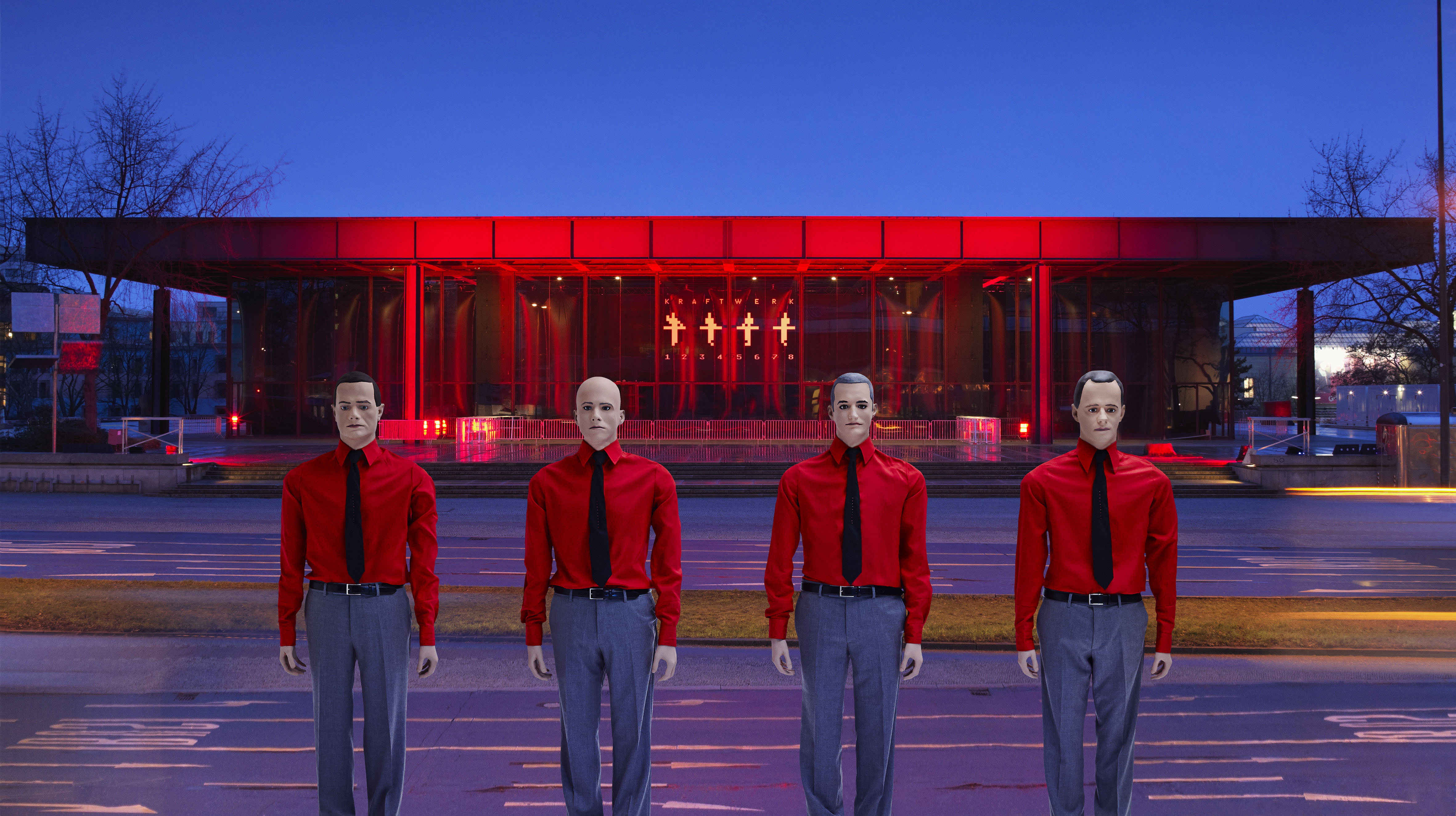 From robots to helmets, screens and synths, this sprawling retrospective traces dance music in all its visual glory, looking back on how groundbreaking rave, minimal techno and EDM have defined art, culture, underground style and beyond."The exhibition focuses on the aesthetic aspect of electronic music, not so historical, it's immersive," said Paris music journalist Jean-Yves Leloup, who has curated the exhibition, which runs until August 11. Daft Punk have created a special commission for this exhibit—their first ever—which is a blaringly red installation revolving around their 2005 song, Technologic. Technologic Redux is a recreated scene from their music video.
"They've used a small robot which was created by a team who making special effects for Hollywood cinema," said Leloup. "In fact, the entire exhibition evokes the theme of the robot; it's an important theme of electronic music, the relationship between human and machine."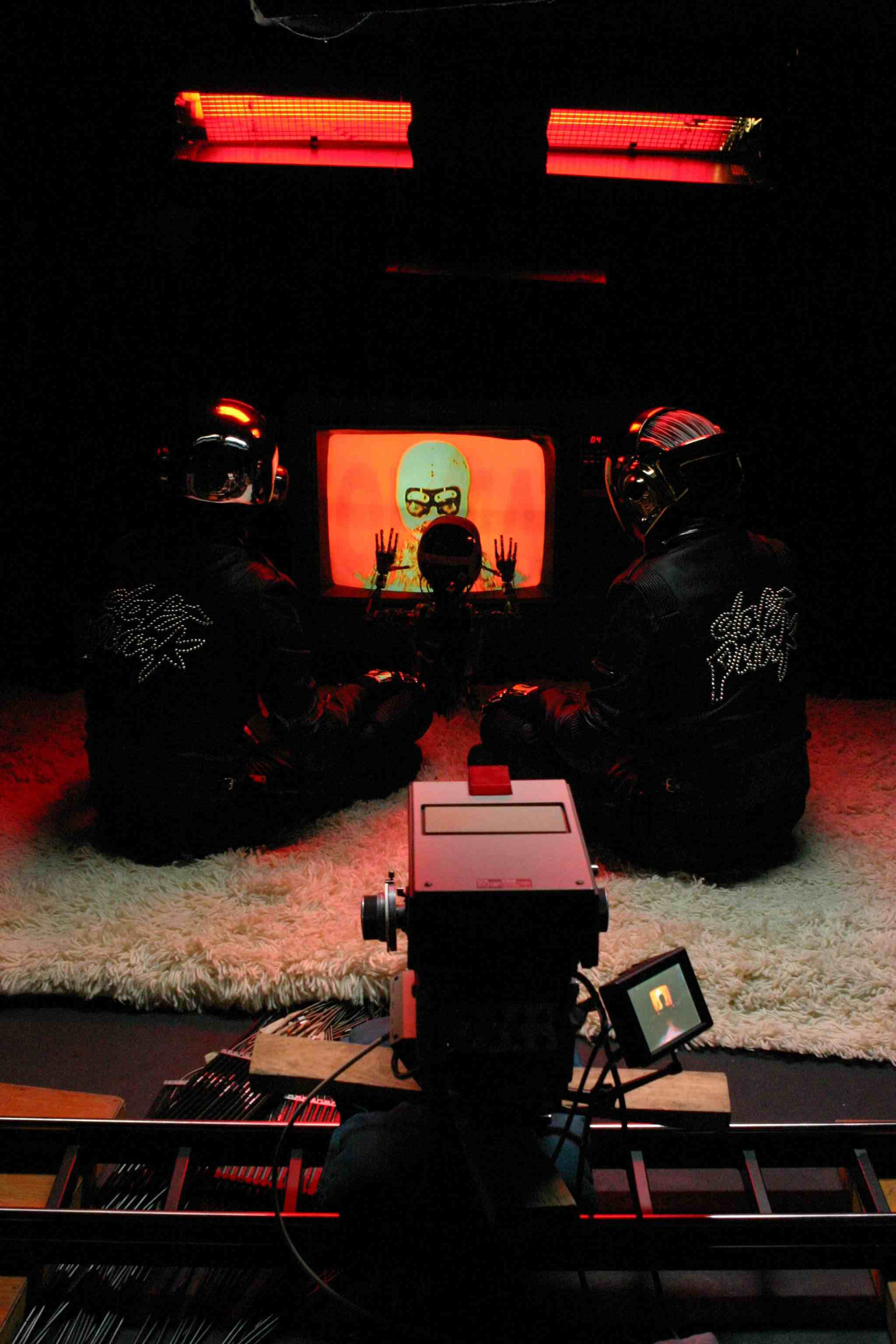 The famed, anonymous duo had Hedi Slimane design their retrofuturistic robot regalia with their sequined Saint Laurent suits in 2016— bringing back an onslaught of dapper onto the dance floor. Slimane also designed their biker jackets (which are now on their own collectible dolls), and the band recently had their own pop-up in Los Angeles, where they sold a line of t-shirts made in collaboration with Gosha Rubchinskiy.
"They've created an entire world around their music," said Leloup. "They have a wide approach to music always related to contemporary art, cinema or fashion."
The band's former art director, Gaildas Loaec, went on to found Maison Kitsune for a line of Tokyo-meets-Paris twist on preppy basics, while the band have posed alongside Milla Jovovich and have been shot by Peter Lindbergh (not every electro duo can say they've done that). They were even some of the first musicians to create a runway playlist for Slimane's shows, proving they were instrumental in ushering in electronic music as the fashion world's soundtrack.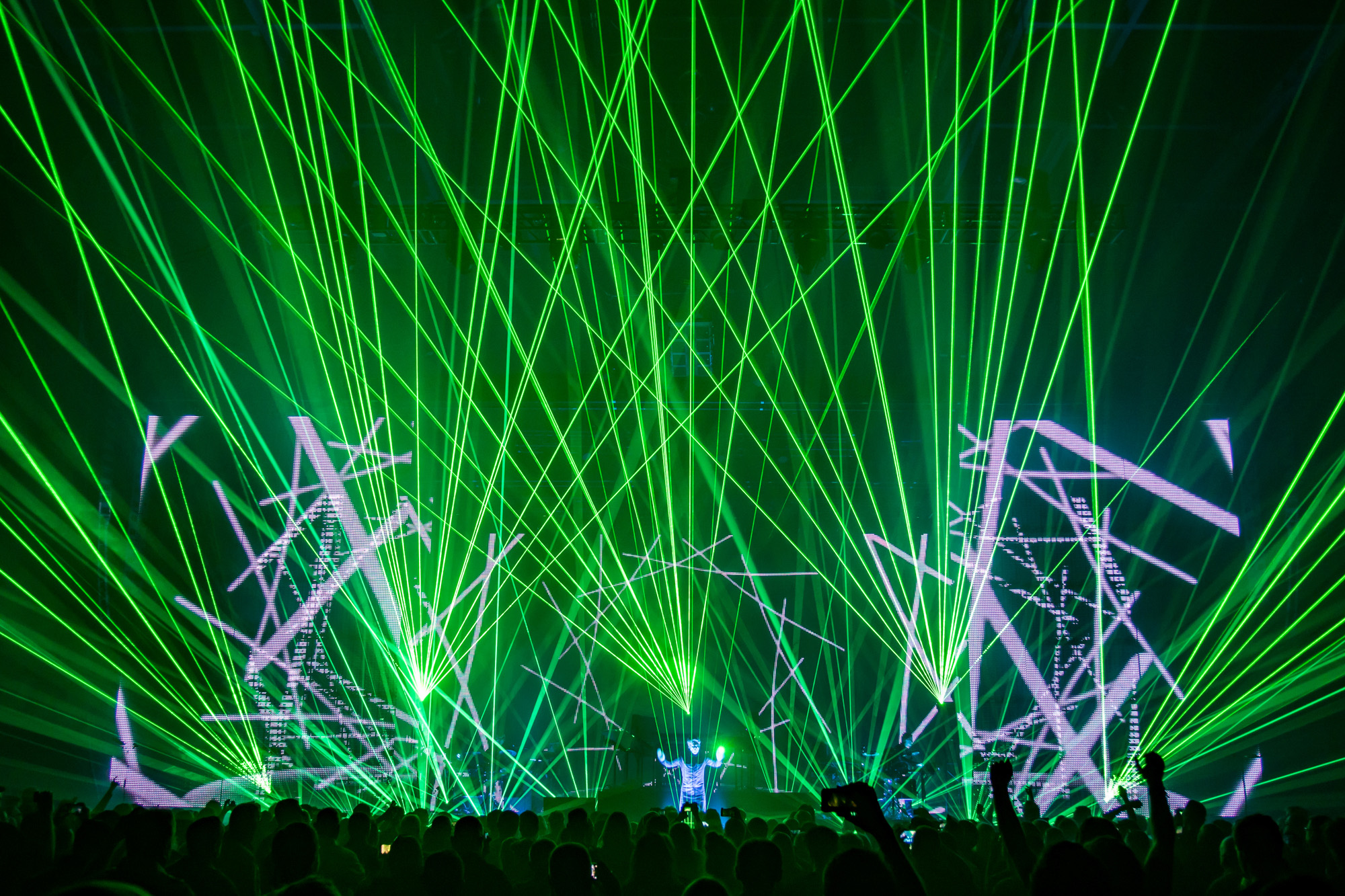 They're not alone, however in fusing the crossovers between art, fashion and spectacle that has defined electronic music from past to present. According to Leloup, a lot science fiction is at the heart of dance music.
"Whether it's Kraftwerk or Detroit pioneers of techno, Star Wars was released in 1977 and at that time, a lot of electronic musicians were growing up," he said. "They were teenagers watching sci-fi TV shows. The robot personifies the relationship you can have with the machine. It's a poetic symbol of working with the machine."
Daft Punk's anonymous identity has carried on to other acts beyond deadmau5. "In America, South America, even some underground European acts, wear masks, and it's more than just costumes," he said. "Masks are important in electronic music culture; it ties into KISS, or David Bowie, as DJ and electro musicians create these characters to reinvent themselves onstage."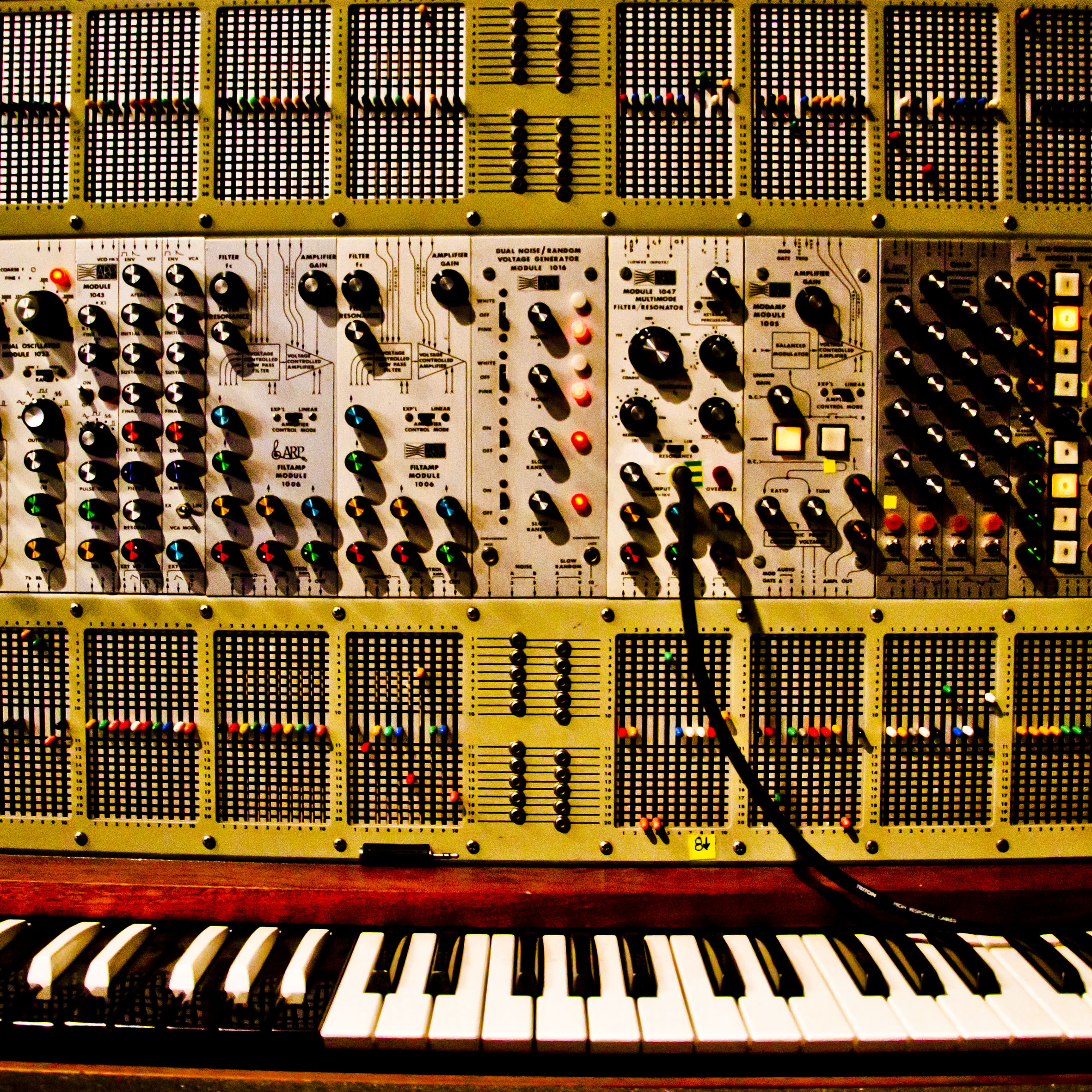 The exhibition is a synth heavy, gear nerd's dream. It features Peter Keene and Jarre Garre's studio gear, as well as retro synths that were used at Studio 54 in 1968. Also prominent is the smiley face, a symbol of acid house music (here in a glowing piece by French artist Bruno Peinado) before the smiley was an emoji. Yet, its everywhere in fashion today, from Justin Bieber's Drew house line to the music videos of Kiddy Smile, the Kenzo-wearing Paris DJ, singer and voguing star noted for creating runway music for Balmain and Alexander Wang.
Despite the fashion and music crossovers, don't expect to see a room lined with mannequins. "I didn't want to have too many costumes in the exhibition," said Leloup. "We have a lot of pictures by photographers, featuring portraits of clubbers and ravers through different cities, from Moscow to Paris, New York and the post hippies in India, to show how different they look in their street style and streetwear."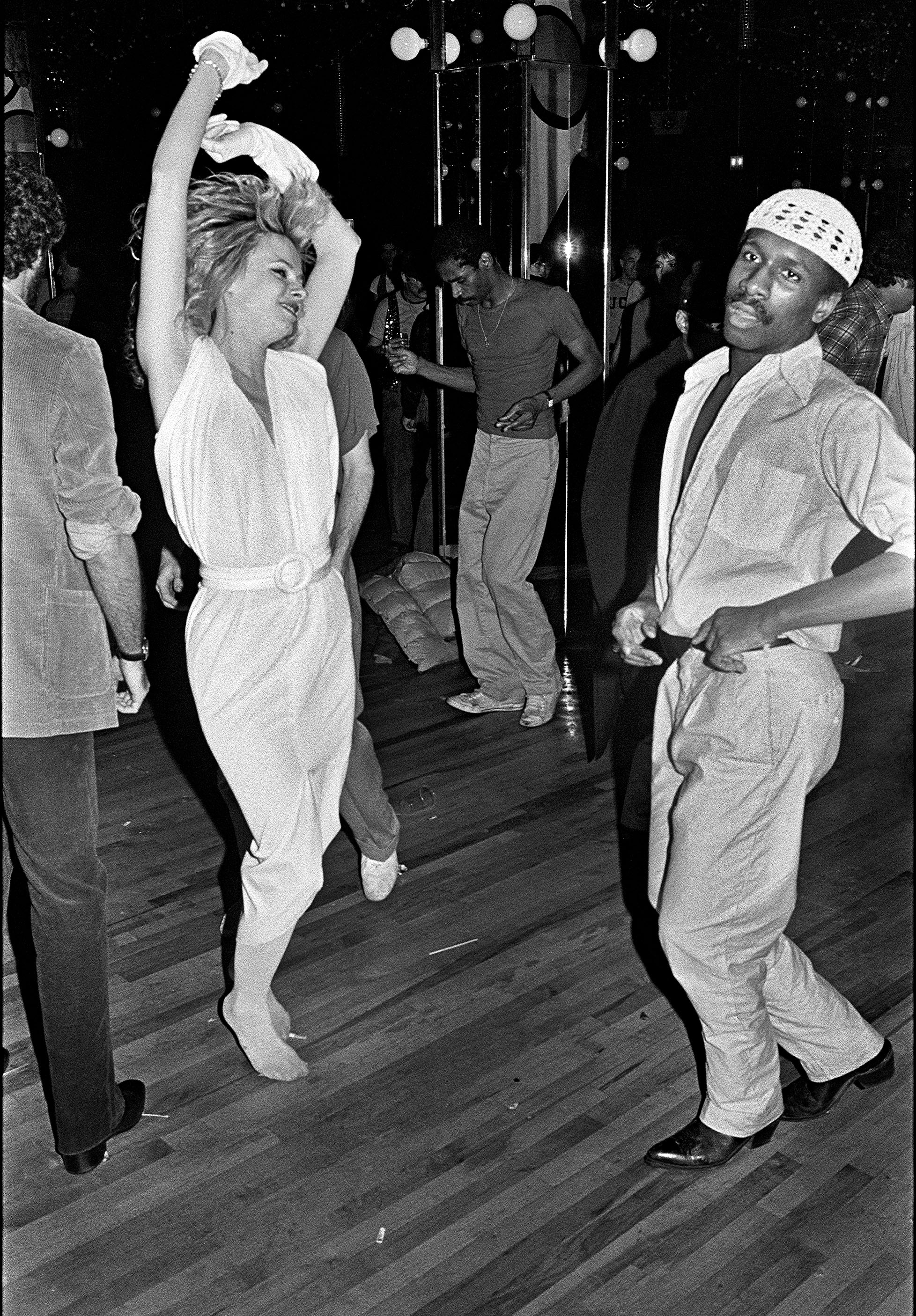 Some of the photos include ravers from the iconic Love Parade in Berlin in 1996 by German photographer Alfred Steffen, as well as disco-era photographer Bill Bernstein who captured the freakiest moments in New York nightclubs. The photos are far from staged, however. "I didn't want to include photos of the VIP and celebrities dancing; I'm not interested in that," said Leloup. "It's really about the dancer and their relationship to music."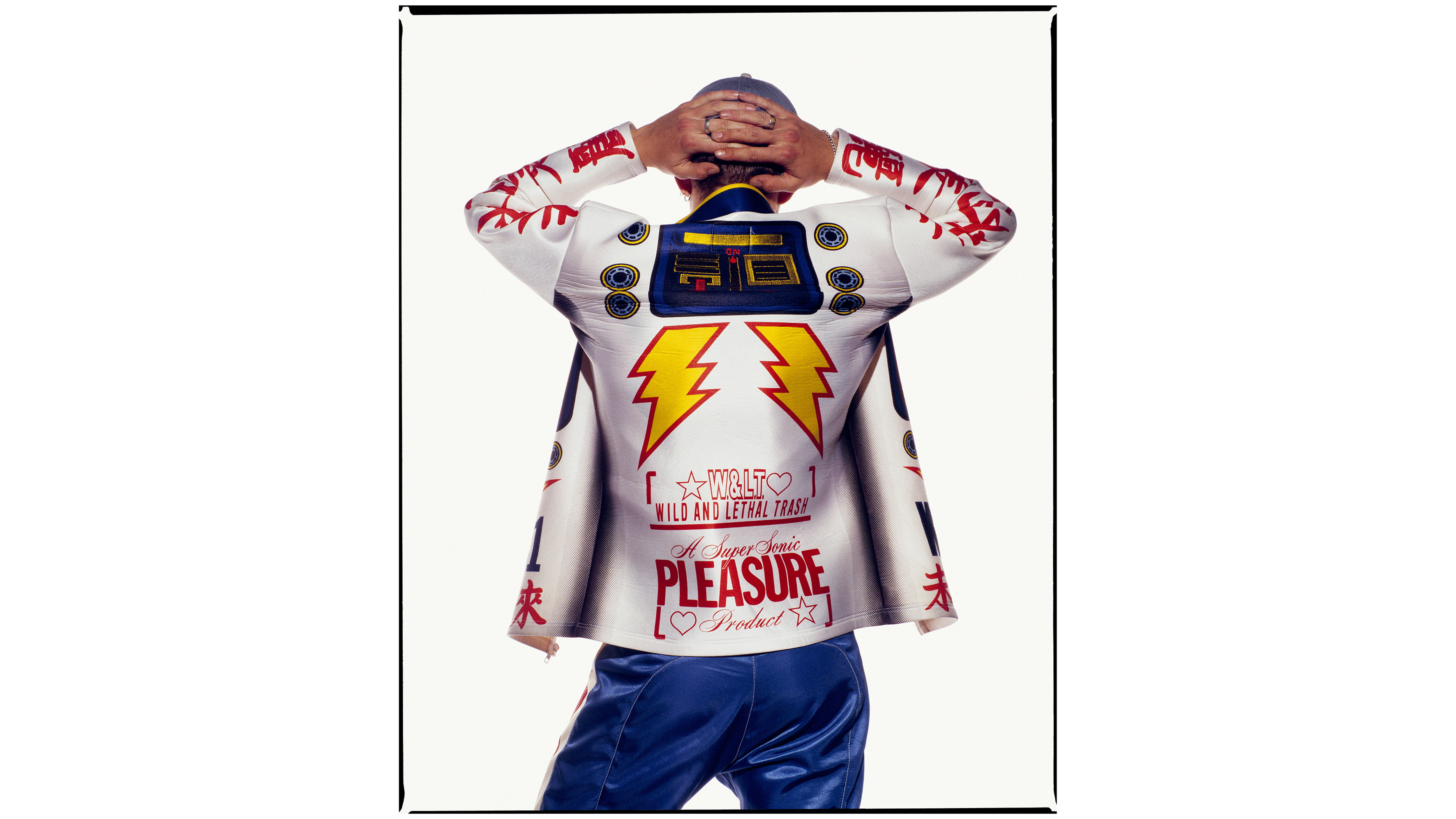 Daft Punk saw their rise over a decade ago, so they're vintage in their own special way. But their theatrical spirit is being carried by a younger generation of clubbers in Paris today—the queer rave Kindergarten parties are fusing the iconic New York club kid ethos with extravagant post-drag costumes. In this exhibition, Paris photographer Jean Ranobrac ,who has shot Paris club kids like Tiggy Thorn, is showing his colorful pop photos.
It taps into the lively, underground scene in the outskirts of Paris, hosted in warehouses. "People aren't going to nightclubs anymore, people are organizing parties where everything is permitted," said Leloup. "It's a mix of sexual minorities, gay, straight and bi, it's a new way to be free."