Cartsen Höller, The Double Club, 2008. Photo Attilio Maranzano. Courtesy Fondazione Prada
Carsten Höller Brings His Double Club to Art Basel Miami Beach
A new Prada-supported version of the artist's split-down-the-middle hangout promises a "hyper-polychromatic" experience.
Cartsen Höller, The Double Club, 2008. Photo Attilio Maranzano. Courtesy Fondazione Prada
A nightclub presented as an artwork designed to facilitate thoughtful exchange between the Democratic Republic of Congo and Western Europe: such was the original version of The Double Club, on paper at least. But patrons of German artist Carsten Höller's bar-meets-restaurant-meets-disco, which he opened in London in 2008, didn't let the subtleties of this cultural crossover interfere with having a good time. Höller juxtaposed artists including Chéri Samba and Andy Warhol, foods such as fumbwa and English cheese, and music from the likes of Papa Wemba and M.I.A.
GARAGE spoke to Höller about how and why he decided to revive The Double Club and transform it into an invitation-only work, The Prada Double Club Miami, at a former film studio during this year's Art Basel Miami Beach.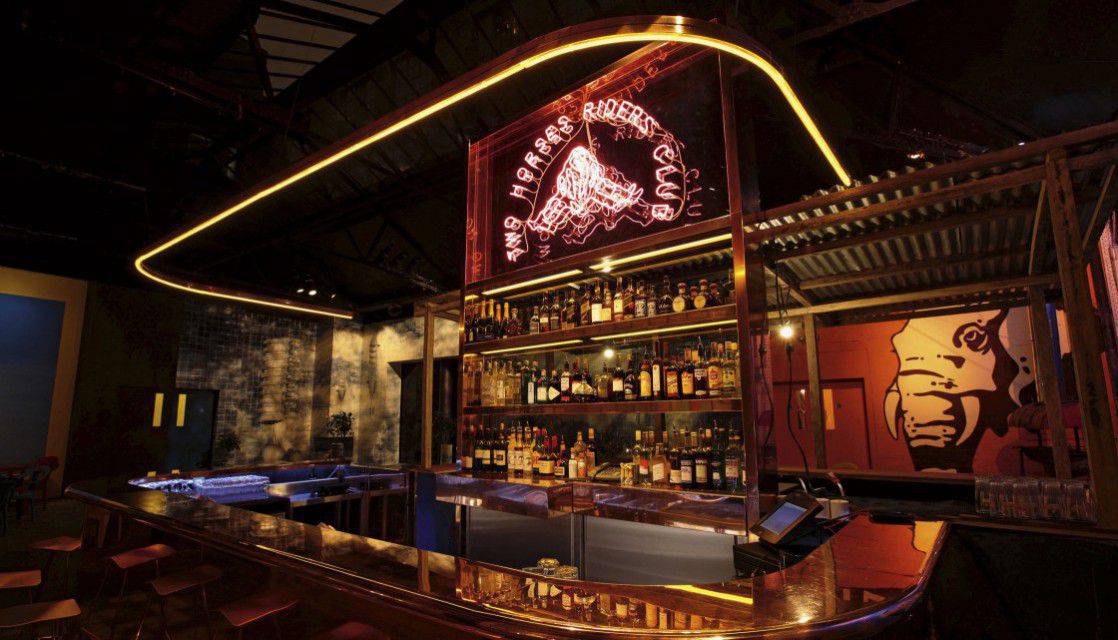 GARAGE: Why did you decide to revive The Double Club in Miami?
Carsten Höller: Prada asked me if I wanted to do another one on the occasion of the company opening up a new store in the Design District. I knew it would have to be different than the 2008 version, however, because London has a Congolese community, and originally The Double Club was a way for me to promote and celebrate Congolese music. The Congo is a huge country—it's as big all of Western Europe, from Lisbon to Moscow—so it made sense to me to put these two very different cultural identities next to each other there. In Miami, the situation is different; during the fairs, people come from all over the world.
What was it like when you opened the first Double Club in London?
The Double Club was meant to be a six-month pop-up, but that turned into eight months. It had a bar, a restaurant, and a discotheque. It was a big project juxtaposing two cultural identities, Congolese and Western. Nobody came at first. It opened at the worst possible moment, in November 2008, during the financial crisis. The British don't usually go out during this time of year anyway, or if they do, they go to holiday parties. Suddenly, on January 2, 2009, it was packed, and from then on it was the place to be.
How is The Prada Double Club Miami different from the original?
The Miami version has more of a conceptual set-up between the two different spaces than a cultural one; it's about the monochromatic versus the polychromatic. Also, it will only exist for three days, though the original idea of a space for hospitality is the same. We'll have a bar and some food, though not a restaurant this time. The indoor space is going to be in black, white, and gray only. Even the bottles at the bar, the walls, the LED displays, and the dance floor are black-and-white. If you come as a guest, I want you to feel out of place by bringing color to the space. The outside is the opposite; it's going to be very, very colorful with a lot of neon and LED lights. It's almost hyper-polychromatic. I want guests to feel the opposite outside—less colorful than the colors surrounding them.
We're also bringing the idea of a slowly rotating dance floor, like we did in London, when we had a DJ on it. When the DJ was in the Western part of the room, he or she would play Western music, and the same for the Congolese part of the room. Inside the space, we will have mainly Western DJs playing but also some live international acts. Outside, we'll have more of a Caribbean vibe, including bands from Miami's Haitian and Cuban communities. The inside space will have harsher, more electronic music; outside it'll be more vibrant.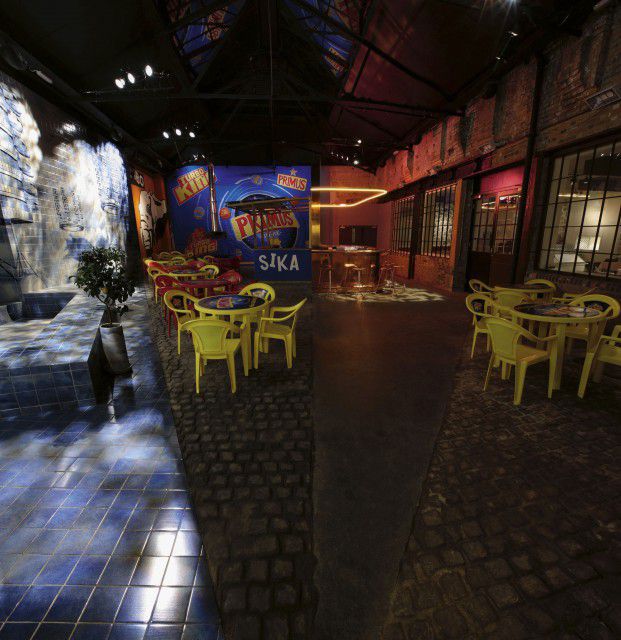 As the artist, were you able to experience the original Double Club yourself? Will you go this year?
In London, sometimes it was so crazy that I had to go home to survive! Then, I went about once a week. In Miami, I'll be there for the first two nights, at least. I'll try to last for all three.
Is this the end for The Double Club?
In principle, I could go on doing Double Clubs, working against something homogeneous. Many of my works are Double Clubs, in some way. For instance, in my Flying Mushrooms piece, I split mushroom forms in half and made them spin. Often, I put two different forms together. It's relaxing to be in a space where you have two things next to each other, but only half of each. It's about having them exist at the same time, in the same space. In a way, I've been working on Double Clubs for years.

Carsten Höller's The Prada Double Club Miami will be on view at 71 NW 14th Street, Miami, through December 7, 2017.