Athleisure Is Over—Spiritual Performance Wear Is In!
At Cottweiler, clothing that celebrates life and love, rather than just sexual energy.
Before Cottweiler's Spring 2019 runway show began at the Rambert Ballet School on London's Southbank, a calming female voice chanted a message of love, unity, openness and power, as though we were in a hot yoga class or a guided marathon-training app. The audience sat surrounding what appeared to be a satellite dish bathed in soft yellow light. When the models eventually stepped out from behind it, they walked twice around the room, arranging in a spiral pattern in the middle, like the cross section of a conch.
The show notes read a bit like a mantra: "Good Wishes and Pure Feelings, A New Golden Age, Personal Transformation," and the collection's key idea: "Spiritual Performance Wear." Wellness is on the fashion world's mind at the moment. What seemed a fad a few seasons ago—a response, perhaps, to the increasingly inhumane pace at which designers are expected to produce—now appears to have been merely the tip of the iceberg. And it's no longer just a conceptual evolution, but an aesthetic one, too. As we're reaching peak sportswear, labels that, like Cottweiler, have built a brand identity around finessed sportswear, as opposed to joining the bandwagon when the trend proved lucrative and impossible to avoid, are undergoing a subtle rebrand to keep the style moving forward. Out goes "sportswear"; in comes its grown-up, spiritual older brother: "performance."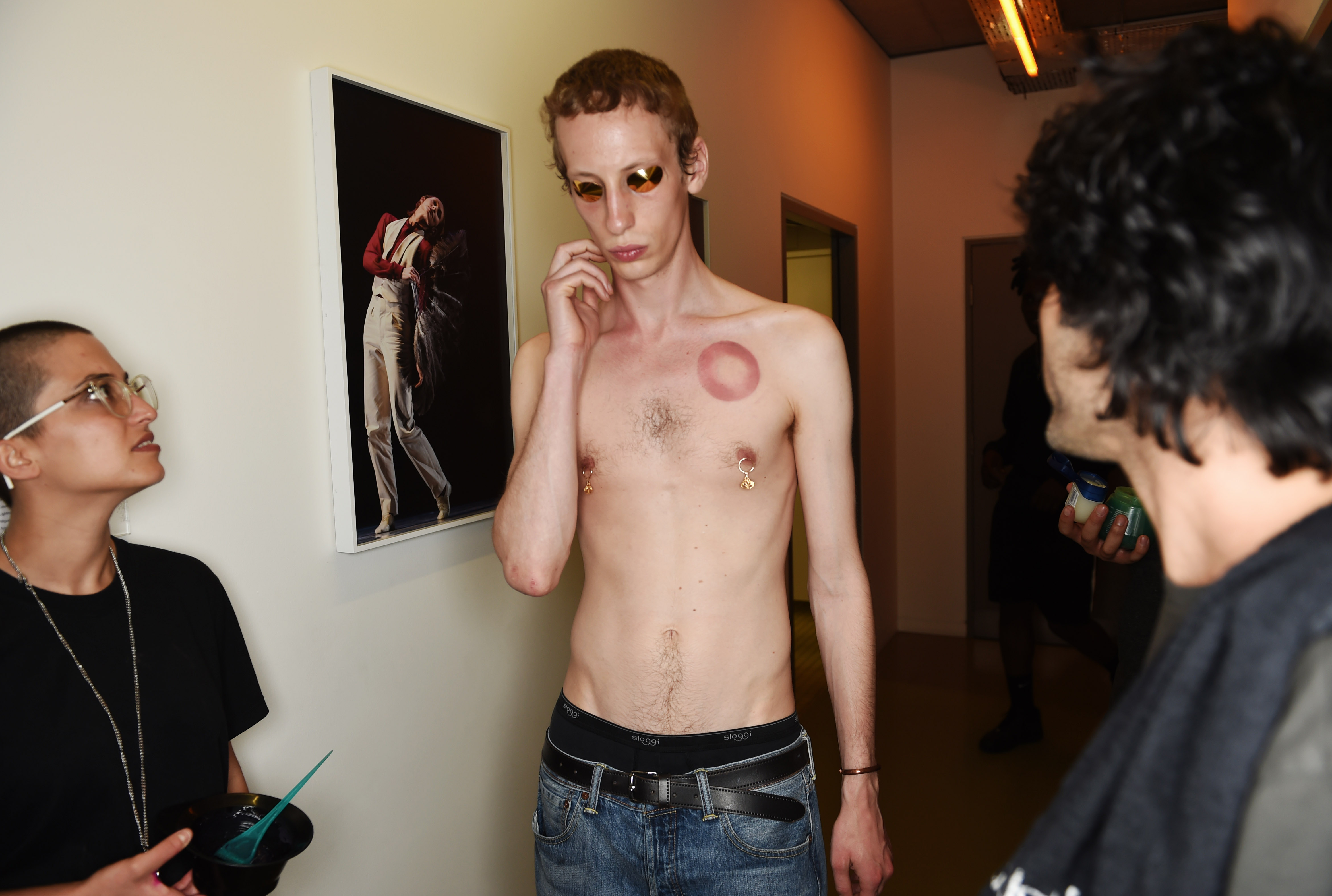 At Cottweiler, that meant tracksuits in perforated Nappa leather, pale lilac lycra, and a two-piece resembling a postcard sunset. Before starting the brand, co-founder Ben Cottrell worked on Savile Row, and there were nods to that tailoring pedigree in a pair of muted neon yellow joggers that could easily pass as suit trousers. (I recently heard someone recount that they wore Cottweiler to their mother's wedding.)
"The tracksuit is our staple, but we're always fine-tuning the fit, the cut, the details," said Matthew Dainty, the other half of Cottweiler's design duo, backstage. "Everyone's experience of fashion is different and we aim to take elements of all [of them]. The comfort of sportswear, the formality of tailoring, the function of workwear."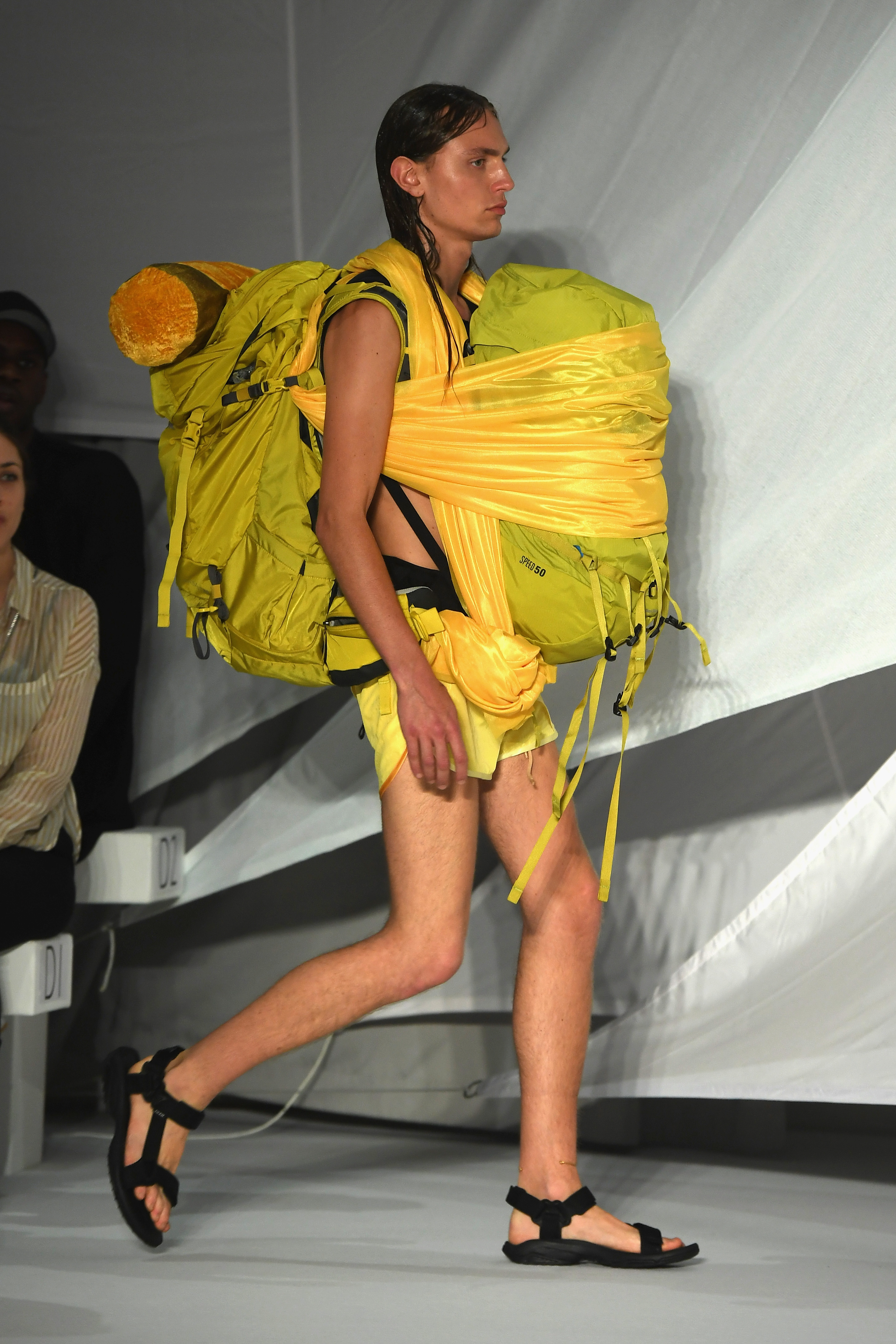 Since winning the Woolmark Prize in 2016, Cottweiler has been focusing more on knitwear, using their collections to "research and promote the use of natural fibres and what they can do from a performance perspective," says Dainty. This season, they created a Merino wool knitted jumper and vest, covered in wooden "massage beads." The natural elements stood in contrast with futuristic details, like a backpack-vest hybrid, the tender techno soundtrack created by producer Palmistry, or the model carrying an LED screen with a waterfall display.
In previous collections, Cottweiler has referenced fetish wear, an element that's "still there," according to Cottrell, "but I think as we get older our ideas of fetish have changed and developed." Bodies are still center stage, with belly chains slung around a model's midriff, marks of "cupping" covering another's body, and protective eyewear conjuring the image of a sunbed. "With this collection we're looking a bit more internally," he adds. "It's about love and light, instead of just sexual energy."
Long before their spiritual awakening, love and community among young men have always been central to Cottweiler, an ethos that's reflected in the casting. "It's always a continuation of the story with the group of boys we have," said Dainty, "and we'd ideally like to keep working with the same boys in the future." One image from the show stuck in my mind: Dainty, following his post-show bow, gesturing to the models with the tenderness of a boy scout leader on a field trip, leading them off the runway as they unwound from their spiral.