"Still Life with Rayfish," Arden Surdam.
Arden Surdam's Photography is Not For the Faint of Heart
Soutine whomst?
"Still Life with Rayfish," Arden Surdam.
"Offal," Arden Surdam's exhibition of new photographs at ABXY gallery on the Lower East Side, pulls off a few remarkable feats. The deeply layered trompe l'oeil still lifes of slaughtered fowl and dripping carcasses of luxurious delicacies find their impetus in "Flesh," the retrospective of the Russian-French expressionist Chaim Soutine's radical canvases of bloody game shown last year at the Jewish Museum, specifically Soutine's "Still Life with Rayfish," in which that fish's guts, rendered thickly in fluid daubs, pour from it's gauged underbelly as it seems to smile.
Surdam's images aren't as gleefully gruesome as Soutine's, but there are enough congealing fluids to make the title's wordplay pop into mind more than once; "offal" sounds a lot like "awful," and if you don't like knowing where your food was before it hits the display case at Citarella, it applies just as often. Surdam's homage makes use of a real rayfish, freshly slaughtered and cast aside forlornly, blood dribbling down the folds of the white vinyl backdrop. The vignette looks more like a crime scene than genteel still life, a platter of upturned crème brûlées and globular green grapes lay nearby, and a disembodied hand, light one finger, encroaching up the frame.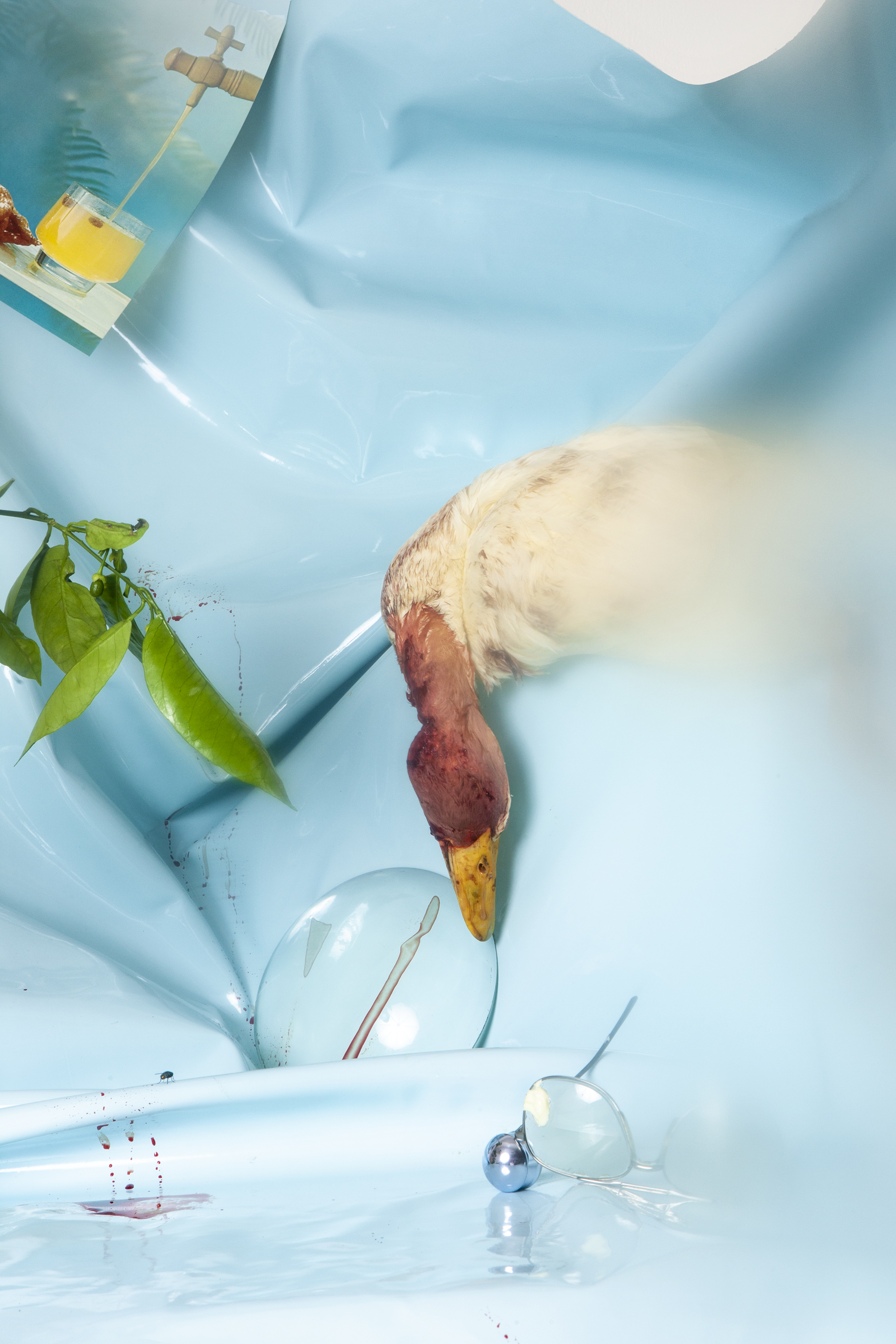 The reference to canonical masters is deliberate, of course. Soutine's "Rayfish" was itself an homage to Chardin's, but with its woozy brushstrokes and violent tableaux, upended his forbears' politesse. Surdam inserts herself into the continuum with a similar panache. "I wanted to be within that cannon," she said. "Obviously they're all men." Some of her photographs incorporate pages torn from vintage cookbooks, images instructing the urbane home chef how to test lobster for doneness, or the correct finish on a souffle, lending them a Louise Lawler flavor of disaffectedness. The torn pages float next to glistening hunks of raw liver or inky piles of caviar, rarefied foodstuffs long understood as Eurocentric totems of the rich, made strange and, needless to say, unappetizing (a smaller companion show is on view in Montauk; making the Hamptons set uncomfortable is huge this summer).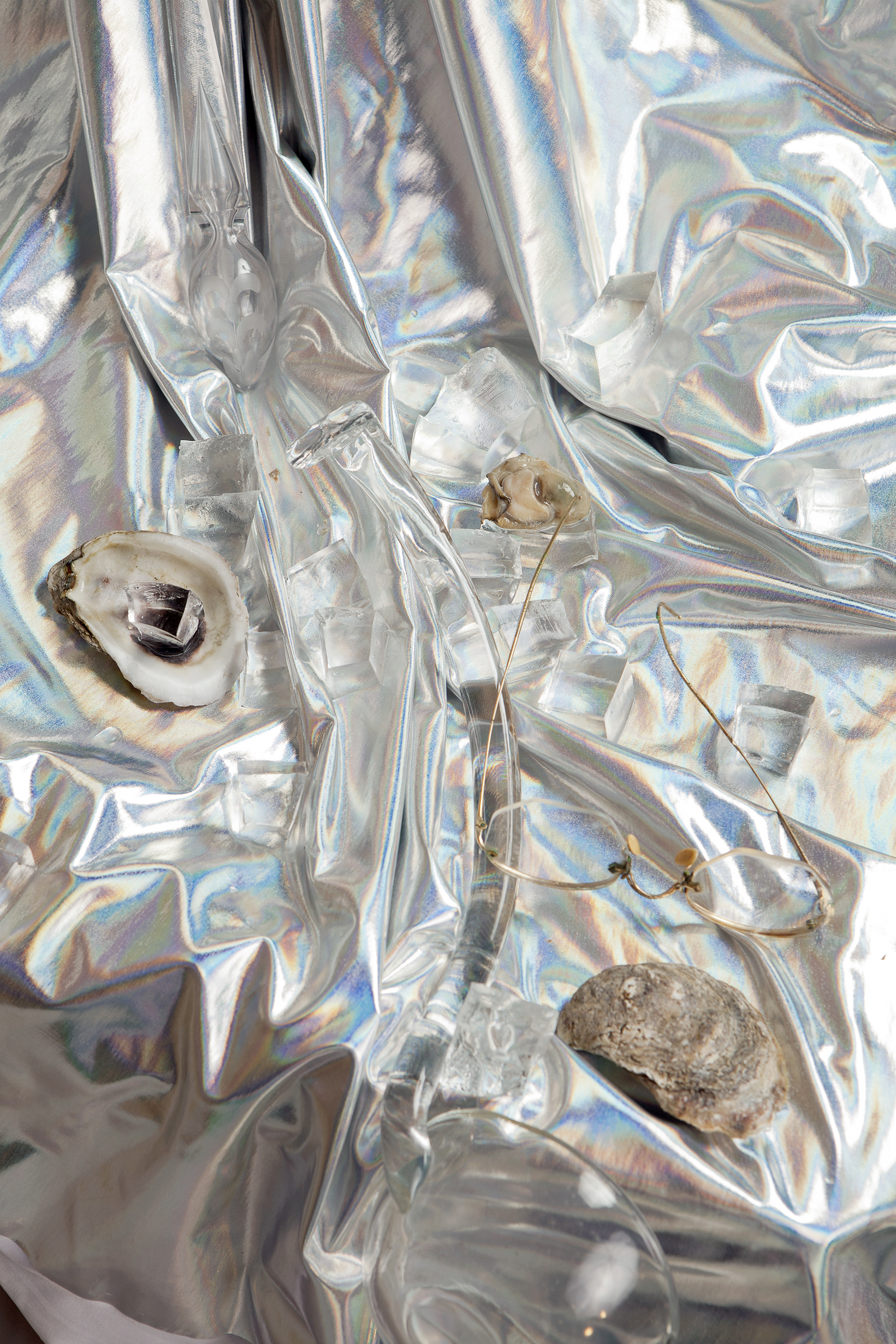 In others, Surdam teases the idea of "food porn" by droping in vintage sex toys or composing lascivious set pieces. In "Picnic," the tentacles of some wanton mollusk embrace the cracked open flesh of watermelon lazing on a bed behind a vinyl scrim. It's all very carnal, to the point where you can almost hear it. In "The Buffet," loosed oysters and a pair of tossed-aside reading glasses lay near an elegant crystal butt plug on a crumpled satin tablecloth, suggesting a dinner party that has taken a turn, or an incredibly effective plateau de fruits de mer.
The effect is slightly curdled in "Magic Eye," a series of demented Bergdorf holiday windows that upend the tidy Instagram tablescape aesthetic and complicate the often gendered and racialized tropes and deeply classified notions of good taste that inform consumption, both of cuisine and art. "There's something so wonderful to me about the idea of a collector having this and not really knowing there's a butt plug in the back," Surdam said.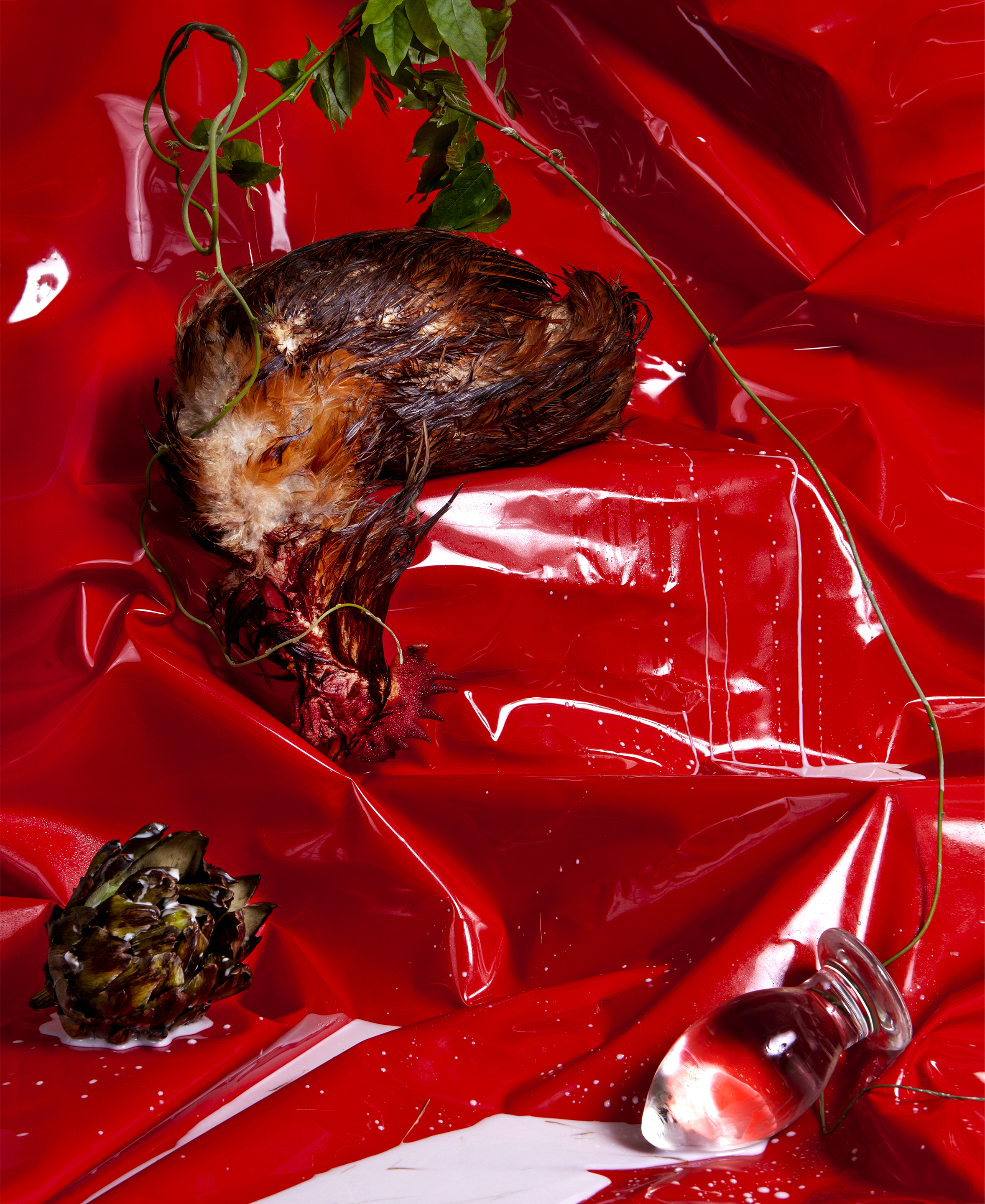 There's always been a tension between painting and photography, the latter for a long while kept at a distance from institutional acceptance. Surdam's photographs taunt painting's affections and self-regard. Her background drapery, the weight and texture and folds of which the classical Dutch and Flemish still life painters took very seriously, is iridescent vinyl sourced from fashion industry suppliers in downtown L.A. In "Chicken Hanging Before Red Wall," another Soutine allusion, Soutine's red brick wall is updated to the candy apple-red pleather more commonly seen in S&M gear. Surdam teases and prods at painting's stultified airs before literally setting it on fire; a pentaptych called "Context Collapse" surveys a fleshy-pink curtain as it smolders.
The bouquet coming off of these set-ups must have been incredible. You're spared that here; the only scent in the gallery is the sterile coat of white paint. Still, Surdam is eager to remind that these works do concern life and death and all of their concomitant messiness, which explains the donut tank gurgling virulent green water in the corner. It's filled with spirulina, a nutrient dense cyanobacteria that because of its health fad status, can be considered a very big green juice, and because it's shot through with LED lights which mutate and deepen its green tone over time, can also be considered a living still life.
The idea of a living photograph whose makeup is largely uncontrollable and which will inevitably decay is a poetic coda here, an unexpectedly effective memento mori in a room full of them, and a fulfilling reminder that despite the art world's fetishization of the object and its ownership, some works of art simply choose to fade away.