Is Jim Carrey the Foremost Artist of the Resistance?
His latest portrait takes on Senator Lindsey Graham.
Screengrab via Twitter.
You probably know Jim Carrey from his roles in films including Eternal Sunshine of the Spotless Mind and The Truman Show, or from his all-too-brief relationship with Anchal Joseph from Cycle 7 of America's Next Top Model (real heads only.) But did you know this renaissance man is dipping a toe into the rarefied world of portraiture?
Like George W. Bush before him, Carrey has been slowly developing a side hustle in contemporary art, rendering everyone from a painted Jesus to a sculpted Nicolas Cage. Los Angeles's Maccarone Gallery recently announced that they would hold a show of Carrey's politically-charged works made over the past two years. His most recent portrait features none other than Lindsey Graham, senior U.S. senator from South Carolina and villain's villain of the recent Supreme Court hearings.
Students of art history will note the frenetic lines and riotous colors of Carrey's latest work. The portrait of Graham suggests the influence of German expressionist painter Ernst Ludwig Kirchner, whose "Self-Portrait as a Soldier" (1915) relied on similar artistic conventions to exaggerate the chaos and brutality of war in a politically fraught Germany. Carrey addresses a similarly fractured political climate in 2018 America with his portrait of Sen. Graham's "hideous and hateful face."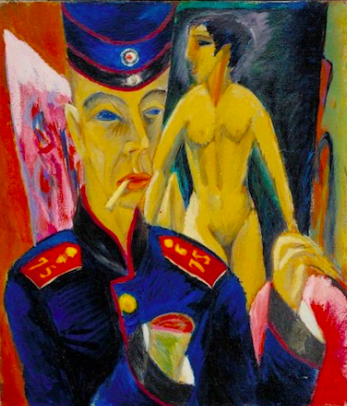 Carrey's most known for his madcap impersonations and absurdist characters (Firemarshall Bill, anyone?), but in the past few years, he's made several moves suggesting that he's eager to show the pathos behind his comedic veneer, taking on an in-depth role as performance artist and comedian Andy Kaufman. It's heartening to see a powerful man use his fame to spark a conversation about the lack of empathy demonstrated by another powerful man; the art world has struggled since the election with how best to confront the political world's demons. Quit your day job and keep painting, Jim!