Bieber and LeBron. Photograph via Getty Images.
Justin Bieber Is Saving New York Fashion Week
At John Elliott and Kith, Bieber shows us that fashion week is suddenly a lot more fun than it used to be.
Bieber and LeBron. Photograph via Getty Images.
Every fashion week crowns a royal: last September, it was Virgil Abloh; last season, it was Cardi B. This season, it's Justin Bieber.

On the heels of Shia LeBeouf and Jonah Hill, Bieber has emerged as a fashion icon to watch, eager to experiment with high fashion and streetwear and crazy colors and silhouettes, minting himself the face of a kind of sleazy-dude look. And though Bieber hasn't appeared at a New York Fashion Week event in three years, just two days into the Spring 2019 shows, he's emerged as a fixture. First, he was at John Elliott, with fiancé Hailey Baldwin, grinning and dancing in the front row. (Sleazy dude fixture Pete Davidson was also there, shirtless.)
Then he showed up at Thursday's Kith show. He once again danced his way through the show in the front row, not so much head banging as head bopping along to Nirvana. He threw models thumbs up (including Baldwin, who walked in the Tommy Hilfger portion of the collection). Celebrities come to fashion shows, sure, but what makes Bieber's attendance so fun is that it's not like, You guys, Bieber is here, with 10,000 bodyguards and an aura of untouchability. He's just there and loving it! Isn't that what fashion is about right now?
It's just two days in, but New York Fashion Week is already proving that it's got its groooove back. In recent seasons, New York Fashion Week has mainly been written about a directionless event with an identity crisis, a lack of marquee buzz compared to its sexy European siblings, and a void of vision; I look back at that and think, "WTF, man?"
It's not just Bieber, but he epitomizes the energy: fun, curious, entertainment-driven. That might scare some fashion-is-art purists out there, but the truth is that fashion is less a distraction than a pillar of pop culture, something the general public is as interested in or curious about as movies or music.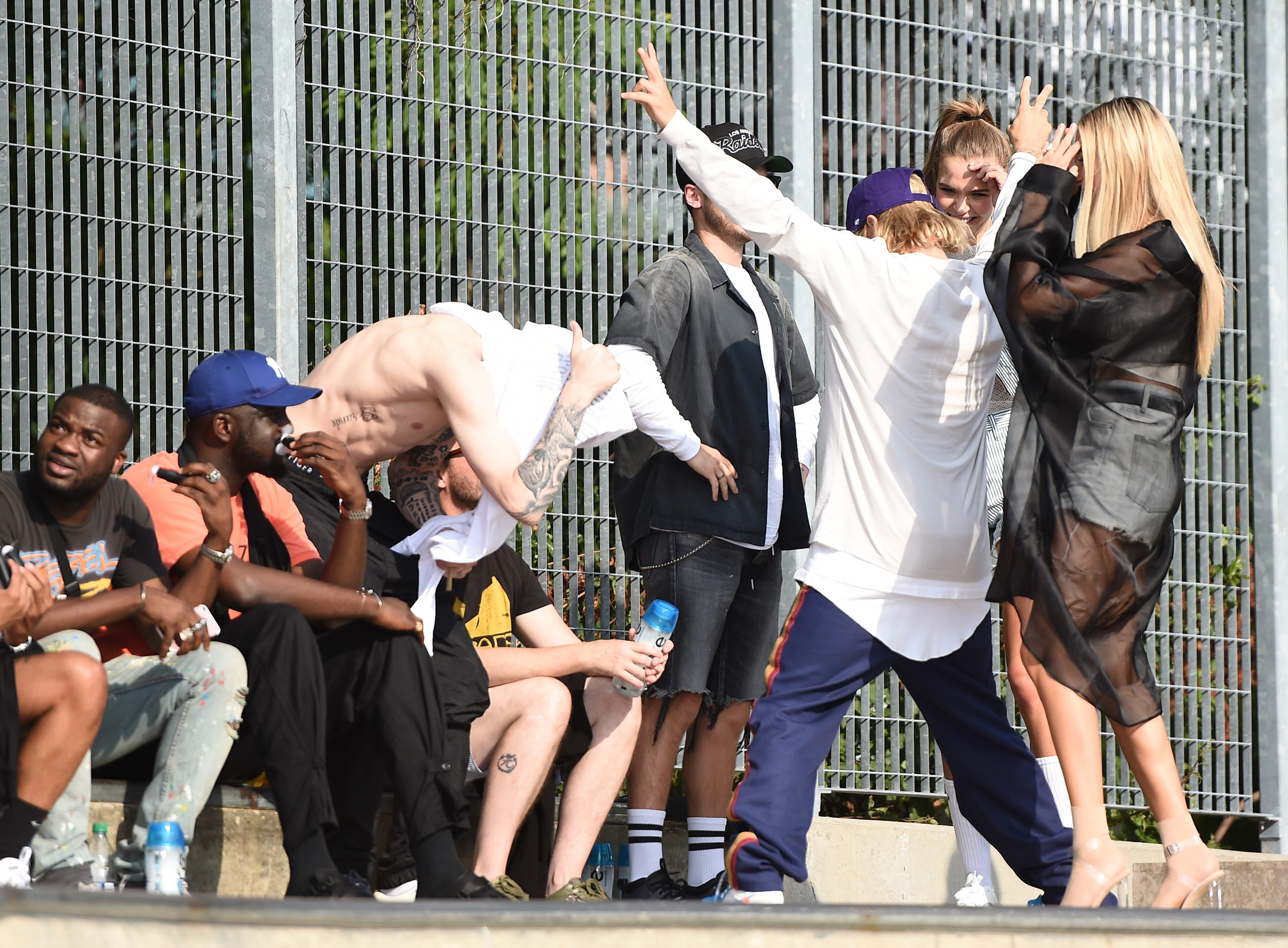 The Kith show was an extravaganza that demonstrated this new reality. It was really four shows in one, with Kith's in-house design team, Greg Lauren, Tommy Hilfiger, and Versace all presenting Kith collaboration collections. The stadium seating moved from stage set to stage set for each "show." It was like a fashion amusement park ride, with Greg Lauren playing Creedence Clearwater Revival for the river raft rollercoaster and Bella Hadid and Sara Sampaio leading a circle of Versace-clad ice queens. Tommy showed some very cool archival stuff, finally giving us the revival collection we've been craving.
But it wasn't just the Hollywood-level production: in addition to Bieber, 2 Chainz was there. With LeBron. So was Victor Cruz. And Fabolos. Afterwards, a bunch of my friends stood around outside smoking weed and talking about collectible streetwear. Champagne and beer flowed. I met and got a selfie with the Food God!
Was it fashion? Which is to say, a visual language of silhouettes and shapes created to communicate ideas? No, it totally was not. But within the fashion industrial complex, particularly in America, there is room for capital-F fashion from brands like Calvin Klein and Matthew Adams Dolan and Telfar, as well as the celebrity-driven, streetwear-infused clothes that will spool out into suburban America.
Here's hoping the Bieber Wave continues. We need him at Calvin, we need him at Pyer Moss, we need him at Marc Jacobs. And Proenza! Fashion is a world for the dreamers and Beliebers.