From Carrie Bradshaw to Balenciaga: A History of Newsprint in Fashion
Fashion used to be about escapism. Now, designers are using newspaper print to catch our attention with inescapable reality.
In 2017, Collins dictionary named "fake news" its official Word of the Year (which is kind of the semantic equivalent of Bob Dylan winning a Nobel Prize for literature—we get it, it's just a bit pointless). Public occupation with what's real and what's not is at a peak. Suddenly, everyone's worried about defining "the truth."
Newspaper print was a defining trend of the Spring and Fall 2018 catwalks, cropping up as boxy shirts and a jersey twinset at Balenciaga Spring 2018, as separates in Alexander Wang's Spring 2018 menswear collaboration with the New York Post, and as paper bags carried to shield the face at Helmut Lang Spring 2018. Sacai's Chitose Abe printed copy from a New York Times advertisement on a plain black t-shirt for Fall 2018: "Truth. It's more important now than ever."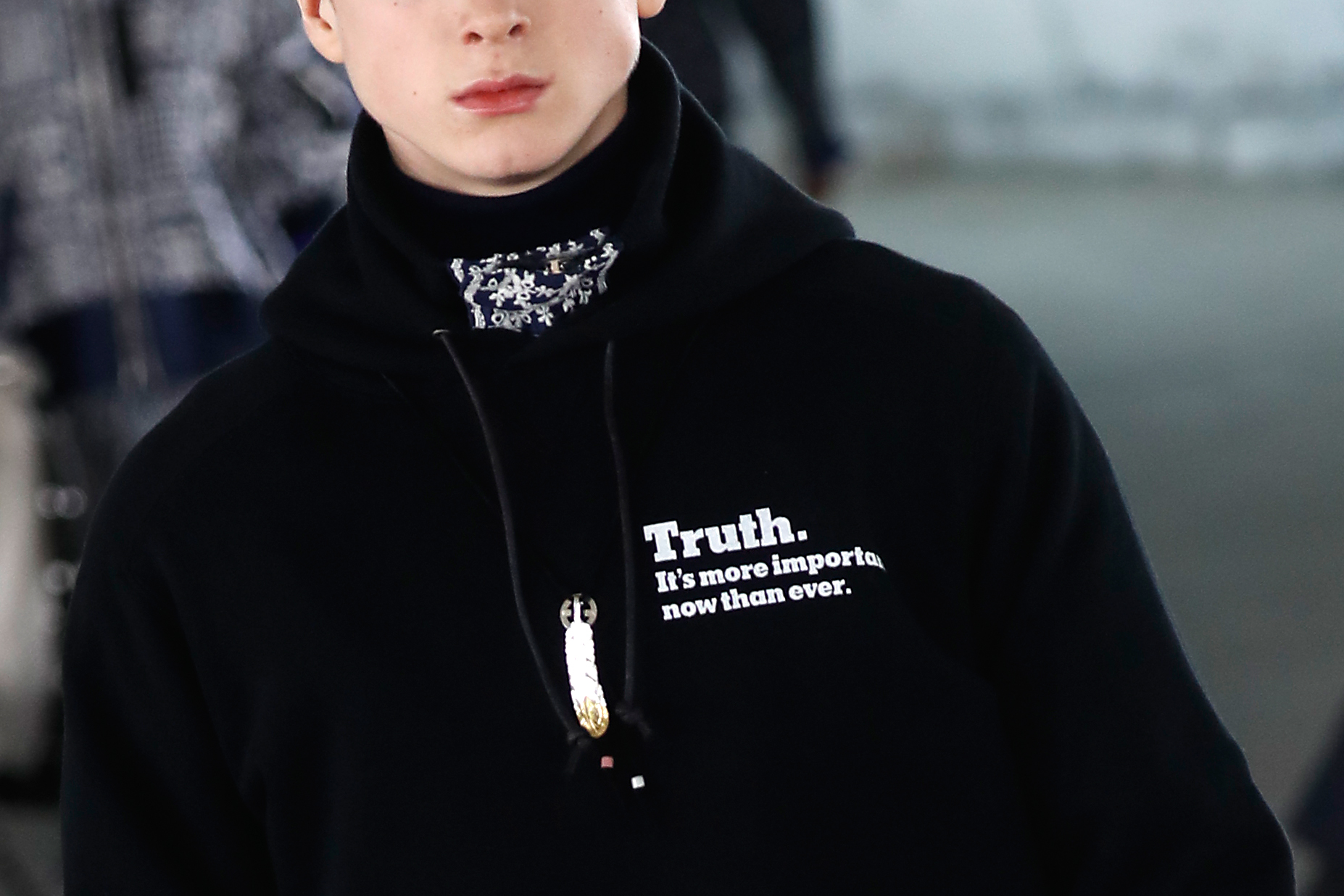 Partly, the return of the newspaper print is supply and demand, according to fashion historian and curator Shonagh Marshall. "The young are now much more engaged in current affairs, world politics informing their creative outcome," Marshall says. According to Marshall, the newspaper print is part of the larger trend among designers and image makers to create politically engaged fashion. Once fashion's default language was escapism; now, the focus is catching our attention with bursts of inescapable reality.
Following his Spring 2018 show for Balenciaga, designer Demna Gvasalia told British Vogue that the text on his newspaper prints "means nothing. And the pictures are just pictures of happy people. I wanted some happy news. Fake news, but fake good news." He wasn't merely being reactive; Gvasalia, after all, masterfully uses design to manipulate our perception. Fake news became another visual pun in the Gvasalian arsenal, as if he was poking fun at the fact that it's possible to have good news—we just have to make it up.
Once fashion's default language was escapism; now, the focus is catching our attention with bursts of inescapable reality.
For several seasons now, fashion has been obsessed with the aesthetics of bad taste and ugliness—ill fitting blazers, Christopher Kane and Balenciaga Crocs, thigh-high Uggs. Perhaps the newspaper print's return is not simply a political reaction, but yet another design element of the ugly agenda. Take Alexander Wang's collaboration with the New York Post gossip column Page Six. Tabloids are tacky in the same way Balenciaga's screensaver waterfalls and digitised banknotes are tacky: they reference a part of daily reality that's so mundane it's almost vulgar. Rumours and paparazzi culture have a gross glamour, both for those who read them and those who star in them. Wang's brand had always been built around It girl culture, arguably a subgenre of tabloid. Perhaps his collection attempted to harness some of this glamour, even if it ultimately didn't cause much of a stir. The collection's Page Six review—very meta—was indifferent at best.
The newspaper print is also a tool for self-mythology. Its original creator, Elsa Schiaparelli, used press clippings of herself, both favourable and not. John Galliano first used newsprint as part of his infamous "Hobo Chic" collection for Dior Haute Couture Spring 2000, printing pages from The International Herald Tribune onto oversized urchin trousers. He was inspired by the way the homeless he saw walking along the Seine covered themselves with newspaper, as well as the "Tramp Balls" of the 1920s and 30s, where the Parisian elite dressed up as the poor. Critics were ambivalent, many accusing him of gratuitously aestheticizing homelessness. In response, for Fall 2000 Galliano created the fictional Christian Dior Daily and added his own portrait to the print, recycling it in many later collections.
Famous self-narrativiste Carrie Bradshaw wore a Galliano newsprint dress in season three of Sex and the City to confront Natasha, the now-ex-wife of her ex-lover, Big, after Natasha caught the two in her bedroom. "I can't believe there's a person in New York who could hate me that much," Carrie bemoans in the beginning of the episode. In a show where no sartorial choice is by accident, you can't help but wonder if the newspaper print was chosen specifically for a scene that's as much about remorse as it is about reputation.
Fake news, however, is an entirely digital phenomenon, a byproduct of the way we engage with the news online. So why the focus on print newspapers, rather than something that reflects our digital realities? "The analog nature of newspapers has taken on a level of quaintness and romanticism which is linked to a larger constant trend for nostalgia, particularly in a time of crisis and uncertainty," says London-based trend analyst Karinna Nobbs. Fashion archivist Tory Turk agrees: "As we experience a tipping point whereby most people digest news and fashion online, it's become more important to archive pre-digital age objects, including analogue newspapers. Archives are now part of the zeitgeist."
Recently, as news broke that Vetements might be facing financial and existential struggle, Gvasalia took to Instagram to refute the news, stating that "Vetements does not support wannabe journalism based on lies and gossip." The response made headlines as much as the alleged news. In the age of immediate online clapback, there's no such thing as bad press. It would be nice to think the newspaper print is a political reaction—and maybe it is. Or maybe it's a nostalgic, easy gesture that's meant to reassure us that the fashion world, too, has read the headlines.