Dior Spring 2004 ready-to-wear. RABIH MOGHRABI/AFP/Getty Images
The Definitive History of the Dior Saddle Bag
From its origins in a bordello-themed runway show to its contemporary revival, the purse has always inspired fierce loyalty in its fans.
Dior Spring 2004 ready-to-wear. RABIH MOGHRABI/AFP/Getty Images
The early aughts were the golden age of the It Bag, and Dior's Saddle bag, with its gazillion iterations and Carrie Bradshaw stamp of approval, reigned supreme. The kidney-shaped purse featured a swinging Dior charm, and varied from tiny, bean-sized editions to roughly the proportions of a real saddle for a toy pony. While many other It Bags were meant to be cradled in the crook of the wearer's arm, the Saddle bag's smaller versions were short-strapped and worn tight against the armpit, like an avant-garde, boxy sleeve.

The purse eventually fell out of production, but something funny happened: vintage styles kept popping up on the arms of savvy dressers with a penchant for fashion history, and when the bag made its official return in Dior's FW 2018 show, fans on Instagram welcomed it with open arms. (Nicky Rothschild née Hilton tweeted about it, obviously.) GARAGE dives deep into the history of fashion's most protean purse.
1999: Three years into his reign at Dior, John Galliano shows a Spring 2000 ready-to-wear show that's half cowboy, half Gold Rush bordello: slashed satin gowns, handkerchief hems, leather harnesses and logo-emblazoned denim. (There are also many white models in dreadlocks, which feels especially ill-advised in retrospect.) Galliano debuts his first bag for Dior, a purse in the undulating shape of a saddle; it's later speculated to be a reference to Helmut Newton's Saddle I, a photo of a harnessed-up, bra-clad model on her hands and knees.
2000: In its review of Dior's Fall 2000 ready-to-wear show, The Guardian mentions the bag's sequel, and tosses out a potential nickname: "accessorized with versions of last season's successful kidney-shaped 'saddle' bag."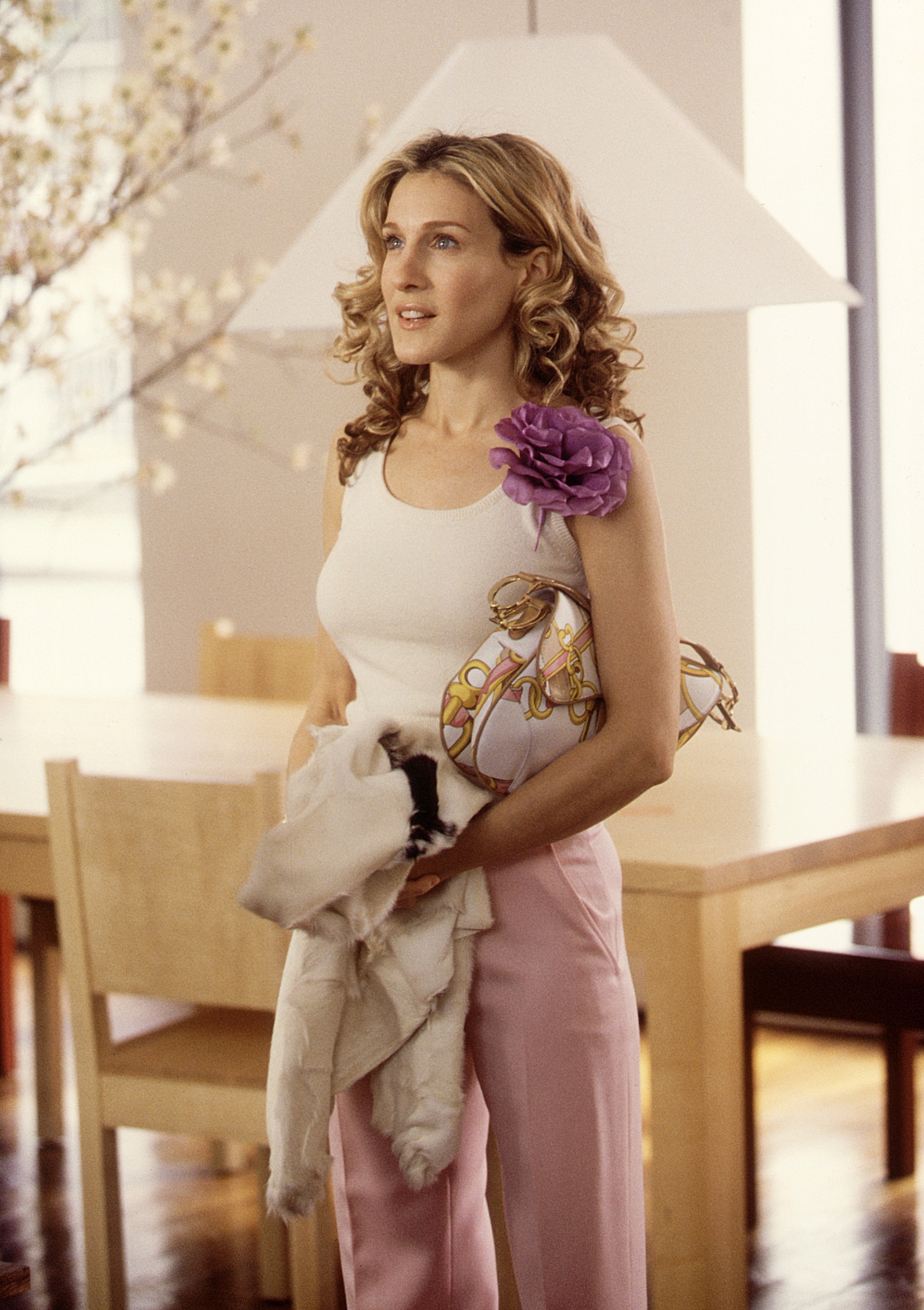 2000: In Season 3, Episode 5 of Sex in the City (her second date with Aidan! the one where she stops smoking!) Carrie Bradshaw wears a pink-and-white patterned version of the Dior purse, establishing its status as the bag of the moment.
2001: The It Bag craze is at its zenith, and the sheer range of Saddle bag styles—Christian Dior Daily newsprint, green crocodile, leopard print edged in olive leather—make it infinitely collectible and covetable, like fashion's own Beanie Baby. WWD reports that the purse is a huge commercial success: Dior's accessories sales are up more than 60%.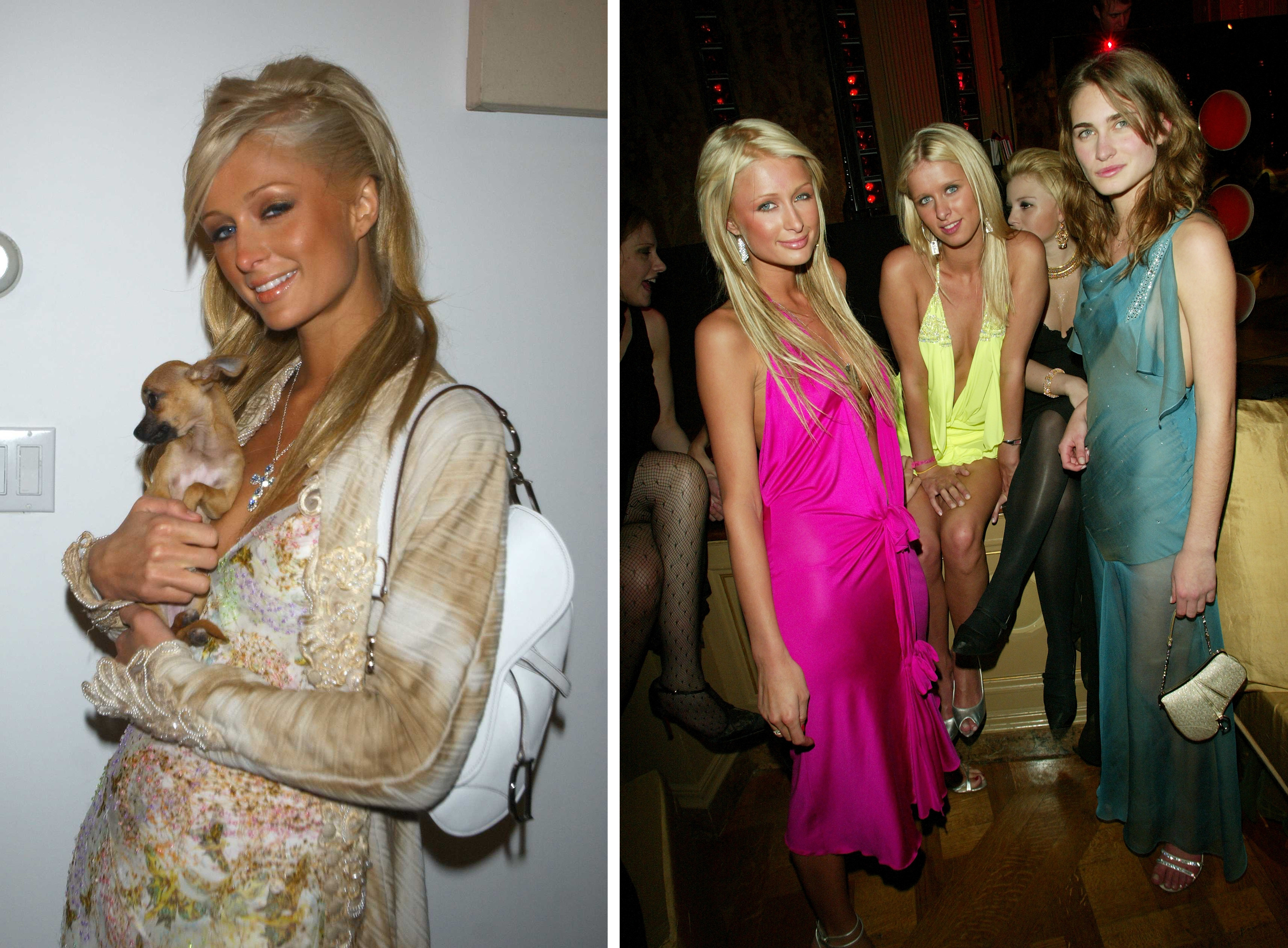 2003: Acclaimed DJ and frustrated dairy farmer Paris Hilton adopts the bag, wearing her white leather version everywhere. At the Frick Collection party hosted by Dior, Lauren Bush sports a teeny-tiny, pint-sized version of the purse.
2004: The Saddle bag inspires a high-concept knockoff from Slow and Steady Wins the Race: it's one of a series of canvas facsimiles of designer bags, then on sale for $100 each.
2006: Galliano debuts a line of twelve saddle bags inspired by twelve nations dear to his heart; America is represented by white satin and gobs and gobs of rhinestones. Of the bag, he tells the New York Times: "She's become a classic."
2007: The tide is turning against It Bags, and the Saddle's star begins to wane. Former MTV presenter Donatella Panayiotou is quoted in a Daily Mail story about collecting designer handbags: "I bought a Dior saddle bag in every colour available... they aren't fashionable any more, so I can't use them. But in a few years, I'm sure they'll come back in." By now, it's disappeared from the runway.
2008-2014: All quiet on the Saddle bag front. Google searches for "Dior saddle bag" drop to a fraction of their apex in April 2004. Following an anti-Semitic rant, John Galliano leaves Dior in 2011, is succeeded by Raf Simons, who mines farther back in the Dior archive than the early aughts.
2014: Right on schedule, Beyonce brings her Saddle bag back and starts a new wave of enthusiasm for a design now far enough in the rearview mirror to be deemed vintage.
2016: K-pop star CL flaunts a limited edition Saddle bag emblazoned with the neologism "Adiorable," and Vogue suggests that the item is regaining popularity as a savvy throwback reference and is selling out at vintage retailer Decades.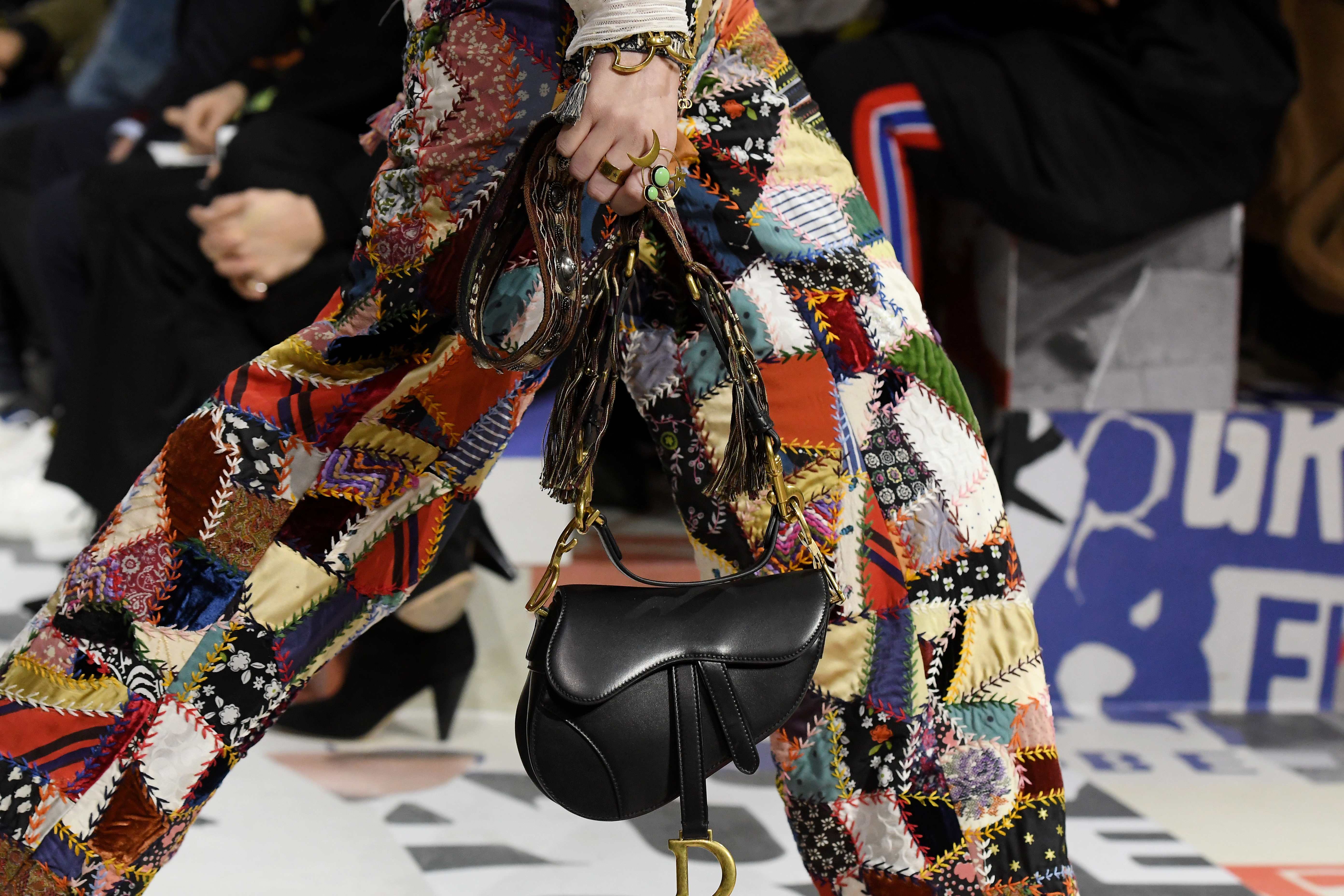 2018: Maria Grazia Chiuri brings the Saddle bag back in Dior's Fall 2018 ready-to-wear show in Paris. There's a staid black leather version, but patchworks of beaded detailing ensure that a glimmer of the original glam factor remains.