'Cristal et feuille' by Jean (Hans) Arp, at Christie's in 2011. Photograph by Emmanuel Dunand via Getty Images.
2019 Will Be the Year of Surrealist Sculptor Jean Arp
Welcome to the Arpassiance!
'Cristal et feuille' by Jean (Hans) Arp, at Christie's in 2011. Photograph by Emmanuel Dunand via Getty Images.
In November 2018, Artnews called Christie's Impressionist and Modern Art sale "underwhelming" and "tepid," as masters like Picasso and Monet fell short of expectations. Meanwhile, Jean Arp set an artist record at $5.8 million for his abstract female Déméter (1961) in white marble and $1.5 million for a 1970 cast of the same sculpture in polished bronze. Arp may not have the name recognition of other midcentury artists (it doesn't help that he sometimes went by Hans), but it seems that 2019 is going to be his year! (even though he died in 1966).
It isn't merely at auction that Arp is commanding fresh attention. It's hard to quantify an artist's influence on social media; on Instagram, #jeanarp and #hansarp have been used approximately 16,000 times. These mentions don't approach the numbers of hashtag titans like #matisse (383,723) or #noguchi (40,282)—even Arp's friend #brancusi has been hashtagged 45,271 times.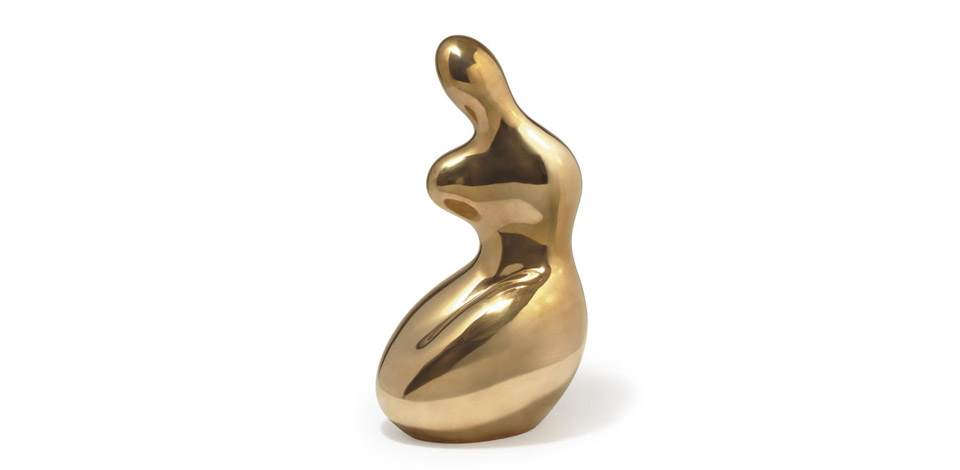 Still, the Fondation Jean Arp in Clamart, France is influencer-ready. (I know, but bear with me.) Sun streams in on a room full of erotic, ivory figures. No filter necessary. And if you look for #jeanarp you will surely find him posted alongside kilim rugs and wire-thin earrings. His sculptures are decorative objects as much as works of art. In a bulletin about the recent Arp retrospective at Nasher Sculpture Center in Dallas, The New York Times called his sculptures "magically knobby."Nasher received a $40,000 grant from the National Endowment for the Arts to mount the show, the first major Arp museum show in the US in over thirty years.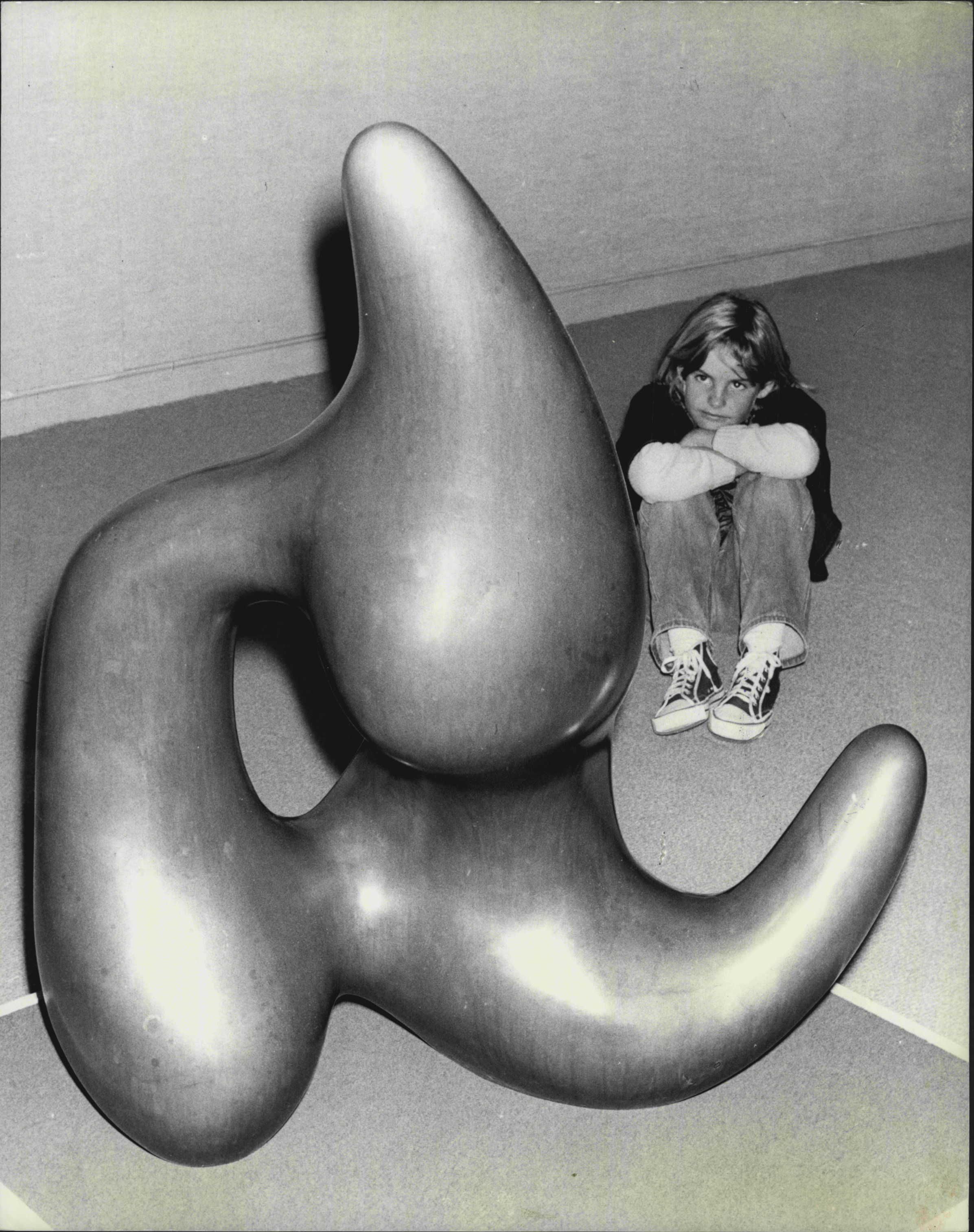 Simply put, there is no artist better positioned than Jean Arp to appeal to the overstimulated art-lovers wearily toggling between minimalism and maximalism. His flat compositions, blob-like shapes in the same muted palettes as Loewe, A.P.C. and Madewell, resemble camouflage for the yuppie class. A brief immersion into the preferred aesthetic of art Instagram reveals we are living in an Arpaissance, whether Jean/Hans is getting the credit for it or not.
Jean Arp was born in Alsace-Lorraine in 1886 and hence spoke French and German throughout his life (Hans was his German first name). As a pioneer of the Swiss Dada movement, Arp's core philosophies concerned disquieting the bourgeoisie and making a farce of nationalism. Although he later moved on to Surrealism, Dada represented an idealized time in Arp's life– and it was the foundation of his relationship with his first wife, artist Sophie Taeuber-Arp. He worshipped nature. Arp's career-defining works include abstract figures like Ptolemy I (1953), which is held by MoMA, and two-dimensional reliefs like Shirtfront and Fork (1922) which show his commitment to inventing new shapes. Déméter exemplifies his reverence for the female form.
In 2019, Arp's aesthetic appeal is two-fold. Art objects like small sculptures and ceramics are the most affordable medium in the art world and have been re-embraced by craft enthusiasts, broke(ish) art buyers and digital natives hoping to reach out and touch something other than an iPhone. The scale of Arp's pleasingly curved sculptures, some of them less than a foot tall, fits in with this instinct.
Jean Arp has also done the work of translating his sculptures from 3D to 2D—the movement of our time—as many of his sculpted shapes are echoed in his reliefs. Because everything that ends up on Instagram is flattened anyway, Arp's simple forms look right at home on your screen. Seen in Instagram's digital grid, divorced from his dimensional ideology, Arp risks being mistaken for a minimalist.
In fact, Donald Judd, the quintessential American minimalist, was a great admirer of Arp's work. Reviewing a Sidney Janis Gallery exhibition of sculpture in 1963, Judd wrote, simply: "Arp's work is nearly always good, and so the exhibition is." (According to the checklist of the Sidney Janis Gallery exhibition, a bronze Demeter was shown, but neither of the works from the latest Christie's auction were present.)
Catherine Craft is the curator of The Nature of Arp at the Nasher Sculpture Center, on view through January 6th, 2019 . "Arp was interested in a wholeness and casting aside details to achieve the look of [wholeness]," Craft explains. This is what drew Judd to him.
Even in cases where Arp originated an aesthetic, his influence flies under the radar. In 1936, Alfred Barr, the first director of MoMA, identified the "Arp 'shape'" as "a soft, irregular, curving silhouette half-way between a circle and the object represented." Barr writes that this shape can be seen in the work of "Miro, Tanguy, Calder, Moore and many lesser men."

"Arp was really one of the primary pioneers of that language, and did a lot to make the work of somebody like Noguchi possible," says Craft. "We kind of forgot where [the Arp shape] came from, because it's so common to see it everywhere," she adds.
There is an irony to Arp's Instagrammability: his writings railed against technology. "Man has turned his back on silence. Day after day he invents machines and devices that increase noise and distract humanity from the essence of life, contemplation, meditation," Arp wrote in 1948. However, most of his vitriol was reserved for the new weapons of warfare. Craft speculates that Arp might have enjoyed disseminating his Dadaist periodicals on social media, just as he did in print.
So why an Arpaissance now? Per usual, the 'grams are just the tip of the iceberg.
"The [Arp] estate has in the last ten years invested a lot of energy in making sure that people start seeing him again," after not being very active in the late 1980s and 90s, says Dr. Loretta
Würtenberger, manager of the estate. Foundation Arp in Germany has focused their work on three fronts: art museums, academic discourse and the art market. They staged a 2011 show at The Chinati Foundation in Marfa, contextualizing Arp within Judd's praise for him. They also began giving research grants to academics (Catherine Craft was one of the recipients).
Auction prices for Arp have since been in an upward trajectory, leading to the record-breaking Christie's sale in November 2018. "We're too small to influence the art market. At the same time, [the recent sale] didn't surprise us," says Würtenberger, "I think we were kind of waiting for it."
In April 2019, The Nature of Arp will move to the Peggy Guggenheim Collection in Venice to coincide with the Biennale Arte 2019. In 1954, Arp was awarded the Grand Prize for sculpture at the Venice Biennale, the most prestigious prize of his career. European visitors to The Nature of Arp post-Brexit have remarked on how Arp's experience in a disunified Europe suddenly seems relevant, says Craft. And of course, Dada philosophy is appealing during times of political chaos.
"Arp's sculptures are solid replicas, surrounded by space, of the deep, empty shapes of statues filled with a ghost," writes artist Marcel Jean in the introduction to Arp's collected writings, Arp on Arp. In the Arpaissance, nostalgia for abstraction meets the late-capitalist desire for something, anything to hold onto.
"Man no longer has anything essential to do, but he wants to do it at top speed and with superhuman noise. He seeks recreation and never realizes that the robot steering him is actually driving him into catastrophe and nothingness," Arp wrote in 1948.
By the Venice Biennale in 1954, Arp had already suffered one heart attack. As other attendees had their mind on the prizes, he took the opportunity for escapism. His second wife, Marguerite, wrote: "Everybody around us made forecasts for the great prizes, but Arp was not in the least preoccupied with this. He was delighted to stroll through Venice, to sit on the San Marco Square and sip his coffee or eat a gelato."

Truly, there is nothing more 2019 than that.