Cardi B References Botticelli At the 2019 Grammys In Vintage Thierry Mugler
The Grammy Award-winning rapper can add fashion educator to her burgeoning resume.
Courtesy of Getty Images
Let's give credit where credit is due: at the 61st annual Grammy Awards on Sunday night, the rapper Cardi B flexed that she is, without a doubt, culture's current first lady (no disrespect to former actual FLOTUS Michelle Obama, who was also in the room). She did this in part by peacocking down the step-and-repeats in vintage Thierry Mugler.
With the help of her highly talented stylist Kollin Carter, Queen Belcalis Almánzar wore a Fall 1995 Couture Mugler showstopper, made of pink and black satin with pearl accenting around the neck and the navel. The original dress was part of Mugler's twentieth anniversary collection, worn then by the model Simonetta Gianfelici.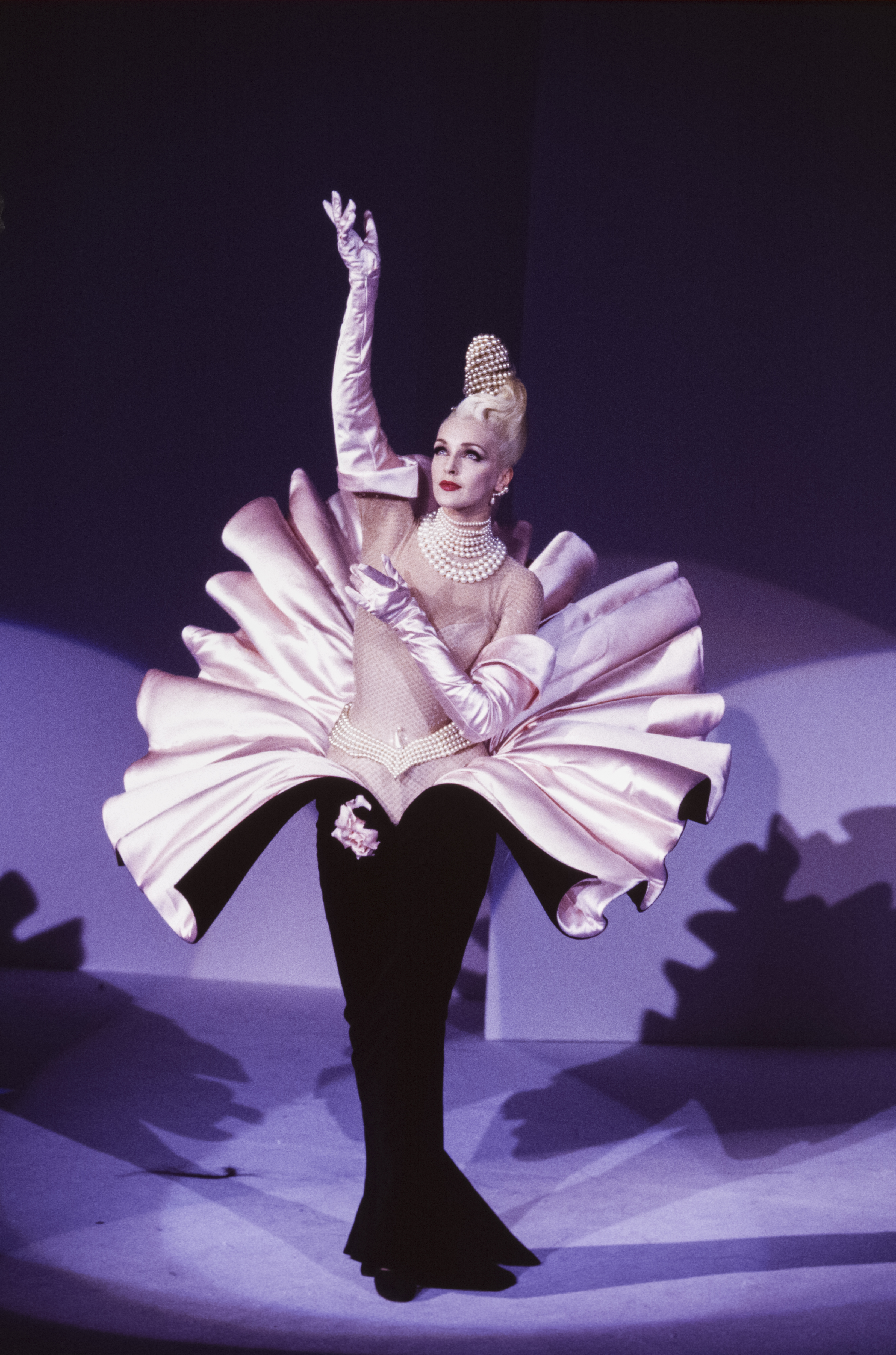 Cardi's revival of the nearly 25-year old extravaganza served as its own sort of mastermind marketing coup for Mugler, who now goes by Manfred: in early March, the designer will receive his first ever (and long overdue) retrospective, at the Montreal Museum of Fine Arts. Such is the power of the social media universe—you know how when a new commercial features a song that younger people may not know, and then that song rockets to the top of iTunes sales chart? Cardi in Mugler was the fashion equivalent of that. Mugler is an indispensable name in this industry's history, known for his sculptural silhouettes and his penchant for campy, costume-y regale (that much is obvious by looking at last night's example). Cardi can thus add another skill to her resume: fashion educator.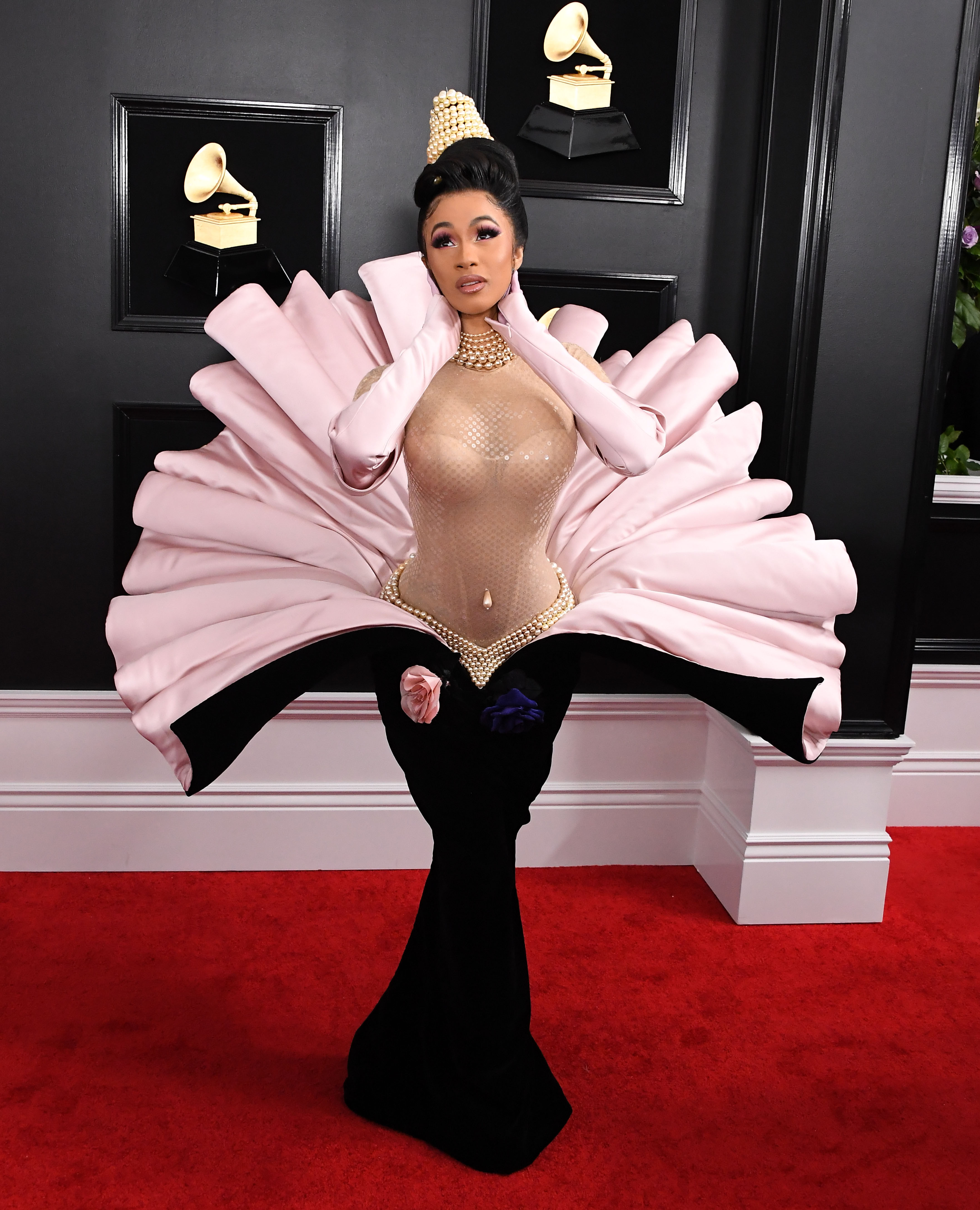 The dress itself draws obvious comparisons to Sandro Botticelli's The Birth of Venus, an early work on canvas from the Renaissance period circa the 1480's. The famous painting—you've seen it, in some iteration or another—depicts Venus, goddess of beauty and love, arriving in Cyprus via mollusk, a scallop shell that some argue is meant to symbolize female genitalia. So here is this beacon of the amorous, of passion, standing on the Cypriot shoreline, covering her nudity but still very much there for the world to see (skin, as depicted in the painting, was progressive for the era).
Venus was then, but Cardi is now, and her scallop shell is a Lamborghini truck and her beach is somewhere in Throggs Neck. She's the Bronx's Botticelli masterpiece. She's a sex-positive, body-positive, and not only arbiter but survivor of our times. Cardi's publicist, Patientce Foster, posted on Instagram that her client continuously defies the 15-minutes-of-fame diktat that the public and the media often slaps on people who get known quickly. We live in a time of memes and turnover; Cardi knows how to work this system, but she sticks a jeweled, switchblade-sharp middle finger up at those that want her to fail. Last night's main takeaway, then? The haters can go to (s)hell.