Nonbinary Fashion is Finally Getting Its Museum Moment
A new exhibition at Boston's MFA devotes itself to the history of gender-bending couture, from Gaultier to Rei Kawakubo.
There's more to gender bending fashion than Billy Porter wearing a tuxedo gown to the Oscars. Sure, the Pose star shook up the red carpet in the Christian Siriano masterpiece, but there's a long lineage of boundary-pushing garb that dates back over a century.
Gender Bending Fashion, which opened last week at the Museum of Fine Arts in Boston, attempts to trace a century in nonbinary fashion, featuring 60 key outfits of what the curator Michelle Finamore defines as "fashion that has challenged rigid, binary definitions of dress."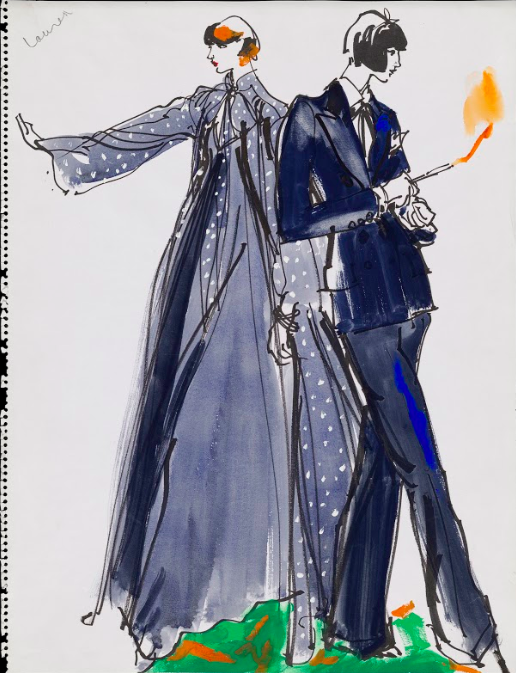 From Jean Paul Gaultier to Alessandro Michele for Gucci and Rei Kawakubo, there are rare pieces in the exhibit worn by bisexual Hollywood actress Marlene Dietrich, as well as the blue ruffled dress by Alessandro Trincone, worn by rapper Young Thug on his 2016 album No, My Name is Jeffery, among others, like pieces worn by David Bowie, Tilda Swinton, Jimi Hendrix and Janelle Monáe.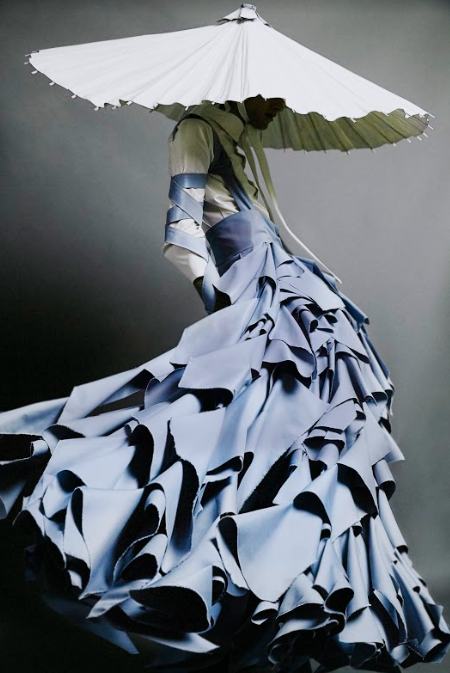 The exhibition, which runs until August 25, covers more than just men wearing dresses and women in tuxedos. The lines are heavily blurred with pieces designed by Jeremy Scott, Helmut Lang and Comme des Garçons. But how exactly does a curator capture an ever-evolving fashion genre that defies boundaries? Finamore spoke to GARAGE about gender fluidity, the reverse power of power suits and that famous lesbian kiss from the 1930s.
GARAGE: Was there one piece that started it all?
Michelle Finamore: I was looking at gendered fashion ever since I curated an exhibition in 2014 called Think Pink, which was about the idea of color in gendered design. When I started following what was happening in the men's fashion world, I saw this next iteration of the "peacock revolution" of the 1960s and 1970s. I thought 'something is happening here that designers are responding to.' It was worth exploring how gender fluid or neutral it has become, so I made it a much more comprehensive story.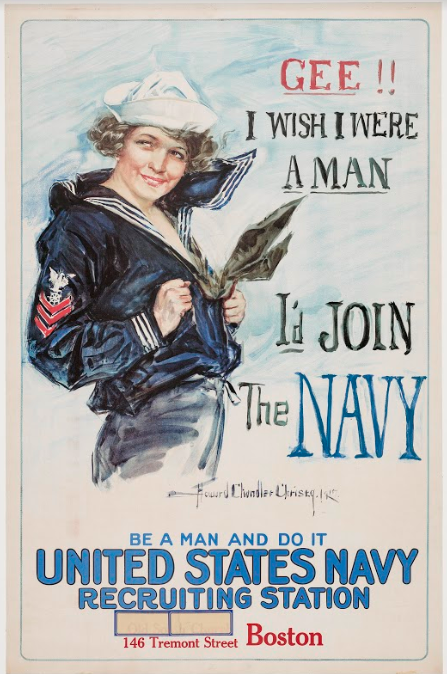 Gender bending fashion has always been there but is there any key characters who have helped propel it into the mainstream?
I think about Jaden Smith and the Louis Vuitton ad, Kanye West was wearing a leather kilt famously, a lot of these folks are performers and they have a visible platform. They're creative people so they're expected to challenge societal norms or rules. They use that to challenge ideas of appropriate dress. It's important to have these people. If you look at Marlene Dietrich suit and the David Bowie ensemble, new figures look back to old figures. Billy Porter wearing his tuxedo dress to the Oscars is an example, too. The night of the Oscars, my phone exploded. Everyone was texting and emailing "Did you see it?" but there's an image of it in the show. We have a timeline that looks across 150+ years of gender bending fashion, key moments where individuals have challenged traditional ideas of dress. He's at the very end.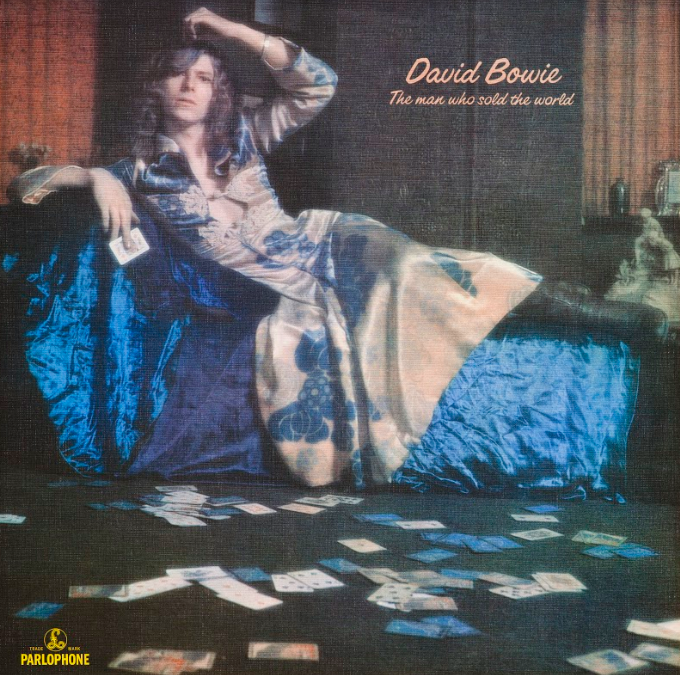 How did David Bowie define the "peacock revolution" and how is it coming back?
There are certain moments in time when you see more gender bending fashion happen and the 1920s is one of that time when women started appropriating menswear into fashion, and the 1960s and 1970s were a moment of youthful rebellion. There were challenges thrown at the fashion industry, a rejection of authority, bourgeois values and ideas, that's when you see this disruption of conventional standard of fashion. We have pieces worn by David Bowie and Jimi Hendrix in the 1970s, which went against the sober men's business suit. What I see happening now, these contemporary fashion designers rethink beyond the suit in men's fashion.
Why has this genre been overlooked by the museum world? Why is this the first exhibition about gender-bending fashion?
It is the first one, but it hasn't always been overlooked. There have been exhibitions about different aspects of gender bending fashion viewed through one lens, whether its fashion of the 1960s, for example, rather than one comprehensive overview of gender bending fashion. I wanted to go for it and tell the fuller story of gender bending fashion from a historic perspective, as well as what's happening in the contemporary world.
On that note, I'm thinking of the Alessandro Trincone dress Young Thug wore in 2016, how groundbreaking was that moment?
That's our signature image. He wore that dress by this young designer who wants to push back on what he perceives as oppressive structures. Young Thug using that as something empowering instead of feminizing is key to me as a game changer. He wore it bravely on his album cover, questioning what gender is and why we have such hard and fast rules as to what is appropriate for menswear.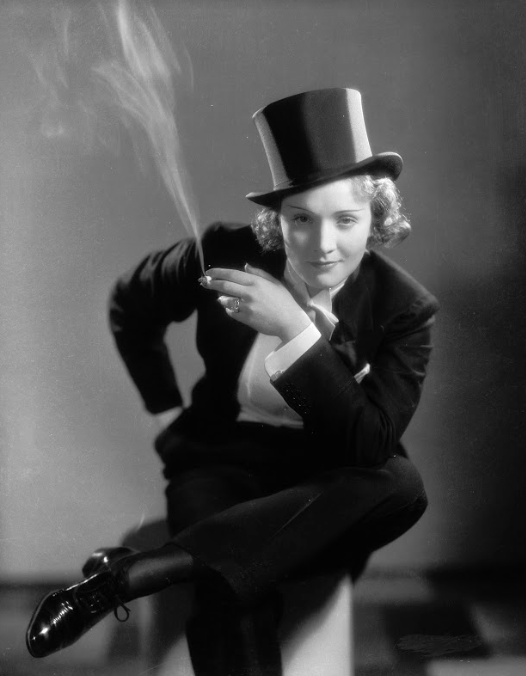 Why include Marlene Dietrich's tuxedo, which she wore in the 1930 film Morocco?
That scene in Morocco was so iconic, so we show the suit beside the film scene where she wore it. It was a key moment in film history. She was singing cabaret wearing this tuxedo, then walks over to a woman, plucks a flower and then kisses her. It was subversive and shocking for its time. The film studio really resisted it at first because they had a formula of what the typical Hollywood starlet looked like, it was very feminine, but Marlene is a character who had courage and bravery to present herself in a way outside of the status quo.
How did the androgynous actress Tilda Swinton inspire one of the pieces here by Viktor & Rolf?
It was a collection called the One Woman Show which paid tribute to Tilda's androgyny and presented it with models who all looked like Tilda's clones. It really blurred the lines between menswear and womenswear. It was a play on a man's power suit. It starts out the exhibition alongside the Trincone dress because it inverts the idea of the suited man and the skirted woman.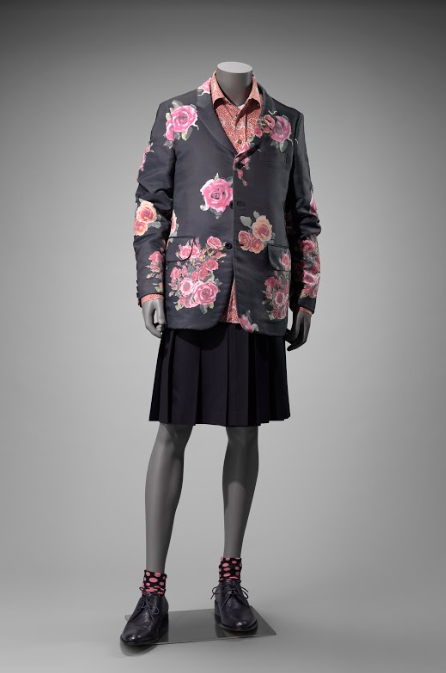 That's the essence of the show, is it not?
It is the essence, the first section is 'Disruption,' which disrupts traditional binary concepts, contemporary and historic concepts, women in tuxedos, men in dresses, women in pants then the peacocks and cloaked attire. The second section is 'Blur,' which features Jeremy Scott, moments where lines have been blurred in attire, including unisex attire of the 1960s, Japanese designers like Comme des Garçons, and how women's sporting attire allowed streetwear to become more nonbinary. The third section 'Transcend' presents young designers and how they approach design, who all have a mission to rethink what the gender binary is.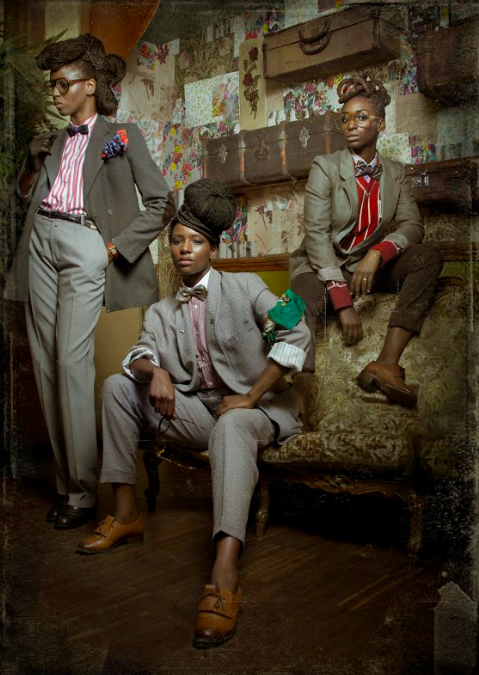 Why include Janelle Monáe – what barriers did she break? How does she speak to a younger, more willing and woke audience?
She was always on the top of my list as someone who spoke to millennials. What these young folks are doing with disrupting the gender binary, I was taken by her tuxedos, her makeup and the saddle shoes. It wasn't masculine or feminine. She was mixing it up in a fantastic and novel way. It represents the way a younger generation approaches gender fashion spectrum that isn't easily defined. Siriano, who made Billy's gown, and his approach to approach fashion is really indicative of what the young talents wear and how designers are designing now, as well.