Photo by Juno Calypso. Fashion by Patti Wilson. ©︎Takashi Murakami/Kaikai Kiki Co., Ltd. All Rights Reserved
Billie Eilish by Takashi Murakami Covers GARAGE Magazine
Billie Eilish's brand of indie music is everything you wish you'd had when you were 17. Here, a fan shares her notes on loving Billie.
Photo by Juno Calypso. Fashion by Patti Wilson. ©︎Takashi Murakami/Kaikai Kiki Co., Ltd. All Rights Reserved
To know of Billie Eilish is to be obsessed with Billie Eilish. Fans—among whom I count myself—have been following the 17-year-old Los Angeles–born chanteuse since her 2016 breakout hit, "Ocean Eyes," which she had released on SoundCloud, her generation's platform for overnight success, and which earned her a record deal with Interscope when she was just 14. Her followers have since been fangirling over her melodic, melancholic music, and idolizing her (currently) turquoise hair, her piles of jewelry, and her wild lust for streetwear. She has legions of adoring fans—audiences have been known to fling underwear onstage, in a kind of Gen-Z feminist twist on Beatlemania—but remains relatively obscure to the uninitiated. In that regard, Billie is emblematic of this new era of celebrity. A common headline describes her as "the biggest artist you've never heard of," and yet, she tells me, "I can't go out anywhere in public and I don't have time."
I became a Billie fan after being introduced to her work while writing for Rookie. Her brand of indie music is everything I wish I had when I was her age; it is unapologetically moody, glittering, and irreverent. I found her authentic sound, flawless songwriting, and I-don't-give-a-fuck attitude refreshing. Billie's music is shaping what the future of music sounds like, as I wrote in a brief story on "Ocean Eyes" for The New York Times last winter. Her teenage yearning is universal. As a musician, what makes her special is that her songs build intricate worlds of melancholy or romance, with purposeful, economic lyrics—she's a sonic butcher of sorts.
Billie and her brother, Finneas, 21, are creative partners who write together: Finneas wrote and arranged "Ocean Eyes" and Billie provided the vocals. Finneas also is credited with arrangement and production on many of her songs. The past year, in particular, has been a whirlwind for Billie: She sold out concerts around the world and played major festivals, including Lollapalooza. Her social media followers grew to 10 million, and she released one of her biggest hits to date, "lovely," with Khalid.
All this, and Billie has yet to even deliver her first full-length album.
But Billie's celebrity encompasses more than her music, and it's all been grassroots work by the singer herself, her family, her team, and her fans. Although, "I don't like calling them fans, because that's my crew," she tells me. "That's like my family. It's been like that since the beginning. I just want to be as reachable and accessible as possible." That accessibility stands in stark contrast to how artists at this level have operated before. Imagine if you could privately message your own personal teen idol? How would that have changed how you engaged with their music?
It was raining the day I met Billie in her childhood home on a quaint bungalow on a quiet street, where she lives with her parents and her dog, Pepper. "I feel like 17 is kind of a perfect age," she said. "Seventeen is just right in the perfect spot, but I'm so hyped to be 18."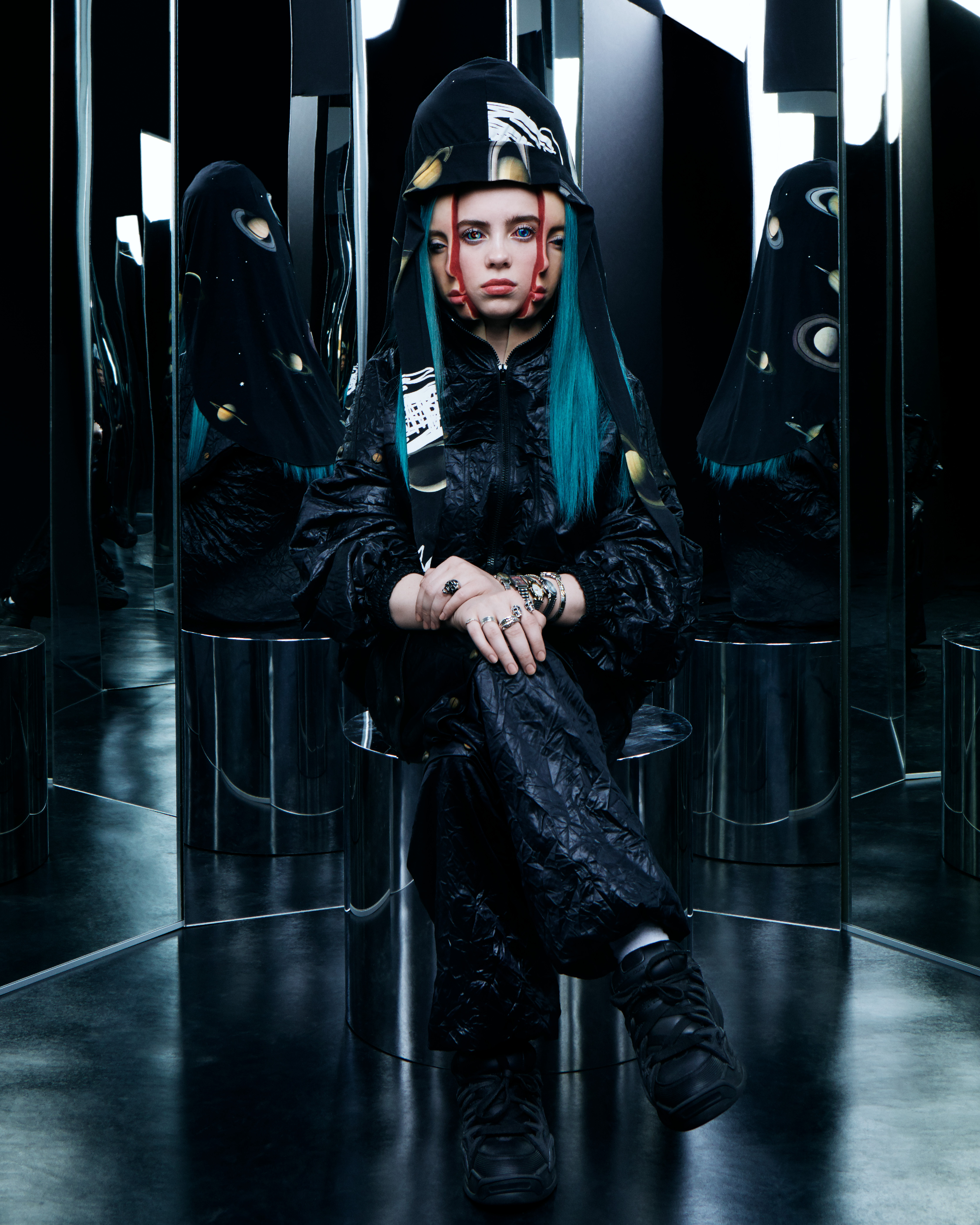 What I love about Billie, outside of her music, is her style. Streetwear is one of fashion's reigning aesthetics, but Billie takes it to eccentric new heights. In early January, for example, she posted an Instagram of herself in head-to-ankle Louis Vuitton logo-print—including a Vuitton teddy bear—with Gucci sneakers. She has the kind of shoe collection sneaker-heads dream of. "I think that's something that I have fun with," she says. "I love being looked at. I used to say that I love being judged, and if I went into a room and everybody looked up at me, that's all I cared about. I don't care if half the people are like, 'Wow, she looks fucking horrible.' Or if half the people are like, 'Damn, she got the sauce.'"
Billie has garnered an all-ages posse. She's found an unlikely friend in Japanese artist Takashi Murakami, for example. Both are hardcore sneakerheads and anime fans. After months of trying to get in touch with Murakami's team, Billie realized that she had an unread DM from him on Instagram. "My whole team had been trying to get in touch with him forever to try to do something. With me having way too much going on in my phone and on Instagram and in my life, I didn't notice that he had literally been trying to DM me, over and over again," she tells me, laughing. "I think everything about her voice is simply beautiful," Murakami said in an email. "She is making that nebulous, wistful feeling of adolescence that I myself once experienced into wonderful works!" From there, the two made plans to collaborate while Billie was in Japan; in addition to this issue's cover, Murakami and Billie will unveil another project later this spring.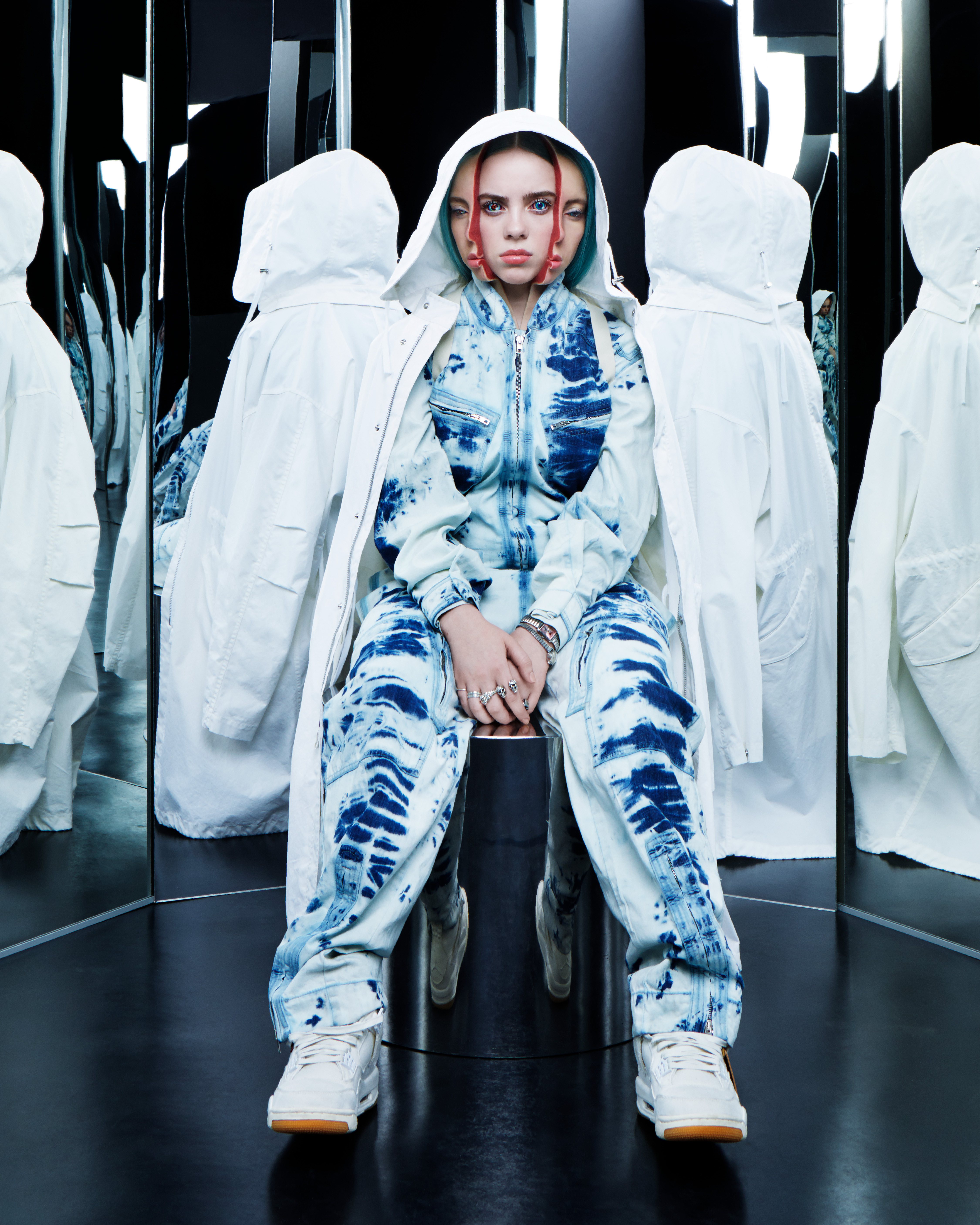 Celebrities are notorious about their desire for privacy, but younger celebrities, who grew up with the Internet and social media at their fingertips, are much more natural about sharing. Or at least Billie is. Her willingness to be vulnerable is part of what makes her special. Last year, after compilation videos of her facial tics appeared on YouTube, Billie set the record straight on Instagram Stories, speaking about living with Tourette's syndrome. "It's something that I've literally lived with forever. I was diagnosed with it when I was 12," she tells me. She's also been open about living with depression. "I grew up with it," she says. "It's weird because it's been part of what I am my whole life."
I asked Billie about her dreams—she is only at the beginning of her career, after all. "So many things that I'm doing feel like a dream, and I don't really know how to differentiate what is and what isn't real," she says. "I just want to live and let what happens happen, and not have expectations. I do not want to think about my future, or what I'm gonna do, or what I'm not gonna do."
And that album—her first—is finally coming on March 29, titled WHEN WE ALL FALL ASLEEP, WHERE DO WE GO? "I'm so excited to tour this album," she says. The tour will begin in June. "We worked so hard on this one. I'm just so ready to perform every song. What we've learned touring for the first time in the past year, what is fun to perform and what isn't. All the video and visuals are just like whew. It's going to be dope."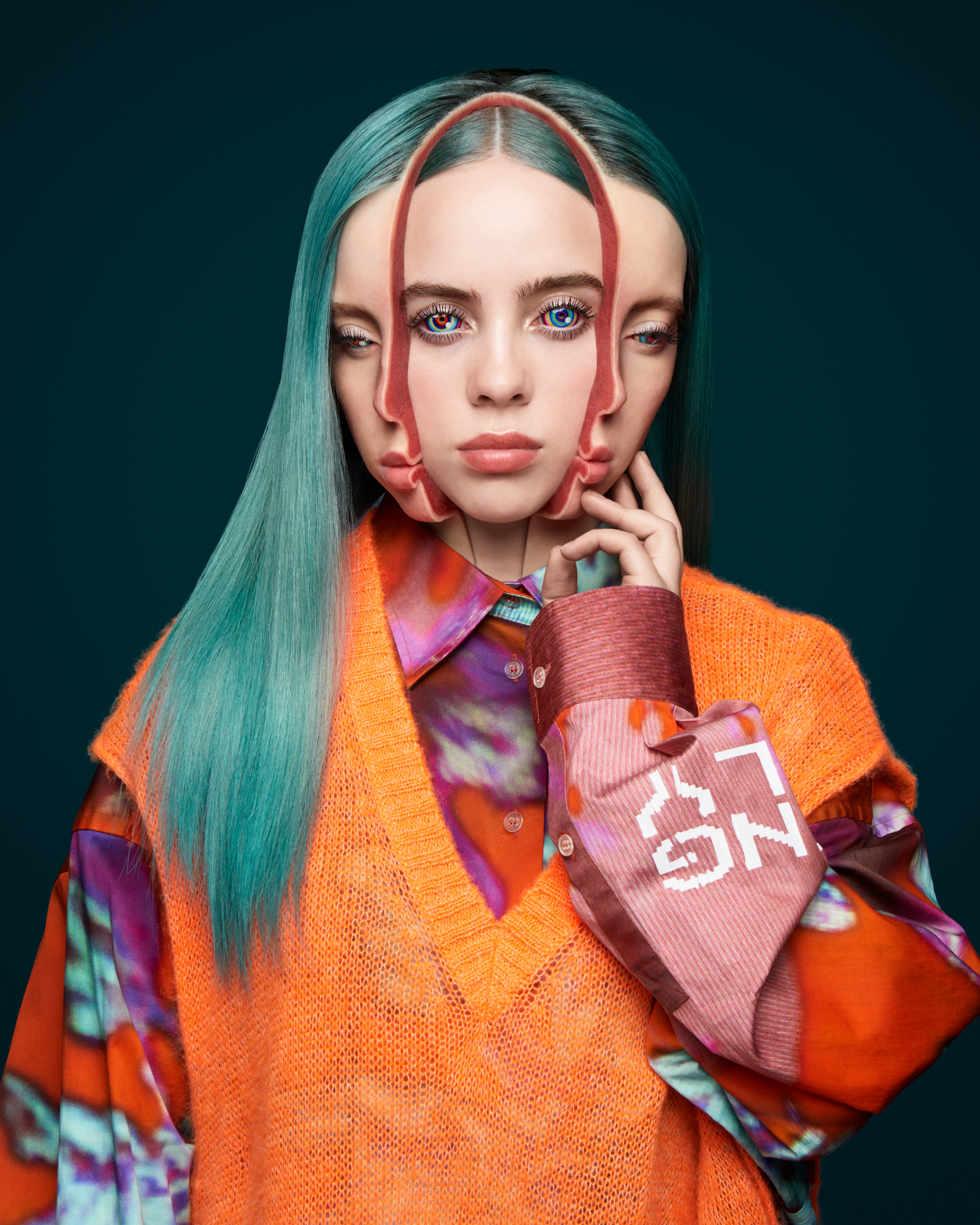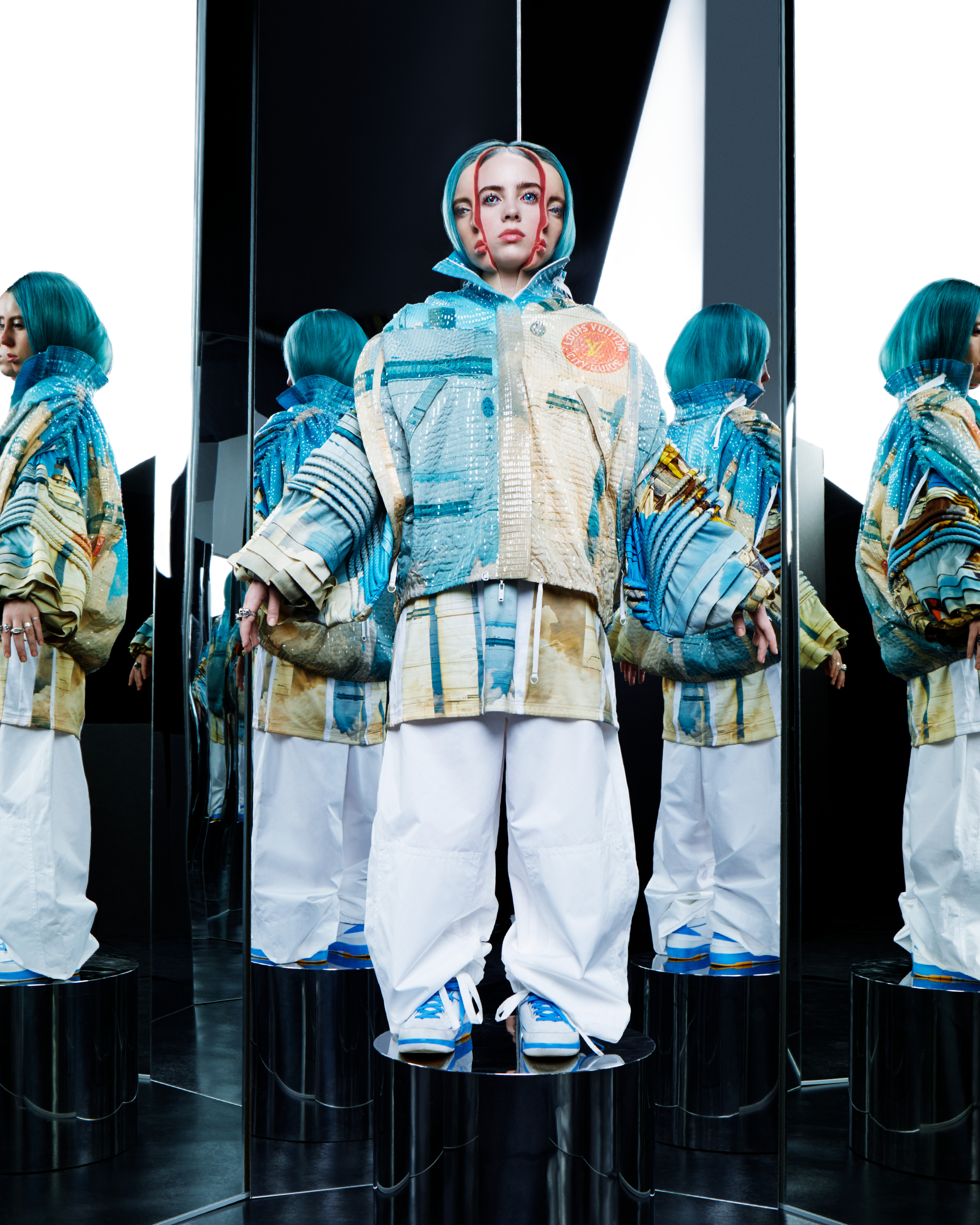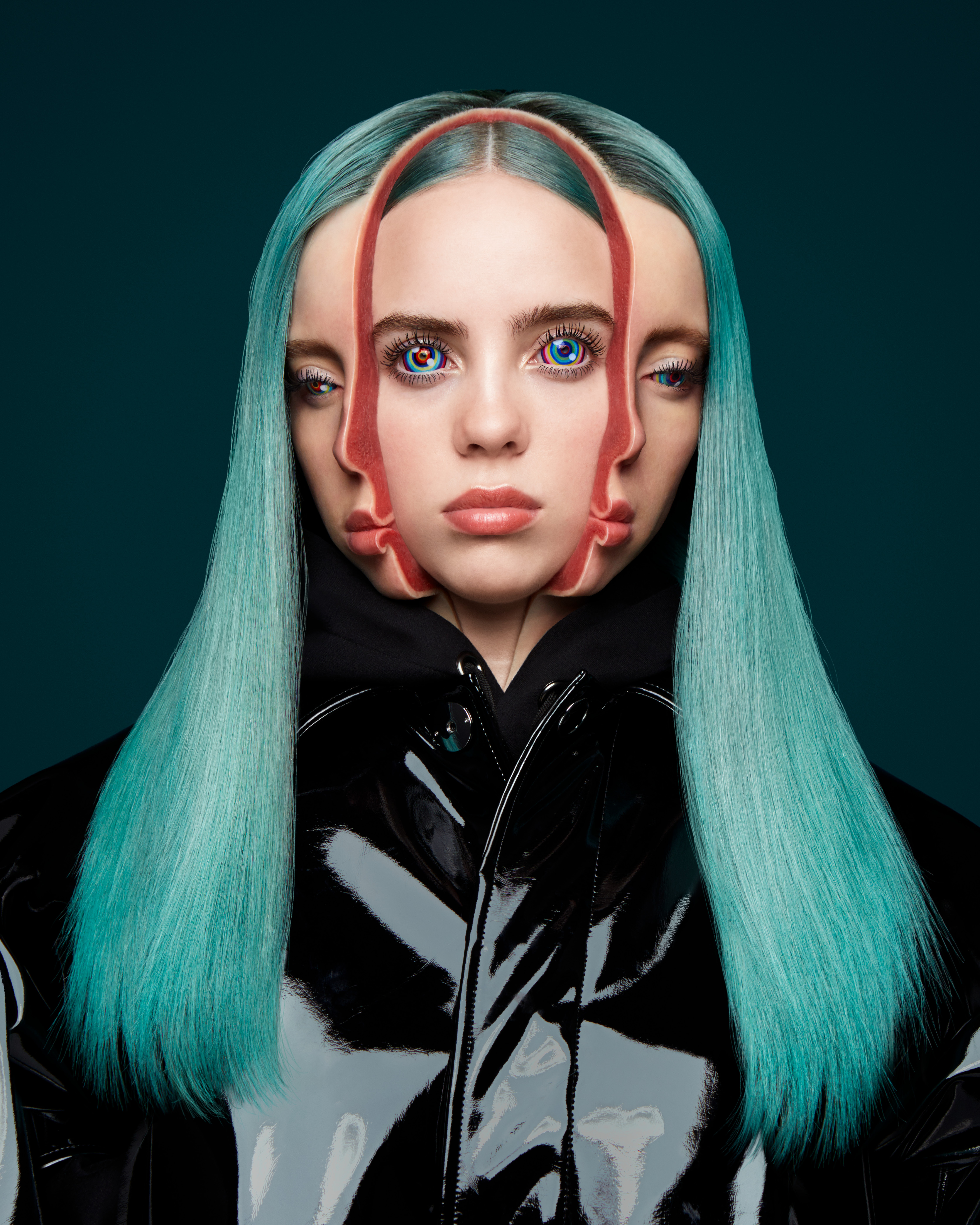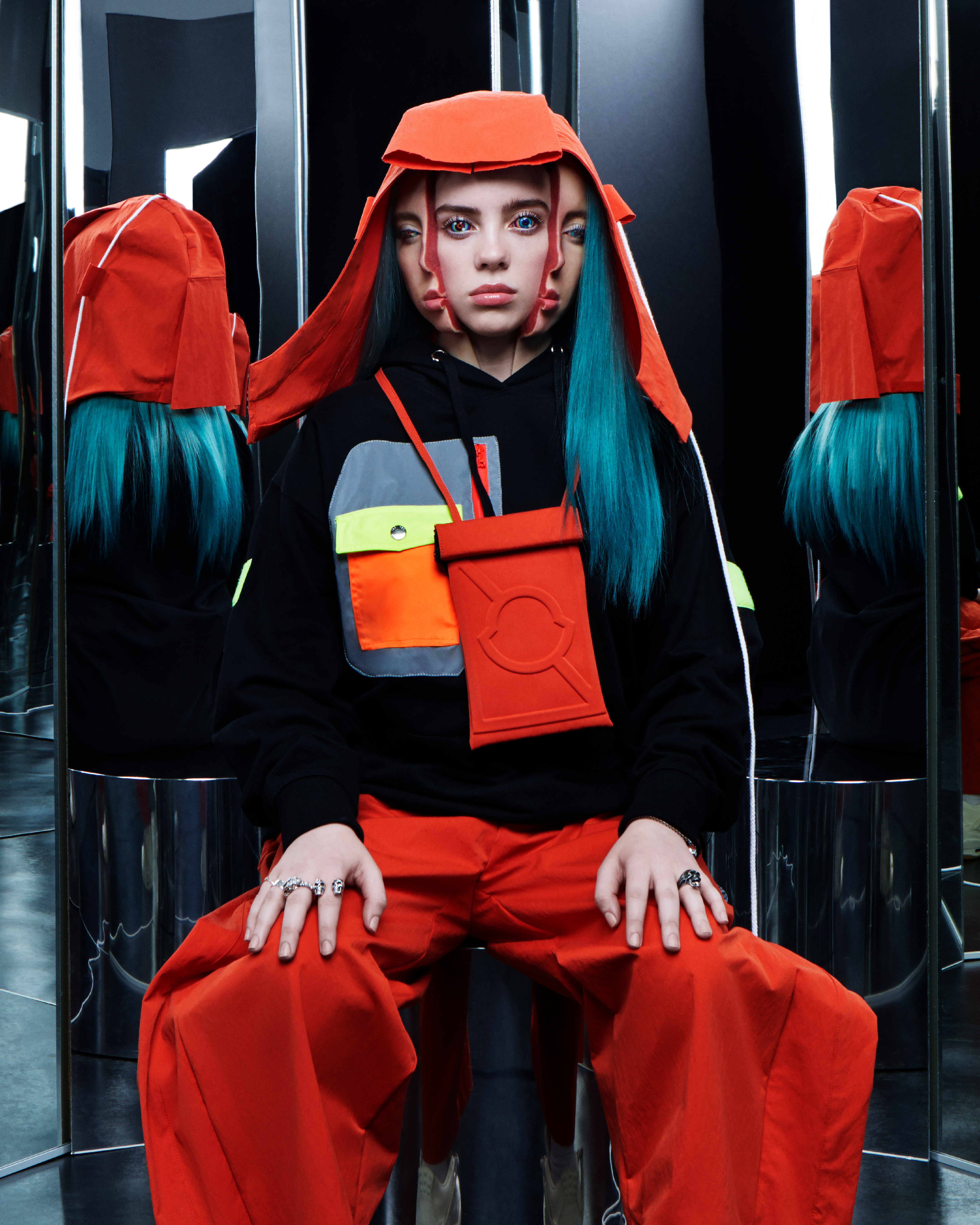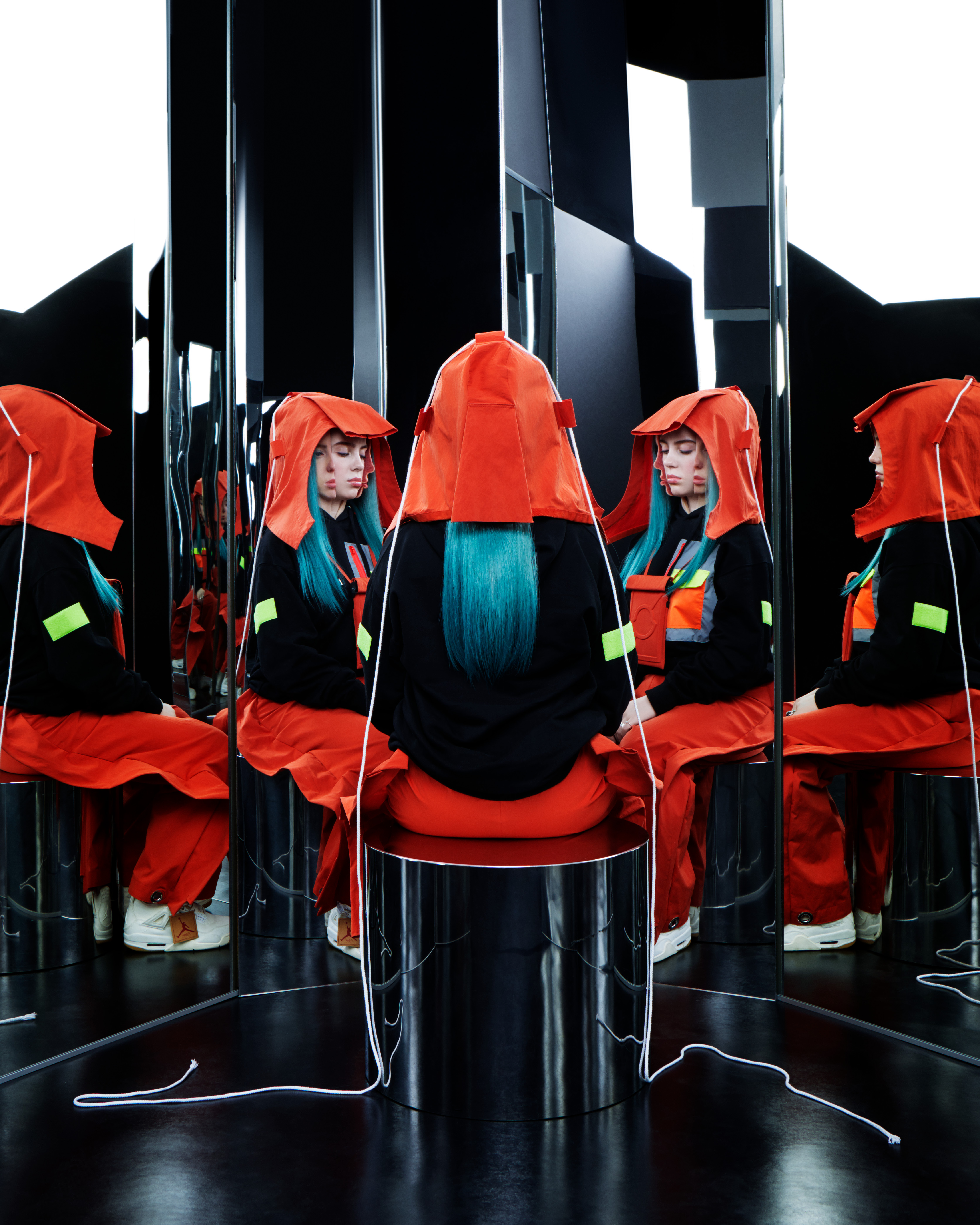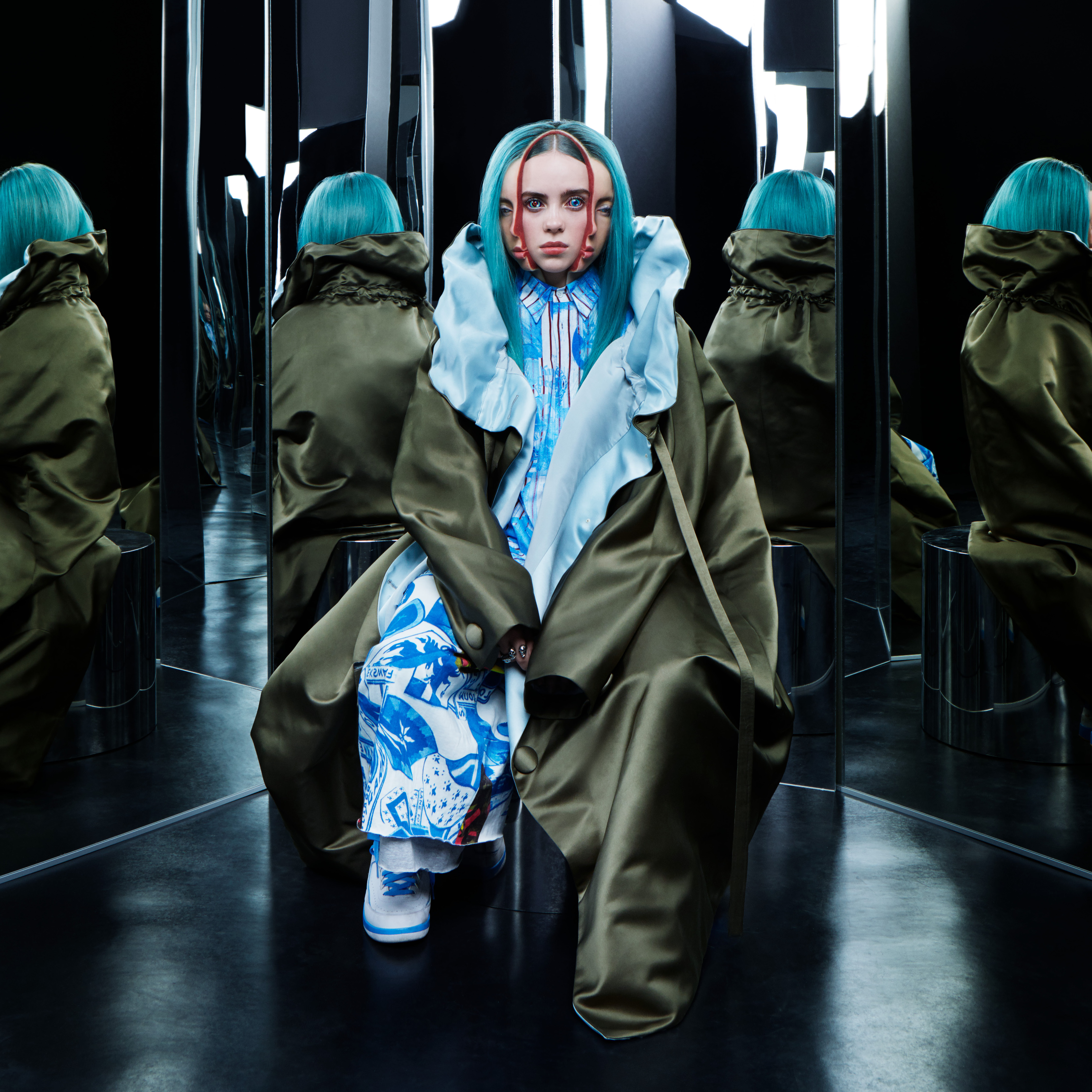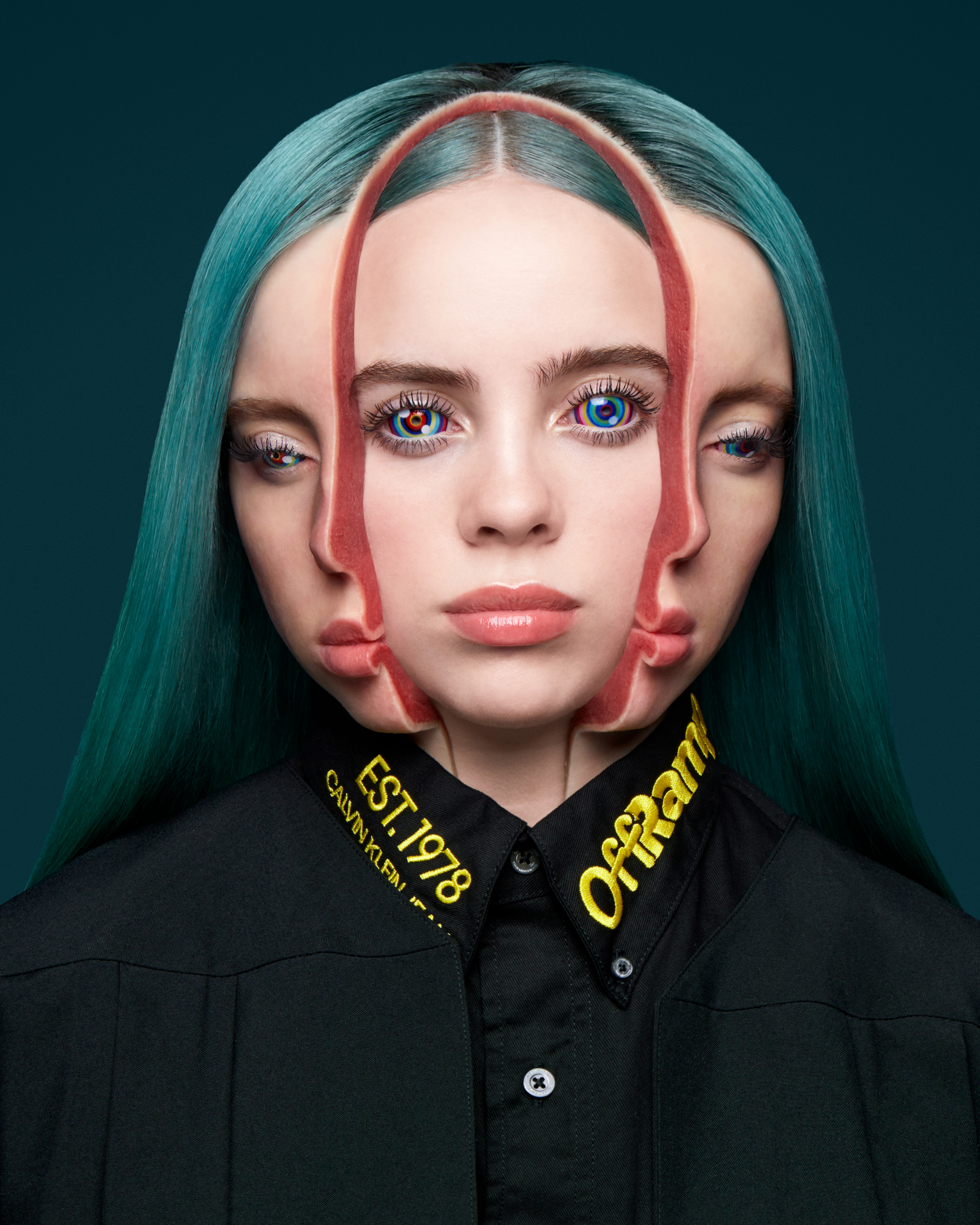 Credits: Hair Blake Erik at Forward Artists; Makeup Samuel Paul at Forward Artists; Prosthetics Sarah Sirkin; Manicurist Betina Goldstein; Set Designer Robert Doran at Frank Reps; Digi Tech James Goethals; Photographer Assistant Ben Thomson; Fashion Assistants Taylor Kim and Masha Ossovskaya; Hair Assistant Raina D. Leon; Prop Assistants Brian Soule and Ashley Degarmo; Tailor Kate Casey at 7th Bone Tailoring; SFX Assistant Malina Stearns; Producer Holly Gore at Rosco Production; Production Coordinator Davin Singh; Production Assistants Andres Raygoza and Dre Norwood; Sound Tech Johnny Karlsson; Tarot Reader Rachel True; Special Thanks to Brittani McNeal; Retouching Joseph Tripi; Custom Cover Type by Tezzo Suzuki
A version of this story appears in GARAGE Issue 16, publishing February 2019.