Javier y Borja Jiménez. Photograph by Brett Lloyd.
Celebrating the Undeniable Passion Of the Matador
Spaniards debate the future of bullfighting, but its defenders—and the next generation of toreros—see it as an intractable part of their culture. Photographer: Brett Lloyd. Fashion Editor: Alba Melendo.
Javier y Borja Jiménez. Photograph by Brett Lloyd.
In Spain, bullfights start as the sun sets. When the audience takes its seats in the arena late in the afternoon, the sun covers half the ground. As the fight moves toward death, everything is gradually covered in darkness. At the first trumpet, toreros parade across the ring in their shining suits of light. The bull arrives at the second trumpet; picadors mounted on horses prick the animal to weaken it, and banderilleros stab it with stakes. At the final trumpet, the matador kills the animal with a series of sword movements, each of which have their own name and function. It is not a battle of strength, but rather a highly choreographed set of scenes. "No public spectacle in the world is more technical, offers less to the untaught observer, than a bullfight," the drama critic Kenneth Tynan once wrote.
Hovering above every fight between man and bull is another battle that has long raged: Should the practice even exist? Traditionalists believe bullfighting, el toreo in Spanish, is an integral part of Iberian culture. They are quick to argue the practice is not a sport but an art, closer in its movements to dance, in its improvisation to jazz, and in its grandeur to opera, but more precious than all of the above because it is ephemeral. Many would prize it above even soccer, the country's second religion. (Photographer Brett Lloyd, along with fashion stylist and journalist Alba Melendo, whose images are presented here, have been working for the past few years to capture contemporary bullfighting in Spain, to answer the question: What does the tradition look like in the modern world?)
José Tomás is the most famous bullfighter in Spain. He performs only a few times a year in sold-out amphitheaters, and to hear aficionados tell it, Tomás is close to God. His followers are called Tomasistas. He refuses to have his performances televised, and people speak of famous fights like they are snuff films (and in a way, of course, they are). His 2012 dance of death against six bulls in Nîmes, France, placed him in the bullfighting pantheon. If you watch the clips made by disobedient fans, you can hear an amphitheater in ecstasy. When Julia de Castro, an actress and singer saw him in Málaga, she felt as though the arena had gone silent. "Something stopped," she says.

But Tomás may be one of the last of a dying breed. "Spanish Bullfighting's Slow Death"; "Bullfighting: Thousands Rally in Madrid to Demand Ban"; the headlines speak of the possibility of closing time. Politicians rail against the sport. Spaniards tell pollsters it's too bloody, too violent.
Bullfighting is like liturgy, says Rubén Amón, who writes about el toreo for the newspaper El País. It reveals things hidden in society's shadows, "what everyone wants to ban and hide," he says—death, violence, and sacrifice. Audiences feel moved by bullfights because the torero is putting his life on the line for their sake. Muriel Feiner, a journalist who has written a number of books about bullfighting, reminds me that in the past two years at least two toreros have died. "How could [a viewer] feel indifferent?" she asks.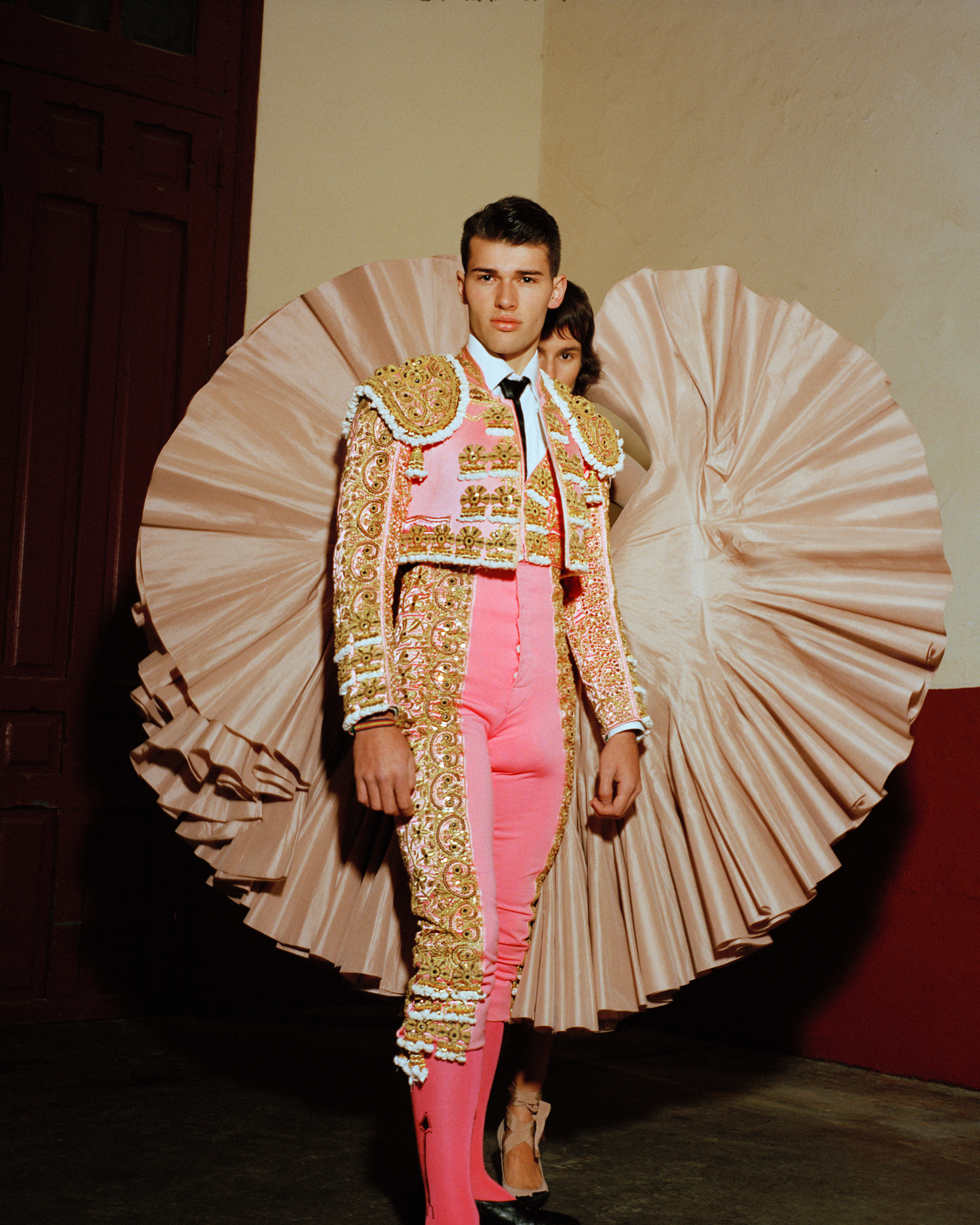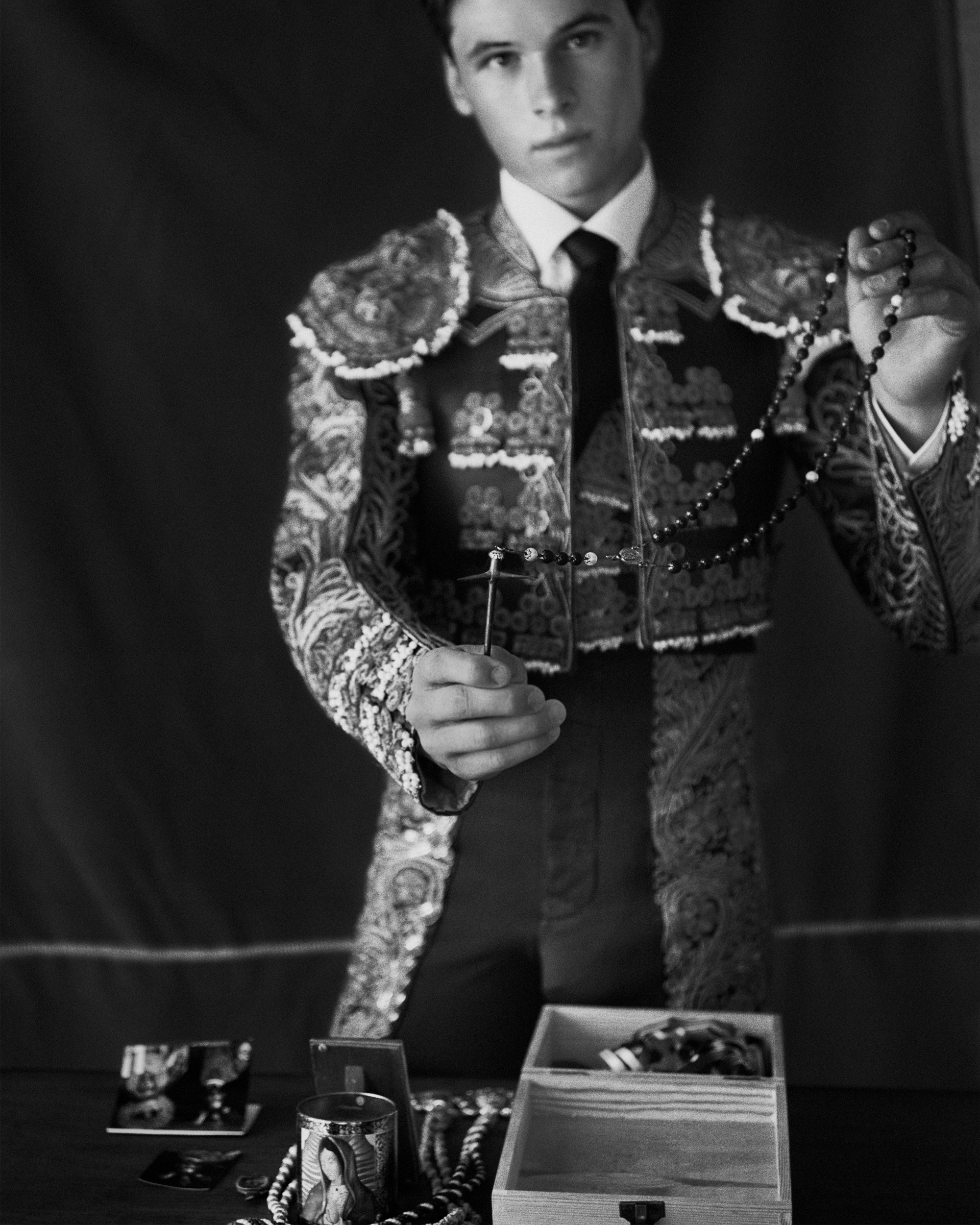 Of course, the anti-bullfighting camp doesn't feel indifferent. They argue that animals are slaughtered in every fight, and even sometimes outside of the arena: When a matador is killed, tradition states that the bull's mother should be slain, too. An announcement that this would occur after the matador Victor Barrio was gored to death on live television in 2016 sparked demonstrations.
The protests have to do with more than concerns about animal cruelty. For some Spaniards, the sport brings to mind the fascist Franco regime, which put forward el toreo as a symbol of a unified Spanish culture. As support for the monarchy wanes, the fact that the current king of Spain regularly attends matches does nothing to improve bullfighting's reputation as an outmoded tradition. Nor do appearances by Carmen Martínez-Bordiú, Francisco Franco's granddaughter and a tabloid regular. Thousands have marched to argue for a ban with signs like "Torture is not culture" or "Bullfighting and the Bourbons should be in museums." The recent attempt by Spain's far-right party, Vox, to protect the sport has not improved its image. And bullfights are statistically less popular today than they have ever been: According to El País, 6.9 percent of the population attended a bullfight in 2015, compared to 9.8 percent in 2006. The left party Podemos is seeking to end public subsidies for the practice, while Vox is pushing for a law to protect it. "
Bullfighting is still big in certain places and certain times," says Duncan Wheeler, chair of Spanish studies at the University of Leeds. "What's dying is the year-round circuit. The question is whether the bull-fighters and breeders can keep going on the basis of those big events."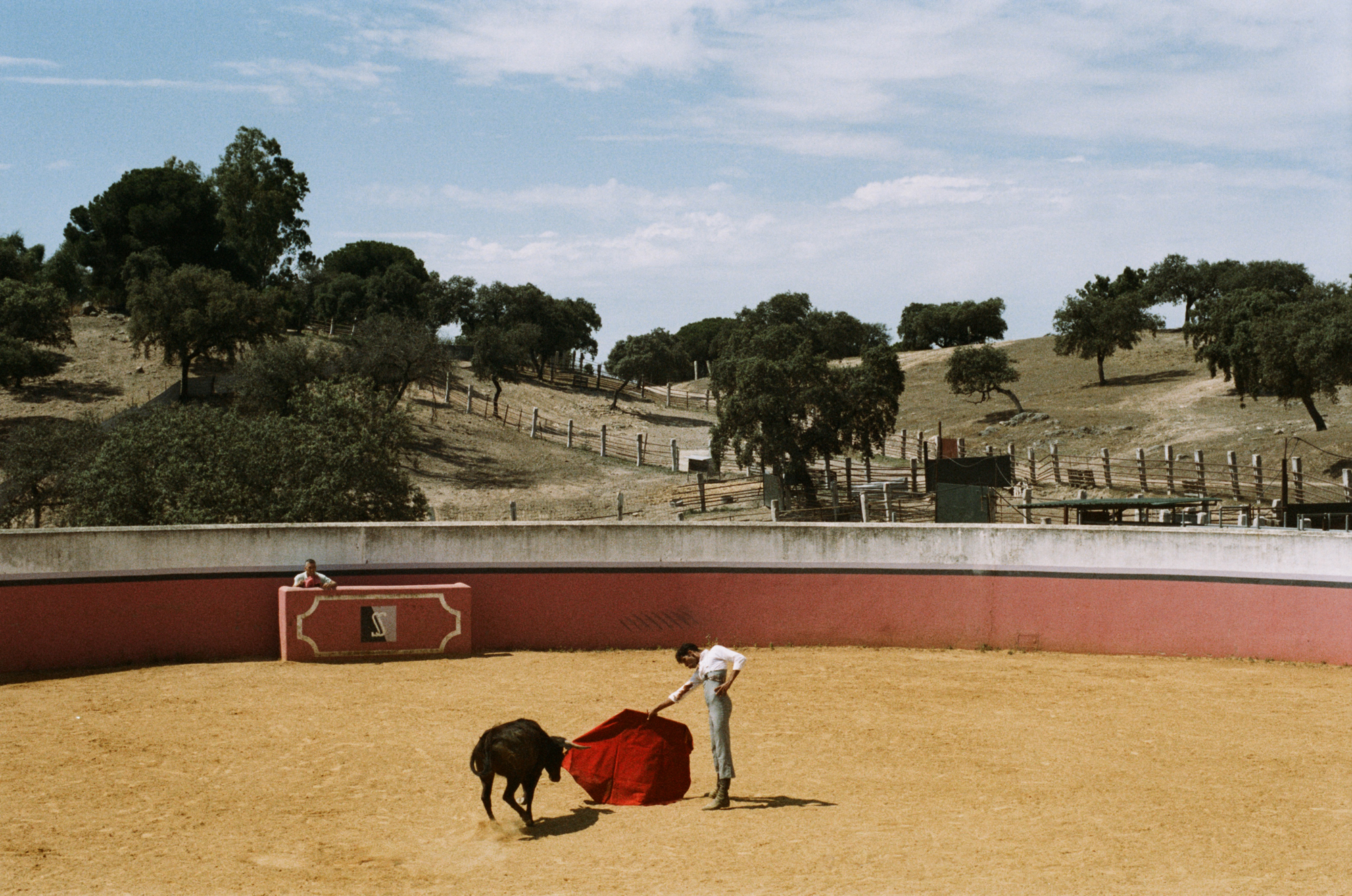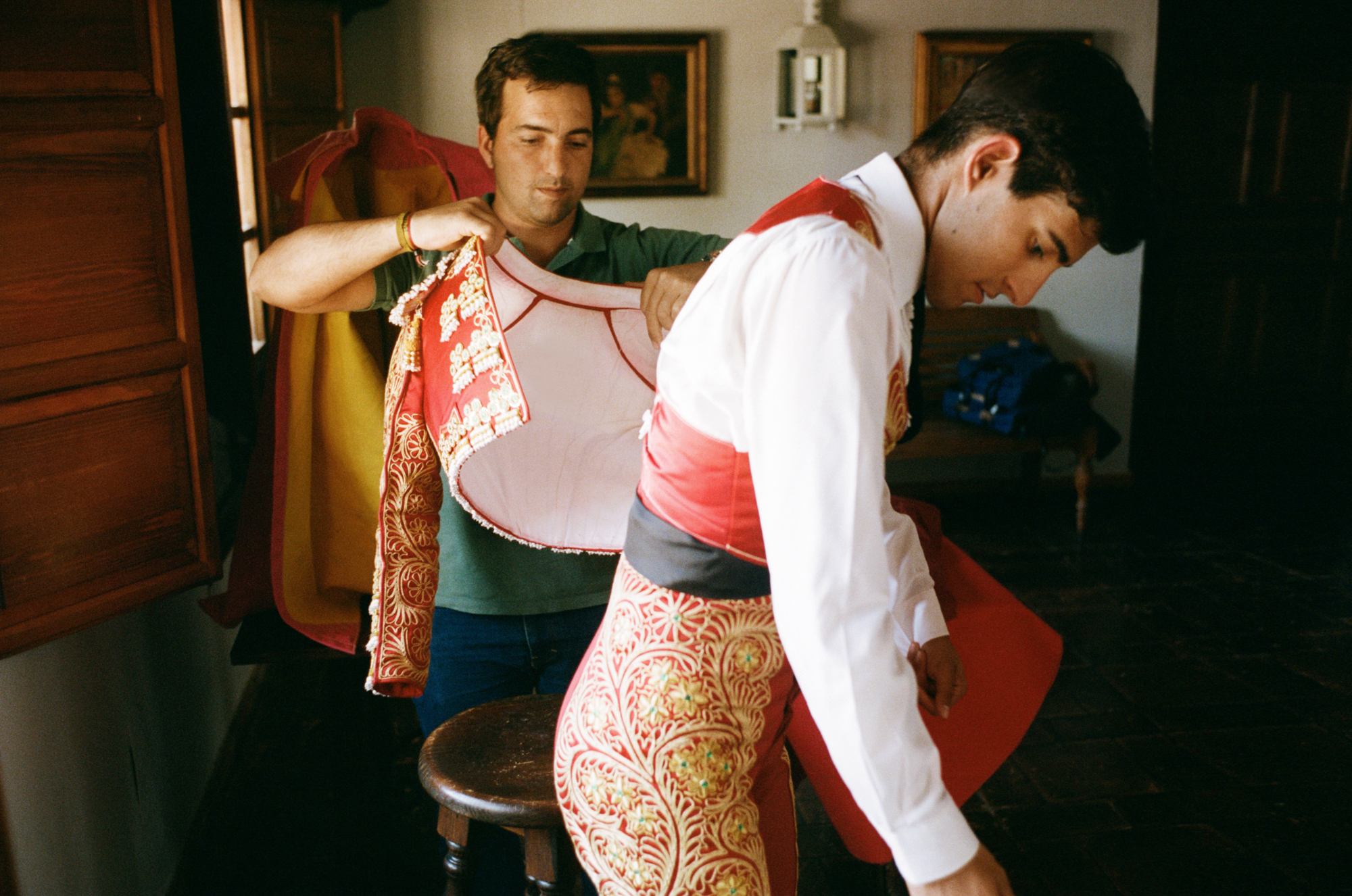 Bullfighting wasn't always a political linchpin. Federico García Lorca, a poet murdered by fascists, claimed that el toreo was "an authentic religious drama in which, just as in the Mass, there is adoration and sacrifice of a god." One of his most famous poems is about a friend gored to death in the ring. In the 1980s, bullfighting actually became a symbol of progressive transgression, Amón says. His own father, an academic, introduced him to the sport.
While audiences dwindle in Spain, they persist, and are even thriving, in other parts of the world. In France, bullfighting remains a part of regional traditions in Nîmes and Arles. It is popular in large parts of Latin America, and many toreros switch hemispheres for the sports seasons. Some athletes in China have recently created a new form of kung-fu bullfighting. Still, many, like Wheeler, believe the sport will be banned in Spain within their lifetimes.
Only a handful of toreros ever make it to the center stage in Spain. When they do, they're national celebrities. Like aristocracy, they often come from famous families and marry into dynasties. Their love lives are followed by magazines like Hola!, and it's not uncommon to see a story about one famous torero whose father was an even more famous torero: Matador Cayetano Rivera Ordóñez is the grandson of matador Antonio Ordóñez, who developed such a close relationship with Orson Welles that the actor had his ashes buried on his estate. He is the great-grandson of Cayetano Ordóñez, the inspiration for "El Niño de la Palma" in Ernest Hemingway's The Sun Also Rises. Cayetano Rivera's brother Francisco Rivera Ordóñez once said that he wished he could die like their father, the matador Paquirri, who was gored to death on live TV in 1984 and thus guaranteed eternal glory. That's four generations of matadors.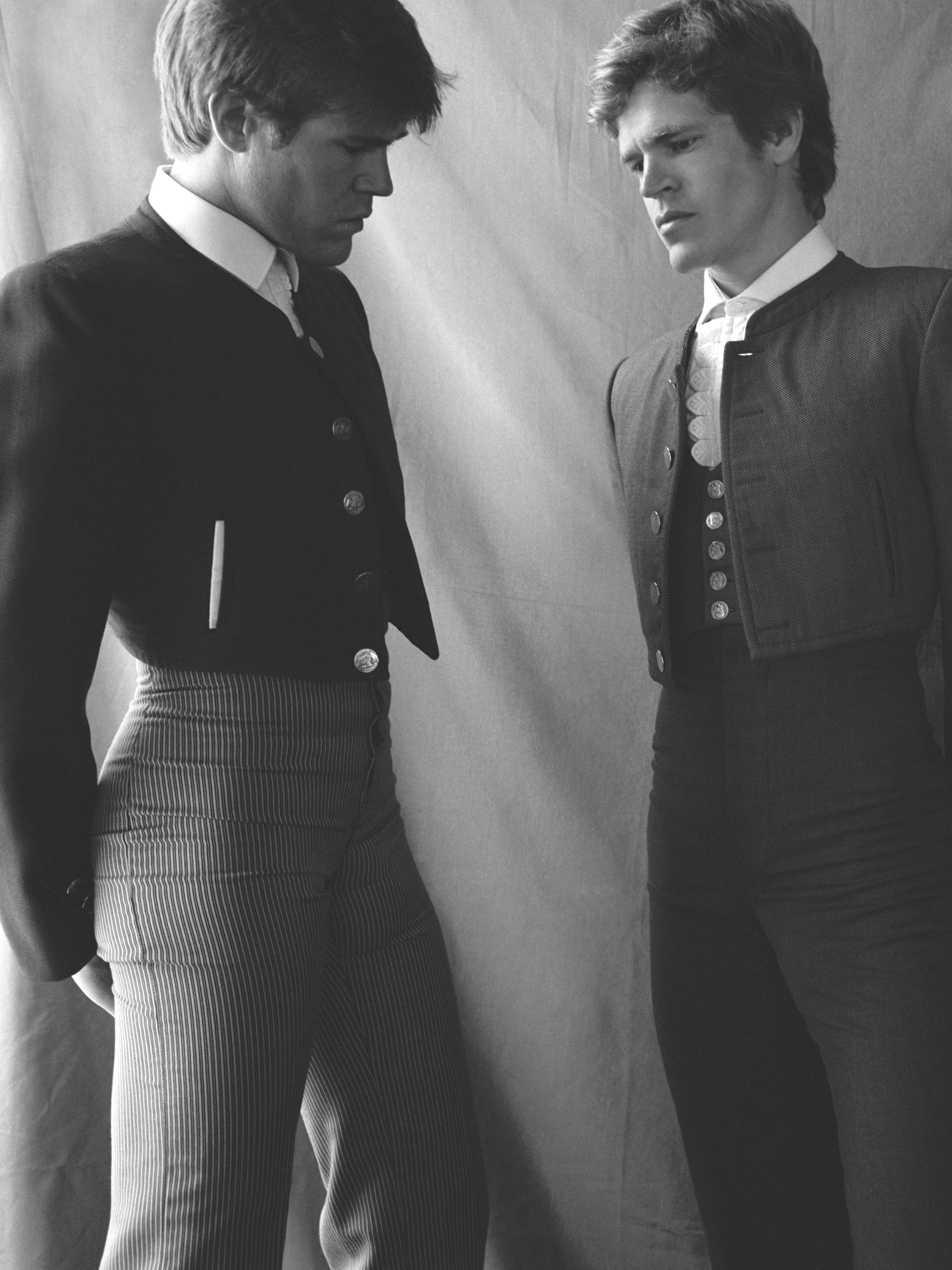 Celebrity toreros represent a small sliver of the population, and some hold other jobs (taxi driving, for instance) to make ends meet. A few fights a year cannot give you enough money to pay for the elaborate uniforms that toreros wear—which cost around €3,000—not to mention food and rent.
The costs have not deterred the novices. There are about 50 schools for el toreo in Spain, many of which have opened in the last few decades—think of them as bullfighting M.F.A.s. At the schools, students practice with each other, then with cows. They also learn the history of the sport and talk about values like respect and patience. The students are mostly male, but the women who study with them don't let this discourage them. Rocío Romero, pictured on page 270, has said that the path to becoming a torero is difficult no matter one's gender. Pepe Moral (page 268) decided to become a bullfighter at 10 years old and trained in a school. "You have to have confidence and faith," he said, and "give your life to it." He now averages between 25 and 30 fights a season, while days off are spent on a strict regimen of exercise and "torear de salón," replicating the movements of a bullfight without a bull.
Students know that their chances of replacing José Tomás are slim. But it's worth a shot. Ximeles, 20, has been studying since he was 13. For him, an education in bullfighting is partly a question of family (his grandfather was a banderillero) but it's also about character. In school, he feels he's learned sacrifice, consistency, tradition: "Where we come from, where we are, we are going." Talk of the end of bullfights doesn't bother him. "The people want bulls. You cannot kill the love of the fiesta." When I tell him that I'm surprised by the passion people have for bullfighting, he tells me that it's not a passion—it's like a drug. Once it's in you, it's hard to get out.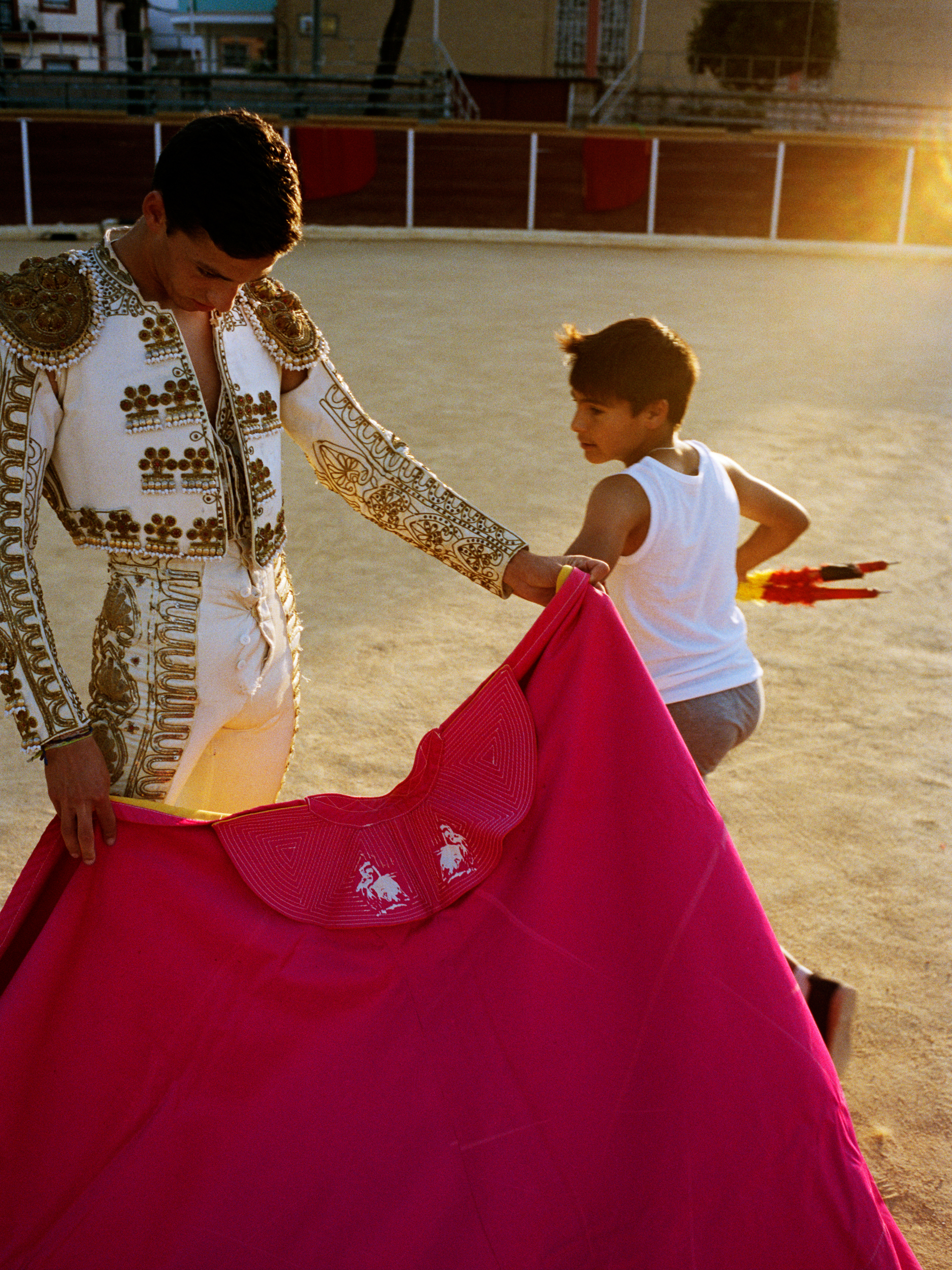 Pablo Martinez Finito is a 20-year-old Mexican student who came to Madrid eight months ago to train. His path from North America to Europe is not unheard of. One of the sport's best-known upstarts, Andrés Roca Rey, came to Spain from Peru and now appears in the biggest fights, as well as publications like Vanity Fair. But Martinez Finito also knows many people who've quit—they got office jobs, they went back to school. Both the commitment and the rate of attrition would be familiar to anyone who has experienced the world of ballet.
Every decision a bullfighter makes is marked by tradition. They wear the elaborate uniforms made by only a few tailors, with the same embroidery, the same order of shirt, waistcoat, jacket, the same pink tights. They must greet the bull with the same bow as it enters the ring. Their careers follow the same trajectory: from student to novillero to matador.
I think about this while walking around Las Ventas, the most famous bullfighting arena in the world, the place where fighters go to make their name. It's off-season and the place is empty and cold. On the walls are tile plaques celebrating the great bullfighters of the past.
The filmmaker Pedro Almodóvar's studio is nearby. In the 1980s, Almodóvar did much to promote a positive image of bullfighting with movies like Matador. It occurs to me that while support for this national tradition may be waning, one still sees it everywhere outside the arena: in art, fashion, music. Its motifs are forever part of a society that may soon reject it. To some, this would be the perfect death, and to others, the perfect afterlife.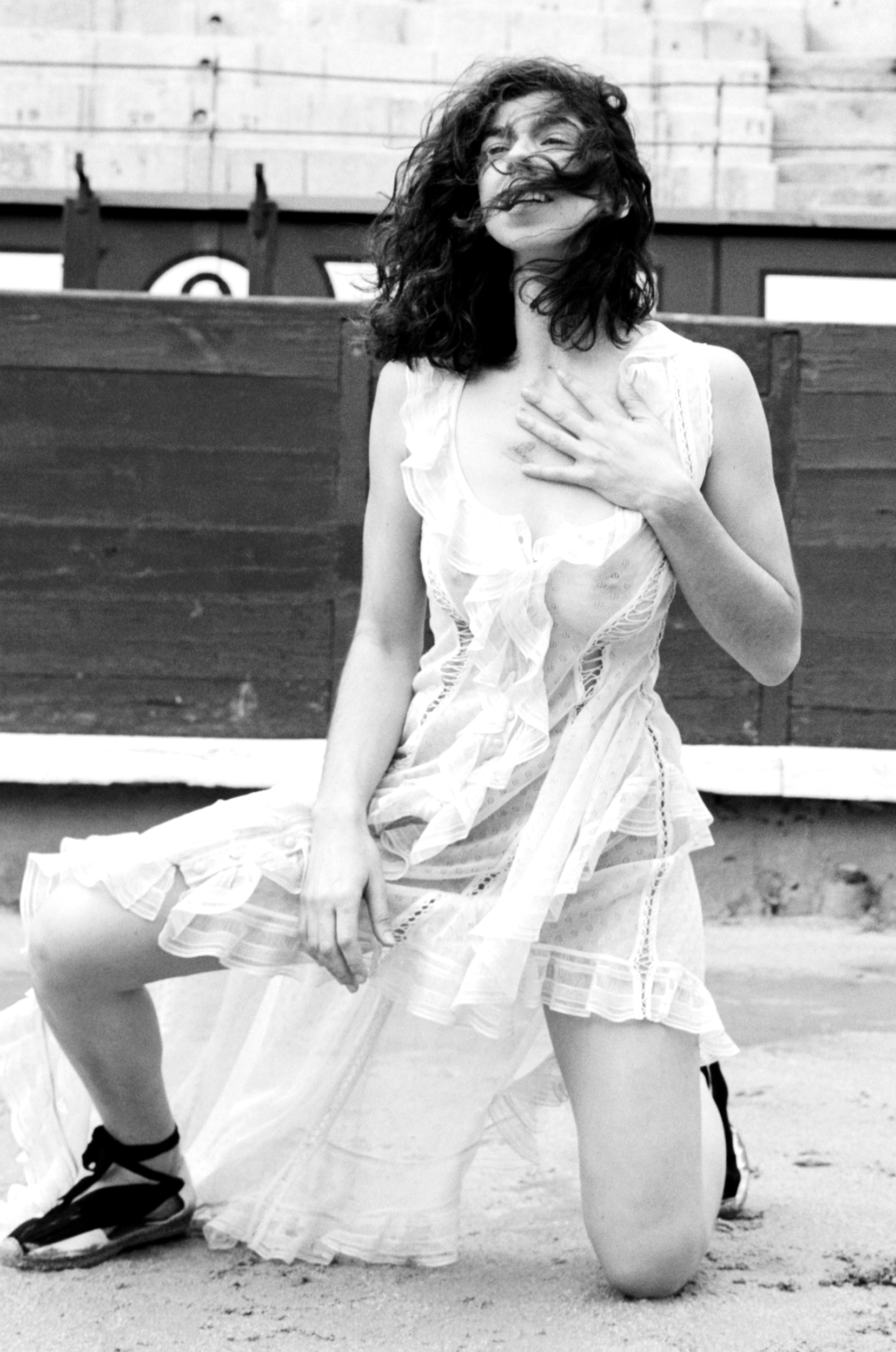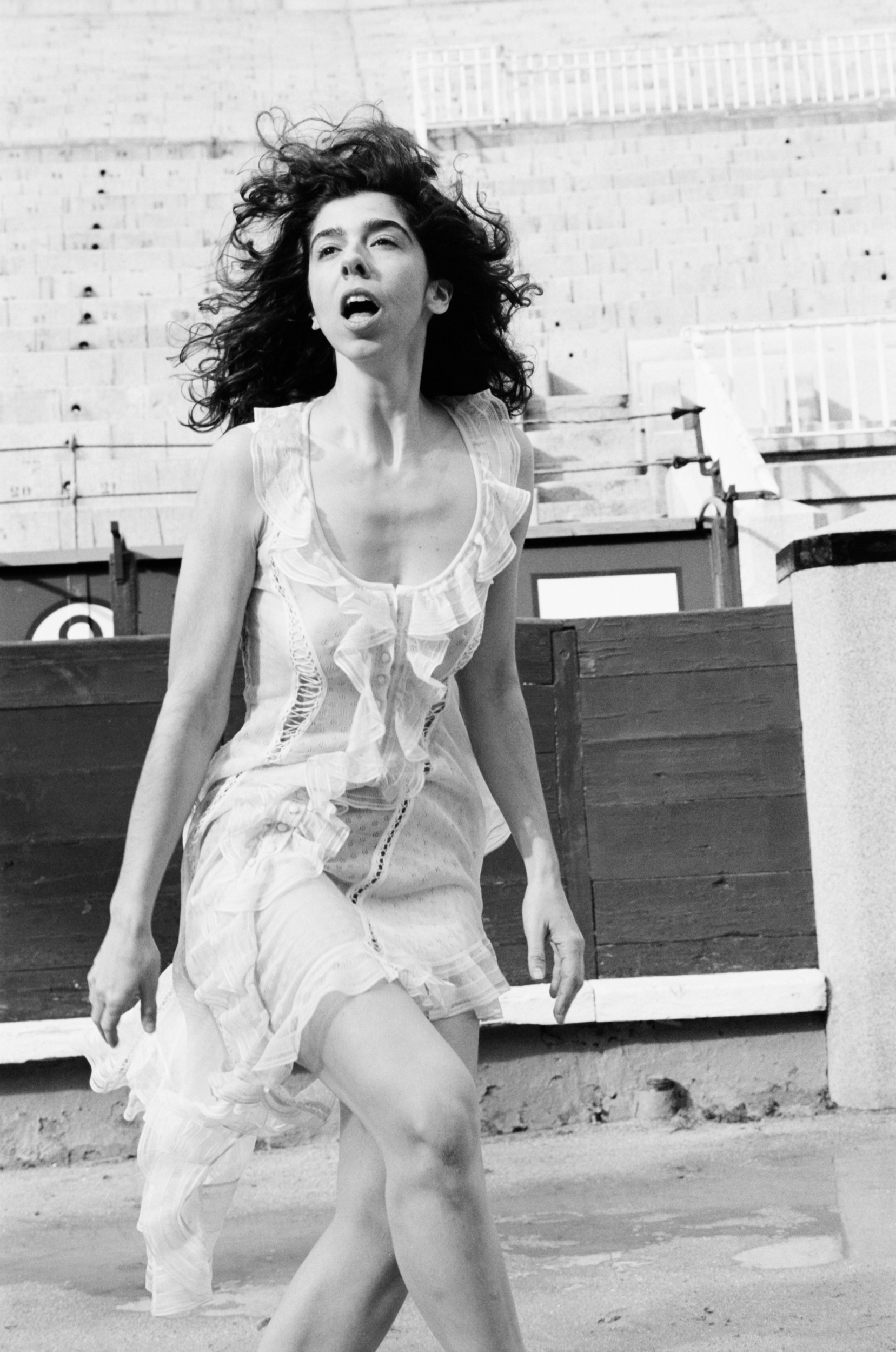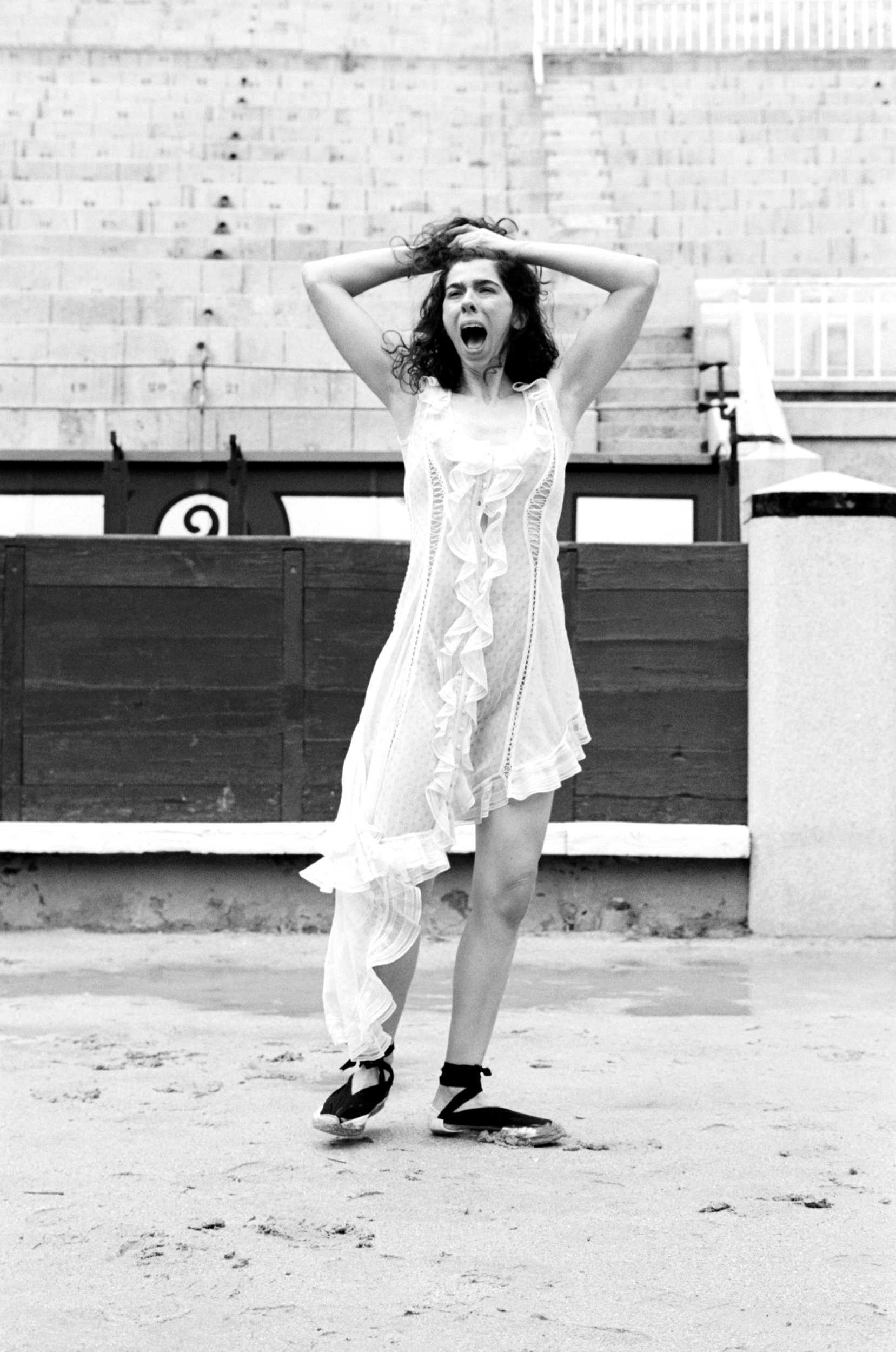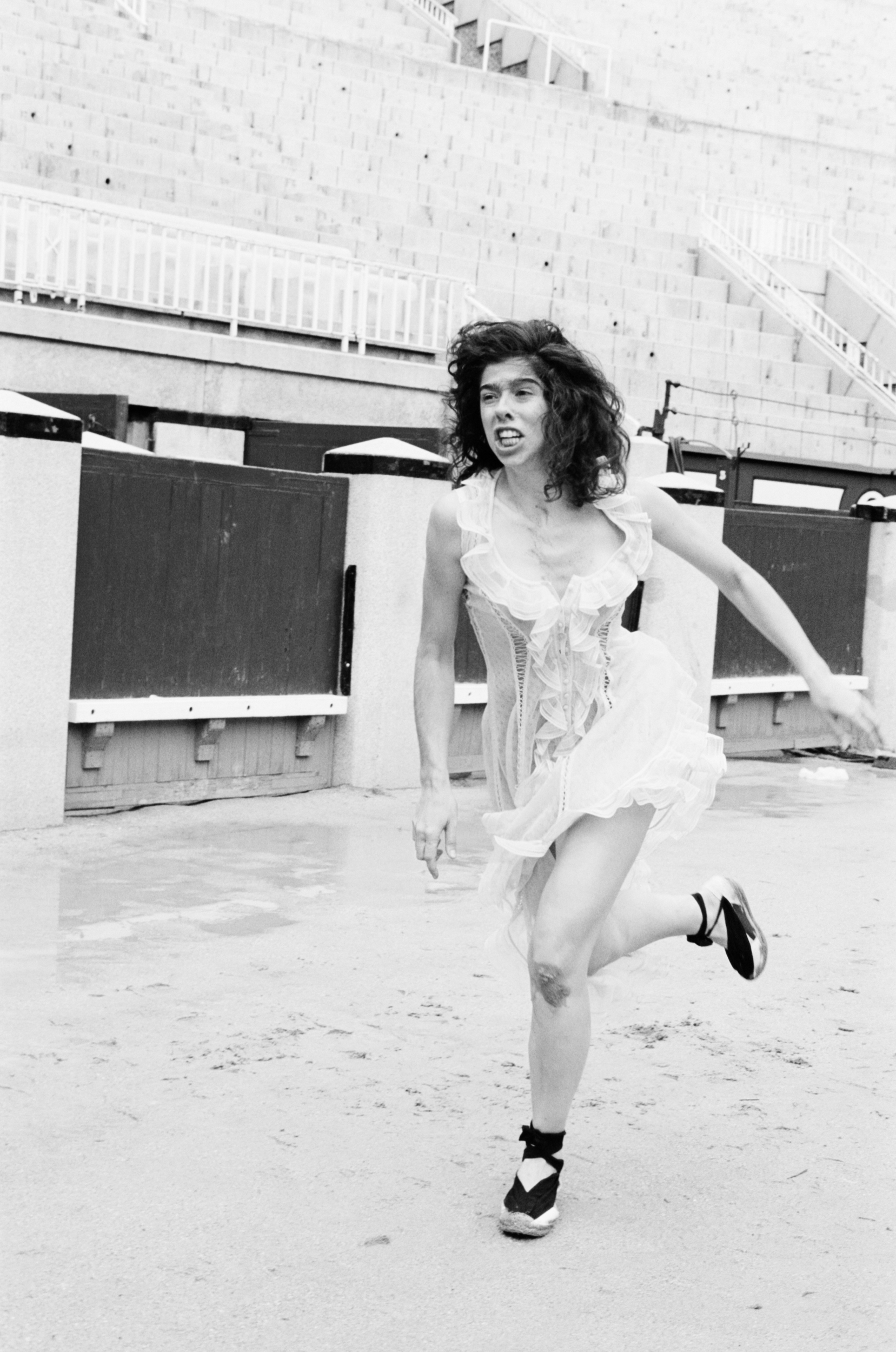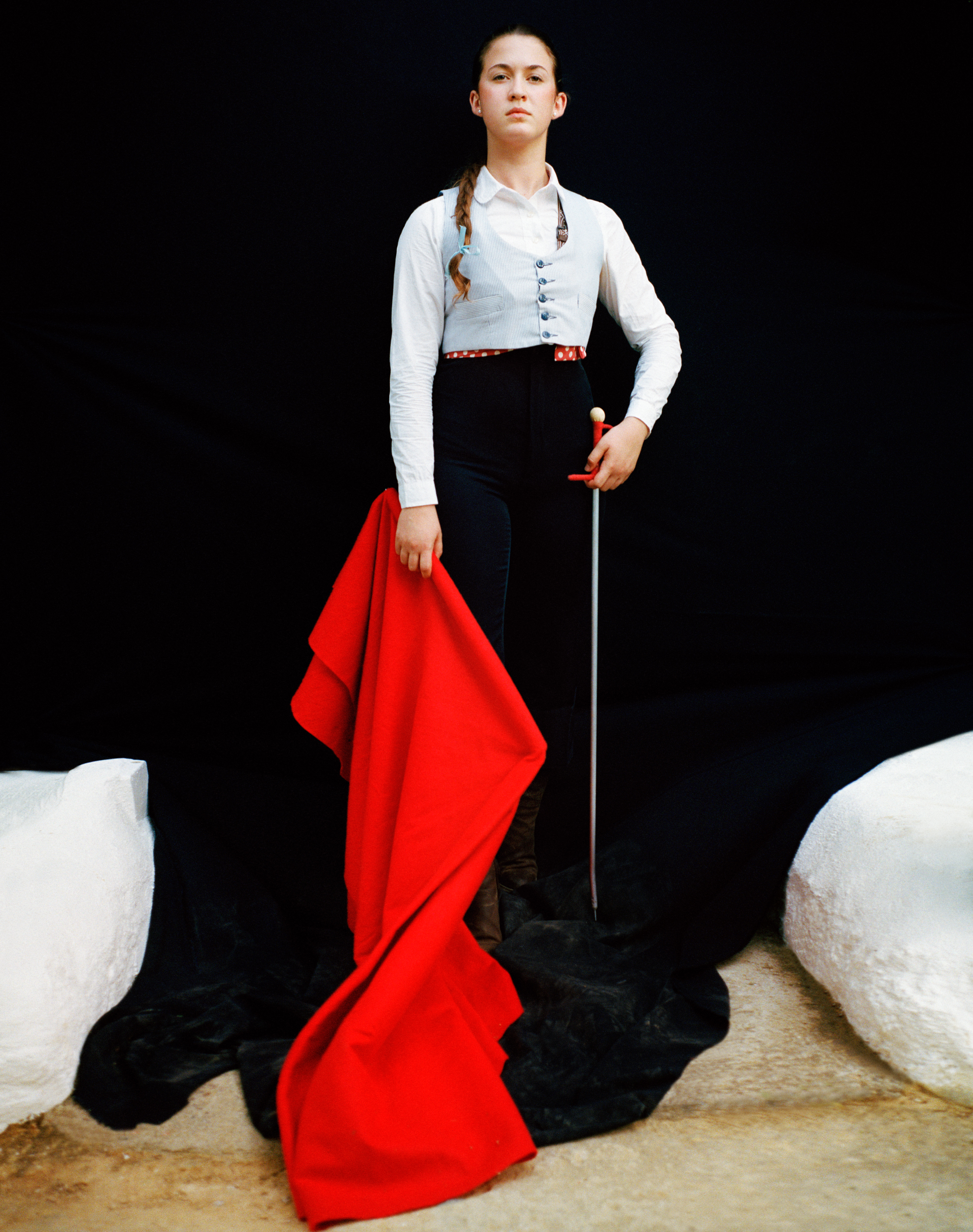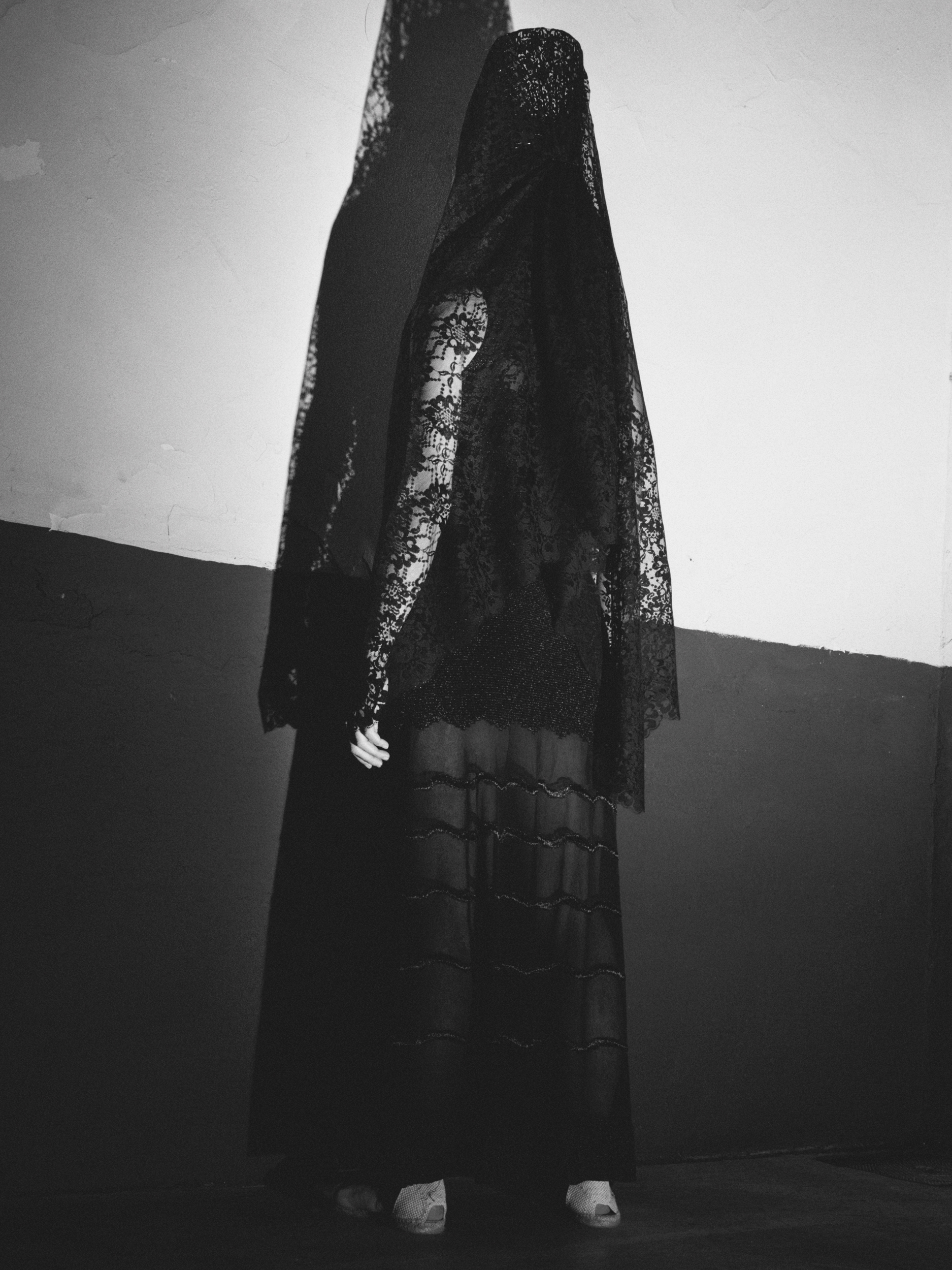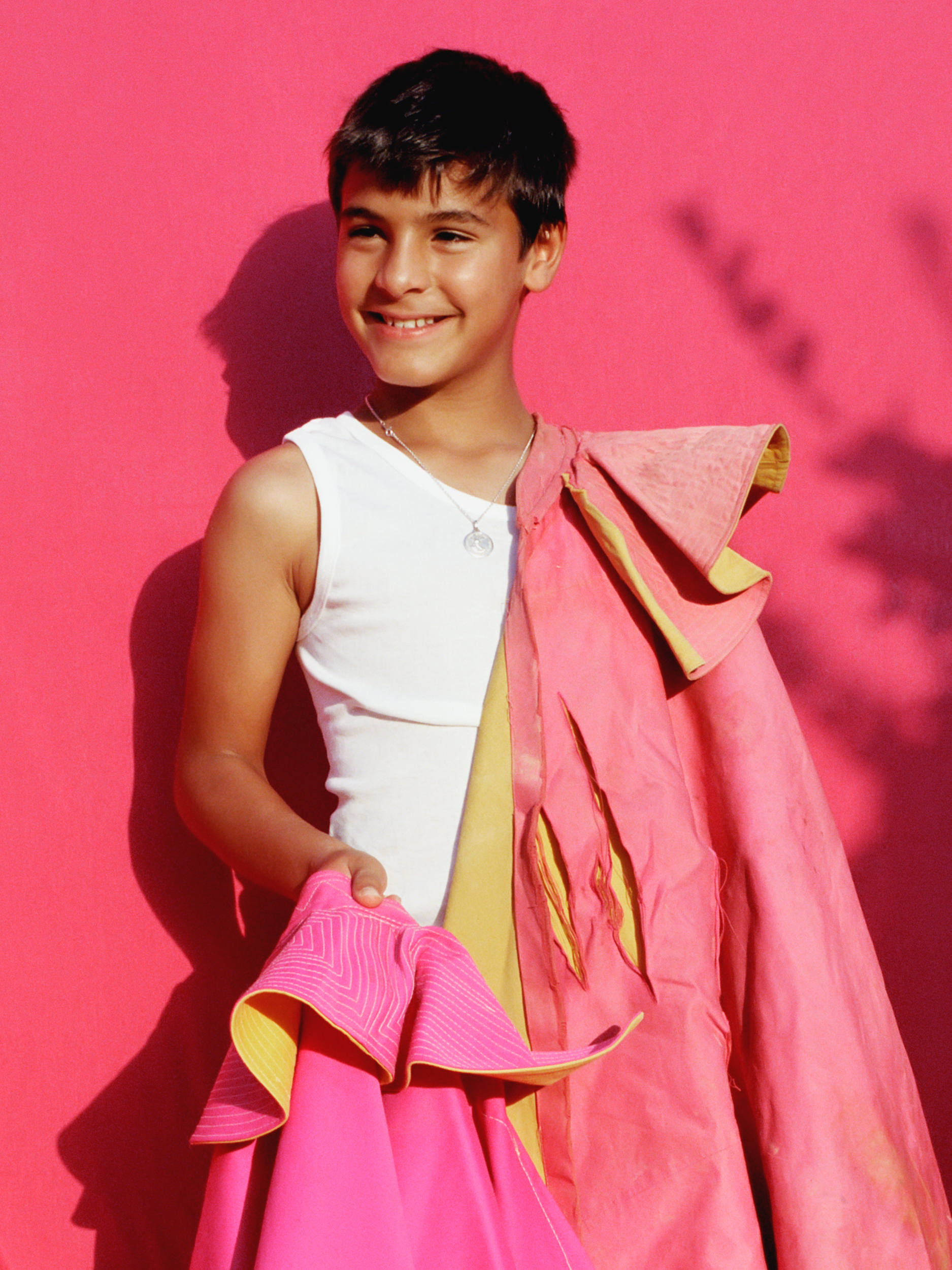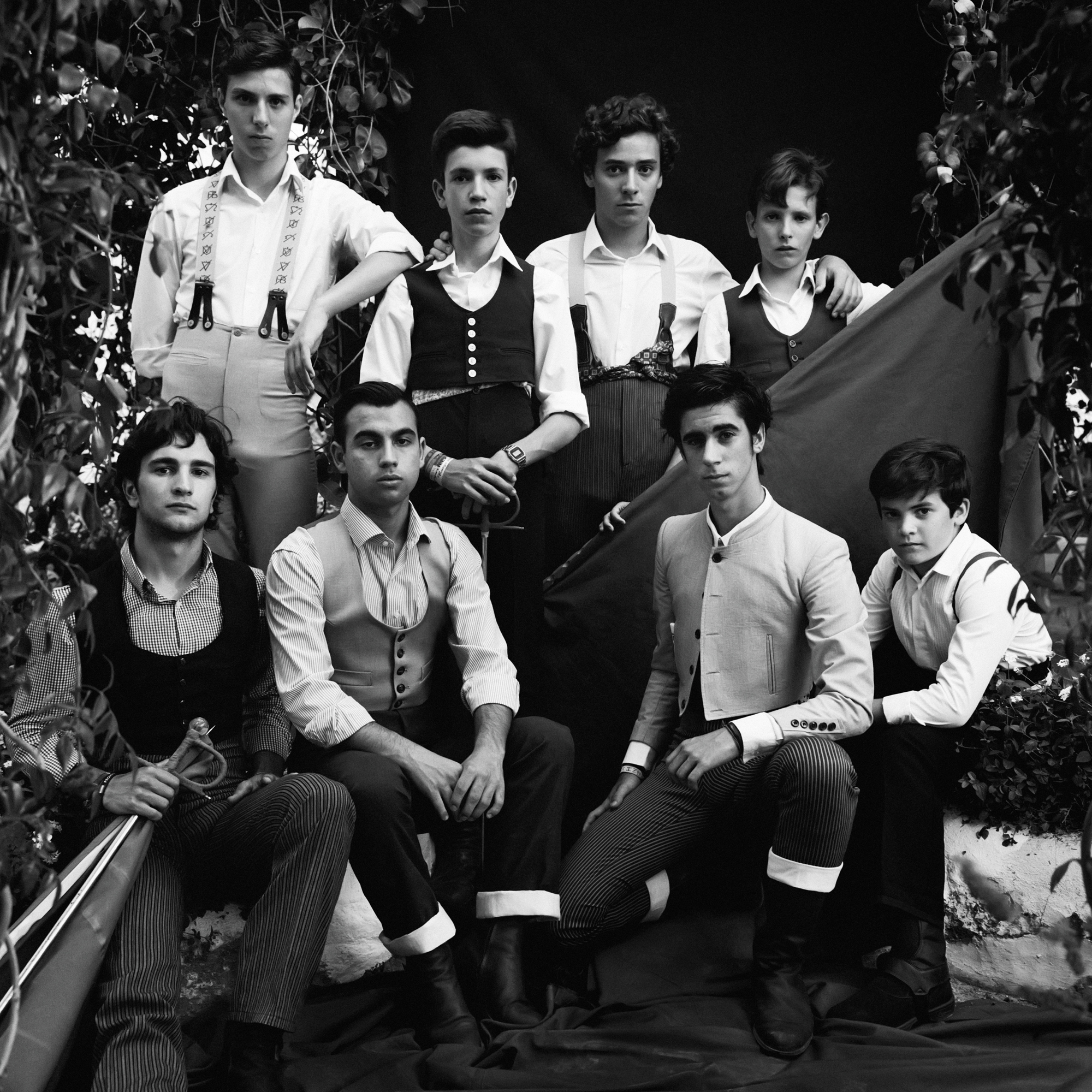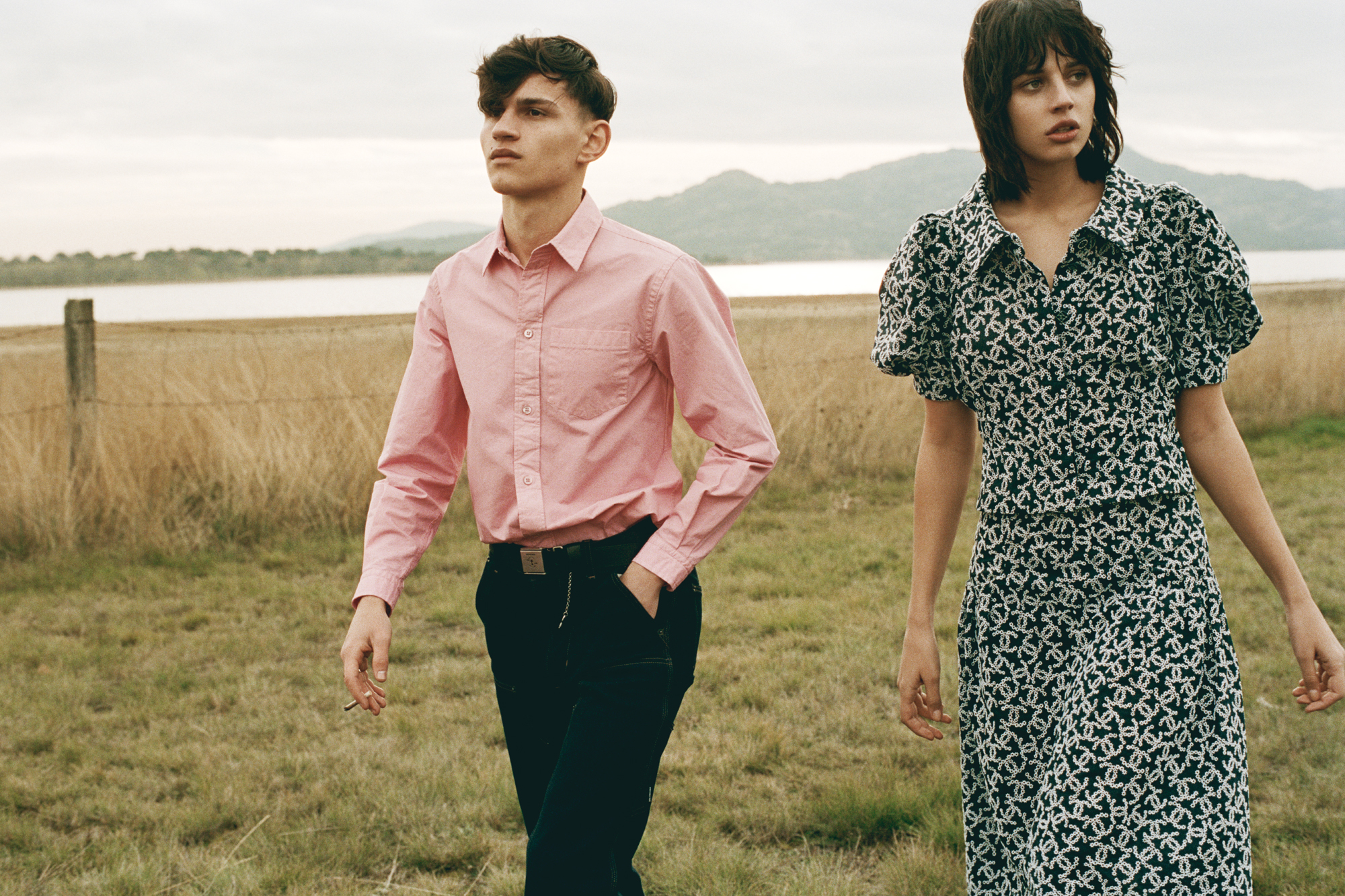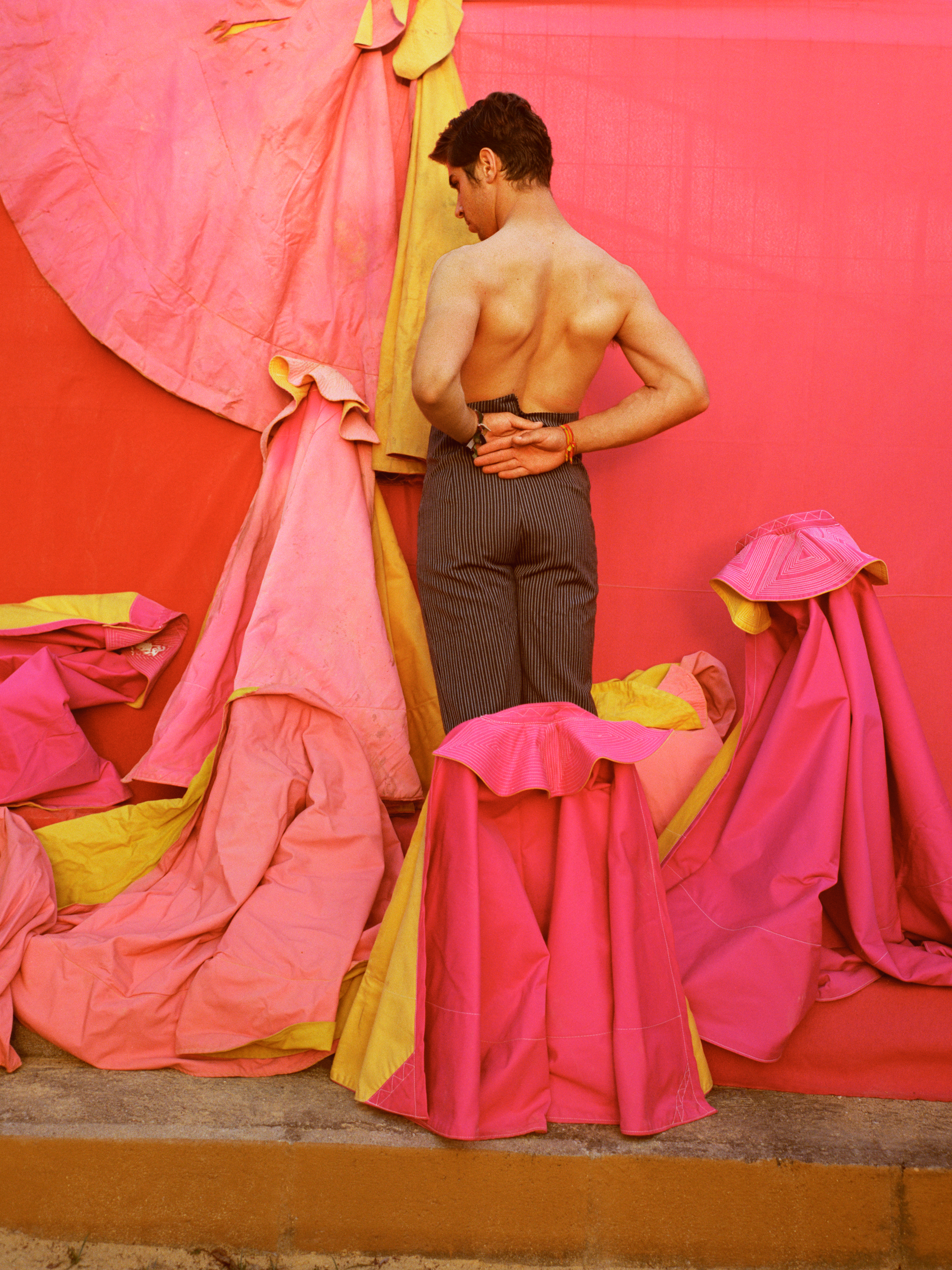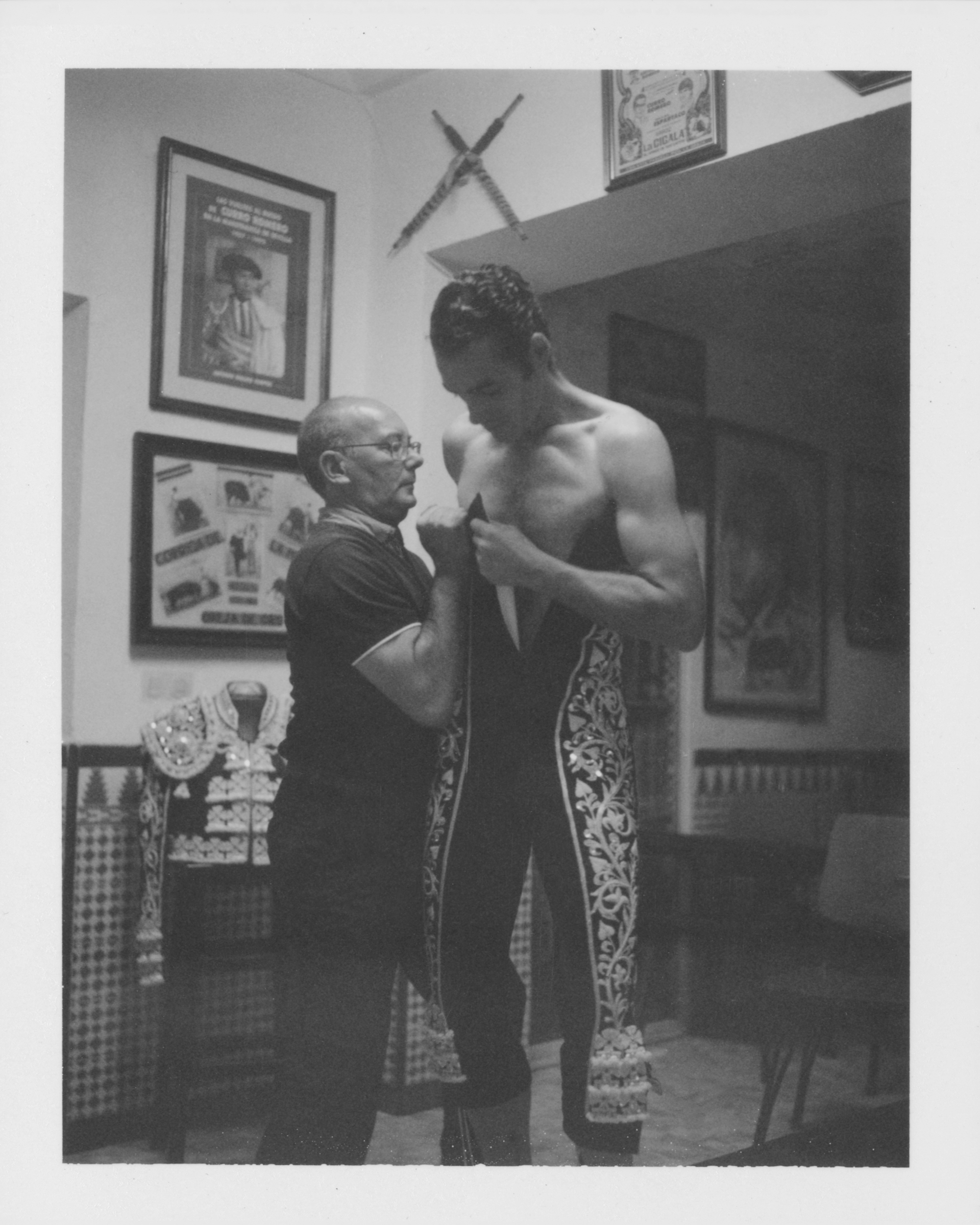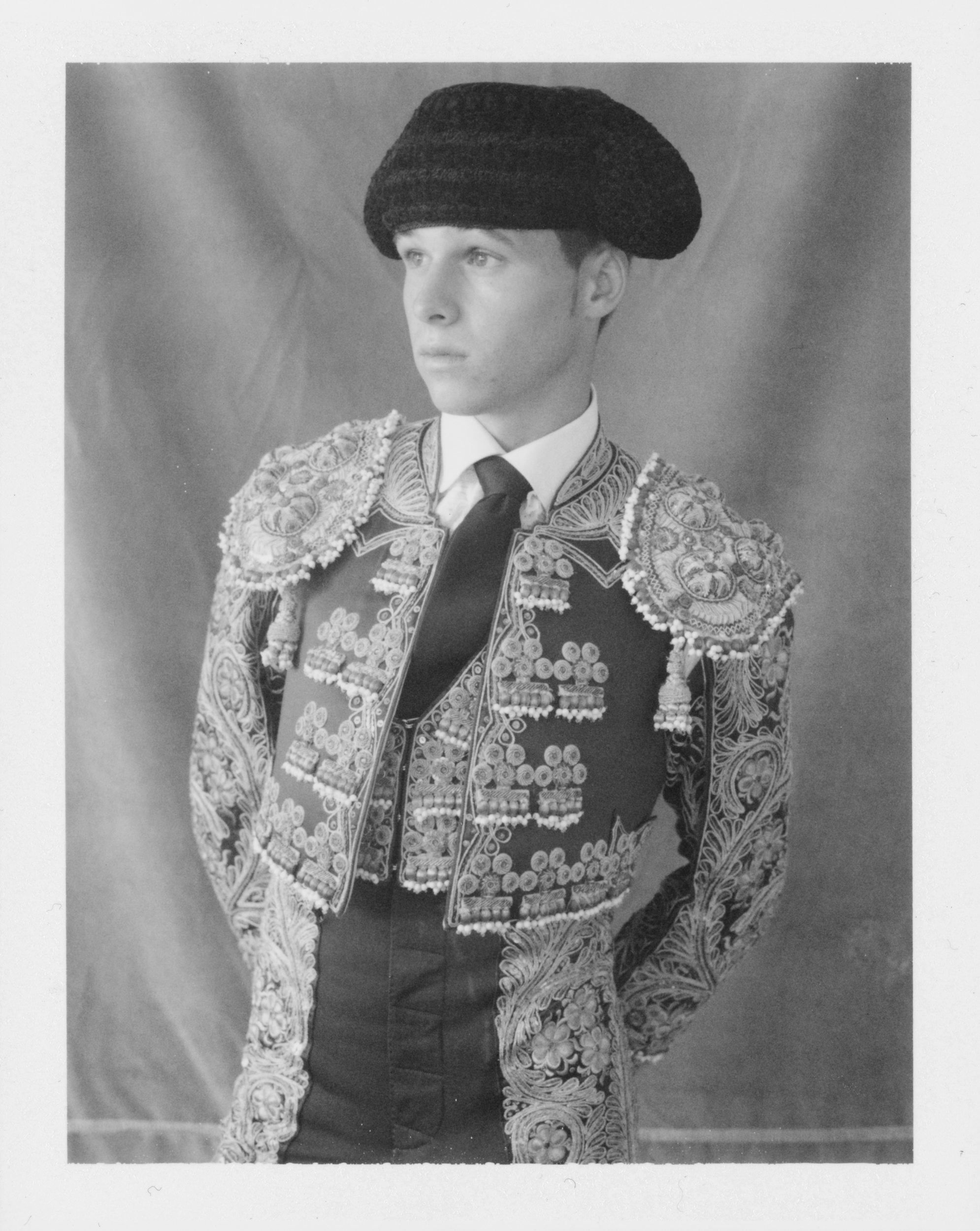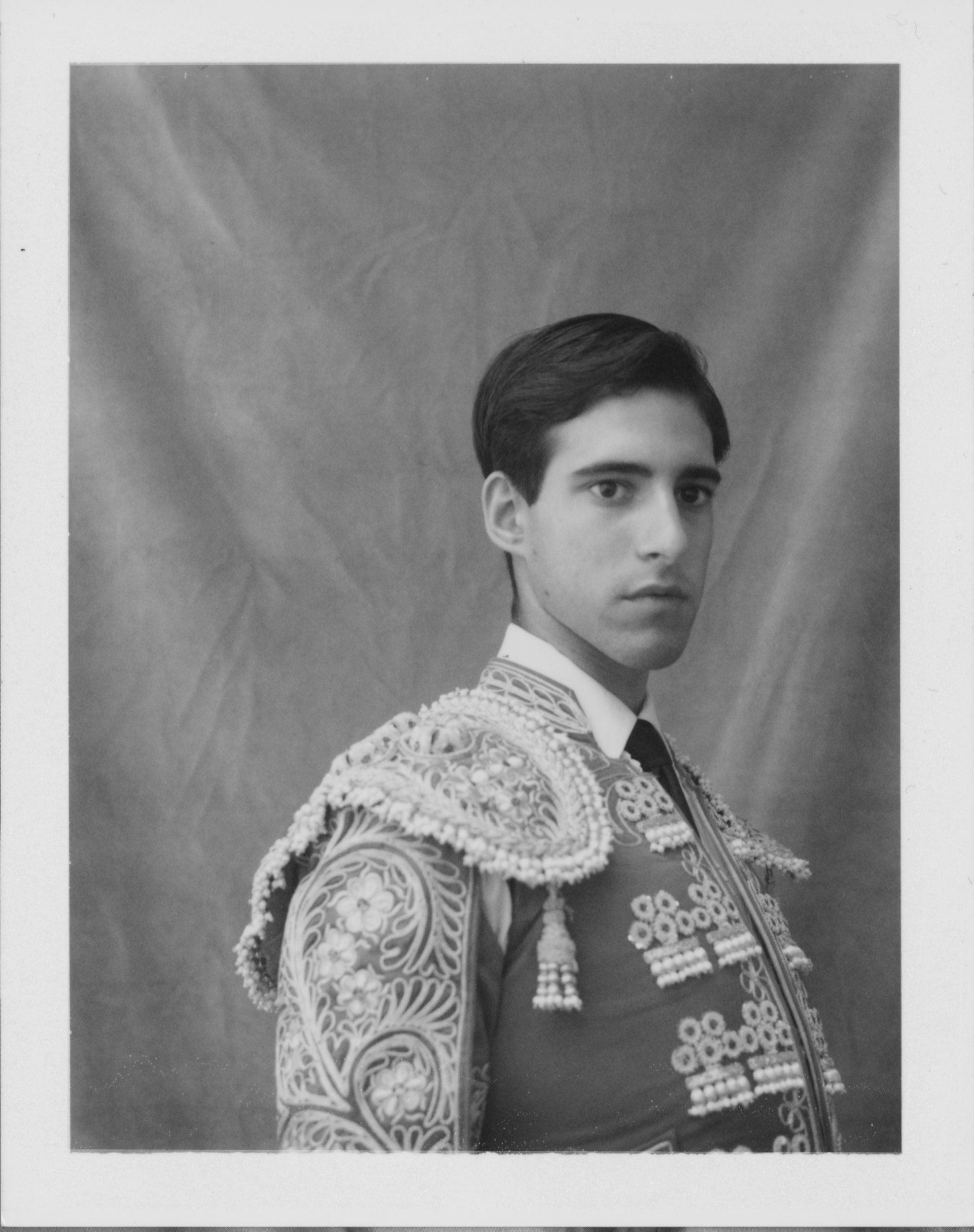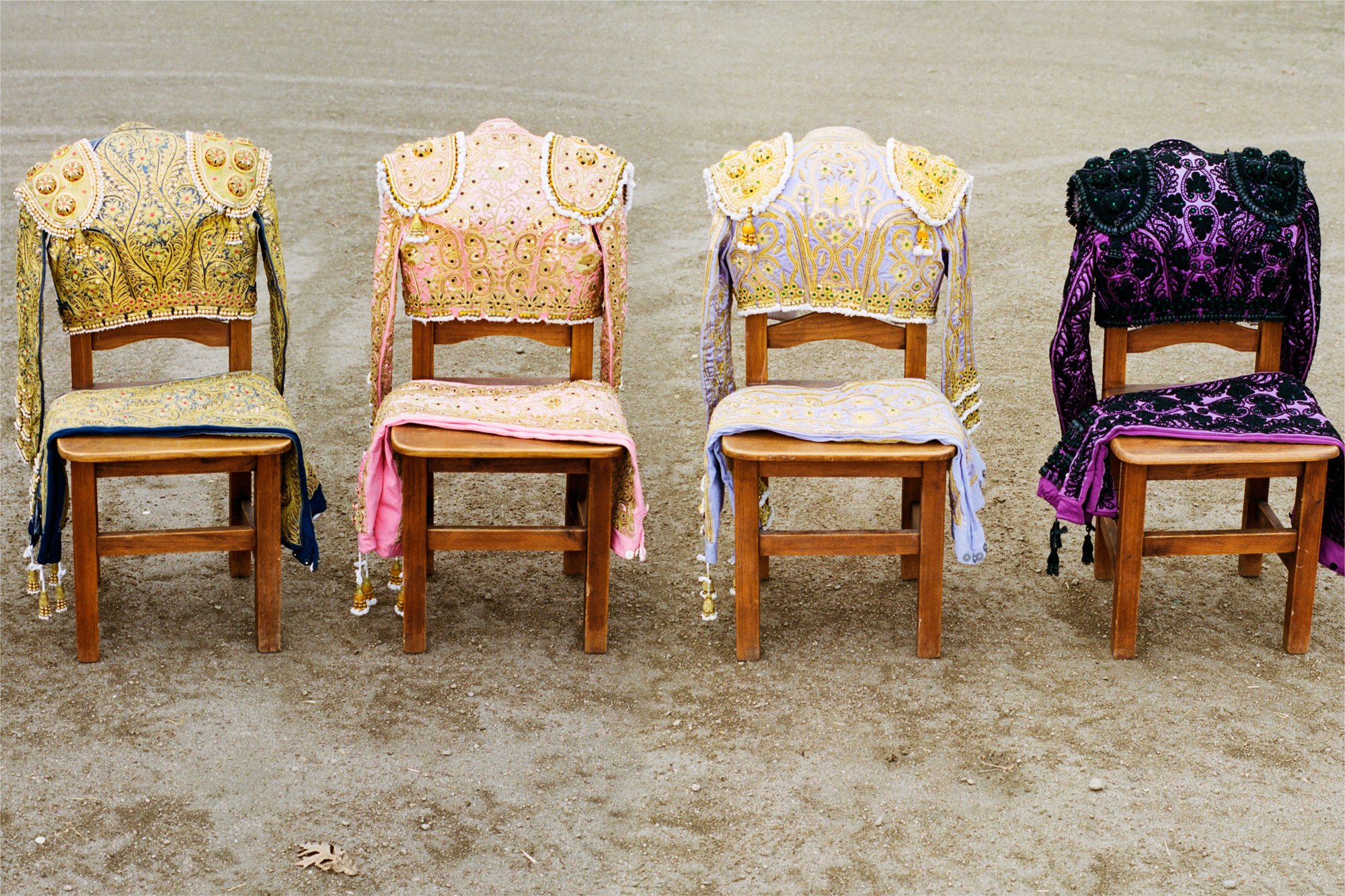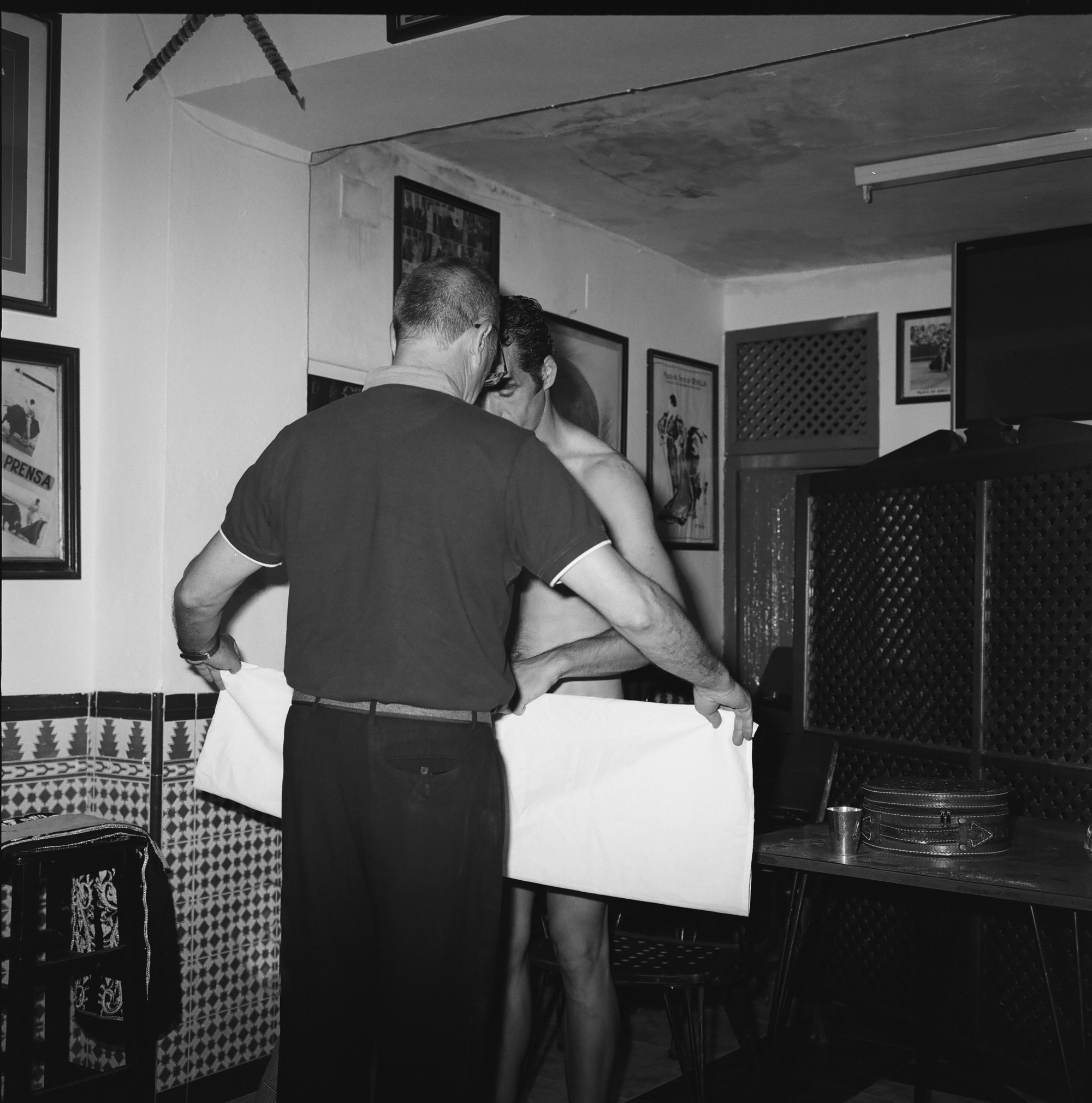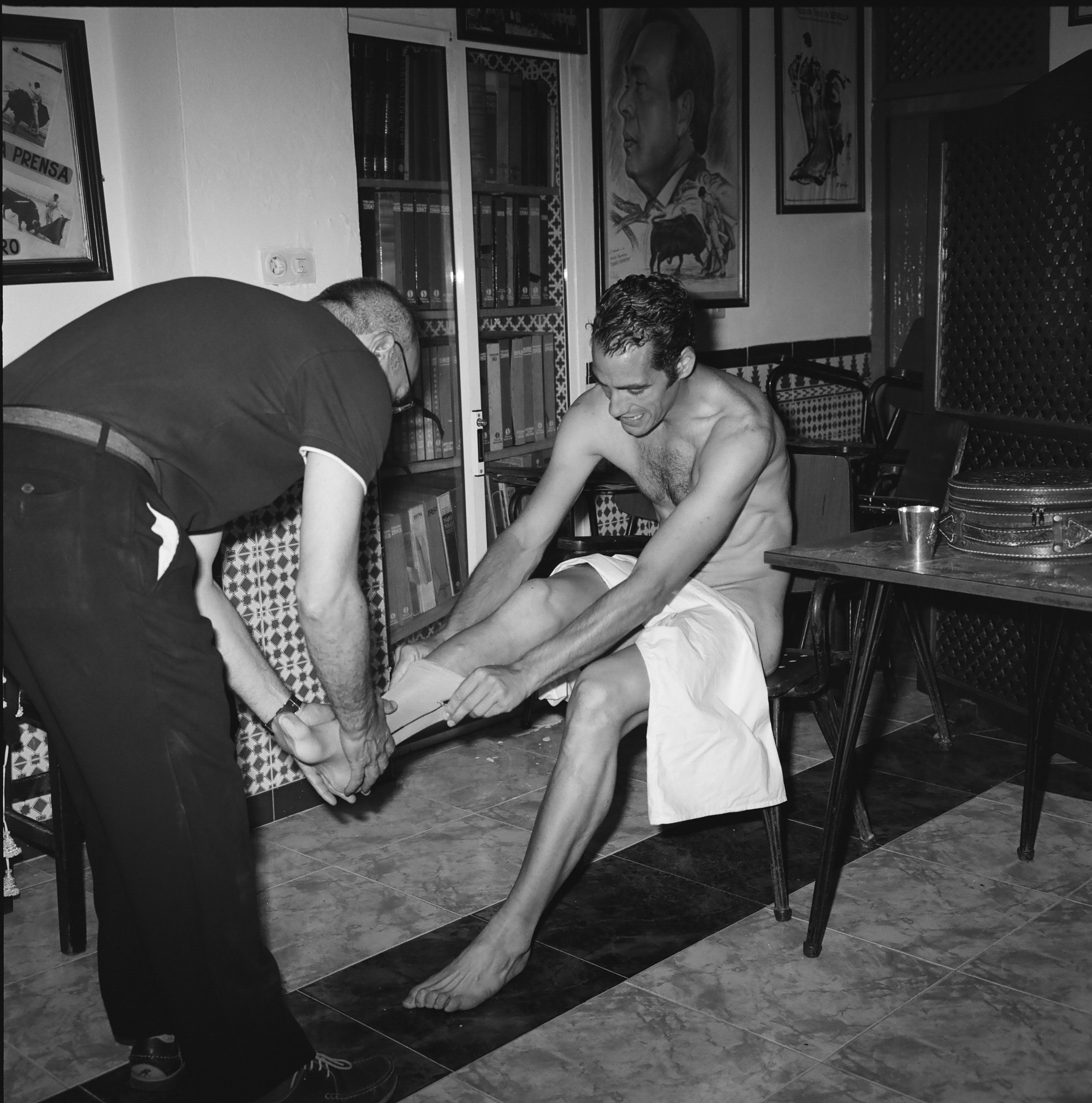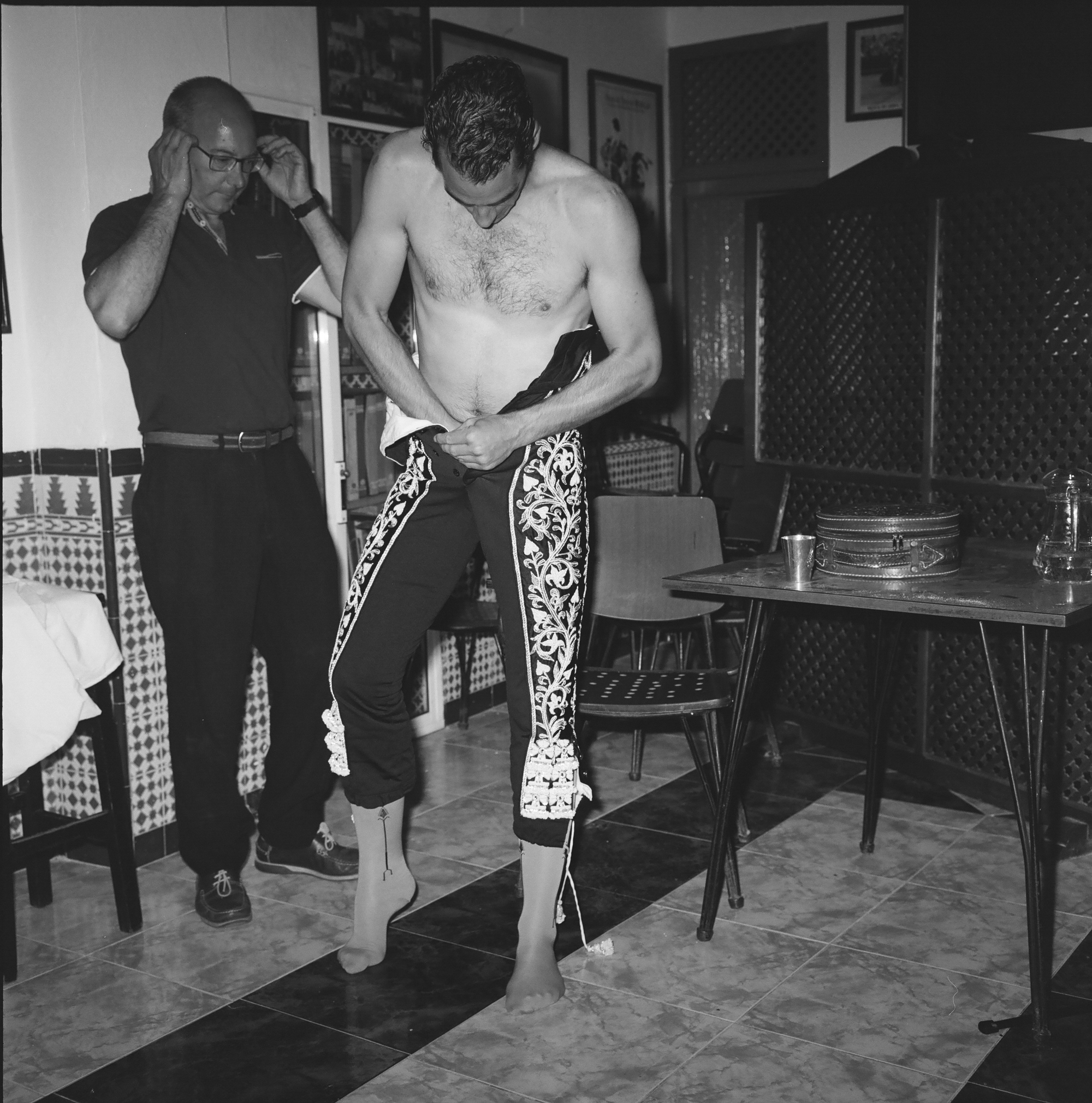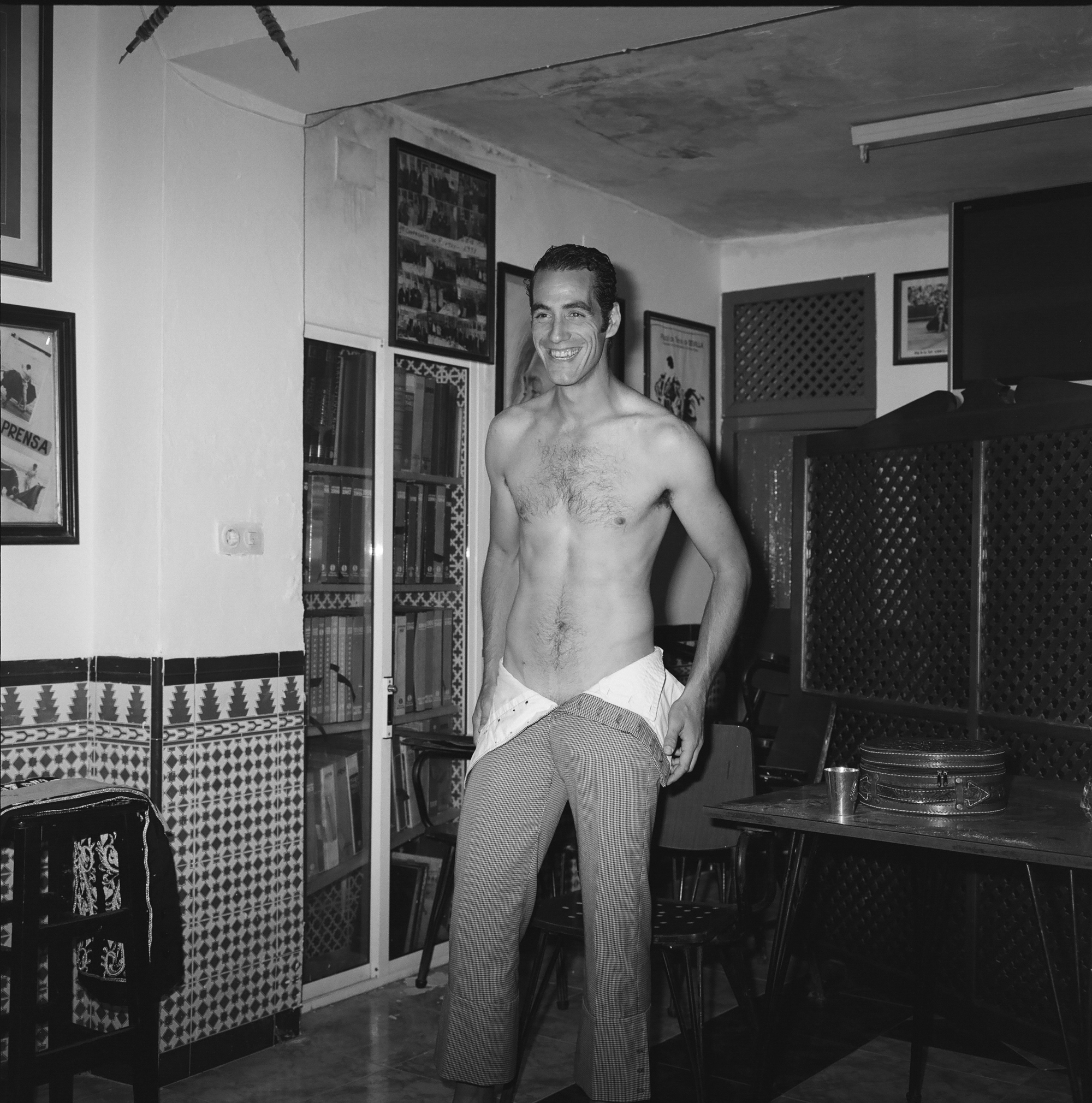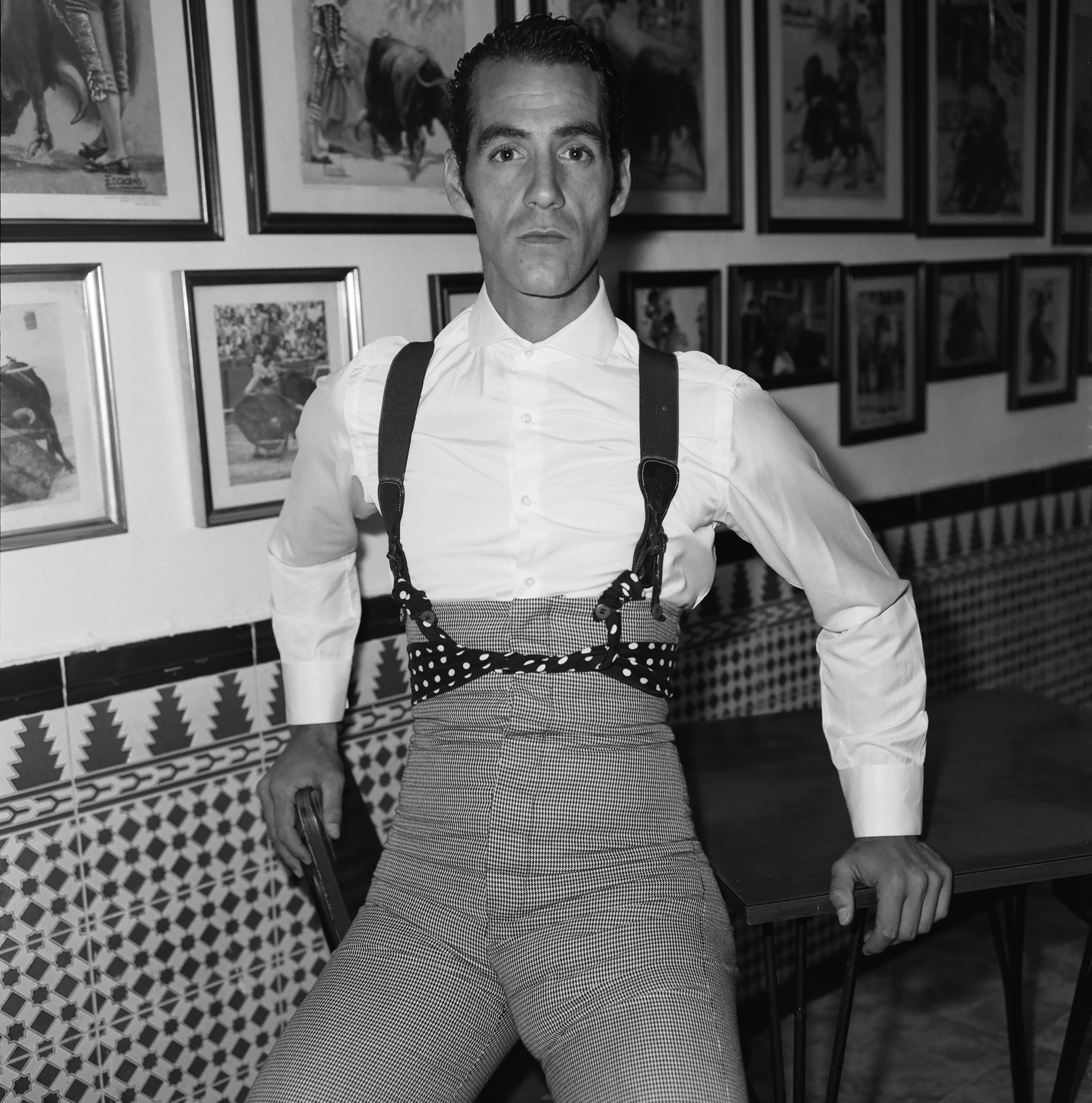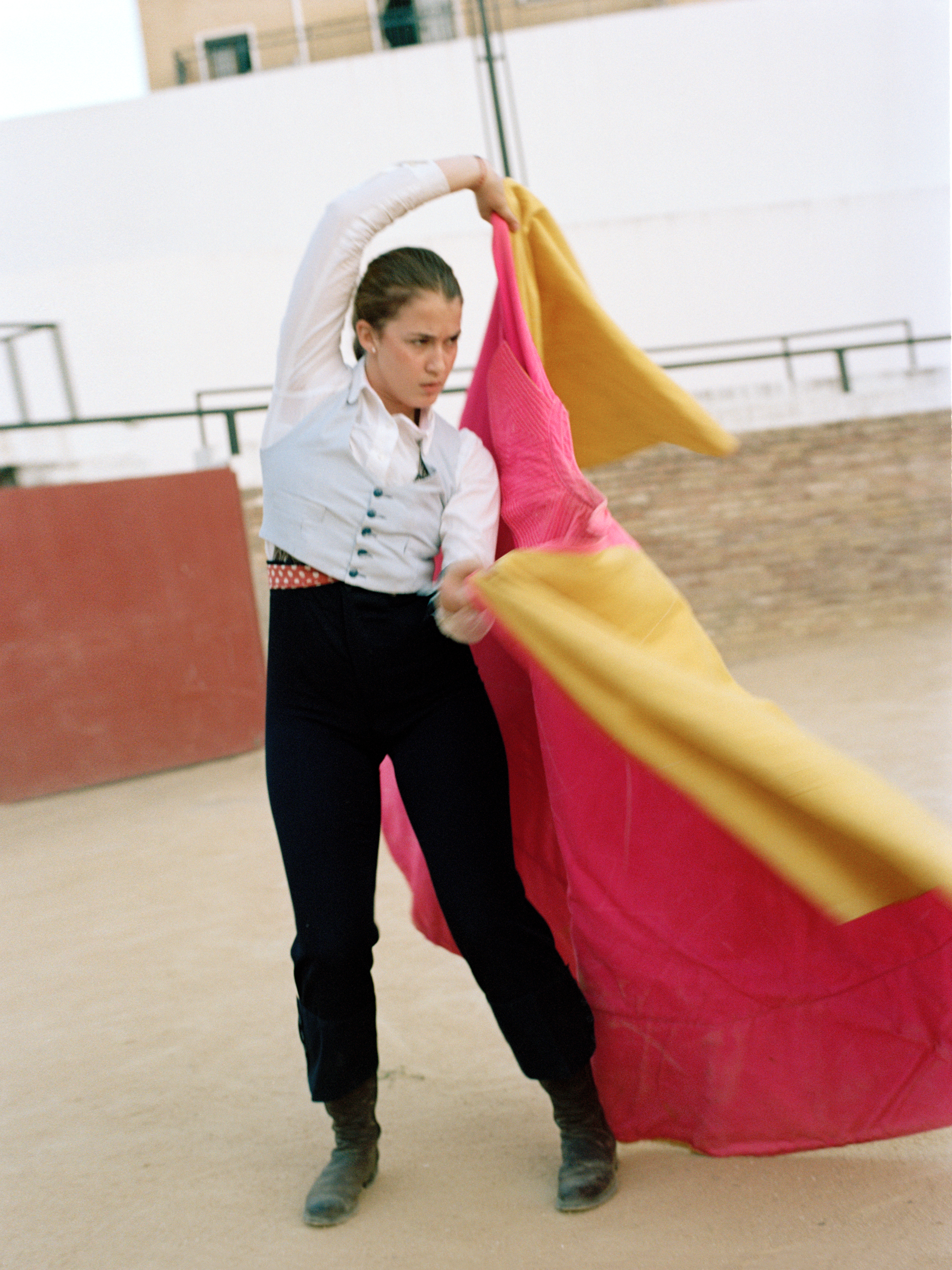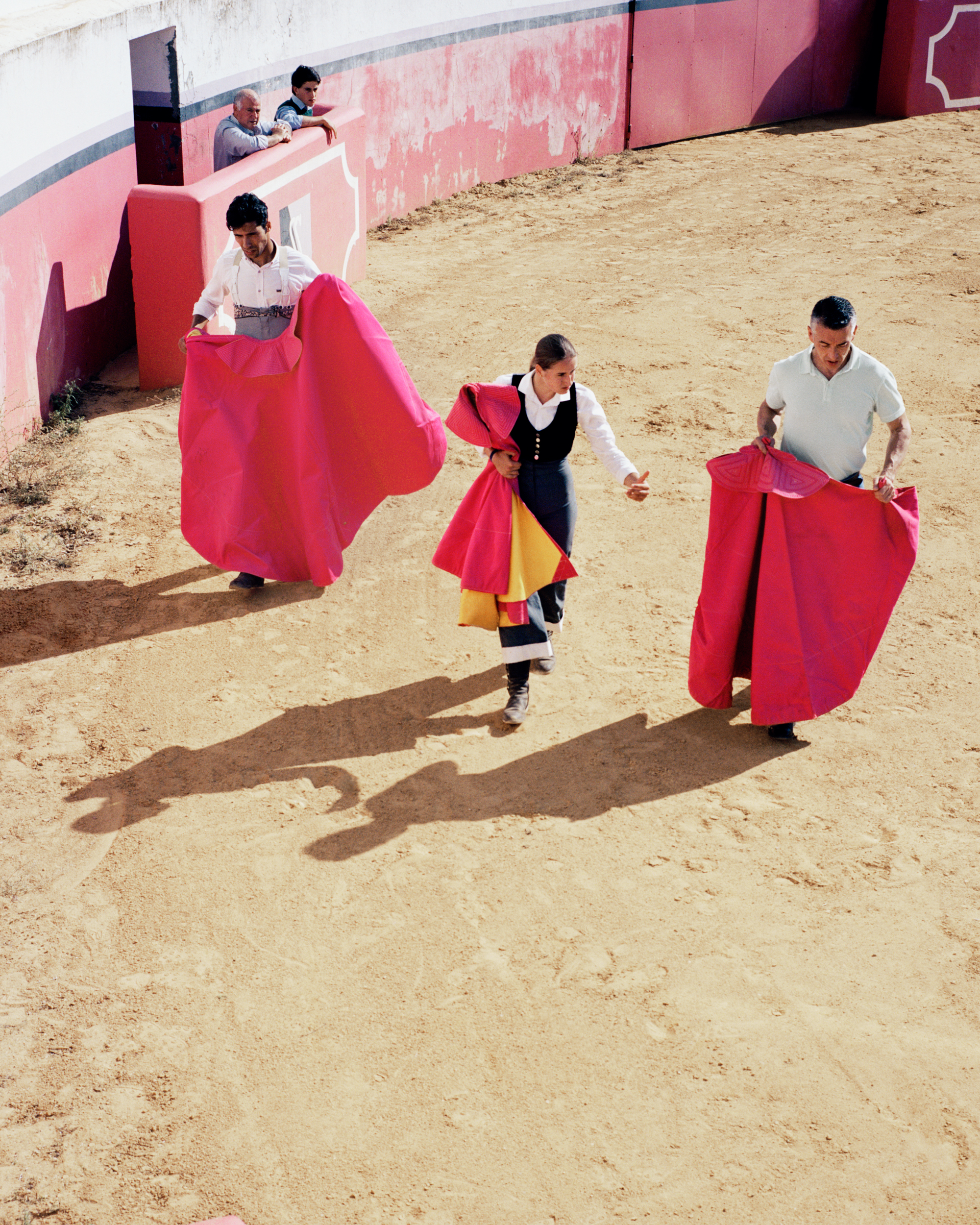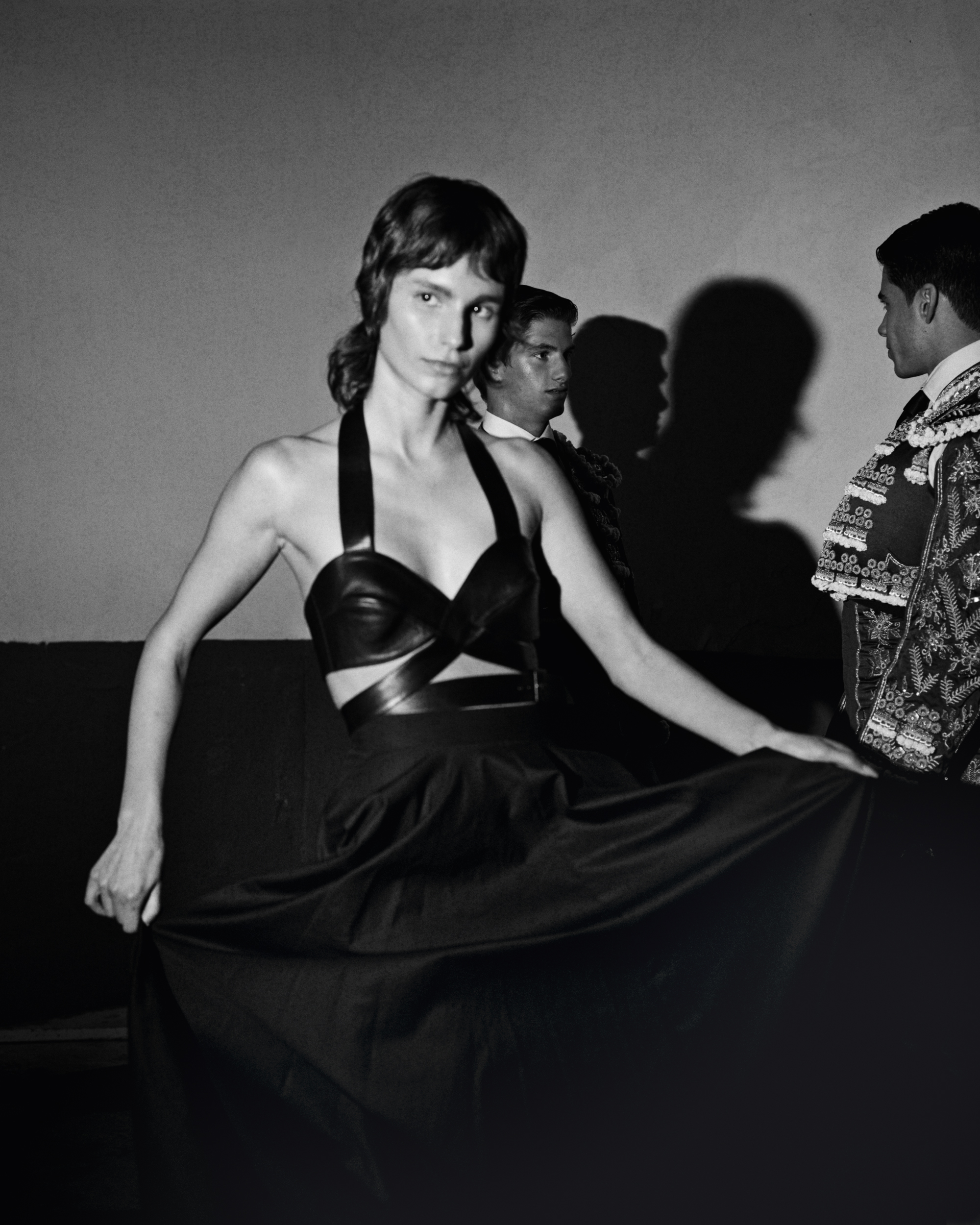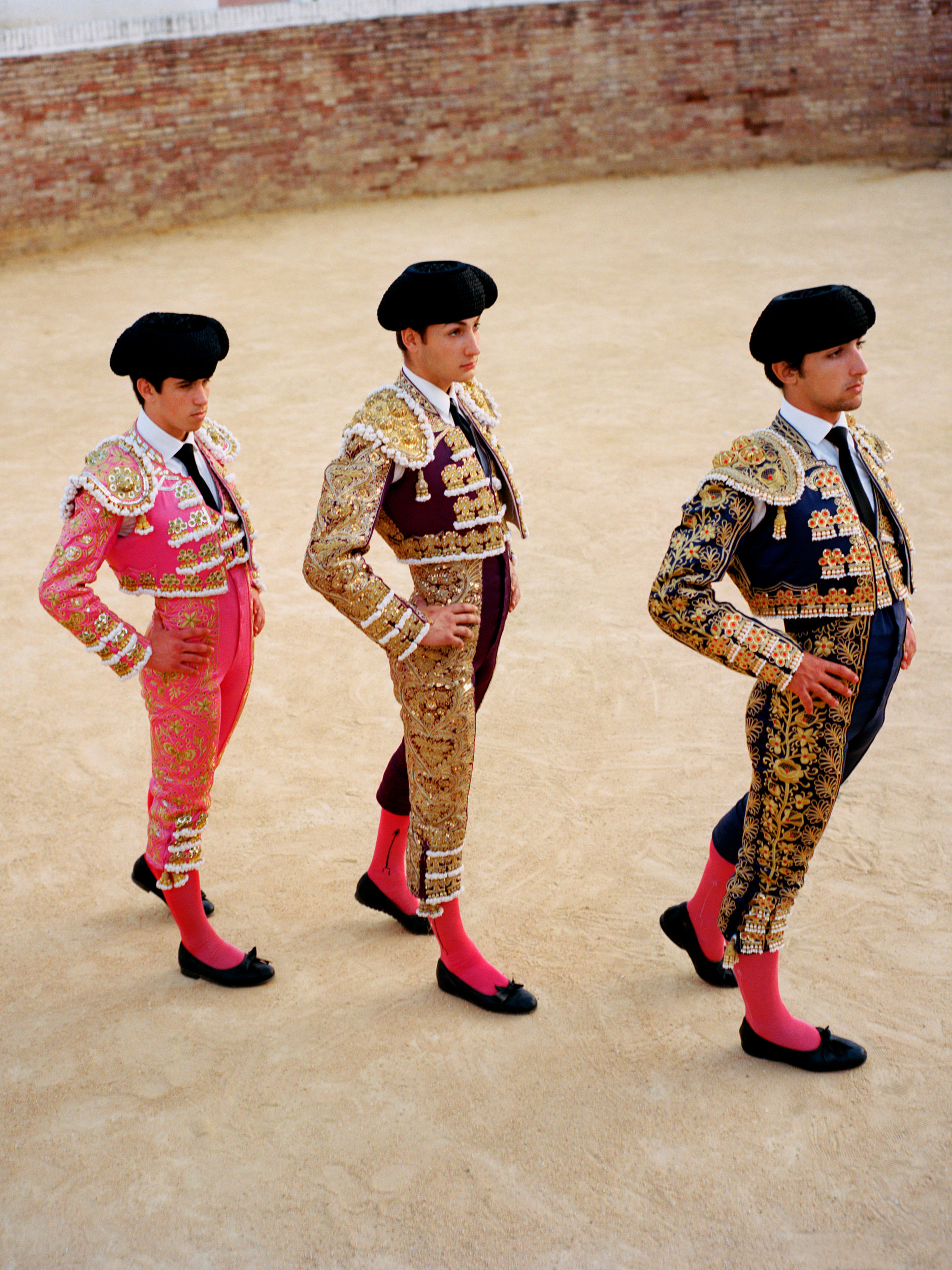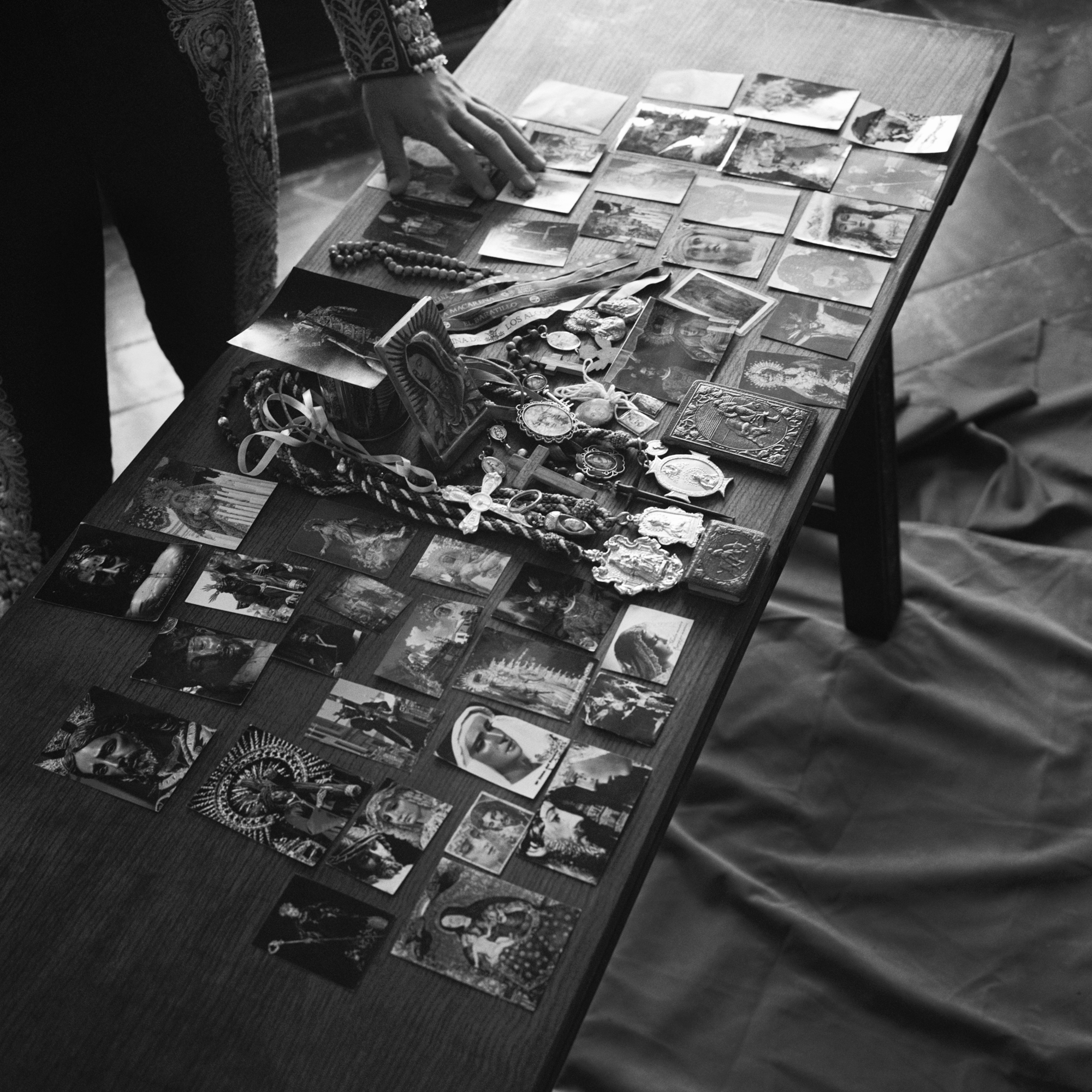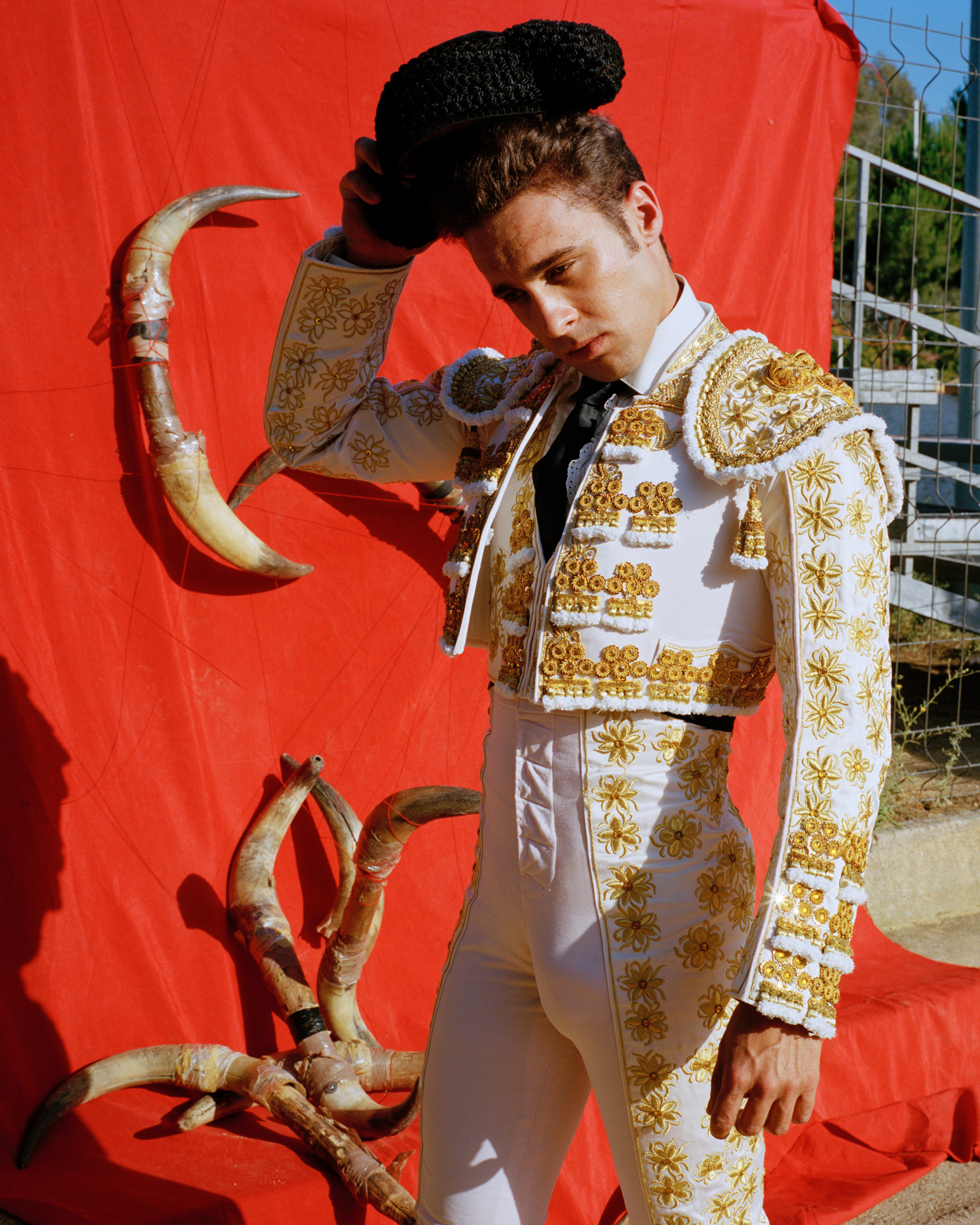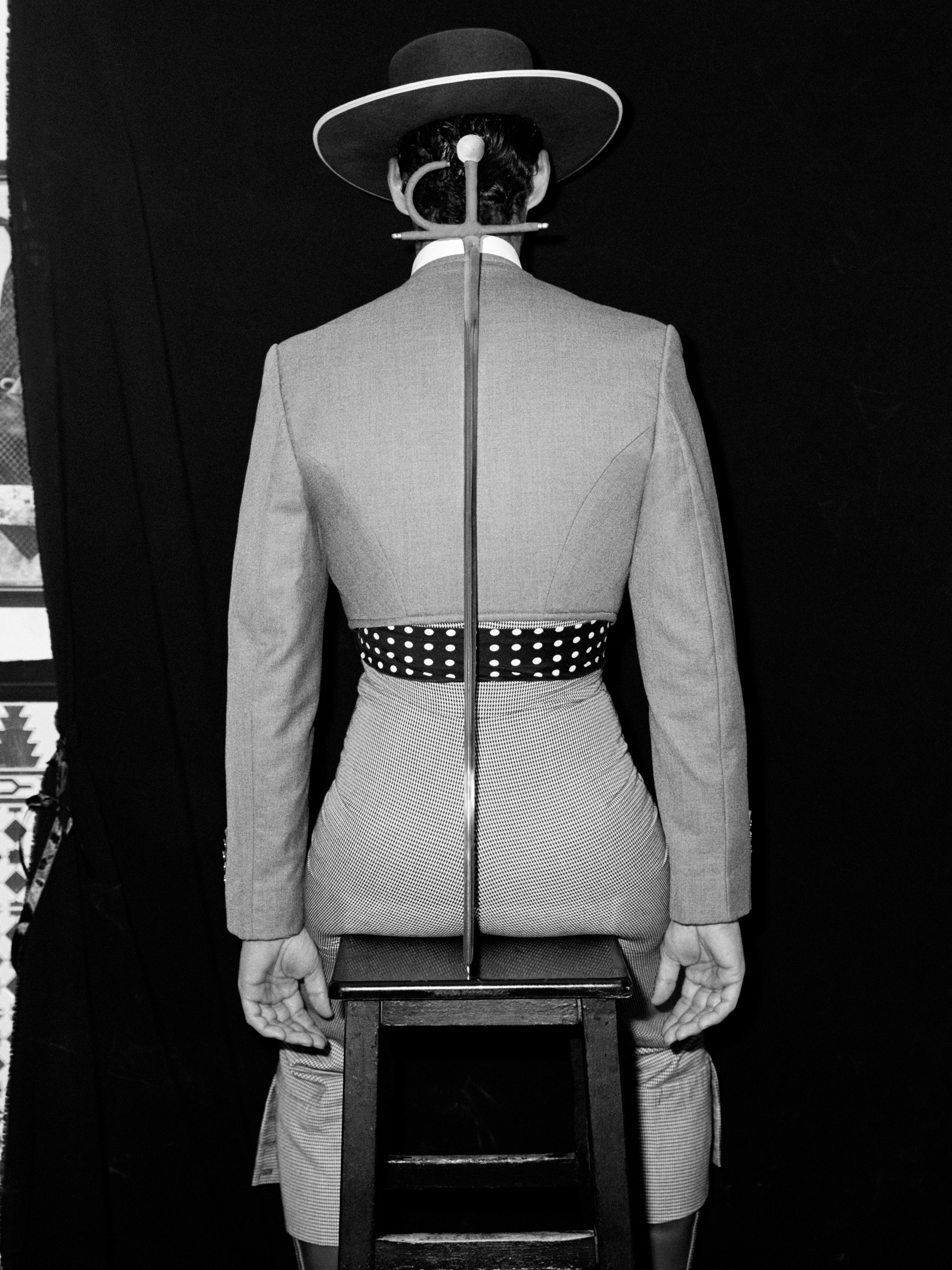 Credits: Hair Elisabel Serrano, Makeup Helena Liebanas at Cool, Talent Julia de Castro, Yasmina Paiman at UNO Models, Sandra Rubio, and Cristian Vitos, Bullfighters Javi Illanguas, Borja Jiménez, Javier Jiménez, Juan José Llaguno, Kevin de Luisand David Menacho, Pepe Moral, Rocío Romero, and Álvaro Sanchez, Set designer Kaduri Elyashar, Fashion assistants Sergio Álvarez and María Bravo Ruiz, Production Carlos Carrillo, Special Thanks Hacienda el Vicir, Escuela Taurina de Sevilla, Escuela Taurina de Camas, Escuela Taurina José Cubero "El Yiyo", Ayuntamiento de Camas, Peña Taurina, Curro Romero, Muriel Feiner, Pureza Garcia Loizaga, Pureza García Pérez, Ángel Puerta, Pascal Loperenna and Irene Vale.