Lettuce, Once and For All
A big-ticket Sotheby's sale of Dodie Thayer "lettuce ware" cements a kitschy trend for our keto-times. Real (lettuce) heads only.
Food is, as they say, the great equalizer. In utilitarian and decorative contexts, food both pioneers and reflects the culture, and foodways have often provided context for intangible culture at large.

And right now, it seems, we freaking love lettuce.
Two weeks ago, a sizable lot of Dodie Thayer-designed lettuce ware from "Prince of Chintz" Mario Buatta's personal collection sold for $60,000 during Sotheby's annual Americana Week, going for well above its $10,000-15,000 estimate. You know, lettuce ware: those kitschy, leaf-shaped dishes not unlike the iconic chip 'n' dip wedding gift from season 1 of Mad Men. Thayer originated the design in the late 1960s, crafting her pottery from castings of actual lettuce leaves—a sure riff on foliate dishware popular in the 18th century (examples of which were, of course, also included in Buatta's collection). Thayer's signature lettuce ware, coveted by the high-society likes of C. Z. Guest and Jacqueline Kennedy Onassis, remains emblematic of the blissful froufrou of Old Palm Beach.
Talk of a lettuce ware renaissance has been tossed (sorry!) around for years now, usually picking up coverage around big-ticket auctions of Thayer's iconic dishware. This past week, The New York Times referred to it as "some lettuce-shaped porcelain," when its enduring appeal through the ages clearly shows it's not just about it being "some lettuce-shaped porcelain." As Stephen Drucker, a former editor of House Beautiful and Town & Country, says in the Times article, "You would think everybody who wanted a Dodie Thayer head of lettuce would have one by now."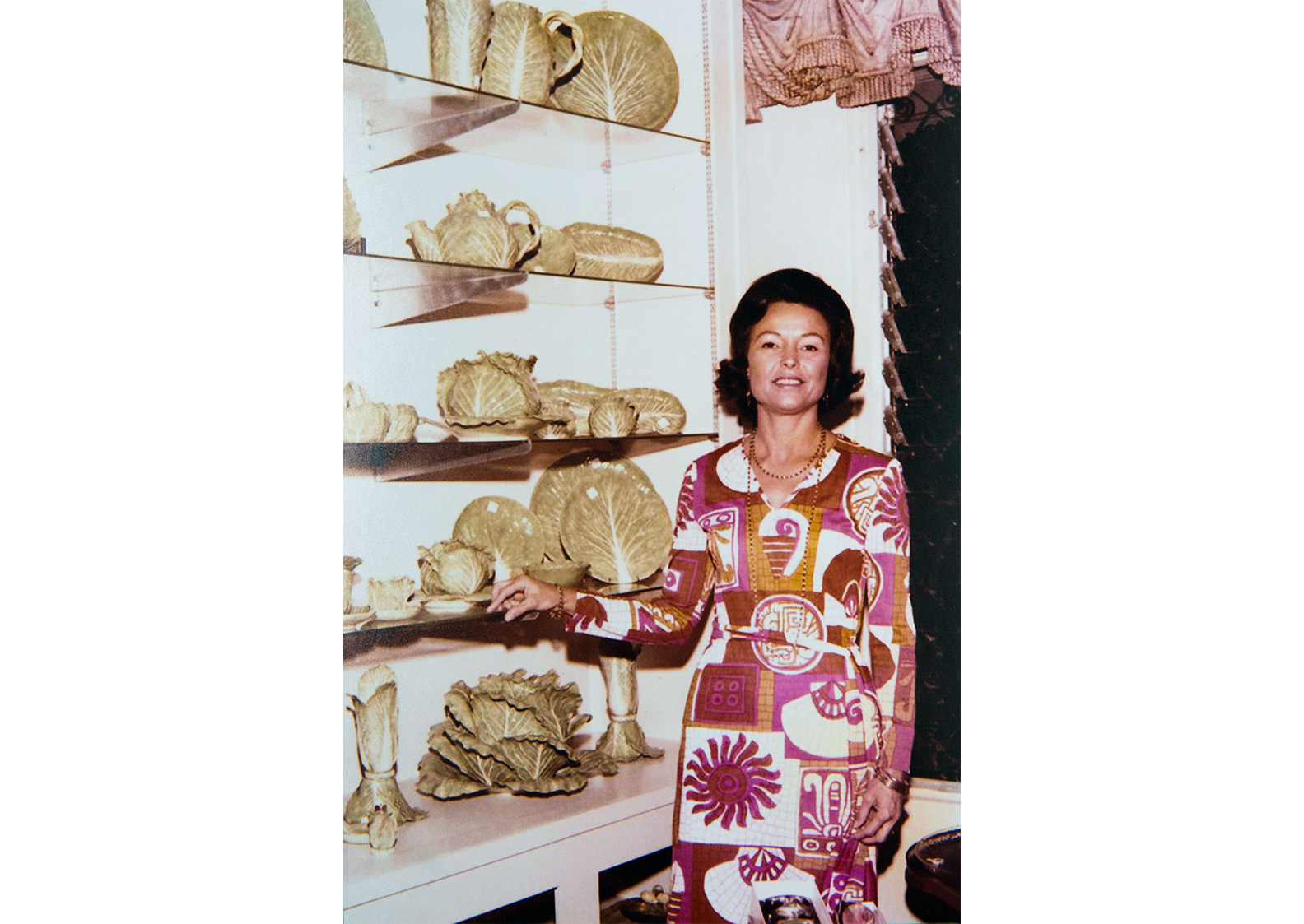 Yet, in the last ten years, this dishware equivalent of lettuce-wrapping has grown (I said sorry!) its already-niche audience it's remained quietly persistent: The Wall Street Journal covered lettuce ware at least twice in the last decade, in 2013 and again in 2015, when heiress Bunny Mellon's collection also outsold estimates at Sotheby's. A year later, The Cut called the trend anew, charting its history from Thayer's start in '69. Prior to Thayer's death in 2018, the potter collaborated with Tory Burch to design an ongoing, exclusive lettuce ware line. As of late, designer Susan Alexandra, whose produce-laden beaded bags emblematized the so-called fruit trend for the Instagram set, has been posting pics of lettuce ware on her IG "inspo" account.

Why do we still love these lettuce-shaped plates?
In many ways, their charm isn't so baffling. If one thing's clear, the people want lettuce. Wrapped around their burgers, in their $16 salads, and, as shown, on their dinner tables underneath the food. Even if IRL lettuce is trying to both kill us and capitalize on itself, we're far from seeing leafy greens only on (or as) our plates.
Foodwise, we've been doing foolish, trendy things with lettuce since whenever fad diets exiled carbs—did you know In-N-Out's not-so-secret "protein-style" has been around since the '70s?—but in the last few years, leafy produce has entered the realm of farm-to-table cool. Nowadays, salad has mostly graduated its "rabbit food" moniker, and is more or less a very hip thing to eat (and discuss). Last spring, Salt Fat Acid Heat author Samin Nosrat sang the praises of Via Carota's beloved insalata verde, made of pretty-much-just-lettuce; the other week, Stars chef Jeremiah Tower's delightfully bonkers lettuce prep instructions popped up on Twitter again. And, of course, there's those $16 salads.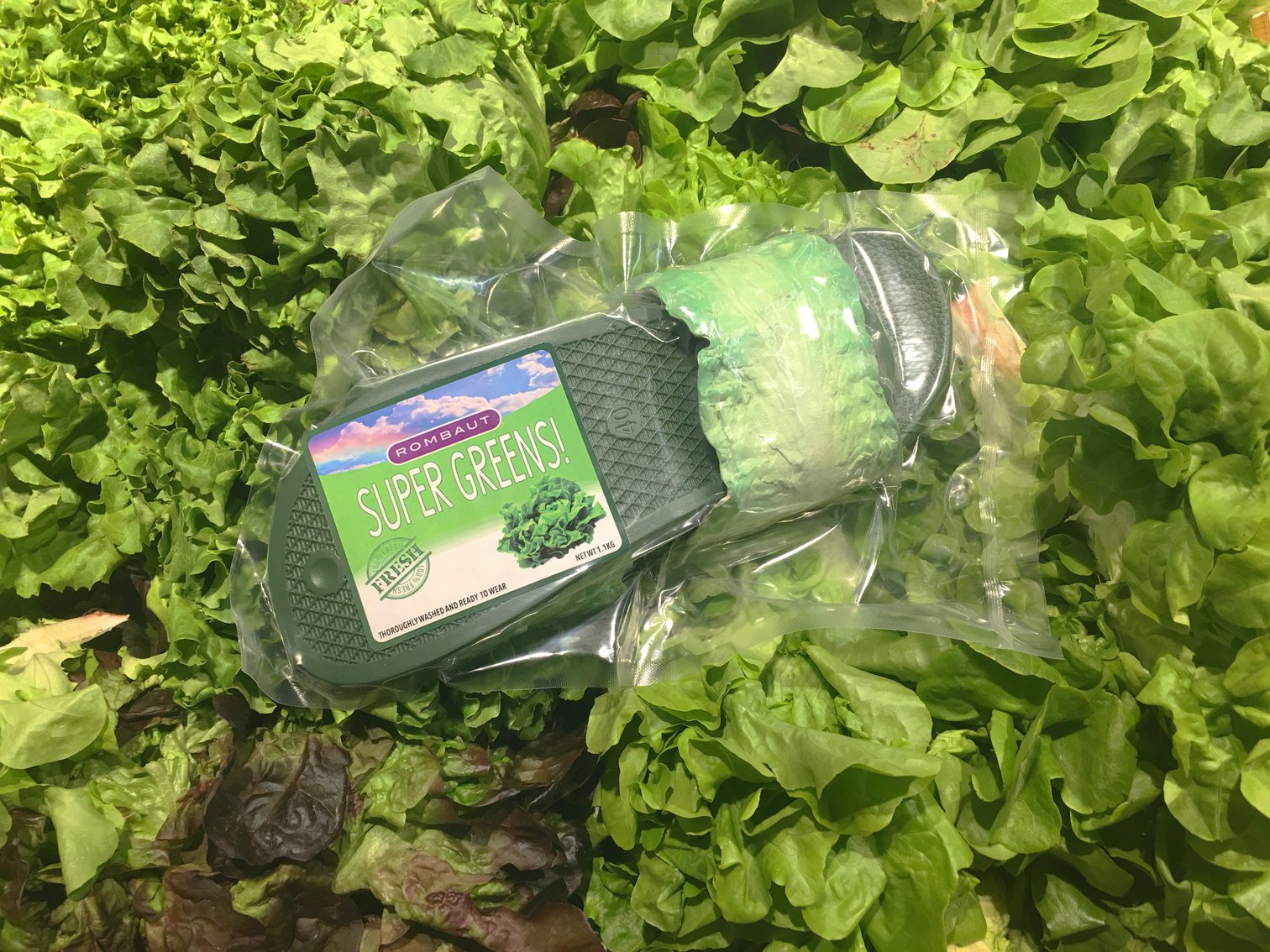 While there are dissertations to be written about how the many salad narratives engage the food, design, and fashion worlds, recently lettuce has been a cheeky aesthetic influence for designers. Last fall, Paper sussed out a lettuce trend after New York Fashion Week—a year after noted kale stan Beyoncé wore an iceberg-y Off-White gown right off the runway during the final night of her On the Run II tour. It really is everywhere: artist and (coincidentally!) food-centric ceramicist Katie Kimmel sells "Salad" tees; designer Mats Rombaut makes rubber lettuce sandals including an all-black pair entitled "biohazardous lettuce slides"; Urban Outfitters stocks endless iterations of so-called "lettuce-edge" garments with those Y2K-era frilly hems. Sure, the elegant shape of lettuce naturally lends itself to fashion, its furled leaves a natural prototype for layering and folding… but fashion is also all about what's in, baby. What's cool in life is cool in clothes, and right now lettuce is very cool.
Indeed, if 2019 was all about the above-cited fruit trend (and/or the "very real" corn trend that Jacquemus didn't not co-sign), 2020 is poised to follow in its perishable stead. If I may, for a moment, forecast: expect pairs of Jadite Cabbage-inspired earrings to be hanging from lobes by year's end. And if this all sounds like some sort of lettuce conspiracy theory bulletin board, maybe that's because it is. Salad for President, you say? A welcome relief from the unnervingly twee stone fruit imagery that's surrounded this impeachment moment.