In Praise of the Deep-V Bottom
This Y/Project silhouette has hijacked my brain.
Right now covering up is the sensible thing to do, to protect ourselves from the elements. There's been a boom in catsuits, one pieces that cover the whole body like the whole world is a dancer or a cat burglar. They make them so that your hands are covered, your feet covered, even your whole head is covered under a thin layer of spandex or polyester. It's been a few seasons now that we've had to make up new names for items of clothing like "pantashoes" for Balenciaga's boots-that-are-actually-pants, we don't actually have a name for the "shirtgloves" that have been around as well, and of course there are the bala-hoodies (a sweater with a balaclava attached to it like a hoodie) that dominated the Yeezy fall collections. We want to cover ourselves up and we want to do it expeditiously. Is why latex has suddenly become the go-to material for designers? We all want that second skin!
Which is to say that I find it very curious that for the last week I have not been able to stop thinking about the deep-V bottoms at Y/Project's fall collection. Yes, I said deep-V bottom. It is exactly what it sounds like: a pair of trousers or a skirt, which, beginning at the hip, dips down all the way to the lowest point of your pelvis. Not enough designers have explored the inherent (INHERENT!) erotics of the crotch, which I think is one of the reasons why I like Y/Project so much. I think it would be not-incorrect to describe them as a very crotch-centric label. (Surely you remember their "janties"—jean shorts that are so short they are closer in category to jean panties, therefore "janties.") Their experiments with that shape, the upside-down triangle that dominates the pelvic area, which they've used often throughout the seasons, finally brought them to the most logical place: the absence of it.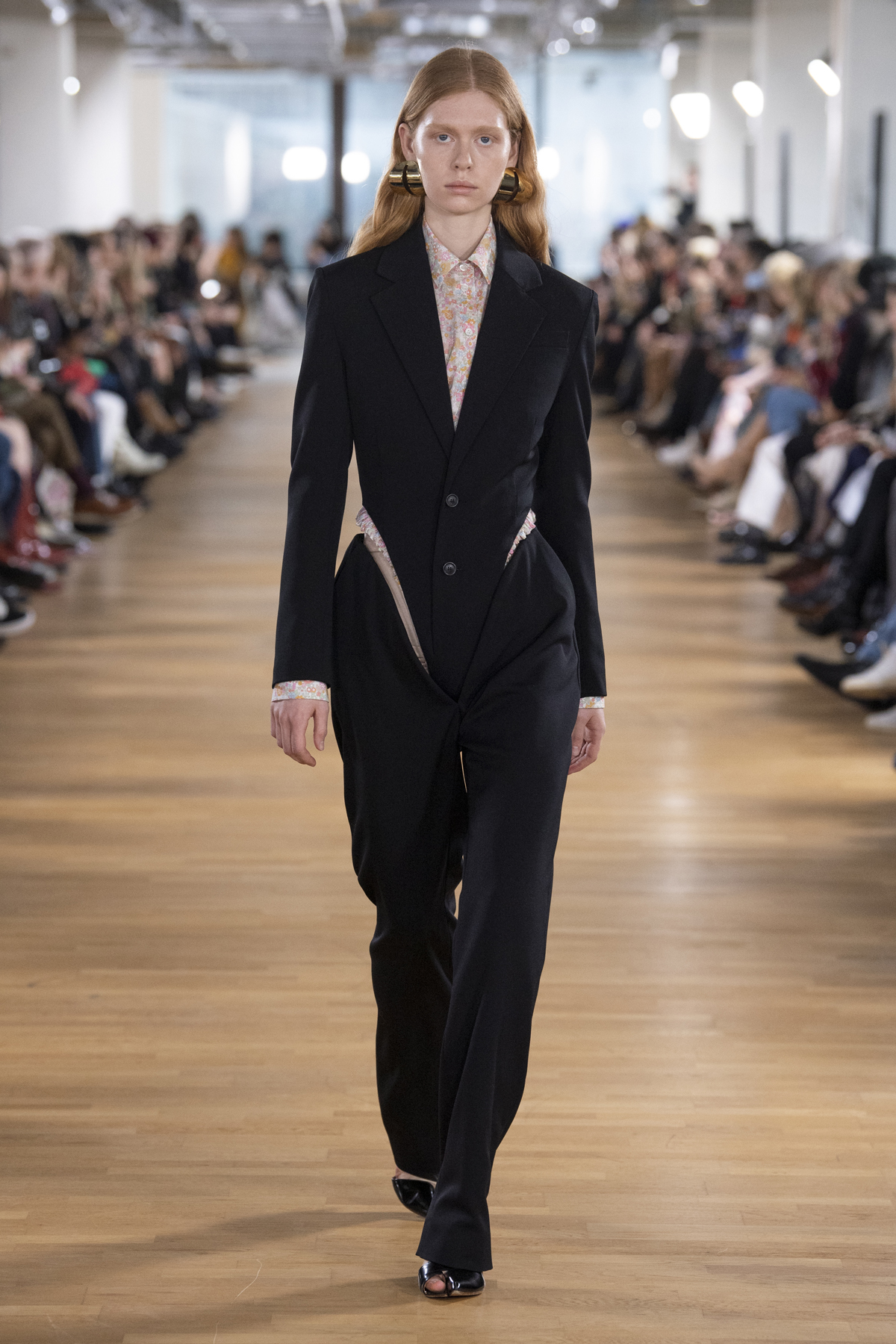 On the runway, it was hard to gauge the impact of this new shape. Glenn Martens, Y/Projects creative director, designed matching pieces that fit together like puzzle pieces. Jackets and button-down shirts turned into bodysuits that when paired with the novel bottoms create an illusion of a continuous garment, with only a slight hinge of a sort of superhero costume
But looking at these pieces without a body inside, without the matching piece that completes the puzzle, the garments become almost abstracted suggestions of what "clothes" are. At first I wonder how they stay up but I can see the way the waist(?)-line dips in once it's wrapped around the hips. I imagine this is a different face on the coin of wearing below-your-ass-low-slung pants. I am most excited by the prospect of wearing them as one would a regular pair of trousers or a skirt. I've said that i'll never wear low-rise anything ever again (leave that to the youth!), but this feels... a little different! Katie Holmes stepped out in a cashmere bra and it was an instant sensation; What about stepping out in some cashmere underwear, peeking out from the front of your deep-V jacquard skirt, like a dickie but for your pelvis? The more I think about it the more I consider the jeans to be absolutely indispensable, a perfect piece to have in my closet that justify all the very cute neon and velvet underwear sets from Baserange that I keep buying that never get their chance to bask in the spotlight.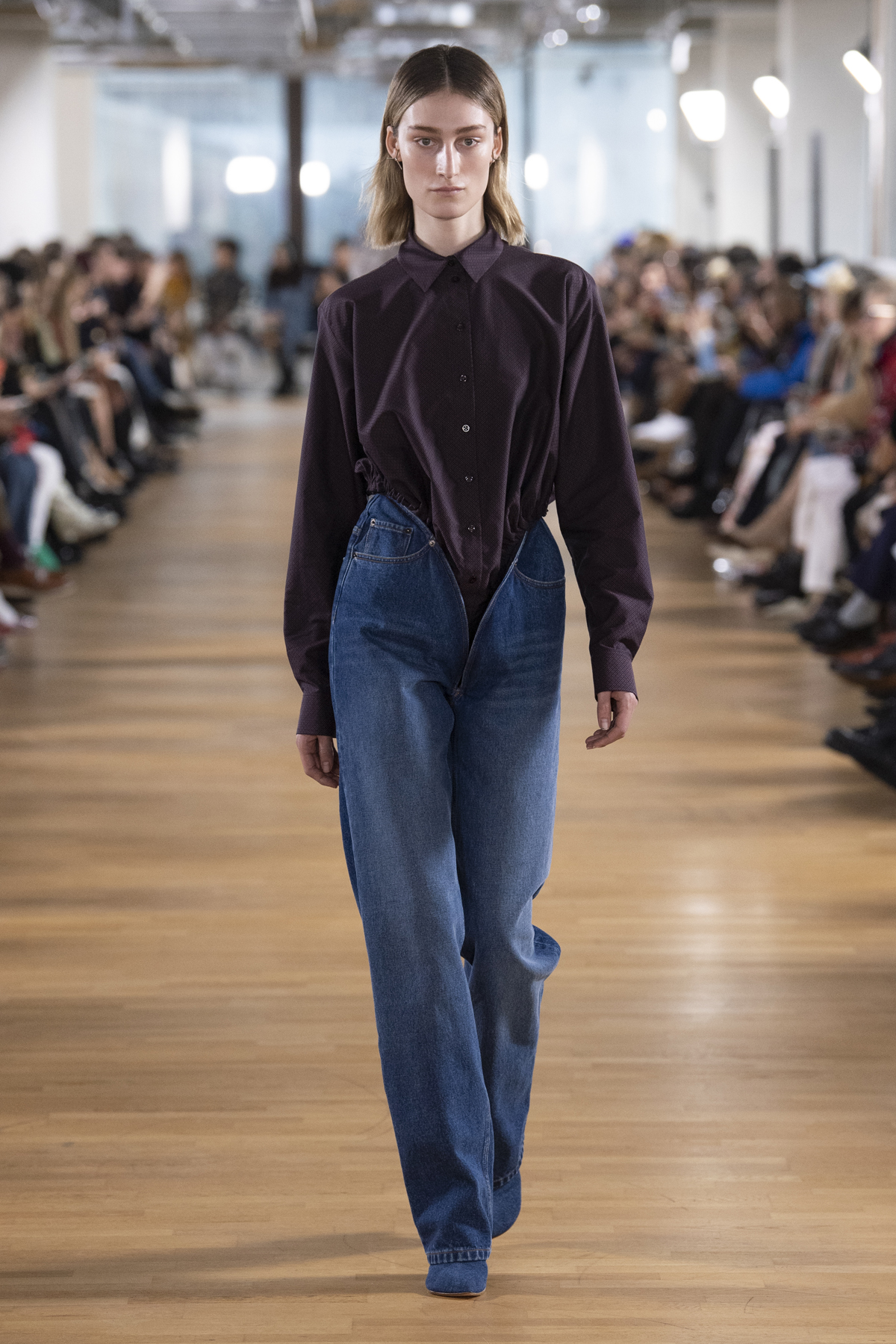 My style is not particularly risky, and yet the siren song these garments sing is making me think, well, they're not really that risky! And they aren't! They are just something new. Everything new feels weird at first. I could wear them while I work from home every day and then by the time we're allowed outside again, the deep-V wouldn't seem like a big deal. What other weird trends will emerge from spending all our time by ourselves, sitting on the couch, talking to our pets? No longer dressing for men, and no longer dressing for women, but purely and absolutely dressing for ourselves? Let me tell you, the deep-V jeans? They are it.
Tagged: