In Defense of the Prada Marfa Sign in 'Gossip Girl'
Ruminating on luxury, thinking about collective downfalls.
In a fictional Upper East Side penthouse, a fictional art advisor shows a fictional millionaire (billionaire?) her new home art collection. "Kiki Smith greeting you in the foyer, Elm & Drag pulling you into the main room," she says, gesturing to a mounted lightbox that lists the number of miles between New York City and a (sort of) fictional Prada store in West Texas.
The millionaire pauses to admire it. "I love that." A star is born.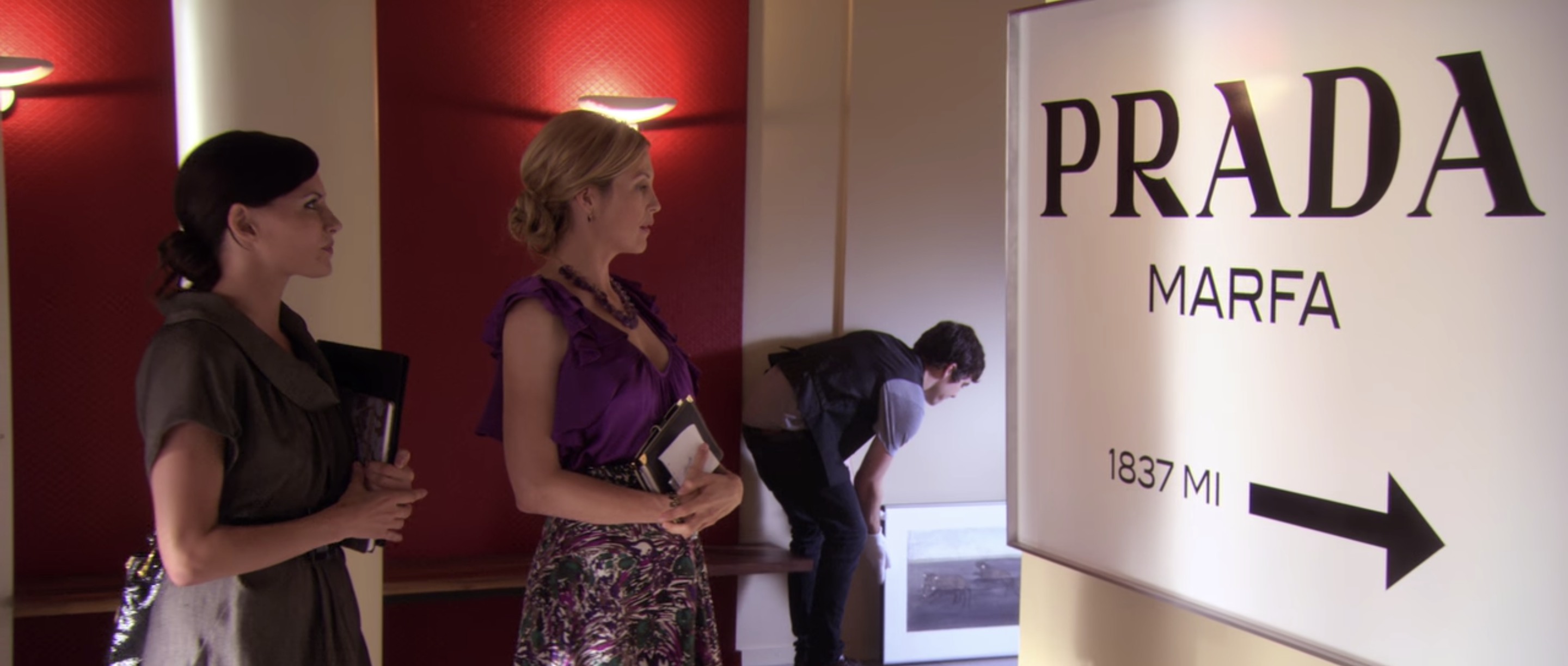 As premised on "the scandalous lives of Manhattan's elite," there's a lot of art, fictional and otherwise, in the television series Gossip Girl, which ran on The CW from 2007 to 2012. But the Prada Marfa sign, as displayed near the entrance of the Van der Woodsen family penthouse, is the show's Eckleburg eyes. Since its first appearance early on in season two—which also debuted a Richard Phillips painting—the sign appears at some point in nearly every episode, a peculiar object in the backdrop of a mind-numbing, deeply chaotic-neutral soap opera.
The Gossip Girl Prada Marfa sign is a piece of prop art created by artist duo Michael Elmgreen and Ingar Dragset in reference to their storied installation piece Prada Marfa (2005), a freestanding, un-shoppable Prada boutique on a desert road off of US Highway 90, just north of the contemporary art mecca town. The sign conveys exactly that: a white rectangle featuring the label's iconic logo, with an arrow pointing abstractly towards the "1837 miles" in that direction. The work was one of several selected for the show by the Art Production Fund, a nonprofit centered on producing ambitious public art projects, and has since taken on a visual life of its own.
The sign's appearance on the show propelled it into a very specific sort of ubiquity: Pinterest virality, spurring countless YouTube tutorials, dorm room décor prints, and Etsy and Redbubble copycats. The signage's reputation has, too, seeped into the legacy of Prada Marfa itself; a hundred-plus episodes of Gossip Girl and a photo op from noted Texan Beyoncé later, Vogue referred to the sculpture as "the fashion girl's Statue of Liberty." What was once commentary on the absurdity of luxury was then placed back into the context of (albeit fictional) absurd luxury, becoming a new, absurd symbol of luxury back on itself.
Like many things about the show, the Gossip Girl Prada Marfa sign hasn't aged well. But then again, neither have we.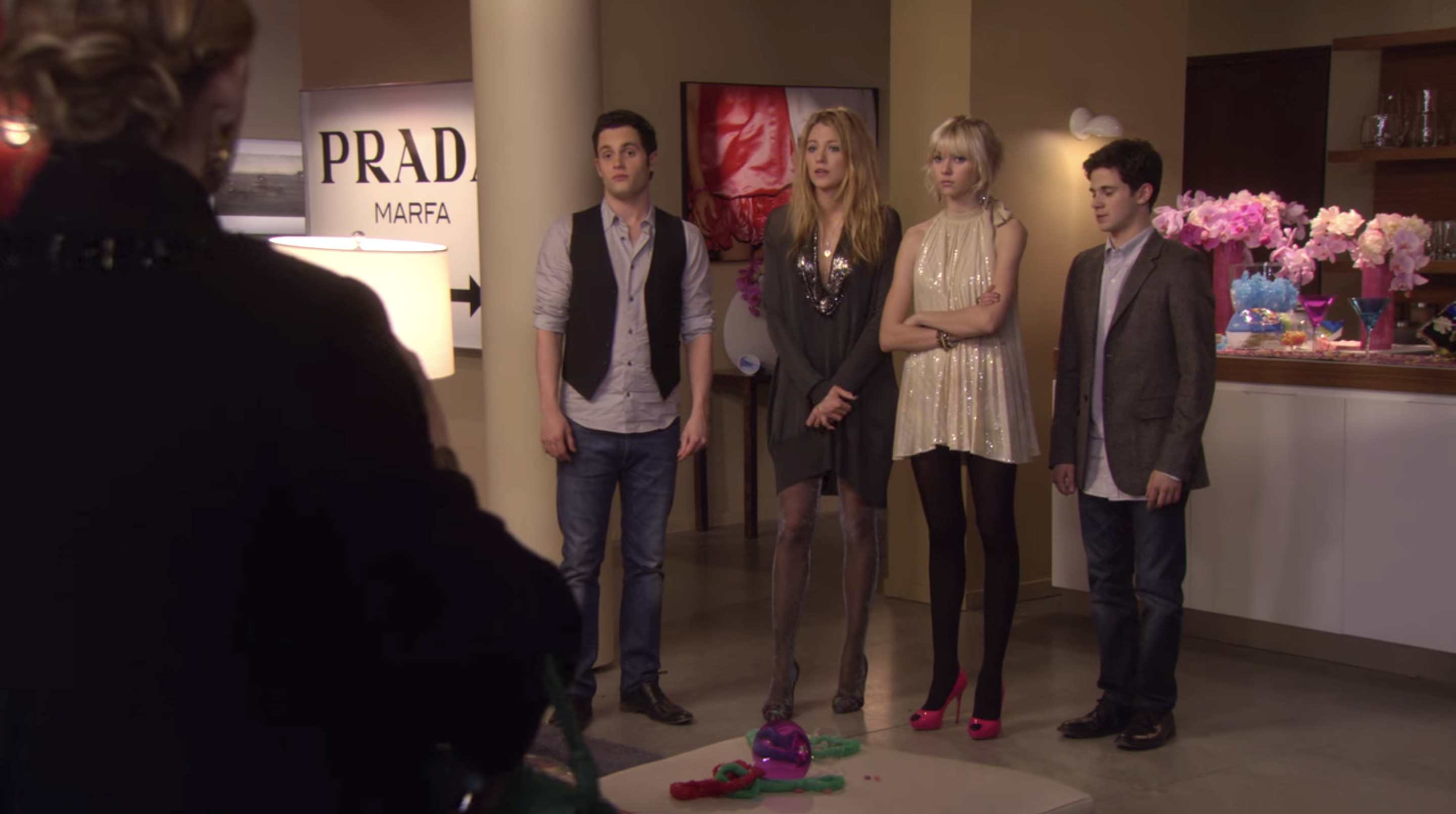 The show's popularity peaked around 2008-2009, a decade and one million years ago, in the midst of the last major U.S. economic recession (which is, of course, hardly addressed on the show) as well as the last major global pandemic. (Earlier this March, just before the severity of the coronavirus outbreak in the U.S. became apparent, HBO Max announced a forthcoming Gossip Girl reboot.) Looking at the Prada Marfa sign now, in the background of the show, it feels like a harbinger of something. This strange, incidental beacon of pseudo-excess, over time resembling a thing that's begun to blister from being held too close to the sun.
Is the Gossip Girl Prada Marfa sign perfect art?
Now, I'm not even sure it's my favorite art detail in the show (Serena van der Woodsen has a Marilyn Minter in her bedroom), but I think about it often now, particularly since Gossip Girl, which is streaming on Netflix, has become the default "daytime TV" in my quarantined apartment. To me, it is perfect for then, and it is perfect for now.
Art and fashion and distance all feel very abstract at the moment. Galleries and museums are displaying—and, uh, selling—art online. We can gape at the art collections of celebrities as they go live on Instagram or film music videos in their homes. (Why doesn't Drake have a Prada Marfa sign?) Looking at art on our screens is what we do now, even if, as some say, "an online exhibition is just a website with photos." The Gossip Girl Prada Marfa sign points the way to a designer boutique you can't shop at; when I look at it now, in the background of a decade-old television show, I wonder—how far am I from Prada Marfa? How far am I from a Prada store? How far am I from the friends who live in the same borough I'm in now?
A decade from now, what will we make of how the purveyors of luxury are subsisting during this time, by clinging to normalcy like the rest of us?