Vernon O'Meally, The Last Bouquet Before What We Had Faded Away, 2020, Acrylic, collaged canvas, gel medium, Neocolor and spray paint on canvas. Courtesy ABXY Galler
Stillness Is the Move
Vernon O'Meally's new show of monochromatic still lives finds electrifying emotion in black and white.
Vernon O'Meally, The Last Bouquet Before What We Had Faded Away, 2020, Acrylic, collaged canvas, gel medium, Neocolor and spray paint on canvas. Courtesy ABXY Galler
Vernon O'Meally was thinking about rainbows. It may seem like an odd root when you are looking at his new show "Flowers for Minnie," which opened at ABXY Gallery this week, and which features all-monochromatic still lives in shades of black and white. "I started this body of work in Germany last summer, and originally I was going to do a series based off Ronnie [James] Dio's song 'Rainbow in the Dark,'" he tells GARAGE over a Zoom call in early June. "Then there's also a Deep Purple, who's my favorite heavy metal band—they had a tour called Rainbow and they have a bunch of live shows online, and their shows were always at night. They had this big neon rainbow in the background that kind of mimicked what are called 'moon bows,' [which is a] rainbow at night. I did a lot of research on that," O'Meally adds. But you don't need to love Dio (although who doesn't love Dio!) to feel the energy that the 30-year-old O'Meally channels from music into his work.
The mixed-media works' tightly packed dynamism belies the stereotypically calm nature of a still life with flowers. In The Last Time I Saw You Smile, a rounded vase with thick downward brushstrokes holds three flowers, with collaged petals outlined in Neocolor, a sort of art crayon. They evoke ever-present Warhol flowers, but now that they are stripped of their color, they seem more like a taunt, the way they achieve real emotion with less. Seemingly floating in front of the vase, a thick curved white line that is becomes a disembodied smile (the eyes are the flowers). Is it moving? This element of comic relief is not incidental.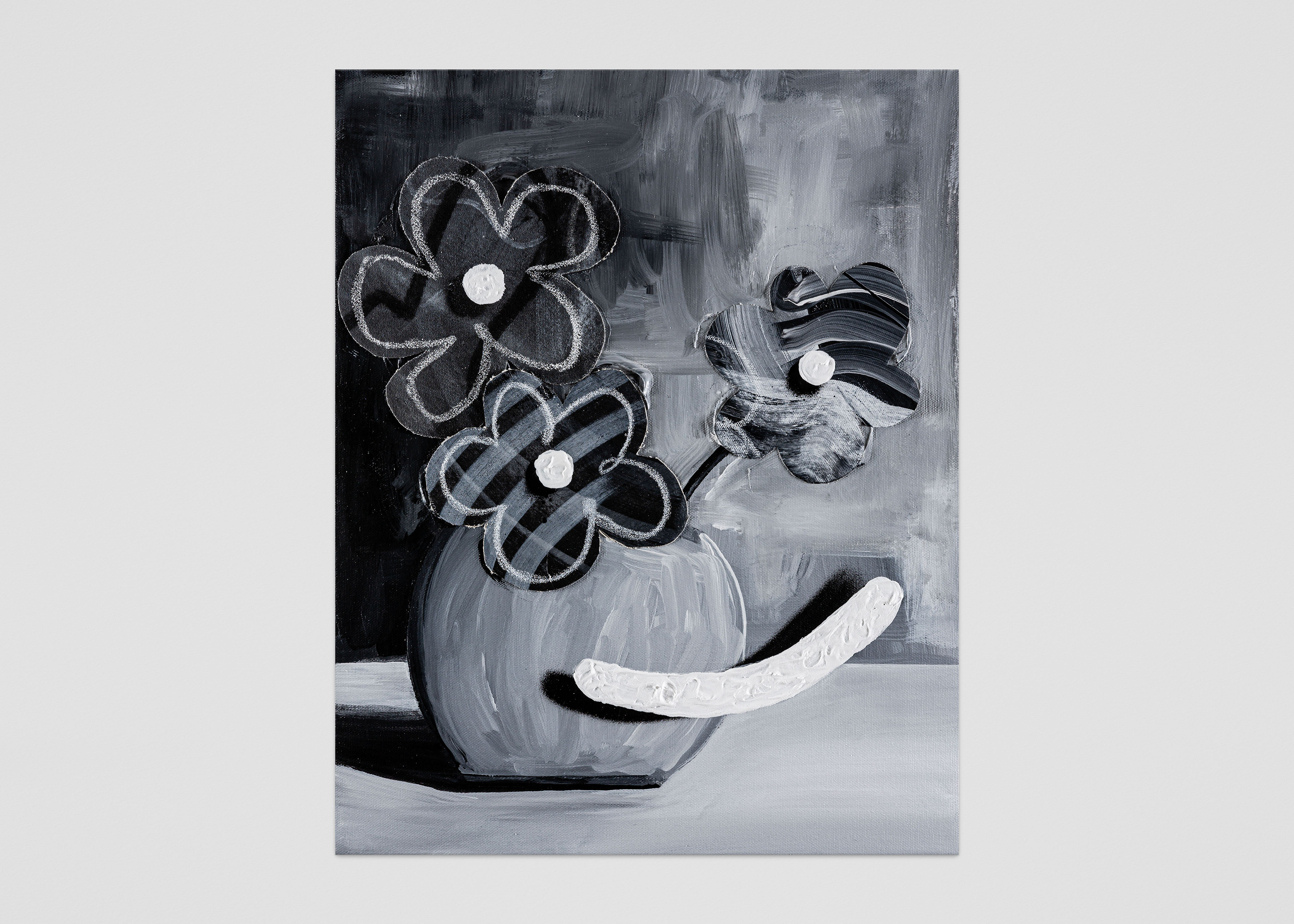 "I got inspiration from a lot of the old cartoons from the '30s [through] the '50s, like Betty Boop and Cab Calloway," he explains. "I like that [they are] black-and-white cartoons, [but] with dimensional elements." O'Meally is also attracted to the fact that these cartoons were made for adults, though he, like many, watched them as a child. "As a kid, you just see [them] as a silly thing, but once you become an adult and watch [them] again, you're like, 'Oh shit, this is really crazy,'" he explains laughing. This dichotomy is also a part of the works that make up "Flowers for Minnie," he hit upon the ideas he would expand in these paintings while in the midst of a depressive episode.
"I have bouts with depression quite often but this was just one of the worst ones, where I couldn't really shake it," he recalls, "and so one of the days I went to the studio around 3 a.m. and just kind of rage-painted. I did the first of its kind in this black and white, I said, 'Okay, this is it.'" He adds, "The way that I was blocking off or collaging elements was how my thoughts were at the time."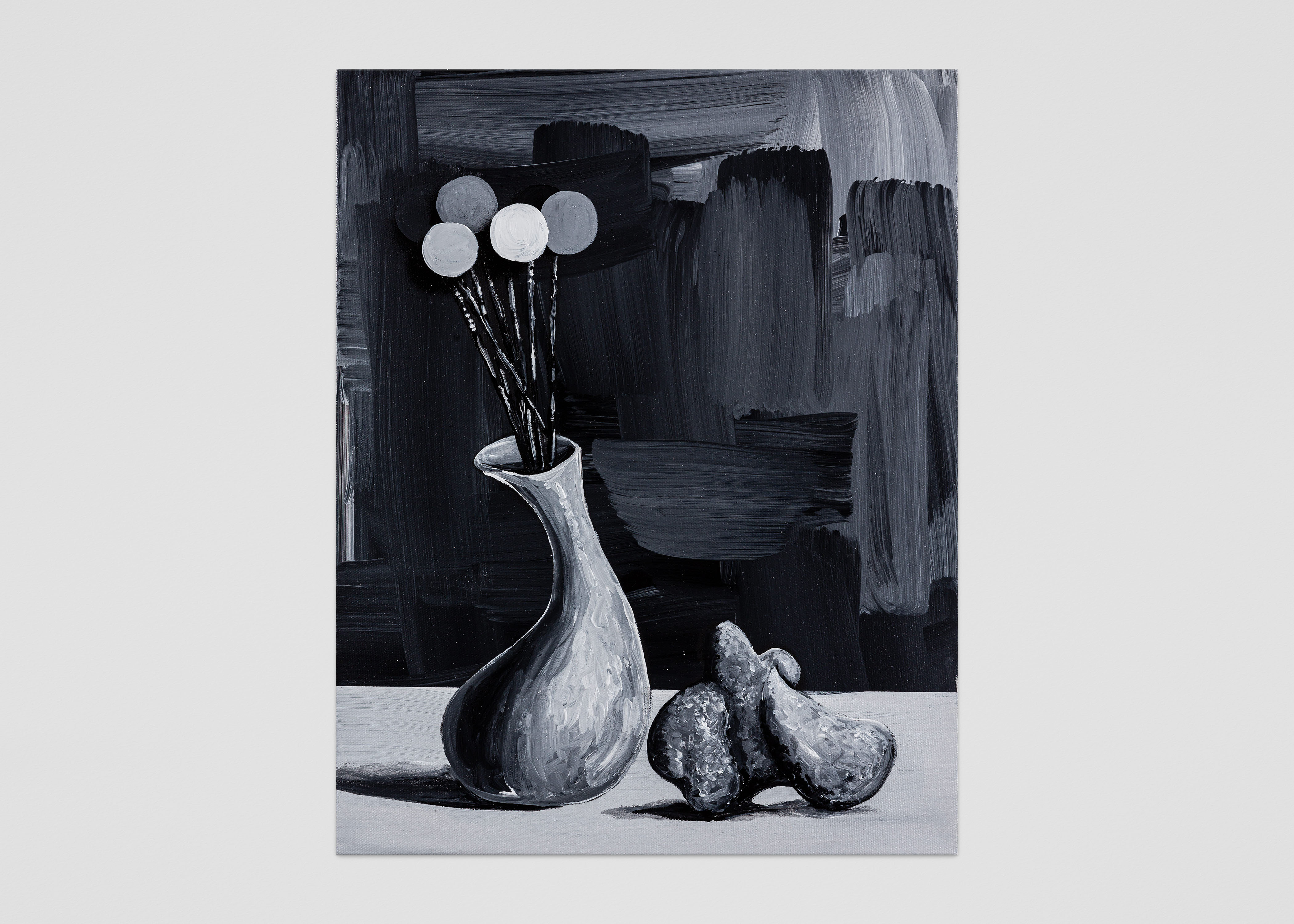 "I wanted to show a range of emotions, even though a lot of the work came from depressing point of view, it was also very helpful for me," he explains. "A lot of them are very cheery for me. I personally like a lot of sad music, old sad music, but I've never been sad by it. It makes me happy." In The Last Bouquet Before What We Had Faded Away, a group of flowers and large decorative leafs curve over a rainbow-shaped vase. There are too many piled in that vase—are they escaping? Have they outgrown their current setting? Are they ready to move on to greener pastures? Is our anthropomorphizing of flowers a result of three months of quarantine?
O'Meally worked on these paintings for over a year, starting with a residency in Germany last year, and finishing a few months into quarantine, and yet there's something about them that feels like they were born just out of this moment. In his paintings there is anger, loneliness, rage, tenderness, happiness, playfulness, all confined to a canvas and a strict color palette. "[The paintings are] just the mood that I felt at the time," he explains. "It just so happens [that it] goes so well with what's happening right now."
After this interview, O'Meally emailed GARAGE with the following thoughts regarding the significance of his chosen color palette "also in relation to what is happening right now."
Good or evil.
Right or wrong.
Perfect or terrible.
Smart or stupid.
Republican or Democrat.
Always or never.
Love or hate.
With us or against us.
Each pair represents perceived opposites, and are examples of black-and-white thinking.
This kind of thinking—also called splitting or all-or-nothing thinking—is the failure to bring together the dichotomy of both positive and negative qualities into a cohesive, realistic whole.
Along the spectrum between black and white lies an abundance of gray area.
Tagged: