Matty Bovan's Leatherface Freakshow
The designer's latest collection is weird as hell (and we love it)!
Photos by Lucy Alex Mac
The most jarring part of Matty Bovan's latest collection was the masks. Or, to put it more bluntly, the army of dummies with faces made up of swatches of fabric and elaborate embroidery. None of this is all that surprising for Bovan, a young British designer who has conjured up several seasons of fabulously colorful clothing that occasionally feels like it is lightly trolling you in the best way possible. The masks these dummies wear aren't exactly intended to be the focal point of the show, but nonetheless, one can't help but think of how sneaky and timely it is for Bovan to style his dummies just so. Whereas JW Anderson featured masks of hunky guys adorning his mannequins, Bovan's a little bit more blunt with how he makes a statement about the lack of living models in this season's presentation.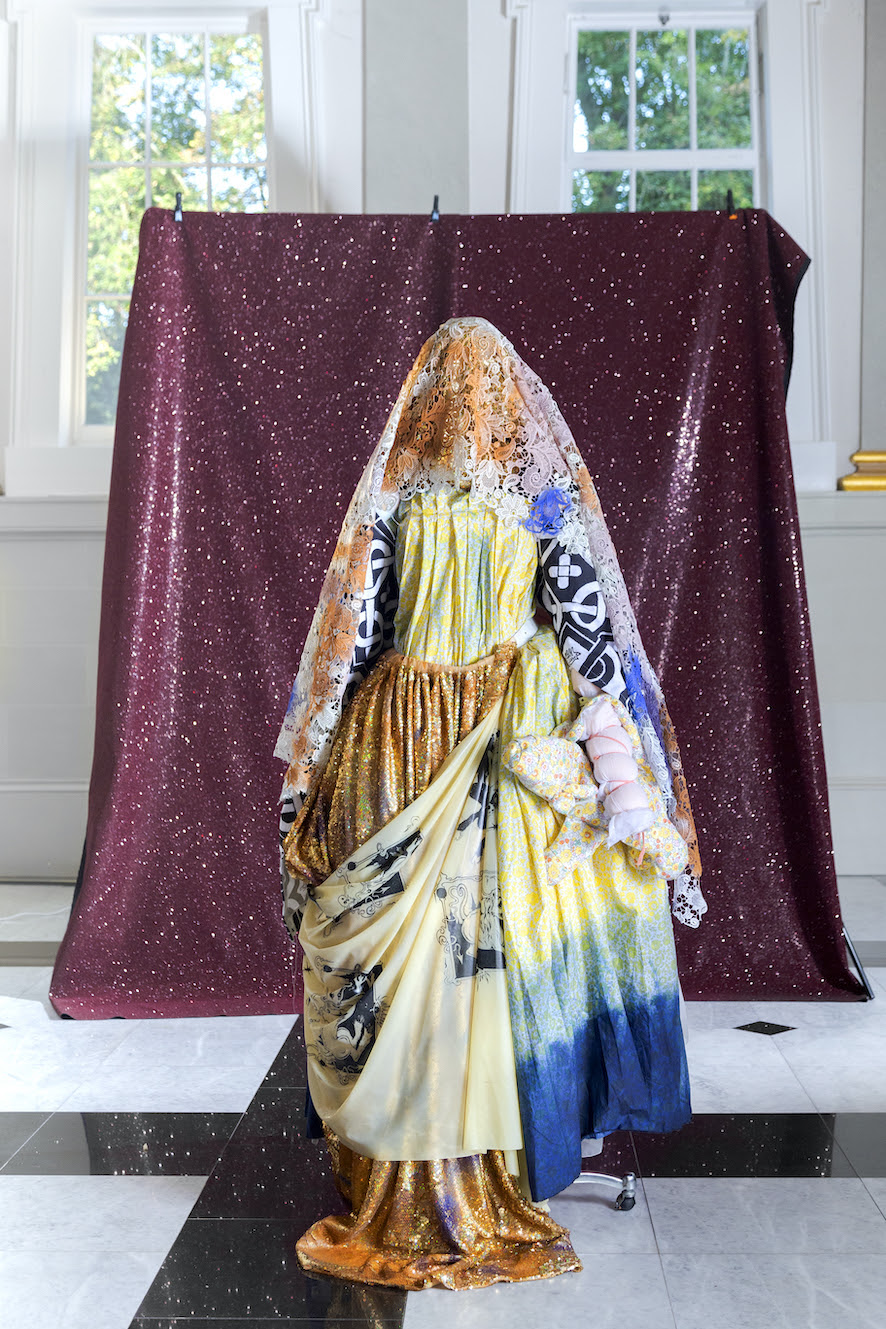 It's impossible to look at something like a garment with giant sleeves and a striped skirt without a defined hemline and not also take into consideration that the dummy wearing the look has a bit of a chic Leatherface thing going on. The dummy has a red metallic head covering, fashioned together with a series of pins in all of the most terrifying places. In another look, the dummy is simply wearing a bridal veil that is manically dyed orange, lilac, and blue with chaotic randomness. The look is also seductively shapeless: the dummy wears what appears to be three different skirts haphazardly stitched together and with what I thought was a butterfly, but was later told it was a bull.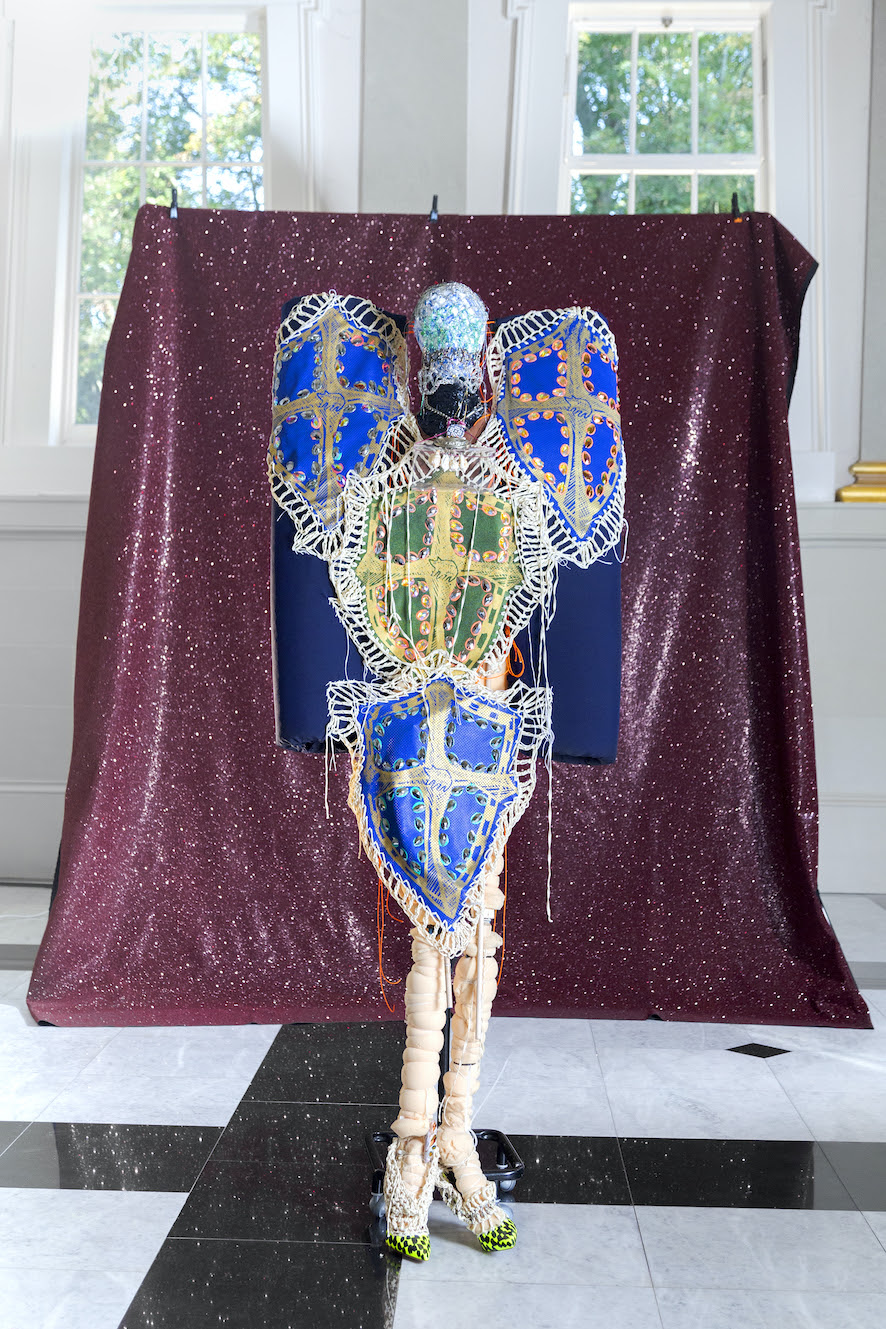 The best moments in the show are the ones that are the most fucked up in their theatricality, the ones that close out the collection. In the second to last look, a dummy covered in blue stitching wears a punky coat of arms and some macramé heels. It is a garment that exists somewhere in the liminal space between gladiator wear and halloween costume. It looks alien, purposefully messy and completely impractical in the way that great clothing can so often be. There's also the closing look, which feels subversively and unexpectedly kinky, made up of a sequined red swath of fabric that takes twists and turns and can't really quite be called a dress. The dummy wears a head covering in the same red sequined fabric, and has a pair of oversized, plush earrings.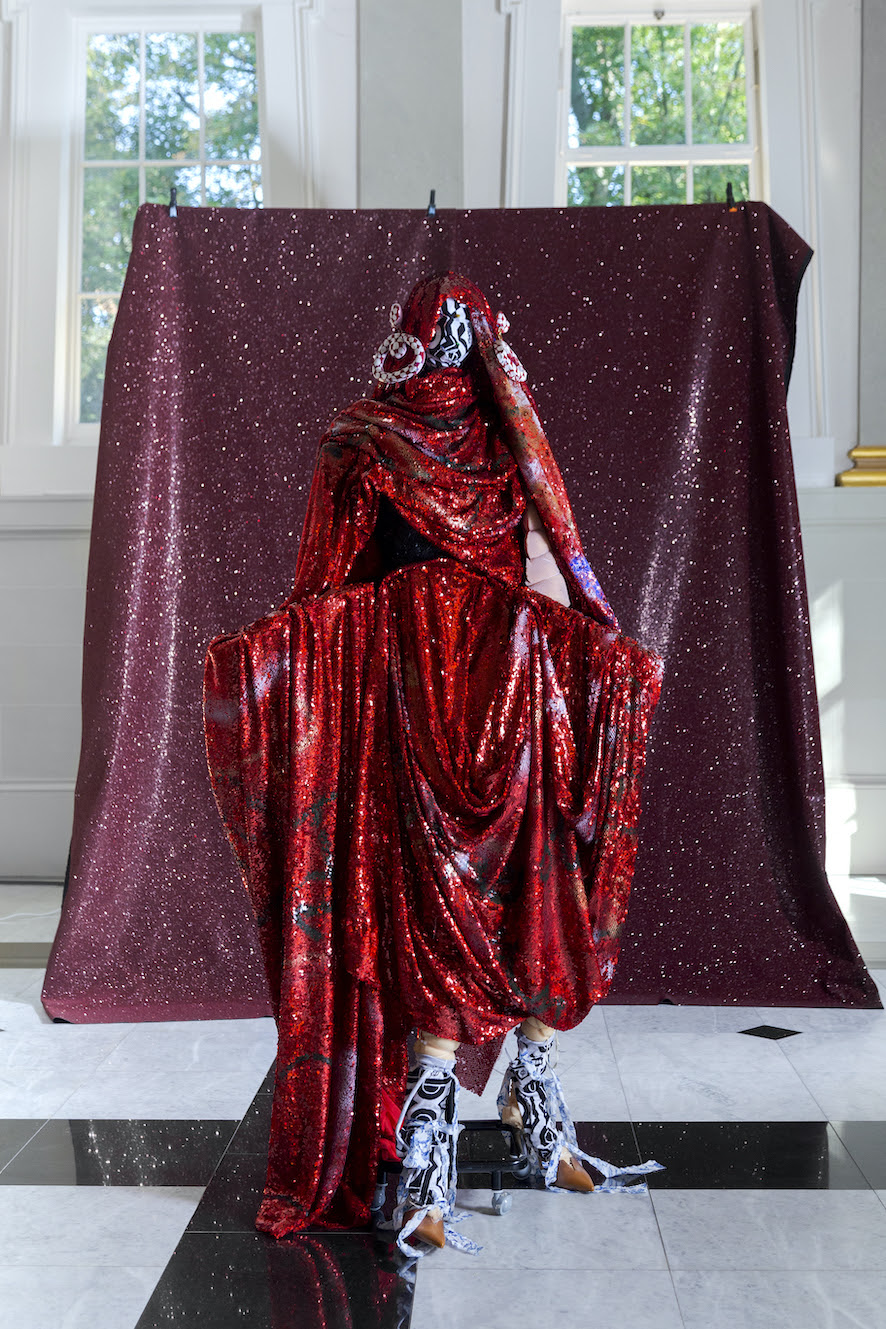 Bovan's work is excellent because it refuses to conform to anything obvious. There are no cozy lounge pants or soft coats, only costuming: outfits that make no sense for These Times and therefore feel like artifacts zapped back from the future, or murky reminders of life from the past.