Maurizio Cattelan's OkCupid Ads Are DTF (Disrupting the Format)
The artist-trickster's posters for the online dating agency are off the hook.
An OkCupid billboard
The NYC subway system may feel like it's grinding to a halt, but at least OkCupid's buzzy new ad campaign has a captive audience. The posters were designed by Maurizio Cattelan and Pierpaolo Ferrari, the team behind the biannual magazine Toiletpaper, and the ad copy, which riffs on "DTF," was written by ad agency Wieden+Kennedy. Campaign highlights include conjoined turtlenecks, financial domination, kitchen utensil-attracting chakras, and a dig at the far right in the form of a gun being flushed down a toilet.

Tabloid Art History (TAH), a popular UK zine and Twitter account, was quick to embrace the campaign, noting similarities between its imagery and the work of female Pop artists Sister Mary Corita Kent, Pauline Boty, Rosalyn Drexler, and Evelyne Axell. "Art historical referencing is trendy again. We're finished," TAH concluded, jokingly fearing for its own survival. Others were more straightforwardly enthusiastic: "That's pretty tight that they did that" commented one Twitter user.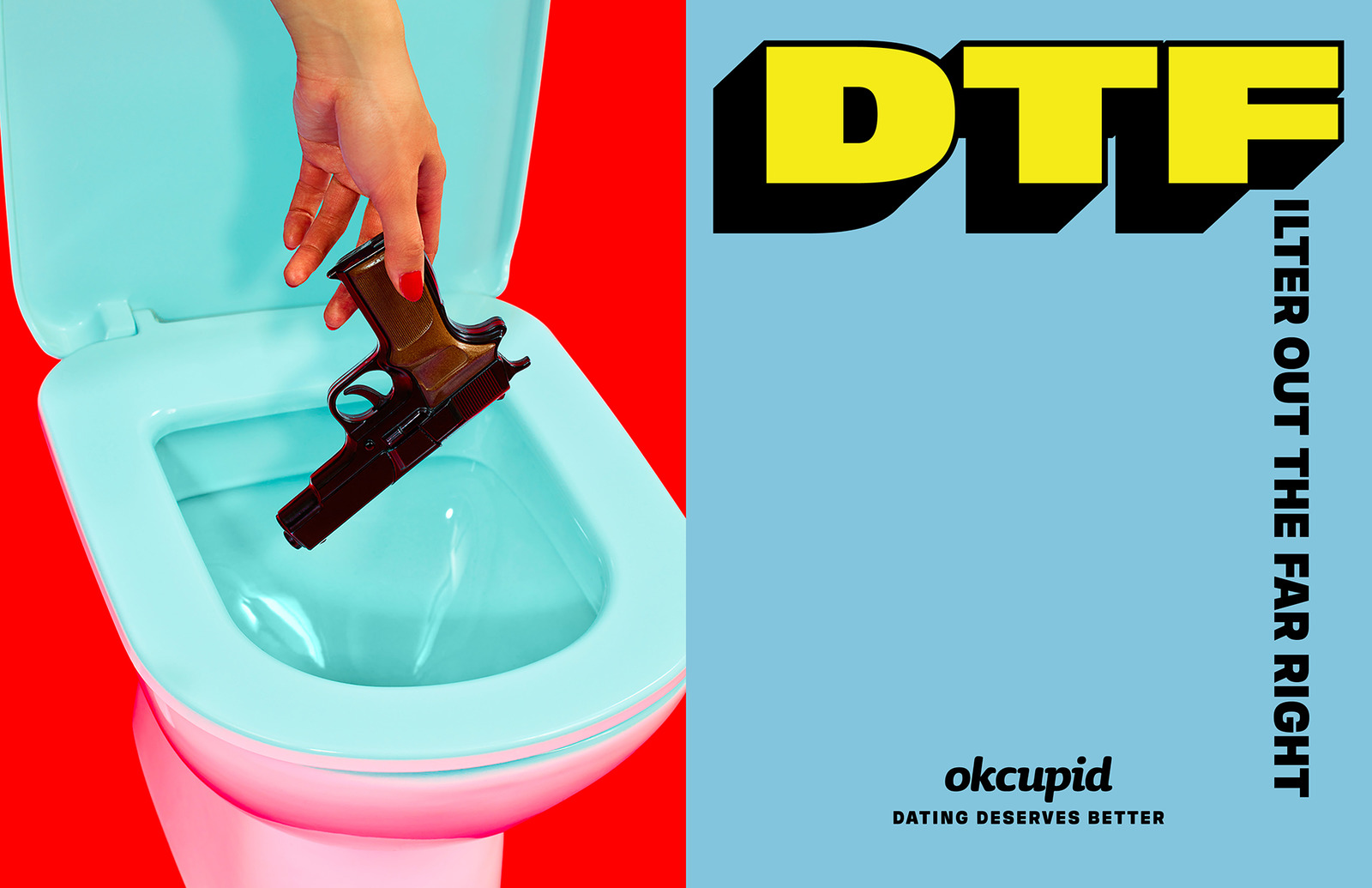 It's always interesting to watch a campaign build brand credibility in real time. But from the perspective of an art critic, I'm interested too in how this particular project fits into Cattelan's and Ferrari's respective oeuvres. In the past, the two have been more closely associated with Surrealism than sentimentalism, subversives than soulmates, Un Chien Andalou than À bout de souffle. But perhaps we haven't been looking close enough.

Around Valentine's Day 2016, I ordered one of Toiletpaper's enamel Seletti mugs. The vessel is emblazoned with the words "I Love You," but the I is a knife and the heart drips blood. Due to an addressing error, I watched helplessly as the package was batted between my apartment in Brooklyn and its origin in Florida, finally arriving mid-March. It was a winding path that mimicked the mutable nature of my relationship with the mug's intended recipient. I share this only to illustrate how close Cattelan and Ferrari have hovered to the reality of romantic relationships.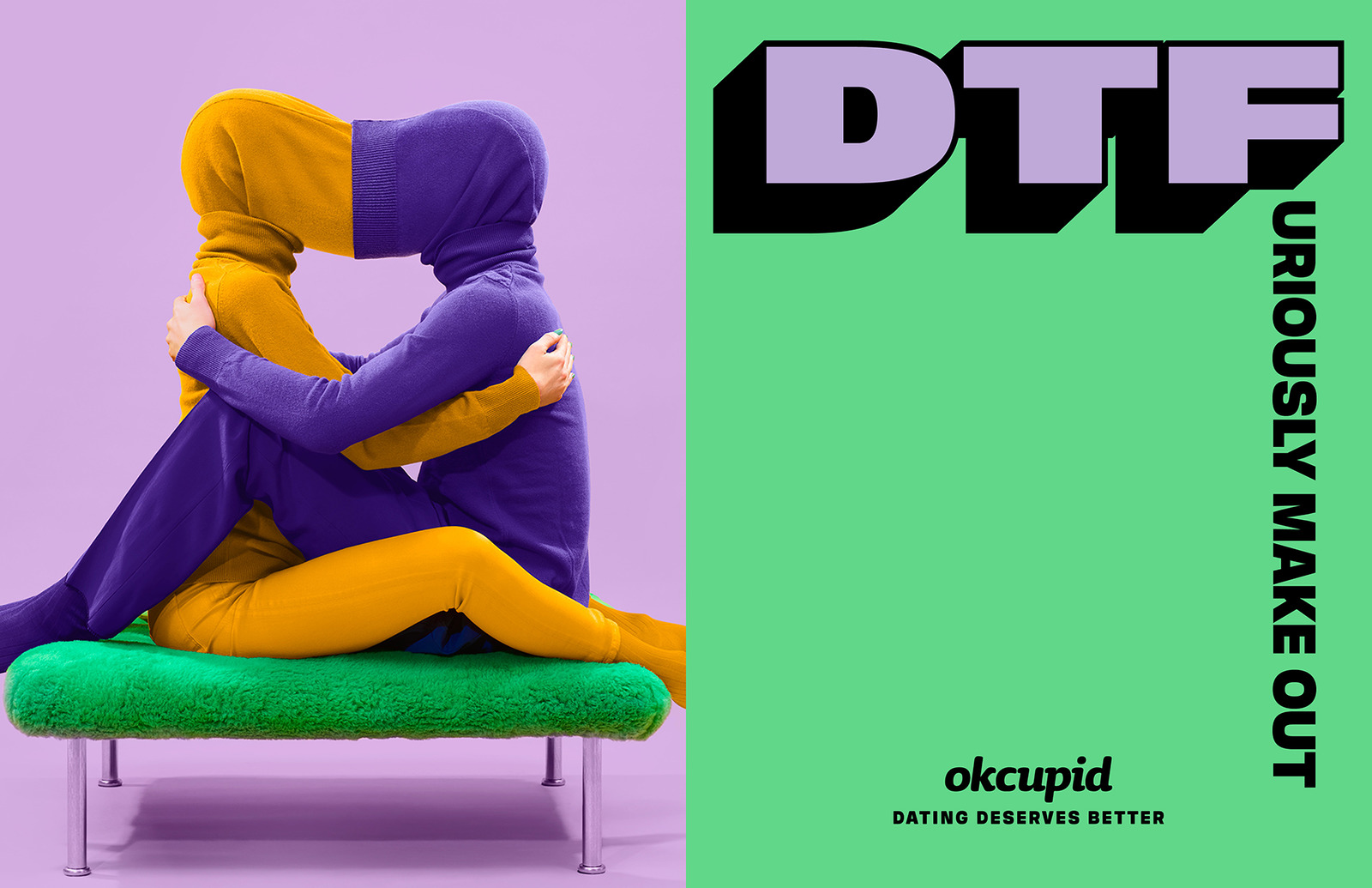 Cattelan and Ferrari have also designed covers for the New York Times Magazine and Vice, and Toiletpaper was responsible for Kenzo's aesthetic shakeup in the early 2010s. Their signature motifs make desire look ugly: they have a predilection for raw meat, day-old spaghetti, and disconcerting, phallic objects. But users of services like OkCupid already know that dating can be ugly, and they're not looking for the website to pretend otherwise. Seeing some codependent dental flossing and unappetizing food is, frankly, refreshing.
This line between fairy tale and flop has long been toed in Maurizio Cattelan's solo work. Cattelan, despite his reputation as a provocateur, cites noted sentimentalist Andy Warhol as a key influence—the same Warhol who once said "sex is nostalgia for sex." Cattelan made his name in part via a use of taxidermy, depicting the Musicians of Bremen in Love Saves Life (1995) and Love Lasts Forever (1997). The former work stacks a stuffed donkey, dog, cat and rooster; the latter, just their skeletons. He tends not to distinguish between human and animal conditions. In 2011, he also took aim at capitalism (and Robert Indiana) by raising a marble middle finger outside the Italian stock exchange. The other fingers on the fist were severed. The sculpture was titled L.O.V.E.
Tagged: