Banksy, Stage Sketch, 2017. Courtesy of bansky.co.uk
Banksy and Danny Boyle Have Updated the Nativity
A new film tracks the pair's efforts to Make Bethlehem Great Again.
Banksy, Stage Sketch, 2017. Courtesy of bansky.co.uk
Alternativity, a new and highly seasonal project from Banksy, sees the pranksterish British street and media artist team up with none other than Danny Boyle. The documentary film, which screens in the UK on BBC 2 tonight, follows the Slumdog Millionaire director to Israel and Palestine as he works to fulfill a commission from Banksy (also a director, of Enter through the Gift Shop). The concept? An "inclusive" nativity play with a cast of children, to be staged in the parking lot of the artist's extant Bethlehem enterprise, The Walled Off Hotel.

It's a risky-sounding venture, not made any easier by Banksy's insistence on painting a new mural on the wall that separates Israel and Palestine, rendering, under cover of darkness, two cherubim prizing the wall apart with a crowbar.

As the film begins, we watch Boyle fly into Tel Aviv before setting out for Bethlehem to garner local support for the project. The backdrop is everyday life in Palestine, a context that throws up constant challenges. Fortunately, Boyle has three people assisting him on site: Walled Off Hotel manager Wissam Salsah, local theatre director Riham Isaac, and Banksy himself, who he has never met in person but communicates with via email.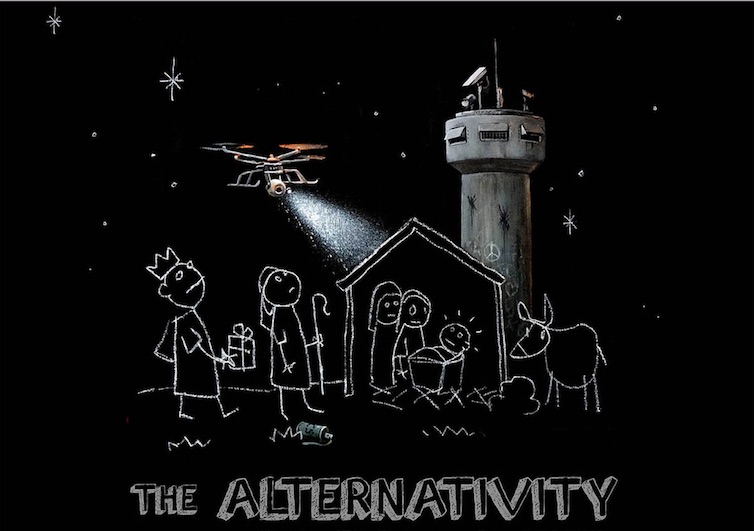 But while everyone pitches in to help, Boyle's propositions aren't always met with enthusiasm. Isaac, Boyle's co-director, admits that he had been skeptical about The Walled Off Hotel when it opened, worrying that it might turn the partition into a tourist attraction. There's also understandable trepidation among some parents about having their children take part in a performance that unfolds in the shadow of a watchtower.
Boyle strives to follow Banksy's storyboard as closely as is appropriate, but is torn nonetheless over adopting the artist's vision too literally, wanting to preserve some of the story's traditional elements and trusting that the backdrop of the wall is sufficient to make any political point. Banksy, for his part, insists on a sharply ironic update. Meanwhile, the play's conceptualization and production take place against a backdrop of local laborers traversing the border to get to work, and continues even as family members of the cast are detained by Israeli forces.
Also highlighted are the difficulties posed by restrictions to movement in the West Bank. Boyle's Palestinian guides don't have official permission to accompany him to appointments in Hebron, and Israeli citizens lack permission to enter Bethlehem for the final performance. Throughout the film, then, we observe the well-meaning pair confronted by the realities of life in the region, realities that can conspire to upend even the most celebratory or traditional undertaking. And while the play itself is predictably heartwarming, any sentimentality is tempered by more than a touch of Banksian wit; Mary enters, for example, through a security barrier.
Alternativity screens on BBC 2 on December 20, at 11 pm.