Saoirse Ronan and Laurie Metcalf. Photo by Merie Wallace, courtesy of A24
Would Lady Bird Dress Like Joan Didion?
April Napier's costumes for Greta Gerwig's "Lady Bird" capture the emotional reality of early-aughts teenagerhood.
Saoirse Ronan and Laurie Metcalf. Photo by Merie Wallace, courtesy of A24
When GARAGE talked to Lady Bird costume designer April Napier, she'd just received a call from industry veteran Aggie Rodgers, the visionary behind Carrie Fisher's doughnut buns and golden bikini in Star Wars. Napier was thrilled. "She was like, 'Hi, is this April? My name's Aggie Rodgers,' and I was like, 'What the fuck! Are you kidding me right now?'"
It's an exciting time for Napier: just this month, Lady Bird, Greta Gerwig's directorial debut, won two Golden Globe Awards, and Napier's work on the film has earned her a Costume Designer's Guild Award nomination. The acclaim is well deserved. Her costumes are pitch-perfect for a film that masterfully decouples nostalgia from escapism (this is, after all, a story in which parents fund their daughter's New York college education by taking out a second mortgage five years before the 2008 housing market crash). The humor and brilliance of Lady Bird derives, in part, from its acute awareness of class, of the ways in which money, or the lack thereof, can curtail ambition. This authenticity is woven into the script and the wardrobe: Napier's costumes have a genius for detail, with each deadstock early-aughts friendship bracelet contributing to the texture of a film compelling for its realism.
Napier recreated Lady Bird's 2002 Sacramento by sourcing period pieces from thrift stores, flea markets, costume shops, and Etsy—she told GARAGE that "Etsy is like the greatest thrift store in the universe"—as well as specific retailers, yin-yang necklaces from Los Angeles jewelry store Maya. In one scene, Lady Bird, the sharp-witted and restless protagonist played by Saoirse Ronan, performs with her friend Julie (Beanie Feldstein) in a high school production of "Merrily We Roll Along," the grossly age-inappropriate Sondheim musical that thematizes alcoholism, emotional abuse, and adultery. Napier told me that some of the costumes were sourced from the Pasadena high school theater where the scene was filmed: "I was like, 'Do you guys have a costume closet that you use?' It was pretty rad. It made it all that more realistic. It's scrappy, winging it with whatever you can find and whatever you can afford."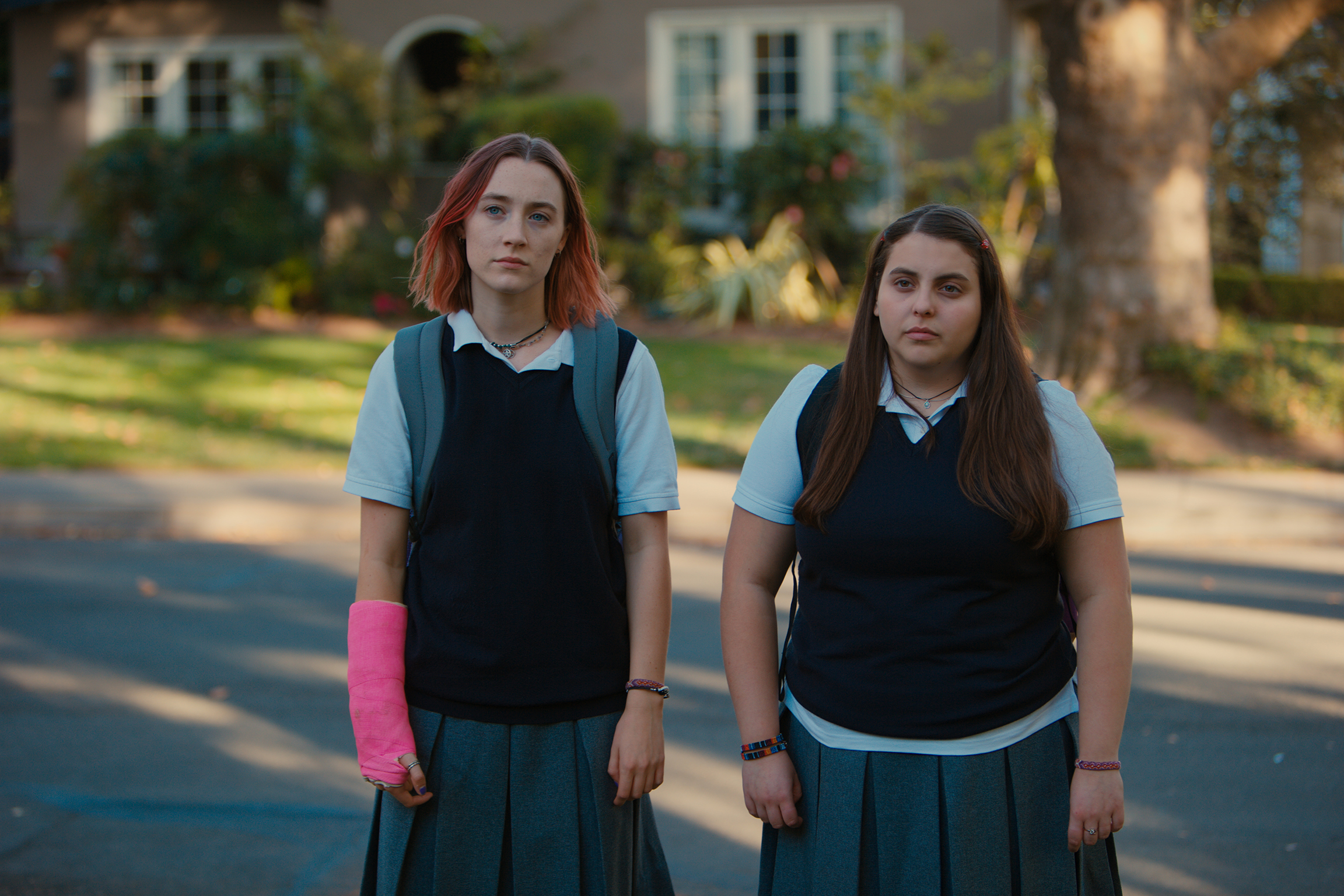 Beyond their fidelity to the visual culture of the early aughts, the costumes in Lady Bird index the characters' identities, their class backgrounds, and the self-images they try on, then discard. This is particularly true for Lady Bird, whose outfits range from Bikini Kill riot grrrl to beatnik striped tees to a 1950s prom dress. Napier recalls a scene in which Lady Bird climbs into her mother's car after a disappointing first sexual encounter with her armchair Marxist semi-boyfriend Kyle (Timothée Chalamet). She's wearing a fluffy pink Juicy Couture sweater, borrowed from her popular and wealthy new friend Jenna (Odeya Rush). "She tries it on and her mom even notices. When she's in her arms crying with her, and she holds it up and she's like, 'Whose sweater is this?' It doesn't fit Lady Bird at all, and it comes right at this critical moment for her, of thinking she had this extraordinary experience but she was having, in fact, her own experience, by herself."
Lady Bird and her friends attend a Catholic high school, and their particular ways of wearing the uniform underline who they are and who they want to become. Lady Bird wears zany socks and hoodies; Jenna wears a sterling silver Tiffany heart and gold tennis bracelets. Julie, Lady Bird's sweet and slightly square best friend, wears a clunky pair of Sketchers. "The first time I met her, this was a really painful moment for me, but I was like, 'I think she has to wear Sketchers.' I never thought I'd put Sketchers in a movie or wear them in real life. But it's all about the shoe. Those three girls all come from different places, so Lady Bird has Doc Martens, Julie has the Sketchers, and Jenna has loafers."
Asked what she thought a contemporary Lady Bird would wear, Napier was adamant that she wouldn't look to influencers to tell her what was cool and instead develop her own sensibility, in the lineage of other female iconoclasts. "There were people in 1850 who were doing the same thing: like George Sand, wearing men's clothes and dating Chopin. And there were all the beautiful female Bauhaus designers, Hilma af Klint, Anni Albers, they were independent thinkers in the 1920s. Making up their own shit and telling their own stories. I feel like Lady Bird would be the same way."
"I think she'd be influenced by a lot of literature," Napier added. "She'd think, 'What would Joan Didion wear?'"