Sara Jane Ho teaches the pronunciation of luxury brand names in Beijing. Still from Generation Wealth.
For a Rising Generation of Hyper-Rich Women, the American Dream Is Whatever They Want
"Wealth [is] much more than money. [It's] whatever gave us value; sexuality, branding, even youth."
Sara Jane Ho teaches the pronunciation of luxury brand names in Beijing. Still from Generation Wealth.
Money, especially in contemporary America, is never just money: it signifies power, beauty, pleasure, and it comprises a sprawling aesthetic universe that is easy to copy and difficult to embody. Artist and filmmaker Lauren Greenfield's Generation Wealth is an engrossing 25-year-study, comprised of interviews and photographs of some of the world's wealthiest citizens. It's a dissection of America's insatiable hunger for opulence, excess and fame.
According to Greenfield, the perception of wealth hasn't always been like this. "We've gone from a culture that valued hard work, frugality and discipline—the core of the American dream—to a culture that values bling, celebrity and looks," the filmmaker tells me. This shift, two generations in the making, has established an unsettling relationship between wealth, women, and their bodies. After profiling the film's female protagonists, Greenfield "realized wealth was much more than money. It was whatever gave us value—sexuality, branding, even youth."
For example: 22-year-old Kacey Jordan, one of Generation Wealth's subjects, is a woman who knows the value of her sexuality; the adult film star was once paid $30,000 to spend a night partying with Charlie Sheen. "Before I left Oregon I was living out of my car," Kacey says, addressing the camera directly. "A year later I was living across from The Grove on the top penthouse floor. It was 0 to 100 and I was addicted." Kacey's success story is a tale of monetizing her looks, her sexuality, and, crucially, her body.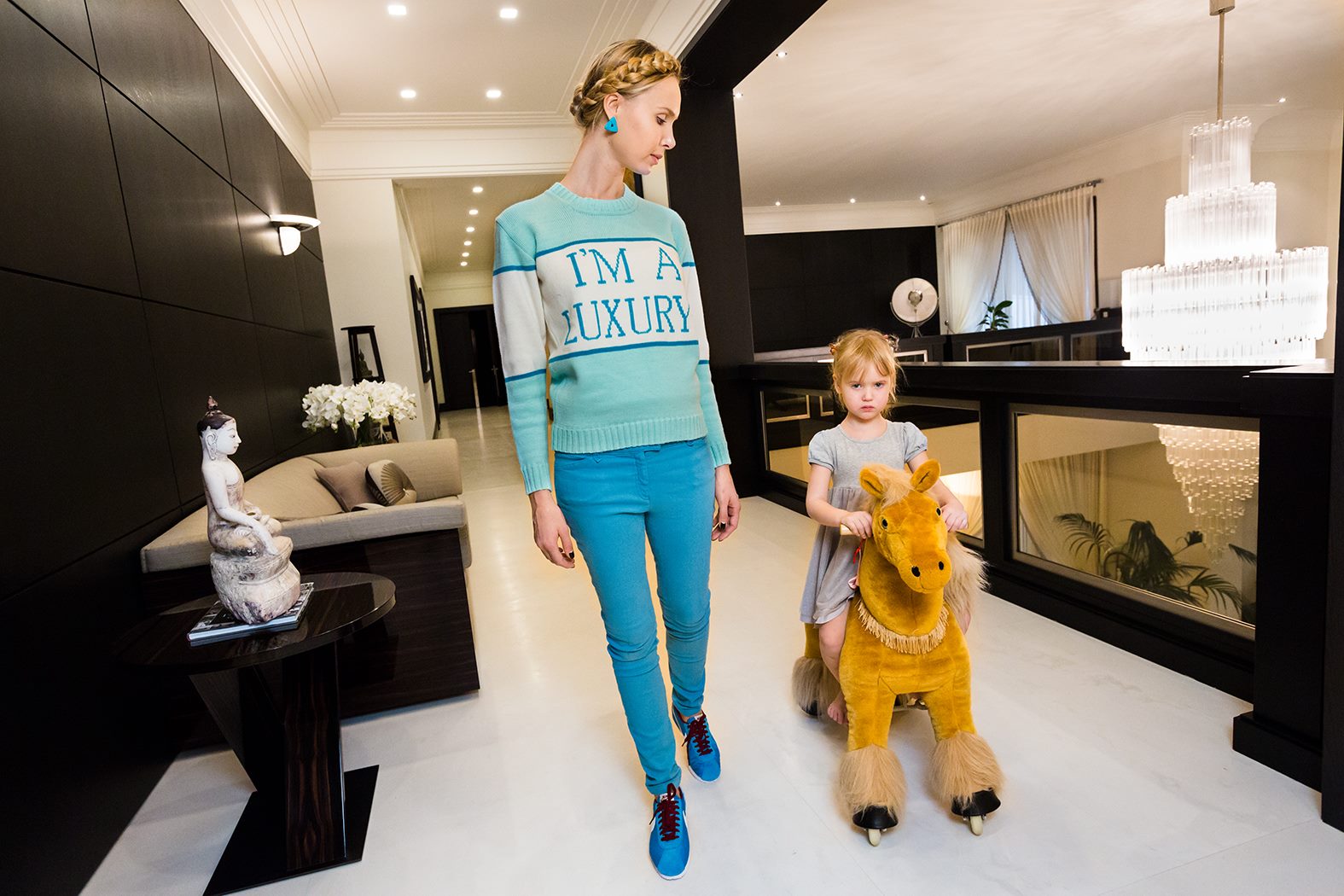 "As a little girl you realize that your value comes from your body and you are then taught to leverage that," Greenfield says. Another of the film's protagonists, an ambitious hedge fund executive named Suzanne, describes leveraging her appearance to maximize profits at work: "I think looking good is important in any business, not just mine," she says. "People like dealing with attractive people. It's human nature." Suzanne is acutely aware of the "beauty premium," a system that ensures her financial success in the male-dominated business of banking. Beauty, it seems, is one of the executive's most valued corporate assets and an integral part of Suzanne's successful personal brand.
Dissatisfied with her life as a school bus driver, single mom Cathy, Greenfield's third subject, turned to plastic surgery to "be in the best body that [she] could." Cathy used credit and borrowed money to buy a tummy tuck, a breast augmentation, a Brazilian butt lift, a sculpted neck and a new nose. Her pleasure at her new, youthful body compensated for a divorce, an unfulfilling job and the ongoing unaffordability of real estate—becoming a homeowner had been a lifelong dream of Cathy's. "But I could let that go," she tells Greenfield, replacing that goal with her physical reinvention.
"It's the Kim Kardashian Effect," Lauren says. "She's a woman who's famous for being famous, and her starting point was a sex tape." Kacey, Suzanne and Cathy have similarly used their bodies in instrumental—even strategic—ways to create a sense of worth. In a sense, they exhibit an entrepreneurial spirit entirely compatible with the national ethos of self-improvement. Generation Wealth offers a disconcerting glimpse into this contemporary version of the American Dream; one where selling, branding and engineering the female body pays off.