How Tom Wolfe Made Clothing a Man's Deepest Trait in "Bonfire of the Vanities"
In the Tom Wolfe classic, the superficial layer revealed everything you needed to know about a person.
Bruce Willis in the
Clothes Before Prose is a column that explores the use of fashion in some of our favorite novels. This week: the carnival of menswear in Tom Wolfe's yuppie classic, Bonfire of the Vanities.
By 1987, Tom Wolfe had been explaining his white suit for 25 years. The Bonfire of the Vanities, his debut novel after establishing himself as a grandee of New Journalism, had just come out, and Wolfe was smugger than ever. In an interview with Time around then, answering a question about his clothing—because there was always a question about his clothing—Wolfe called his taste "counter-bohemian," the result of a happy accident. And who among us hasn't ordered a bespoke suit in cream, summer-weight wool only to find you have—hilariously!—chosen a heavy worsted? He wore it anyway, which he found irritated people. It was, to him, a "harmless form of aggression." If he was feeling particularly jaunty, he'd add a homburg, which made him look like a patrician soda jerk, or a Dick Tracy villain.
Bonfire is about many things: social stratification in Reaganomics New York, 1980s boom-boom Wall Street excess, the hot pot of racial tension in the city (characters have opinions about black and Jewish people, and air them), class anxiety, real estate anxiety, the Kafkaesque futility of the justice system, cool Tribeca restaurants. All these threads run alongside a parallel frequency, tuned to what men wear. And it is chiefly men; women's clothing is perfunctory here, always either accentuating thighs or breasts or "the lubricious declivity" of lower abdomens, or cracked about as something ridiculous (the protagonist, Sherman McCoy, and his wife hire a town car to take them to and idle outside of a dinner party six blocks away because McCoy's wife is wearing a dress with "short puffed sleeves the size of Chinese lampshades" that she can't walk in). Wolfe was not a fashion journalist, but because of the attention he paid to what men wear, and the rigor with which he approached his personal appearance, everything he wrote about was, in a way, about men's fashion. He believed clothing was the easiest way to understand what a person was about, because clothing ultimately represented decisions. Accordingly, much of Bonfire reads like a proto-Styleforum.
Not including the prologue, which makes some unfortunate attempts at Ebonics, it takes Wolfe preciscely eight sentences to start talking about menswear, specifically that of his hapless yuppie putz Sherman McCoy, a Wall Street WASP with a Yale chin and "checked shirt, khaki pants, and leather boating moccasins." Like his creator, McCoy's taste leans toward the showy: Navy crepe de chine neckties and "a worn but formidable rubberized British riding mac, full of flaps, straps, and buckles...bought at Knoud on Madison Avenue"; $650 half-brogues from New & Lingwood of Jermyn Street and jackets from Huntsman of Savile Row, "blue-grey nailhead worsted suits custom-tailored in England for $1,800, two-button, single-breasted, with ordinary notched lapels."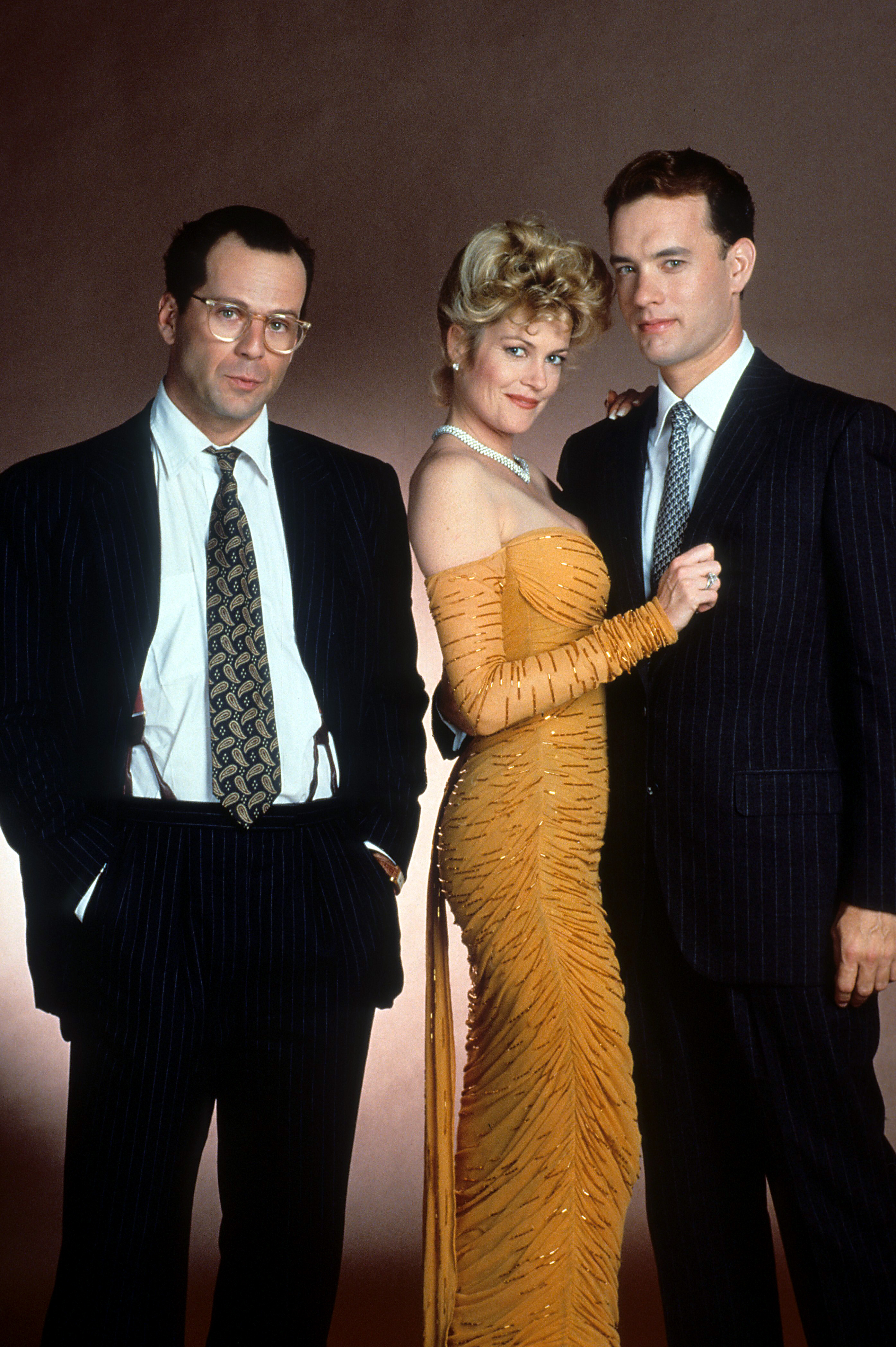 The sheen of McCoy's wardrobe is meant to dampen that of the put-upon Bronx assistant district attorney Larry Kramer, a civil servant who lives with his wife and newborn in a rent-stabilized "3 ½ room" in the West 70s and takes home $25,000 a year. You're meant to understand Kramer as a member of the struggling middle class, even though his circumstances don't seem so bad, until Wolfe tells you what he's wearing: "an old raincoat over his usual gray suit, button-down shirt, and necktie" — which is to say, the dull, anonymous uniform of the working stiff. He pairs this with Nike running shoes, his brown Johnston & Murphy leather dress shoes carried alongside in a plastic grocery bag. This detail is supposed to be embarrassing: a colleague ribs that he "looks like those girls walking to work at Merrill Lynch" (which is of course ironic as it's precisely the kind of editorial-ready look sanctioned today by GQ).
It's rare for a character to be introduced without an exegesis on what he's wearing, even if that character is "a fat man in a loud, checked jacket" already shot dead in the back of a Cadillac when we get to him.
It's amazing how loathsome Wolfe is toward sneakers. He describes "the dark shabby people with their grey and brown clothes and their sneakers"; the anonymous black kids who appear at their arraignments in "big sneakers with enormous laces, untied but looped precisely in parallel lines"; and "a pair of purple-and-white-striped running sneakers [that] looked weird on such an old man, but there was nothing really odd about them, not on the D train...half the people in the car were wearing them, mothers with children on their laps were wearing them, and for that matter, the children were wearing them. This was not for reasons of Young Fit & Firm Chic, the way it was downtown, where you saw a lot of well-dressed young white people going off to work in the morning wearing these sneakers. No, on the D train the reason was, they were cheap. On the D train these sneakers were like a sign around the neck reading SLUM or EL BARRIO. Kramer resisted admitting to himself why he wore them." You can imagine Wolfe being presented with a pair of Balenciaga Triple S and launching into spasms.
The third chief player is Peter Fallow, another man (all the action revolves around what men do), a journalist imported from Britain to write about the foibles of society types for a New York Post-ish tabloid, but who mostly ends up sneering at American style: their "appallingly tasteless tweed," the rep ties that "the Yanks always wore that leapt out in front of their shirts, as if to announce the awkwardness to follow," and the American men who "usually destroyed otherwise presentable ensembles by wearing bulky, big-soled, badly kept shoes. (They seldom saw their own feet, and so, being childish, scarcely bothered about what was on them.)"
"Bonfire" isn't about menswear. But it carries a preoccupation with menswear that tints nearly every human transaction. The relentless taxonomy can get exhausting. Black stovepipe jeans, polo shirts, "cheap-looking gray pants." Clothing denotes bravura masculinity, as in that of Reverend Bacon, an Al Sharpton stand-in, whose tailored black double-breasted suit with peak lapels "had a two-button roll that revealed a gorgeous acre of white shirtfront," as easily as it betrays it, as in a detective "wearing a sport jacket and the sort of brown pants a wife might choose to go with it."
Wolfe is so obsessed with men's dress that paragraphs often become saddled with descriptions of clothing, which is in part how the book ends up yawning past 600 pages. When Kramer is frantically looking for a newspaper breaking the story of the book's central case, he's distracted by a stenographer's "tweed jacket that was so soft and luxurious, so full of heather glints from the Highlands, he knew he couldn't have afforded it in a million years." It's rare for a character to be introduced without an exegesis on what he's wearing, even if that character is "a fat man in a loud, checked jacket" already shot dead in the back of a Cadillac when we get to him.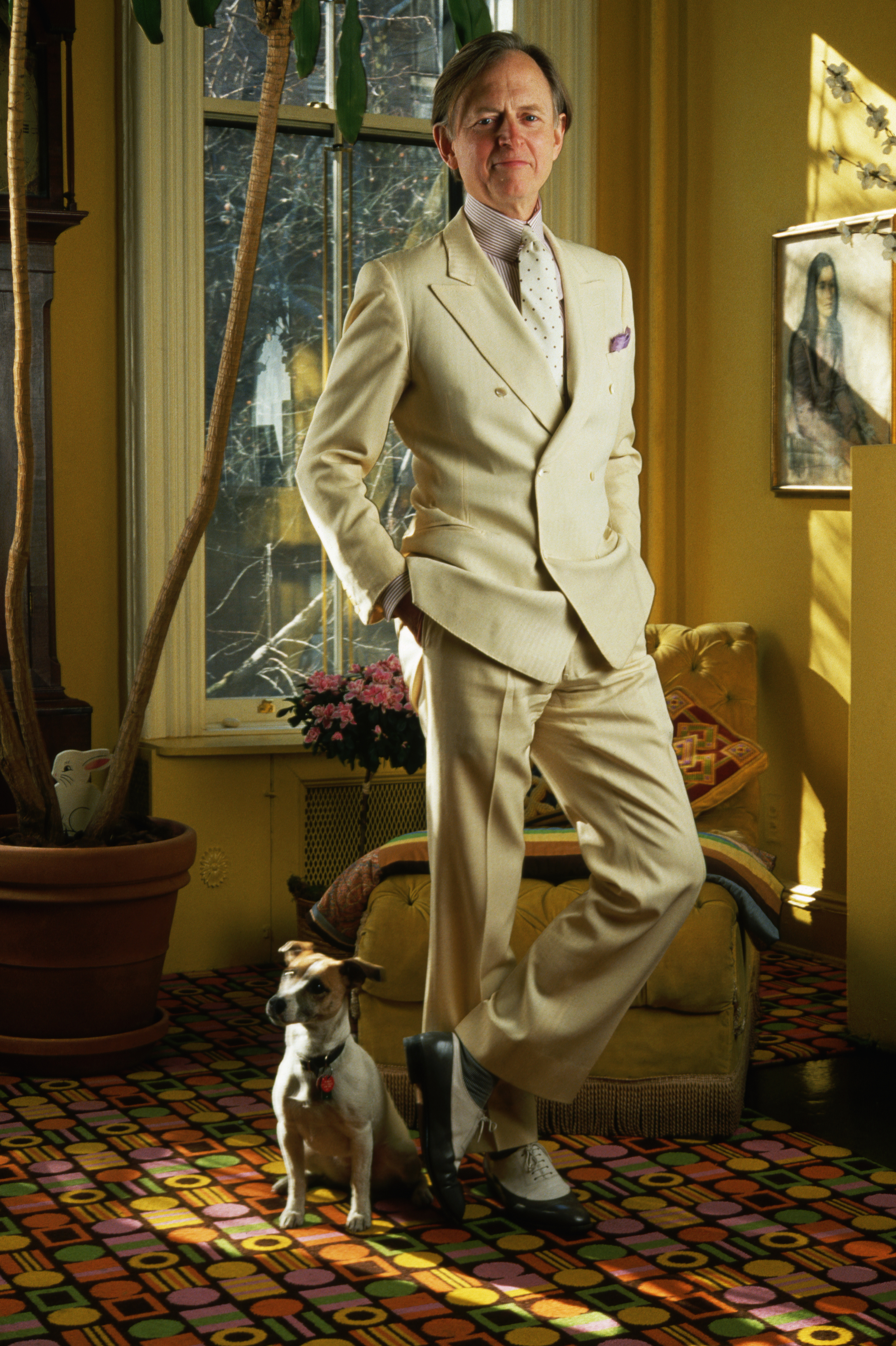 None of Wolfe's characters are sympathetic, not even (or especially) the ones who dress well. They're all venal or amoral or pathetic. Everybody is a little anti-Semitic, or a lot; they're carrying on extramarital affairs or considering them. For a man who once wrote a 2,000-word essay called "The Secret Vice" about buttonholes on jacket sleeves, it's strange how much Wolfe delights in flaying his characters for their own vanity. It's absurd to debate, as McCoy does, which of his English suits is best to wear to be arrested in the morning, shorthand for some catastrophic moral vacancy. These are people who think they know the score but tragically don't, and Wolfe, sat pristinely in his butcher whites, takes clear glee in carving them up.
And then there is Wolfe himself, who was mostly inoculated from charges of this same vanity by talking about his own vanilla-dipped wardrobe not as affectedness or weakness but utility—a useful part of his reporting toolkit that disarmed his subjects. Perhaps after a time he thought he was saying something clever about vanity itself, presenting such an unremitting pastiche of Southern gentility and nouveau dandyism as to render the whole concept of masculine dress ridiculous. In the end, he probably just liked the clothes. In Bonfire, he seems to say, that superficial layer is as deep as you'll need to travel to understand the full sum of a person.