It's your dystopia, so dress to kill—or be killed!
We always knew that VR would transform the landscape of sex. But now that we've explored and abused every imaginable earthly perversion ad nauseam' and sex has become so gruesomely boring and retardataire' many of you have been hitting dead ends trying to imagine what virtual transgressive acts could possibly feel fun anymore.
Fortunately the limitless frontiers of VR have once again solved your problems of leisure. Through meticulous research into motivational analysis' our engineers have found even deeper' more personalized satisfactions for nearly every human appetite and archetype—from the eating of Siberian huskies on your own doomed South Pole expedition to exploring the digestive tract of the giant cuttlefish. You never need to rely on your own imagination for entertainment again!
Introducing Virtual Vacations for your very own demographic: the Hardcore Fashionista.
A MIND-BENDING VOYAGE INTO FASHION'S TECHNOLOGICAL FUTURE
It's your dystopia' so dress to kill… or be killed! You decide—with the greatest advances in the future of fashion technology to guide you.
Be the first in your office to have Oxfords' brogues' or cordovan derbies capable of firing up to 600 rounds of .50 BMG per minute yet with an overall weight of under 5.7oz—less than an average pair of competition sprint spikes' let alone an M2 Browning.
Is your EMP cannon too large to fit in your laptop bag? How would you like to project enough electromagnetic pulse to knock out the entire alarm apparatus of a minimum-security penitentiary…with your very own stylish rodeo belt buckle?
They're a classic pair of black dress trousers—or are they? They are—in flat-front, pleated, cuffed, or uncuffed—until you need your own marsupial shopping "pouch." Tired of trekking around the mall? Unzip the hidden side panels and release the all-terrain wheels of your streamlined solar-electric mobility scooter!
Line too long at the meat-replacement charcuterie? Nobody will know your bespoke shopping cart also features its own microwave-powered' Insta-Ash urinal feature.
Is that your stylish tam o' shanter? It is. But guess what else it is. It's a 10-gallon beaver-fur cowboy hat.
But guess what else it is. Answer: It's implanted into your actual scalp.
Our nano-merino fibers are capable of any 3D formation that can be imagined in hair. Go for shoulder-length blonde. A brunette moptop. Green dreadlocks. Marie Antoinette-style pink Super Dreadnought? As fast as your Will to Futuristic Style can imagineer it!
But don't stop there: Pull your bangs over your knees to form an all-weather' emergency-standard rain poncho capable of withstanding winds of up to 129kph—or comb the sides all the way out to form an all-season yurt. (Who knows—with a top hat this magical' you might still be Occupying Wall Street.)
But the fun doesn't stop there. Thrill to explore the wild new frontier of medical couture. Why wait for a lung transplant when your ravishing new blouse in silky' stem cell-fortified Panaxia® rayon can grow a whole new set for you?
You've seen medical science grow a human ear on the back of a mouse. Now astound your friends with a classic Mouseketeer cap that can actually replace the human spine.
The possibilities are only as limited as your health…or your capacity for fashion wonder!
NOTE: Fashion Armageddon: Utility Kilt plugin requires a Level 3 TS security clearance and/or diplomatic immunity.
THE HISTORICAL CHER
Open the enormous wooden door of your Malibu mansion' head straight past the gargoyles and the wrought-iron Catherine wheel' take a right at the Academy Award sarcophagus…and you'll be right in the closet that launched a million gay men out of their own.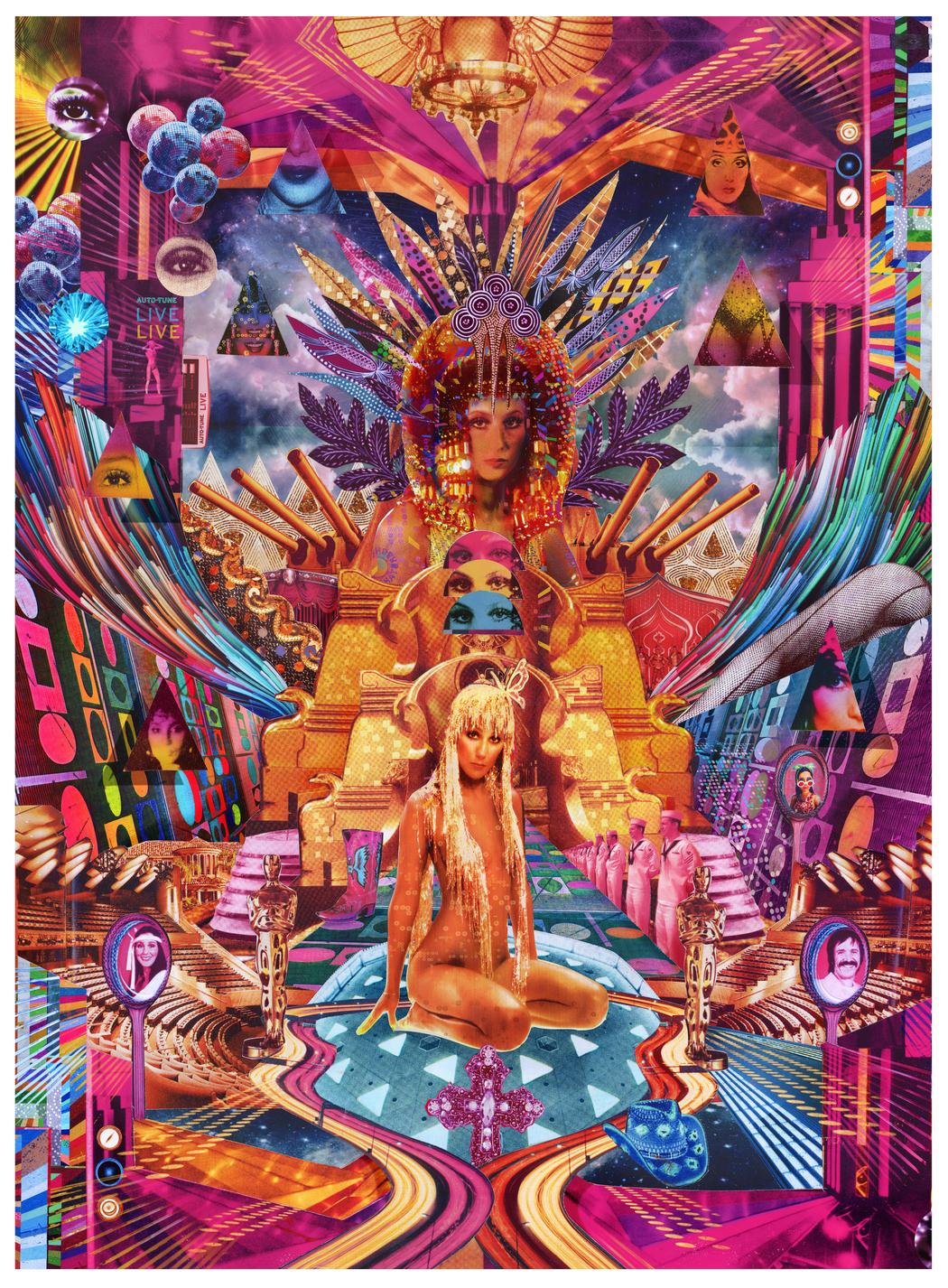 At the spangled gel tips of your very own Cher fingers' a wardrobe spanning the life of a timeless icon whose mononym and navel have been household words since 1971.
Which Cher are you today?
Run off to Tijuana as a headbanded 18-year-old "Half-Breed" and marry that rascal Sonny Bono. Then cause an overnight sensation by insisting you wear matching bobcat-fur vests! (Why not? PETA wasn't even a falafel bread back then.)
Relive the best outfits of 1971' your hit season with the Sonny & Cher Comedy Hour. Embody that enviable ease' rocking famously skimpy looks such as "Angry Pocahontas'" a hippie kaleidoscope of blouson-sleeve-and-bare-midriff ensembles that made a weary nation forget Nixon. Off-the-shoulder asymmetrical white fringe and bugle beads? Check. Spangled Ice Capades unitards and thigh-length wigs? Check please! Gypsy' tramp' or thief? None of the above or all three at the same time? You're the Cher who decides how to Cher it best.
Feeling that spiritual urge to wear a pagan headdress? The only question you ever need ask Cherself is: "How large?" Go ahead! It's 1983' and LA psychics have confirmed your fear that Egyptian deities have cursed your Beverly Hills mansion. It's just jealousy' babe. This time don't evacuate your home. Go toe-to-toe with Hathor the Love Goddess by making your golden head gong even larger than hers.
Career beginning to plummet? You can fast-forward right over Cher's dark times! Forget that misbegotten marriage to Gregg Allman' and the kids that came with it! Your Cher never even needs to meet KISS vocalist Gene Simmons.
It's the 1980s! Reinvent yourself as a serious actor and scandalize the Academy of Motion Picture Arts and Sciences by arriving at the Oscars in that brazen Bob Mackie creation that looks like an Erté birdbath mated with a Mexican ferris wheel.
Set the Cher-Back machine to 1986, when the ripped-denim-and-real-diamond-clad 40-year-old superstar got all of her groove back (and a few other grooves besides)' meeting and seducing dreamy 22-year-old Rob "Bagel Boy" Camilletti. (And take him with a schmear!)
Relive the thrill of getting banned by MTV! Slide on that buttock-baring transparent body stocking and receive stern finger wags from the entire US Navy for performing illicit acts on the foredeck of the USS Missouri in the explicit "If I Could Turn Back Time" video.
As Cher' you get to break all fashion rules. You can wear a cowboy hat anywhere and with anything. You can suddenly go blonde and have gothic crosses emblazoned on your mom jeans. Go ahead and get a blizzard of new tattoos and radical plastic surgery—then take them right back off again!
Hey Cher' it's 1998! Do you "Bee-lieve" in Auto-Tune? Cher and Chers alike will agree: you will once you've recorded number-one pop hits in four consecutive decades and you've worn the silver tinsel wig that a comeback requires.
NOTE: Richie Sambora fight module and unisex children sold separately.
BATTLE FOR THE RIALTO BRIDGE: GONDOLIERS VS. SOMALI PIRATES
From the same engineers who brought you such fashion battle blockbusters as Men of the Loincloth II: Tarzan vs. Zardoz; Duran Duran vs. Roberto Duran; Paramus, New Jersey: The Rise of Drakkar Noir; and DEVO vs. Il Divo comes a massively multiplayer online role-playing reality (MMORPR) that finally answers the most burning nautical fashion-combat question of the 21st century.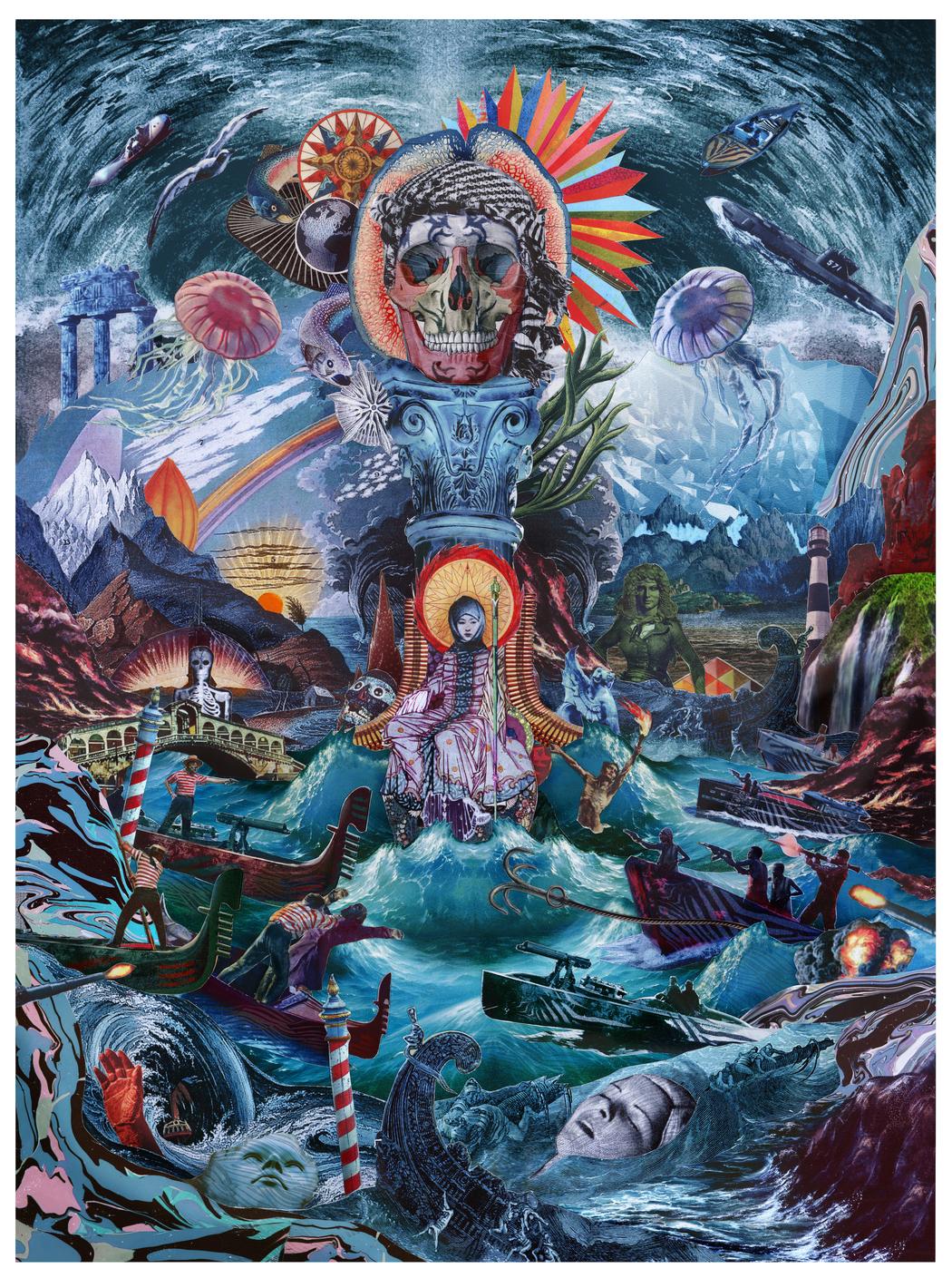 Two groups of men have long been recognized as the world's toughest and most fashionable boatmen—but who will win the battle in Venice's Grand Canal when everyone is armed not just with the classic gondolier's rèmo but with RPG-7 rocket launchers' PKM machine guns' AK-47s' and grappling hooks?
You decide how best to dress for small-craft' short-range warfare. Will you choose a taqiyah cap, stolen surf shorts' and faded cargo vest' or a colorful macawis sarong' or the plaid-and-camouflage-clash-with-a-keffiyeh look that has been simultaneously terrorizing the Gulf of Aden and inspiring fashionistas worldwide since the 1986 Somali Rebellion?
Perhaps you'd prefer the perennially dapper Al Duca d'Aosta-sponsored gondolier uniform with its long black pants' ribboned straw hat' and striped shirts officially sanctioned by the Gondolier Association of Venice' complete with a logo of St. Mark as a winged lion? Throw a bandolier and a machete on top' and you'll really be ready to cry out in the voice of Monteverdi's Orfeo and chase marauding pirates all the way to the underworld.
Thrill to mano-a-mano death matches in the open waters between San Marco and San Polo as the gondoliers and pirates try to board, capsize, and keel-haul each other, terrorizing tourists, Venetians, and Biennale attendees alike!
NOTE: Crudely sung soundtrack by Puccini available on iTunes. Filibus the Lesbian Sky Pirate plugin sold separately.
VIRTUALLY VACATION THROUGH CENTURIES OF VATICAN CITY… AS THE CREATOR'S DIVINE EMISSARY
Are you tired of letting Benedict XVI get all the fashion raves? Forget the clothing reforms of Pope Paul VI. Your wardrobe decisions just became the infallible Word of God.
Why don a simple cope when you can wear the whole damn mantum?
Jazz up or tame down all the classic papal vestments to suit your own divine mandate. Don't feel like wearing that uncomfortable old subcinctorum today? Scrap it! Wear a pallium over your chasuble or thrill the devoted at morning Mass by sporting your very own omophorion. Go with the ermine fur on that scarlet mozzetta. Who's got the worldly authority to stop you?
The Ring of the Fisherman not bringing enough bling? Go full Liberace! You're the POPE, for Christ's sake. Who's to say you can't have a chinchilla zucchetto? A skullcap doesn't have to be a dull cap.
Team it all with a gold-and-silver-striped fanon shawl' have the Swiss Guard stick that triregnum triple tiara on your holy head' and Joan Collins herself would rise from the grave to convert to Roman Catholicism.
But why stop there? Take a page from Leo X: Since God has given you the papacy' you may as well enjoy it! Don't be afraid to indulge in a little Italian dolce vita…. Go full Father Guido Sarducci and wear a wide-brimmed cappello romano for those wild nights in Calabria contemplating and adoring until dawn.
Pull up to your favorite nightclub in your very own sedia gestatoria' the armchair carried by 12 dazzling red-coated palafrenieri. Have them carry the long train of your falda to the VIP area and watch the feathers fly as they fan you all night with your holy ostrich flabella.
If your Facebook enemies don't stick that on their ferulas and bow down to them' just wait until they catch a glimpse of your papal resort-wear when you visit your summer retreat at Castel Gandolfo!
Put on your custom red shoes and dance with angels on the head of a pin' Il Papa. You've earned it!
Explicit warning: Pope John XII: Grand Theft Pornocracy not recommended for players 17 and younger.
MODERN DICTATOR STYLE: A SARTORIAL FUGUE STATE FOR THE ALPHA TYRANT IN YOU
When absolute power corrupts absolutely' a dictator's first casualty is usually their wardrobe. Bond villain-style white Nehru jackets are only the beginning of your unbridled reign of fashion terror!
At first you'll try to control your Will to Power like a benevolent dictator—maybe just collect a few Kim Jong-il cum MC Hammer-style Louis Vuitton shades to go with your monochromatic apparatchik jumpsuits. Maybe sport a Mobutu Sese Seko leopardskin pillbox hat and gold-tipped beating stick for special occasions.
You'll soon find yourself itching to spend quality time lording over the enigmatic wardrobe of the soi-disant "King of Kings" of Africa' Libyan dictator Muammar Gaddafi' and indulge in the damask and brocade body wrappings and voluminous Technicolor print robes that made Patti LaBelle look like a standard-king room at an airport Radisson.
Give this vacation another couple of hours and you'll be planning your own Napoleonic coronation replete with the classic crown' ermine and furs look that made Jean-Bédel Bokassa the bad boy of geopolitical fashion icons.
In no time at all you'll find yourself flipping your outrageously tall wig into all-out Sun King Xanadu. Remember' you're dressing to be the man (or woman) who can outshine a chandelier the size of an interstate tour bus. The only limit to your wardrobe is your own capacity for cruelty.
When you finally succumb to your basest urges and relax into a wholly tyrannical' dissidents-on-their-knees kleptocracy (and you will!)' your legacy in fashion history really begins. Until your fellow countrymen or the CIA kill you' there is no such thing as too much gold braid' too many TV tray-sized plates of military ribbons' medals' orders' and state decorations. But why stop there? You can gold-plate everything in your purview' from eagles' laurel wreaths' and toilet seats to female virgin bodyguards.
Imelda who? Collect all the shoes. And when we say "all the shoes'" we mean all the shoes.
Idi Amin didn't stop at a flair for kilts. Pair one with a brassiere made of your enemies' scalps and you're beginning to get a sense for the wide-open fashion spaces this vacation holds in store for you.
Imagine what General Buck Naked would wear to his tribunal in the Hague if he'd found the stash of Nazi gold. Put a golden sock on it and festoon it with €22m worth of Harry Winston cluster necklaces.
Only you can show the French how far style can go once you really put other people's backs into it. L'état' c'est vous' babe. Your id will worship you for it—and so will your poor' poor subjects. God Save You!
NOTE: Gaius Caligula's Transvestite Sun Goddess Gazebo not compatible with genital modules 4.2 and under.