Before Basquiat Was An Art Star, He Had a Starring Role in this Iconic Film
GARAGE interviews Edo Bertoglio, the director of the seminal New York film "Downtown 81."
Courtesy Metrograph
Downtown 81 is a cult classic film—now digitally restored and re-released by Metrograph Pictures on October 25—which follows Jean-Michel Basquiat as he plays "Jean," an artist roaming the Lower East Side, searching for meaning... as well as rent money.

The film is the quintessential art film of the 1980s; a sort of financial fairy tale where the titular character, Jean, floats through nightclubs, meets a graffiti artist played by Fab Five Freddy, and is granted a wish from a fairy godmother played by Debbie Harry. You couldn't make something like this today even if you really tried.
Originally titled New York Beat Movie, filming first began in 1980, when the writer Glenn O'Brien, who then had a music column in Interview, and the fashion designer Maripol and director Edo Bertoglio were commissioned from Rizzoli to make a film about no wave music in the Lower East Side. Because of this, at times the film feels like an extended music video—with lengthy performances by James Chance, DNA, and Kid Creole live at venues like the Mudd Club and CBGBs, alongside witty banter street scenes, and pensive moments as Jean walks through the barren streets of Manhattan.
Funding for the film was soon pulled and film footage lay unedited for almost 20 years, until O'Brien was able to acquire the rights in 1999. It was then released as Downtown 81 at the Cannes Film Festival in 2000. Now Metrograph is showing the film in a new 35mm print, which strangely timely considering Basquiat, who died in 1988, will soon have his life made into a Broadway musical (you read that right). In a rare interview, Bertoglio spoke to GARAGE over a WhatsApp call from Lugano, Switzerland, about how Basquiat never really read the script, and why they had to run away from the cops.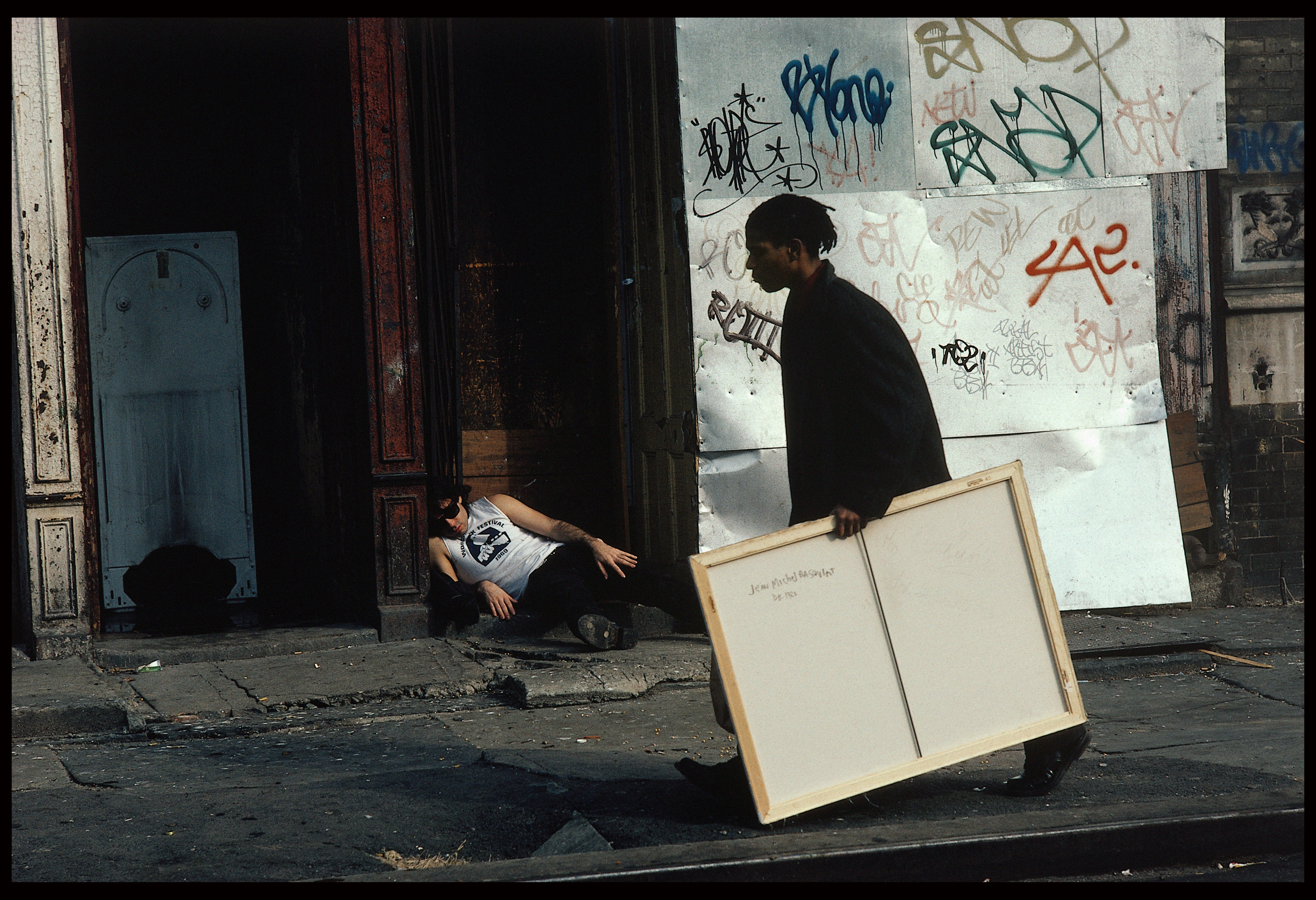 How happy are you that this film is returning to theatres after 20 years?
I'm very happy that it has become a cult movie. Every time there's a big Basquiat exhibition, they show the movie. This time, it's well organized and it's going to screen in the right movie houses across America.
Why did you cast Basquiat in the lead role?
We weren't thinking about Basquiat becoming a big star, he was just a kid. We knew him from the Mudd Club. I was living at Broadway and Bleeker and would walk out on the street and see his graffiti on the walls, [and] also in the Lower East Side; then, I'd see him at the clubs. We wanted the film to show a slice of the downtown scene. What tied it together was the music, that's why there's so much music in the film. That was the idea. Then, we picked the main actor, record store owner Danny Rosen. But for some reason, we didn't think he would be into it. Glenn had the idea, why don't we ask Jean-Michel? and he was more than happy to play the role. Basquiat was there every day and minute of the film's shooting. It was December and January and it was tough weather. He was there.
What do you remember about working with Basquiat, who was only 19 years old at the time?He was just a kid who came to Manhattan, he didn't know where to live. Girls liked him very much, he had a new girlfriend every week or two. He didn't have troubles, he was really nice but he didn't talk much, I remember. He was working all the time, drawing.
He paints, draws and spray-paints in the film, why?
What's funny is that the canvas that we bought for him to paint on in the film was the very first time he painted anything on canvas. He did outside walls or drawings. He came over to my place before we started shooting the movie and he painted on my fridge. Anything that was white, he would paint or write something. He was constantly working.
There's a lot of scenes in the film where he's painting phrases on walls across the city, what was it like shooting that?
Well, the city had its 'zero tolerance' policy for graffiti, so we had to do it quickly. It was just me, Basquiat and the camera man. He'd write on the wall with a black spray can and we'd jump in the car and zip away. We didn't want to have any problems with the police. But really, he was just doing his thing. We didn't really ask him to do anything. Except one thing—he probably never read the script, so we had to have Glenn coach him the first few days, he was not very strong on dialogue. He didn't speak much. But what's funny, when you look at the movie, it's exactly him. There's not a word that somebody put in his mouth.
Hold on—he didn't read the script?
He didn't really memorize the dialogue. Many times, we had to shoot a scene and Glenn had to say 'we're shooting this scene, you have to say…' which was close to the dialogue, which he was supposed to memorize, but it didn't happen! It was fine because he never really spoke that much. It's so his personality.
A lot of Basquiat's graffiti was warnings of capitalism taking over New York, does it feel prophetic looking back?
I arrived in New York in October 1976 when the whole city was ruined. The Lower East Side had a lot of artists because rent was cheap and there was a community of photographers, writers, poets and we gathered in clubs to listen to music. You felt there was something happening. From 1977 to 1982 was a magnificent time. Then, with drugs, AIDS and everything else, things changed.
It was just me, Basquiat and the camera man. He'd write on the wall with a black spray can and we'd jump in the car and zip away. We didn't want to have any problems with the police.
You once said music is what held the downtown scene together – is that why there is so much music in this film?
Absolutely, we wanted to show what was happening in the downtown scene, all these artists who lived in little apartments, we'd see each other every night, [and we'd say], tomorrow I'm shooting a Super 8 movie, you can do sound, I'll do directing. Everyone was there doing underground movies, a lot of work came out of those years.
It was a feature film you made, which was a bigger project?
Yes, we had a budget of $250,000 to make the film. The only professionals on-set were the crew. These young guys were paid more than any of us—more than what myself, Maripol, Glenn and Basquiat ever got. Besides that, everyone in the movie was our friends! Nobody was a professional. That was the spirit of the moment.
Was a lot of it scripted or spontaneous?
Glenn wrote the script and he was precise. But sometimes, things would just be difficult, people were not ready to do a scene or whatever. It's miraculous to watch, it's tender to watch. There's a lot of tenderness. I laugh a lot because if only people knew what was behind certain scenes, the mess. But it came out.
Can you give us an example of a few scenes and what was going on behind the scenes?
The live concert of James Chance (then, James White and the Blacks) was very difficult because we were shooting with two cameras and there was a live audience who were all doing drugs, we had to repeat the same song five times in a row and people were getting bored. That day, Andy Warhol came and there's a photo of him at the concert. That's an example. It was always hard to organize scenes with a lot of people.
Why is the artistic struggle at the heart of the film?
That's the theme of it because we were all struggling. The movie gives it back to you. The spirit of Manhattan in the 1980s, which almost went bankrupt a decade before, is in the film. All the lofts were cheap, many industries left the city because they couldn't get any business, so the people who came to New York from all over the country or from Europe, found a place to stay and expressed themselves. It was special among artists. What I want to underline is there was a very creative community, it didn't last long, five years maybe.
Do you remember seeing the shift?
The wolfs of Wall Street started coming to the bars in 1982 to buy art. These artists started to make money, and it was a sort of the death of innocence. I saw it myself and to the people around me. It was a magic moment that didn't last.