Goodbye to All That: The Sad, Bizarre Auction of Heathrow's Terminal 1
Shortly after the auction began, the crowd cheered for a man who bought a $7,000 clock.
If you take the Piccadilly line west out of London, you eventually come to the terminus at Heathrow Airport. The various signs and displays are at odds; some refer to a stop called "Terminals 1, 2 & 3," and some just "Terminals 2 & 3." From the Tube, you see Terminal 1's afterlife: the structure itself will stand for a few more months, but since 2015 it's been an inaccessible hulk. Last weekend, the ghosts were removed from the shell: the entire contents of the terminal—desks, signs, decorations—put up for auction at the nearby Thistle Hotel.
Auctions feed on the hysteria of crowds; their atmosphere is a strange, pressurized thing. Within minutes of this one beginning, people cheered as a man paid nearly £5,000 ($6,979) for a clock. The suited auctioneers patrolled the room throughout, each mixing bonhomie and a bouncer's menace. Over 3,500 people were registered to bid online, so most participants were invisible, but there were over 100 people in the room itself: paunchy fifty-something men in blandly-striped polo shirts; twenty-something girls in floral summer dresses and aviator shades.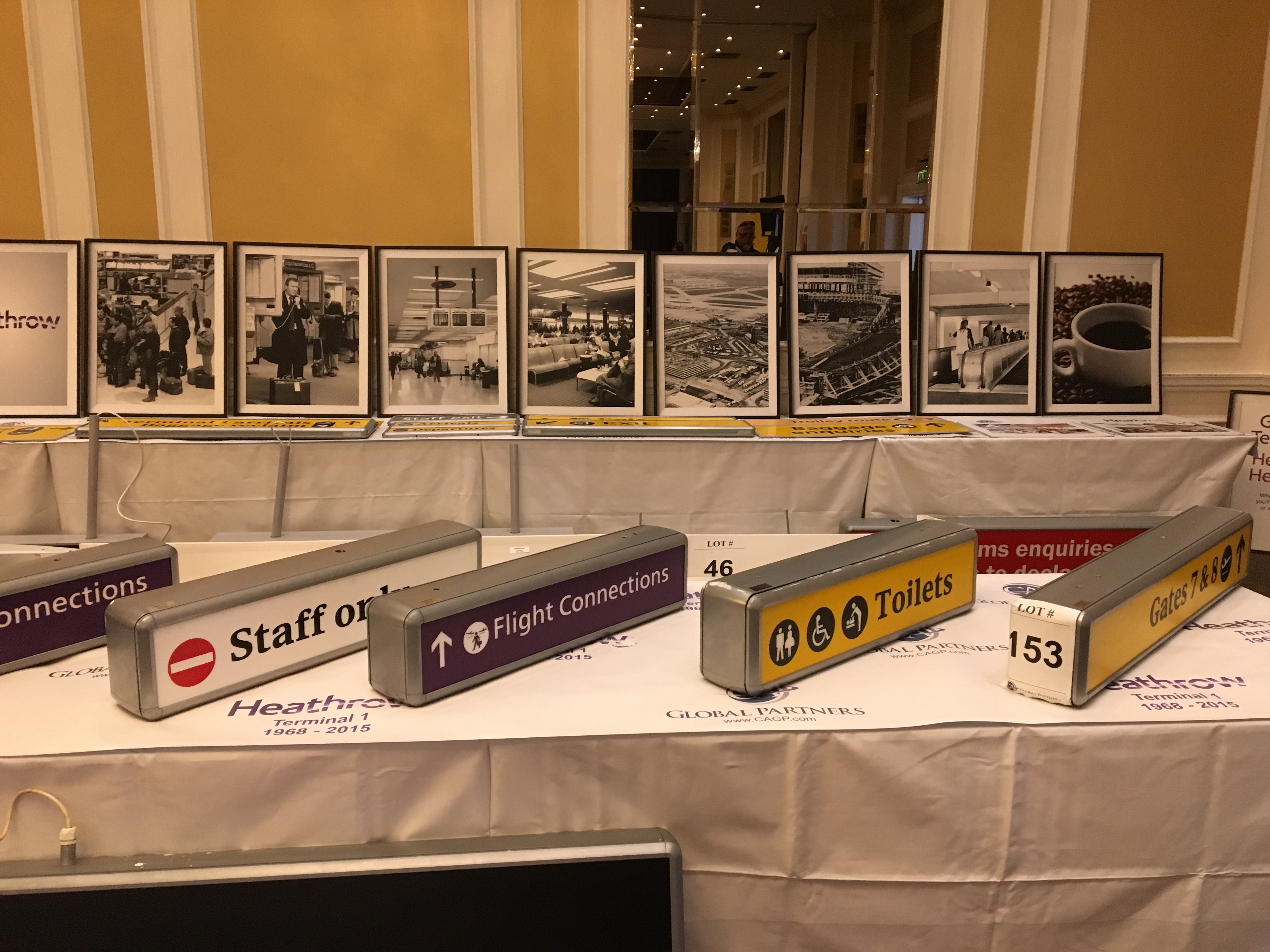 Airports are classic examples of Marc Augé's "non-places": spaces designed to be used, passed through, inhabited only on borrowed time. The air is filtered, the floor is polished to glass; all design is minimized and streamlined, as if it were overseen by Adolf Loos. Most of the auctioned pieces had exactly this neutralized look, but from time to time, history crept in, giving an object a nostalgic glow. The tells were subtle: you'd only know that the serif font used on some signs was outdated if you'd toured the rest of Heathrow; you'd only catch the occasional sign of obsolescence—a U.K. Border Agency logo (abolished in 2013), placards for check-in at US Airways (dissolved in 2015)—if you felt a personal connection to aviation.
The prize items were ten murals by Stefan Knapp. These were commissioned by Heathrow in 1959, and mounted proudly around the terminal's concourse. Each one comprises a number of steel panels, ten feet tall, fastened together and covered in fused enamel. With their colorful centers framed by a haze of grayish-white, they resemble aerial views of a city, but they're tricky to parse. The central yellow dots and streaks seem inconsistent in depth; now they sink under the clouds of blue and gold, now they creep across them. Those clouds appear to stretch out, the blues elongating like an Yves Klein curve, suggesting wind-shear despite the industrial weight of the steel.
What struck me throughout the auction—which lasted all day, somehow both grueling and electric—was the triviality of some of the items. A baggage trolley went for £250 ($349), a kitschy panel of Big Ben for £1,900 ($2,319), even a freestanding "VAT Refunds" sign fetched £325 ($434). Where would you take these leftover pieces, designed for a place that was never quite a place? If you varnished it, this wooden flute bench could sit in your garden; if you like The Hangover, that "men's toilet" sign could hang in your downstairs hall. But these are just trinkets, and the more cumbersome lots—the customs arches, the check-in desks—have nowhere to go. Even the Stefan Knapp murals would need to be hung on a concrete wall, the kind you don't find in a suburban home.

The Terminal 1 auction had the dusty radiance I expected, but some of its items seemed all too alive, not ready to settle down. I prefer that idea: that these melancholy objects would never grow new roots, that—like Knapp's restless murals—they would always abstract themselves from circumstance. There's nowhere they can find aesthetic affinity, because there's only one spot where a "VAT Refunds" sign belongs, and it's halfway between one door and another. Make these items into ornaments, and they'll refuse to conform.