The LES Gallery Scene Has a Big Old Crush On Dallas
At this year's Dallas Art Fair, gallerists talked about the community, tequila, and how Texas collectors think differently.
Pioneer Park in Dallas.
Is there any odyssey more demanding than the international art fair circuit? Maybe New York's permanent winter, which could explain why this week, following its Iditarod of fairs last month, the city's gallery scene migrated en masse to Dallas, where it hits 84 degrees by lunchtime and everyone is wearing Gucci: I spotted three logo t-shirts, five pairs of sneakers, and two logo belt buckles, and that was just the morning preview.

The Dallas Art Fair is in its tenth year in a city that has willed itself, by civic programming and private wealth, into the global conversation. I heard the phrase "the country's largest contiguous arts district" approximately once an hour; Dallas mayor Mike Rawlings addressed a crowd of press and VIP collectors at the preview wearing a plastic button with the word "Arts" centered in a heart.
The fair this year hosts 93 galleries, larger than the luxury truffle box of Independent last month, far more manageable than the city-states of the Armory Show or Frieze. Of the 93 booths, there are representatives from Dubai, Mexico City, and Turin, but about a third are New York players, like Half Gallery and Paul Kasmin, which isn't exactly out of the ordinary. What is notable, though, is the sizable delegation of Lower East Side galleries, eleven in all. For many of them, like Lyles & King (Forsyth Street), Magenta Plains (Allen Street), Totah (Stanton Street), and Karma (East 2nd, but we'll allow it), it was their first time here.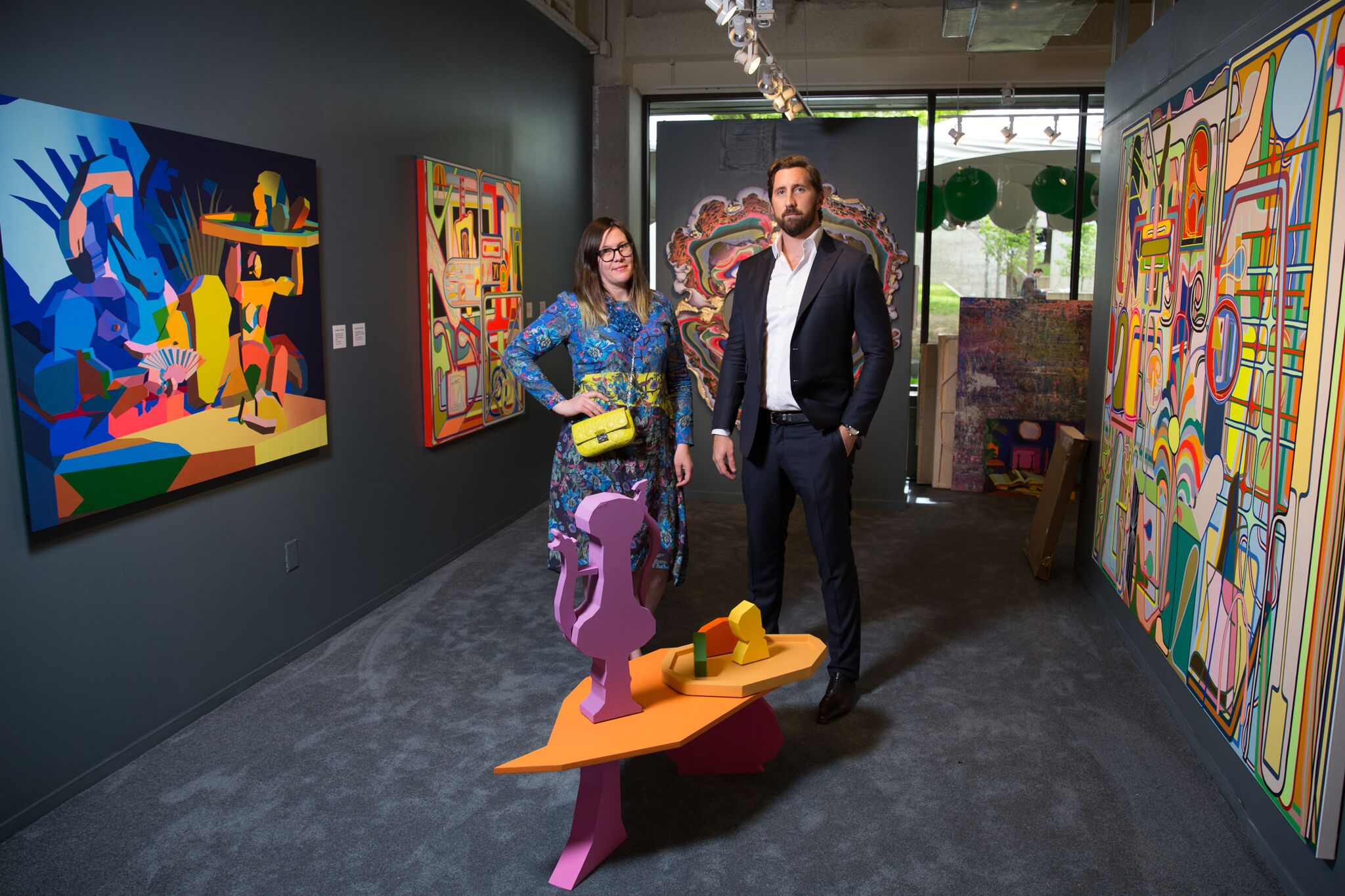 "I think we were encouraged by people we've met at other art fairs, other collectors who have traveled to other art fairs from Dallas," said Raymond Bulman, director of the Bowery gallery The Hole. They were showing trippy large-scale Eric Shaw abstractions and moody, fauvist interior still-lifes from Texas-born Jonathan Chapline, elements of which migrated onto the carpeted floor as sculptures. Moments earlier, one of Holton Rower's weighty tie-dyed plywood hangings had pulled down a display, but Bulman was enjoying the hospitality too much to stress: "We're recovering from our wall falling, but other than that, everything is chill. They're giving us champagne, which I like. A very civil thing is that they have a break for lunch on the preview day, which is insane. It's so mannered."
"The collectors are really wonderful hosts...They open up their homes and they feed you and they give you lots of tequila, so it always has felt really good down here."
Many gallerists were disarmed by the hospitality, which, for New Yorkers, can be startling. Rachel Uffner was also making a strong Dallas Art Fair debut—the Dallas Museum of Art plucked a Shara Hughes painting from her booth—and said that she felt a connection to the city after years of participating in that museum's Two x Two program, which benefits AIDS research foundation amfAR. "The collectors are really wonderful hosts," she said. "They open up their homes and they feed you and they give you lots of tequila, so it always has felt really good down here."
Nathalie Karg, who has Nathlie Provosty's discomfiting, modernist monochromes on display at her Grand Street space in New York through the weekend, observed that as Dallas' institutional infrastructure has become more robust, so too has the fair improved. She first came in 2013 and had skipped the last two years, but returned to Dallas this week with a few of Provosty's paintings as well as dark edge-to-edge oils from Nancy Haynes. "Dallas has amazingly important collections and really good museums, and the museums' collections are gifts from the patrons of the city, who are very, very generous…there are some substantial public collections funded by private people and good curators in general."
If these galleries could be considered a diplomatic mission from downtown New York, Phil Grauer would be its Secretary of State. Grauer, founder of the Broome Street gallery CANADA, has been doing Dallas since 2009. "I don't want to take responsibility for it, but we have been doing it for a long, long time," he said.

When they started, Grauer remembers a smaller affair—fun, but made up of regional galleries he didn't recognize, with some booths selling turquoise jewelry. "It's become a larger situation, and one that you can't avoid, and one that's actually participating in the culture of the city."
"I also think it's fun to come to a city in this part of the country, you know, not just Los Angeles or New York or Miami. It seems like an opportunity to communicate what it is these artists are saying," he continued. "I think here, there's less urgency to collect. In a place like New York, there's a history of collection. They know what the art market can do and how it can propel a piece of art or an artist along, and I think here they're a little more blasé. The money is in oil and gas and not in art, in their minds, so it's a secondary interest."
CANADA was showing small watercolors by Katherine Bernhardt, made for the fair, totemic studies for the symbols and elements she uses in her mural work; and a pair of stout kinetic sculptures by the programmer Luke Murphy that looked very Enter the Void. CANADA had given one of their walls over to Downtown for Democracy, the New York City-based political action committee currently raising money for progressive candidates running in the 2018 midterms. New pieces of protest art, like Mel Bochner's "Kick Against the Pricks" and Guy Richards Smit's "Wednesday, November 7, 2018," a hopeful watercolor of the front page of a future New York Times reporting "Disgraced, Humiliated and Faintly Smelling of Shit President Resigns," orbited the focal work, a Marilyn Minter plaque emblazoned with a selection from Donald Trump's vulgar "Access Hollywood" soliloquy.
"I kind of wanted to bring that to the middle of the country, a red state," Grauer said. "They're checking it out with their peripheral vision, but I think they're kind of scared to read it through."
Tagged: