How Does Fruit Become Fashion?
Instagram influencers like Eva Chen are turning the humble Sumo orange into the next avocado, with all the merch that implies.
Gucci photo via Browns.
A few months ago, I found myself holding up a Sumo orange to the light at Whole Foods, contemplating purchasing the oddly shaped piece of citrus fruit I had never really noticed until Eva Chen started posting about it on Instagram. I was one of several people the former EIC of Lucky Magazine and current Director of Fashion Partnerships at Instagram has recently influenced into purchasing the Japanese fruit. Later, while biting into the sweet and juicy goodness at home, I grew curious about the connection between influencers, fashion trends, and fruit.

According to Hannah Watkins, Senior Editor at trend forecaster WGSN, "Influencers are the new catwalks for us and social media stars are the new celebrity for the consumer." But how, exactly, do these trends start?
Watkins references the ways in which the avocado sensation in the last decade naturally moved into fashion: "We saw smiley faced avocados decorating everything from bedding to men's shirting. We even spotted avocado bikinis! The color itself, avocado green, also became a must-have tone for 2017," explains the editor who spends her days predicting trends across prints and graphics. Due to this, "conversational prints are often a reflection of changes in consumer attitudes towards food. It's often a mirror image of food fads or dietary shifts," she explains further.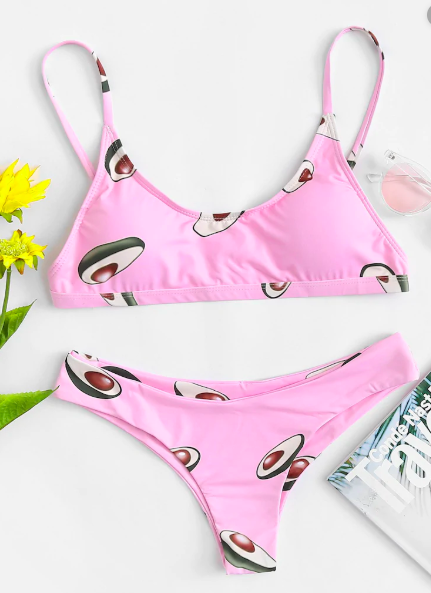 Sometimes an influencer or a hashtag will drive a popular fruit motif to become popular. Watkins offered the examples of Beyoncé's 2016 Lemonade merch, which included an embroidered lemon logo cap that drove an influx of citrus fruits in fashion, as well as the #watermelondress, a trend born on Instagram circa 2017.
In the last few years, fruit prints have popped up on the runways at brands like Prada, Gucci and also thanks to covetable products by emerging brands such as HVN and Susan Alexandra, who just launched a fruit-filled collaboration with Champion and Urban Outfitters this week. There's now a Instagram account dedicated solely to striking fruit arrangements —@FruitAssembly.
"In turbulent times, fashion has historically been a way to escape and inject a dose of light-heartedness and creativity. These frivolous conversational prints are the perfect antidote to today's political climate," Watkins asserts. Rachel Gentner, Pattern + Graphics Editor at Fashion Snoops, says, "Printed compositions reflect our needs through fashion as the food focused prints offer an organic connection to the simplistic values from the Earth and offer a natural aesthetic."
Suitably, Shanu Walpita, an independent trend forecaster who focuses on youth culture, believes, "There's a symbiosis between print and subcultures, lifestyles, eras, moments, places and memories." Due to this, certain prints are often associated with pastiche or nuance.
"In still-life paintings, fruits and vegetables were loaded with context and hidden symbolism. For example, art critics have argued that cherries and strawberries were considered the fruits of paradise, and thus represented the souls of men," Walpita argues. In this way, cherries have become a new age symbol of female sexuality, plastered on everything from underwear and bathing suits to flowy skirts and dresses. "On the whole fruits are generally associate with freshness, life, zest, but the connotations can take a sexier, subversive turn, too." For example, Walpita says the eggplant has become a metaphor for sex and hookup culture thanks to emojis and social media.
Gentner claims, "An emoji driven society has also played a huge role in emphasizing the carnal attraction as eggplants, peaches, and bananas are now coupled with a strong context of sexuality and tongue in cheek eroticism for a contemporary form of ripe flirtation." With this, she believes the same juicy objects that inspired Caravaggio to paint now act as a "modern muse" for a social generation that interacts via DMs and swiping.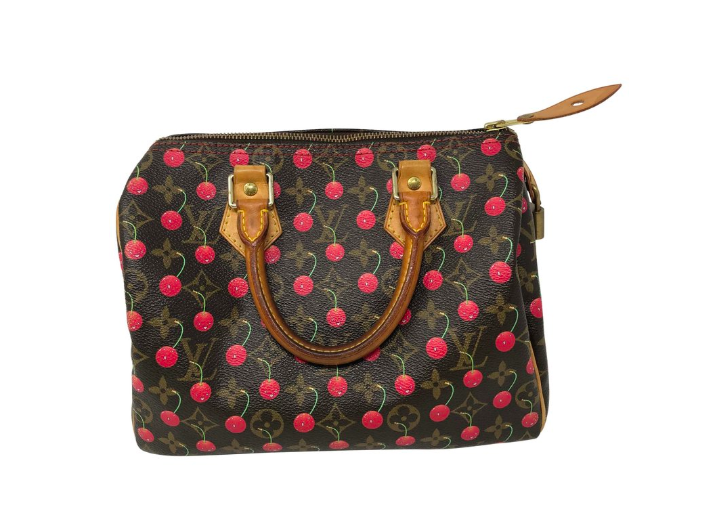 Plus, as the resale market continues to boom, '90s and noughties kitsch fruit prints could reflect the younger demographics' affinity for conscious consumption and authentic, pre-loved apparel. In this way, Watkins believe apps like Depop and Poshmark are bringing vintage pieces back into the limelight.As farm-to-table dining and vegan eating rises, these organic fruit prints thus appeal to shoppers who embody a health-conscious mindset.
So, could the Sumo orange be the next avocado? It seems totally possible, especially when someone influential like Eva Chen is sharing the lesser-known treat with her 1.1 million followers. It's only a matter of time before we start seeing sumo orange printed dresses, skirts, underwear, and more.
"Much like the rise of the irregular yet ethereal floral arrangements that have taken over our showrooms and Insta-feeds alike, the art of breaking rules and nixing the norms has infiltrated our fruit aesthetics as well," asserts Gentner. "We are drawn to the unexpected...the Sumo orange."