Matthew Mazur and Kim Petras. Courtesy of Megan Walschlager.
How Stylist Matthew Mazur Found a Muse in Pop Songstress Kim Petras
"We both kind of connected on our love of 'The Simple Life.'
Matthew Mazur and Kim Petras. Courtesy of Megan Walschlager.
28-year-old Matthew Mazur, or Mazurbate as he goes by professionally, has quietly helped guide pop star Kim Petras in her ascent to fashion "It" girl. Less than a year ago, during her first-ever NYFW, Mazurbate helped outfit the "Personal Hell" singer in sixteen—yes, sixteen—looks throughout the week, including front rows at Marc Jacobs, Anna Sui, and Jeremy Scott.
Born and raised in New York City, Mazur first started styling when he was working with VIPs for Jeremy Scott at Moschino. The nickname, he says, came from his best friend in high school when they were coming up with his Photobucket nickname.
He first met Petras virtually via text. "She had been following me for a while and I didn't notice until I heard 'Hillside Boys' played at The Rosemont and then my friend told me who it was and I said I have to DM her. Then got in touch with her via a mutual friend IMMEDIATELY!" he says.
"I love Matthew as a person and for his larger than life personality but also he just has a unique point of view," Petras says. "He doesn't necessarily care about chasing trends or the most hot designer of the moment. He's all about actual quality and aesthetic of looks more then about chasing the hype which I love . He's not afraid of taking risks and his goal is always pushing it rather then settling for what we've all seen a million times before."
Below, GARAGE catches up with Mazur about his work styling Petras.
GARAGE: HI Matthew. I just finished watching the second season of Big Little Lies so apologies if I seem like I'm coming to from a long nap. What was your first impression of Kim?
Mazur: Prodigy. Talent. Vision. The IT factor.
GARAGE: I know you met virtually first, then became friends IRL. But how did you two formally begin working together?
Mazur: I offered to style her for her performance in NYC for free as a test run to see how she liked it. Then she called me back.
GARAGE: Always helpful in situations like this. How would you describe Kim's aesthetic pre-Mazurbate to now—and in what ways has it grown and/or changed?
Mazur: Kim always had a passion for fashion and style, meeting me just helped her develop more of a dialogue in which I think she could just explore more. Maybe helping her get out of her comfort zone, but also vice versa. In that way I think I've helped her grow as she's helped me grow.
GARAGE: What are some of your and Kim's favorite brands?
Mazur: We both love Marc Jacobs, Alexandre Vauthier, Prada, Chanel, Versace.
GARAGE: Heard of them.
Mazur: I know, I know super like spoiled rich girls. But we both kind of connected on our love of The Simple Life.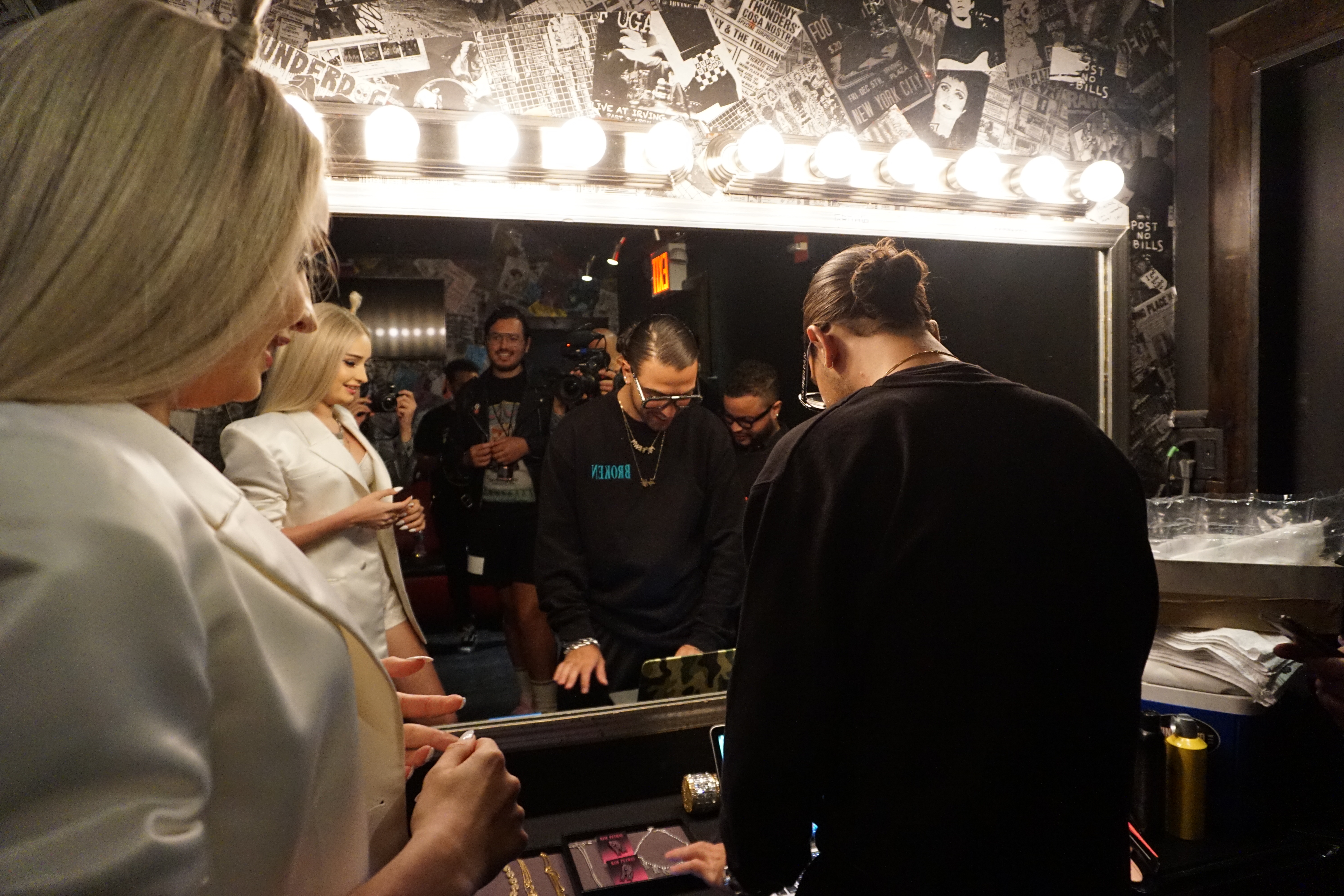 GARAGE: You've used a lot of the tried and trueds, like Moschino and Marc, but you've also been great about spotlighting lesser knowns like AREA, Bond Hardware and Prisavera just to name a few. How do you negotiate this balance?
Mazur: My life is about balance and style is about balance. Nothing is cooler than someone that can pair a $5 dollar stained T-shirt with a diamond Rolex. In fashion I think people get too caught up in brand names. True, I do love expensive things, but I always try to give them a twist. Kim also does this, which is where we really vibe. I also try not to repeat a lot of designers just to make Kim seem universal and as democratic as possible. You can't just support and emulate someone who wears one brand or one type of thing all the time.
GARAGE: What sort of stylistic conversations do you have in the entry into a new era, as Kim is in now?
Mazur: Kim tells me what she is thinking with key words. Sometimes these words get confusing as they mean different things to different people; We've had this issue in the past [laughs]. We usually just send images to each other and start to go off the sound of the new music and voilà.
GARAGE: Say Kim gets invited to a killer event, what conversations do you have in the lead-up to discuss what she'll wear?
Mazur: I say "Is there someone or something you've had you're eye on?" and sometimes she does and sometimes she doesn't. It's a dialogue, and a collaborative effort. In the case she doesn't, I start coming up with ideas that I think would be suitable for the event. For example, I had this one idea for her Pride look coming up that she loved, which is super not the typical kind of Pride look but when you dissect it, it kind of really is. That look is going to be one of my favorites I can already tell.
GARAGE: How conscious are you of an overarching through-line or storyline throughout her looks?
Mazur: What I want to accomplish with Kim is for people to look back and see what era went with which sound, along with when you think of Kim Petras what do you think of? We really started this "Little Bitchy Purse" and the #Bunheads will bring her little purses as gifts or wear them to her shows as sort of a Kim Petras cosplay.
GARAGE: I got one last one. How has working with Kim broadened your understanding of your role as a stylist?
Mazur: It has just made me understand that I never want to stop learning and making mistakes even though there are situations that may be difficult.