Grace Farms River Building. Image courtesy of Iwan Baan.
Visiting Grace Farms in New Canaan, Where Pleasure and Purpose Converge
Exploring a sequence of transparent pavilions set in an idyllic landscape.
Grace Farms River Building. Image courtesy of Iwan Baan.
A few miles from Philip Johnson's Glass House in New Canaan, Connecticut, on the 80 acres of Grace Farms, is an equally transparent and immaterial structure. Aptly nicknamed the River Building, it comprises a canopy of Douglas fir beams supported on slender steel poles, which descends a gentle slope in a series of switchbacks. It widens at five points to embrace rounded glass enclosures that seem as insubstantial as soap bubbles. The raised wooden walkway is 1,400 feet long, but it is tucked into a space half that length. From above, the gently bowed roof of anodized aluminum panels picks up the light as though it were a watercourse, and constantly shifting perspectives give it a sense of motion. The nonprofit Grace Farms Foundation commissioned this linear complex from SANAA, a Japanese architectural partnership, which also remodeled a cluster of barns to serve as a welcome center and meeting rooms.
Grace Farms opened to the public three years ago. It began with a community effort to save this last undeveloped plot of countryside in Fairfield County from becoming yet another cluster of ostentatious mansions. For nearly two centuries, New Canaan was a quiet country town centered on white, high-steepled churches, and that image lingers on. Forests were cleared for farming; watermills provided power. In the late 1940s, Marcel Breuer, Philip Johnson, and other protegés of Walter Gropius at the Harvard Graduate School of Design settled here on their way to New York. The houses they built attracted fellow spirits, and New Canaan became an unlikely hub of modernism.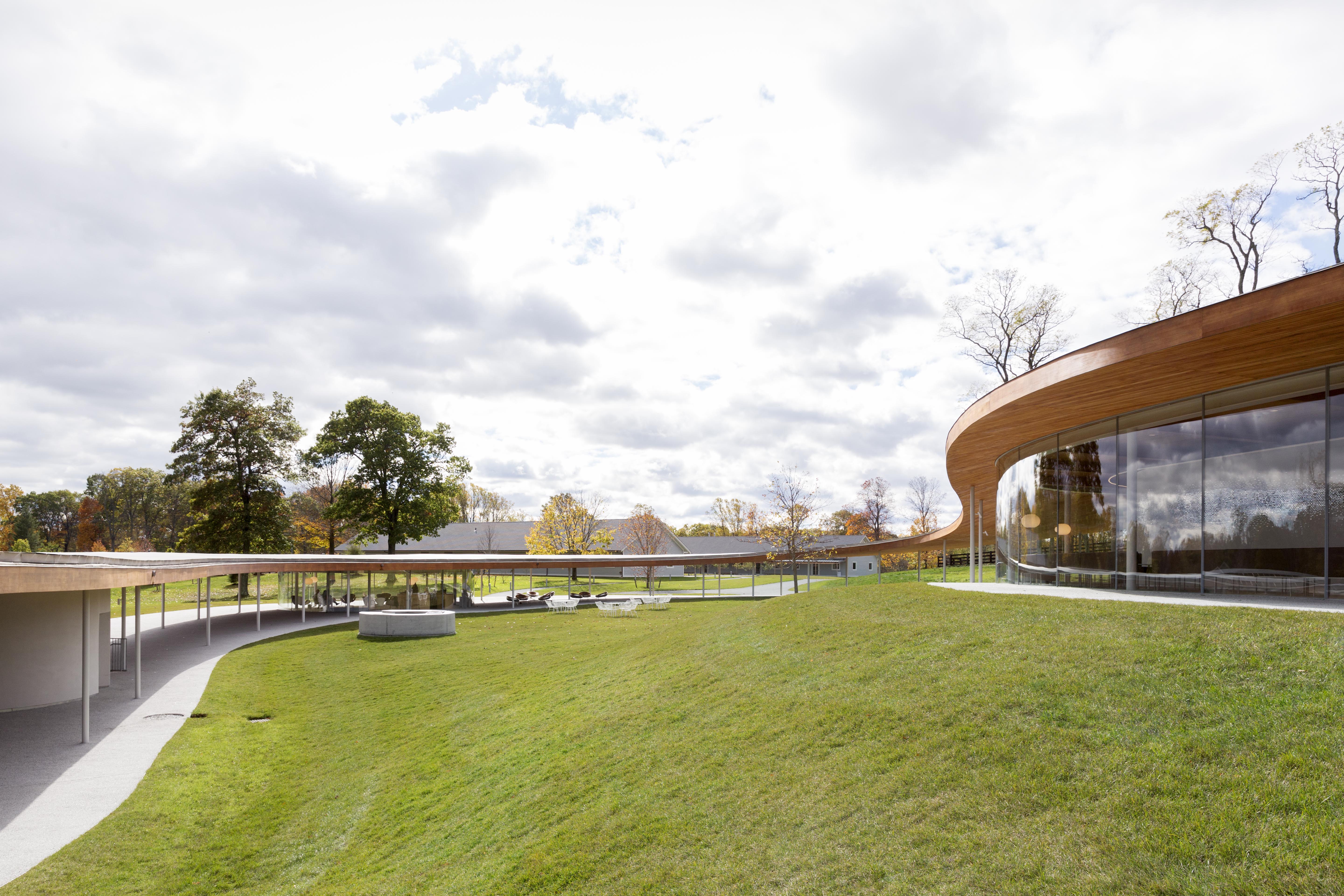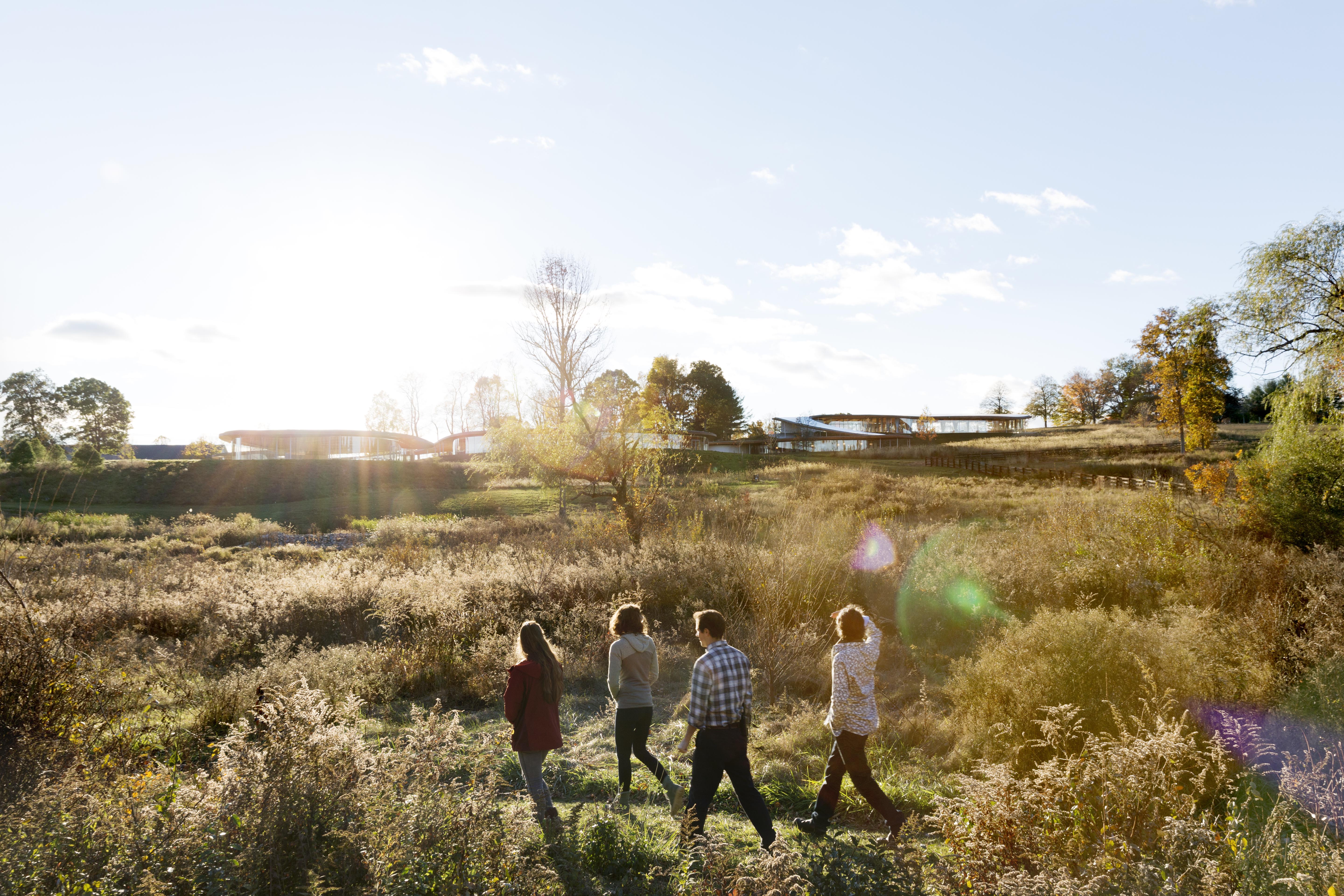 To create a structure that would express its concerns for nature, community, social justice, faith, and the arts, the Grace Farms Foundation considered 25 architects, narrowing their choice to four finalists. When the partnership of Kazuyo Sejima and Ryue Nishizawa showed their first model of the River Building, the selection committee knew they had found the right scheme. In May 2010, SANAA was awarded the prestigious Pritzker Architecture Prize. In its citation, the jury praised the architects for their "vision of a building as a seamless whole, where the physical presence retreats and forms a sensuous background for people, objects, activities, and landscapes." Those qualities are eloquently expressed in Grace Farms, as they were in the glass rotundas of the firm's museums in Kanazawa, Japan and Toledo, Ohio.
"We collaborated closely with SANAA from the start," recalls Grace Farms president Sharon Prince. "Our 35-page program and the site gave them a lot of freedom, and the original design was tweaked right up until the ground-breaking in 2013." She praises the porosity of the structure and the absence of a single front door—features that allow visitors to explore the entire property however they choose. But the layout is subtly choreographed to enhance their enjoyment.
A long driveway leads to a parking lot that is concealed behind a ridge, and paths lead up to the River Building. At the top is the Sanctuary; with its 700 raked seats, it hosts a Sunday service and secular discussions and performances for the rest of the week. From this high point one can see the entire ribbon of the roof; from below it feels tightly coiled and stacked, one level above the other. Following the Sanctuary is the Library, then the Commons, where visitors can eat and hang out. The Pavillion serves tea, and the sequence concludes with the Court, a sunken basketball court that doubles as a meeting hall and performance space. The enclosures frame views, and each step along the way brings fresh vistas of trees, ponds, wetland. Walking trails encourage visitors to engage more closely with nature.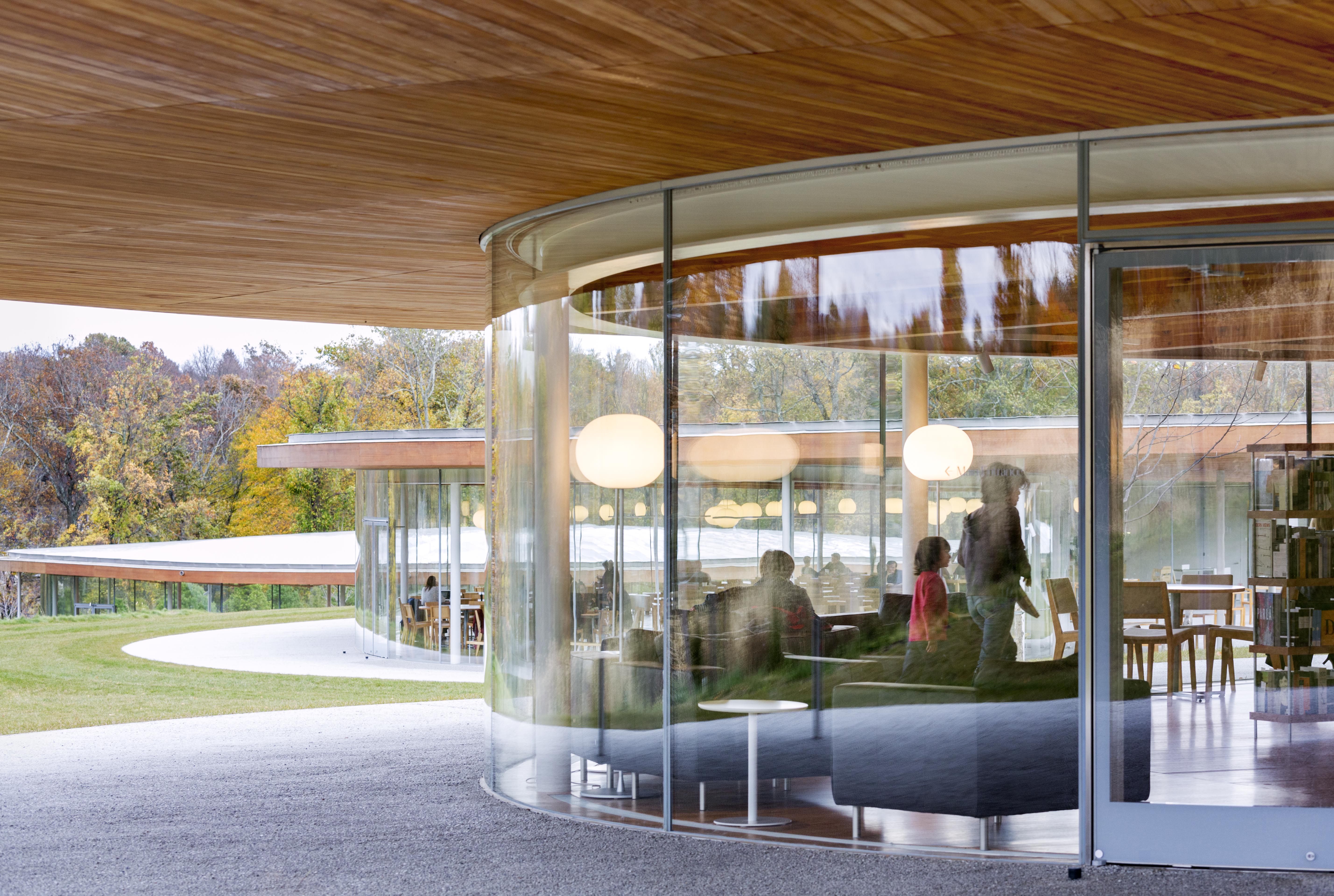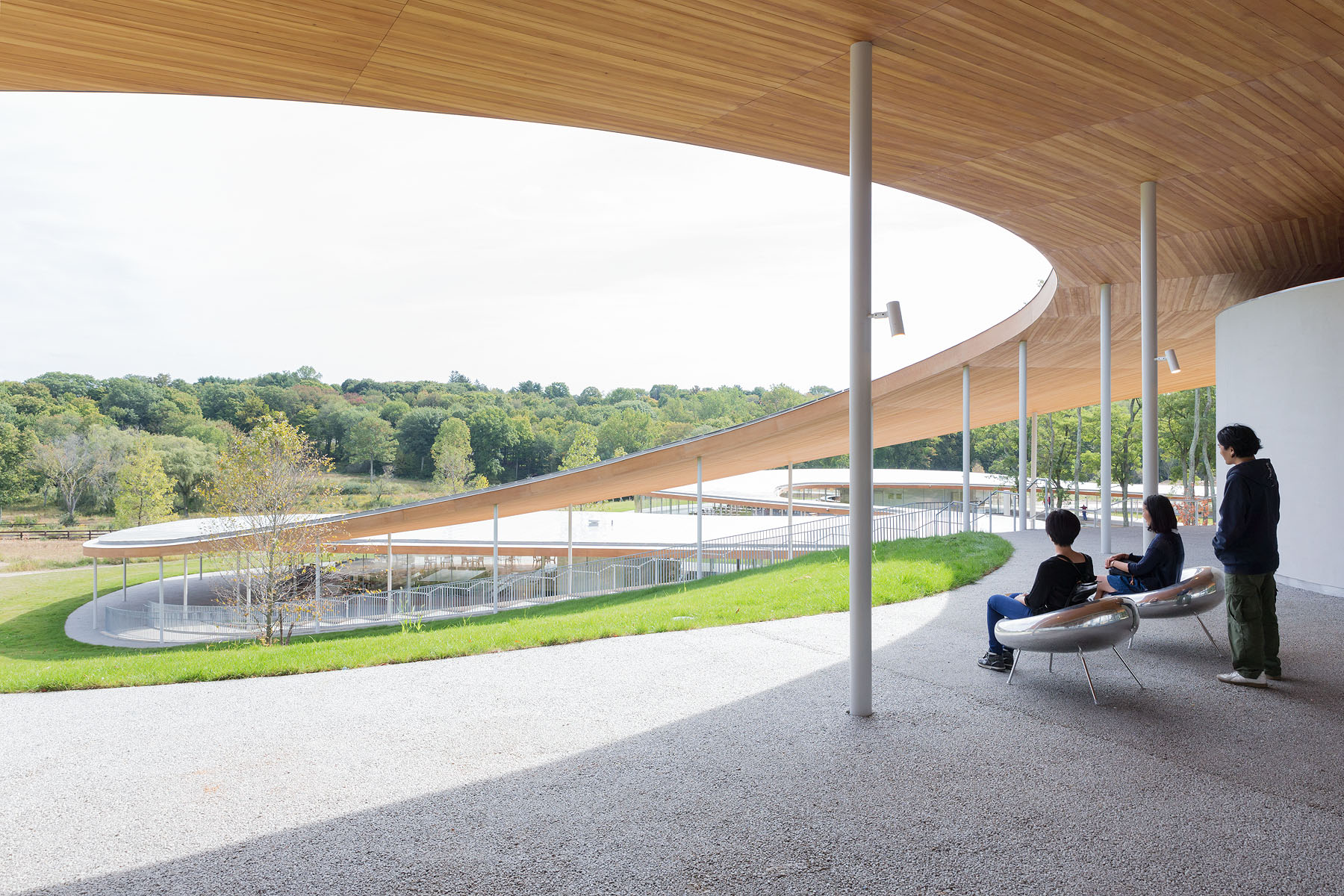 The River Building displays the delicacy and precision that characterize SANAA's best work. As in the floating canopy of the Naoshima ferry station and the Serpentine Pavilion in London that preceded this commission, the architects have pared the concept of shelter down to its bare essentials while infusing it with poetry. It's designed to operate yearround, through hot summers and frigid winters, and 55 geothermal wells help it achieve a high level of sustainability. But the mechanical services are as well-concealed as the gutters that drain the roof, and the LED lighting is almost as unobtrusive. Furniture and cabinetry were crafted from the varied trees that were felled, sawn, and kiln-dried on site, adding warmth and color to the fir ceilings.
Grace Farms draws on the idealism that inspired early settlers to create a just and equitable society. "We don't hit people over the head with programming," says Prince. "They can absorb it at their own pace. We have about 135,000 visitors a year and grant space to 100 other nonprofits. Our efforts to combat human trafficking and slavery are bringing people together and having a global impact." The transparency of SANAA's architecture speaks to the Foundation's goals. It's an inspiring place to be, not least for the fusion of New England culture and Japanese aesthetics.
Grace Farms is located at 365 Lukes Wood Road, New Canaan, CT, and is open Tuesday-Sunday. Telephone: 203 920 1702; info@gracefarms.org.
Tagged: