Why is This Danny Devito Crop Top Haunting Me On Instagram?
The latest installment in the saga of "it started on TikTok and now it's in all of our lives."
Photo via Dollskill
Digital advertising works in funny ways. While our feeds can vary widely, the targeted ads we see are informed by, among other things, asinine stock phrases cobbled together from our myriad demographic factors and clicking habits. They yield results that appear gapingly broad yet minutely whittled-down, as advertisers cast their nets widely in hopes we'll buy something, anything.
Sometimes, those buzzwords whip up a gnarly cocktail, spitting out ads for truly wild products that may or may not make sense for our lifestyles. Sometimes, that means the algorithm pushes us daily ads for a crop top that simply says, "Danny Devito."
If you Google "danny devito crop top," you likely won't find the advertised listings from hyper-trendy wholesale e-commerce sites like Shein and Romwe, because these retailers list their versions of the shirt under the mysterious and perhaps litigiously minded name "Letter Embroidery Crop Tee." Made of an undoubtedly sinister blend of polyester and spandex (in summer? I'm all set, thanks!), the tees come in mustard yellow, orange, and minty green, and are absolutely best suited to the big pants, little shirt girls of the world.
Alas, the design seems to hail from—of course—O-Mighty, the same brand that spawned the Quentin Tarantino crop top. However, relative to the Quentin tee, the genesis of the Danny Devito shirt is unclear. Who was this shirt made for? And why?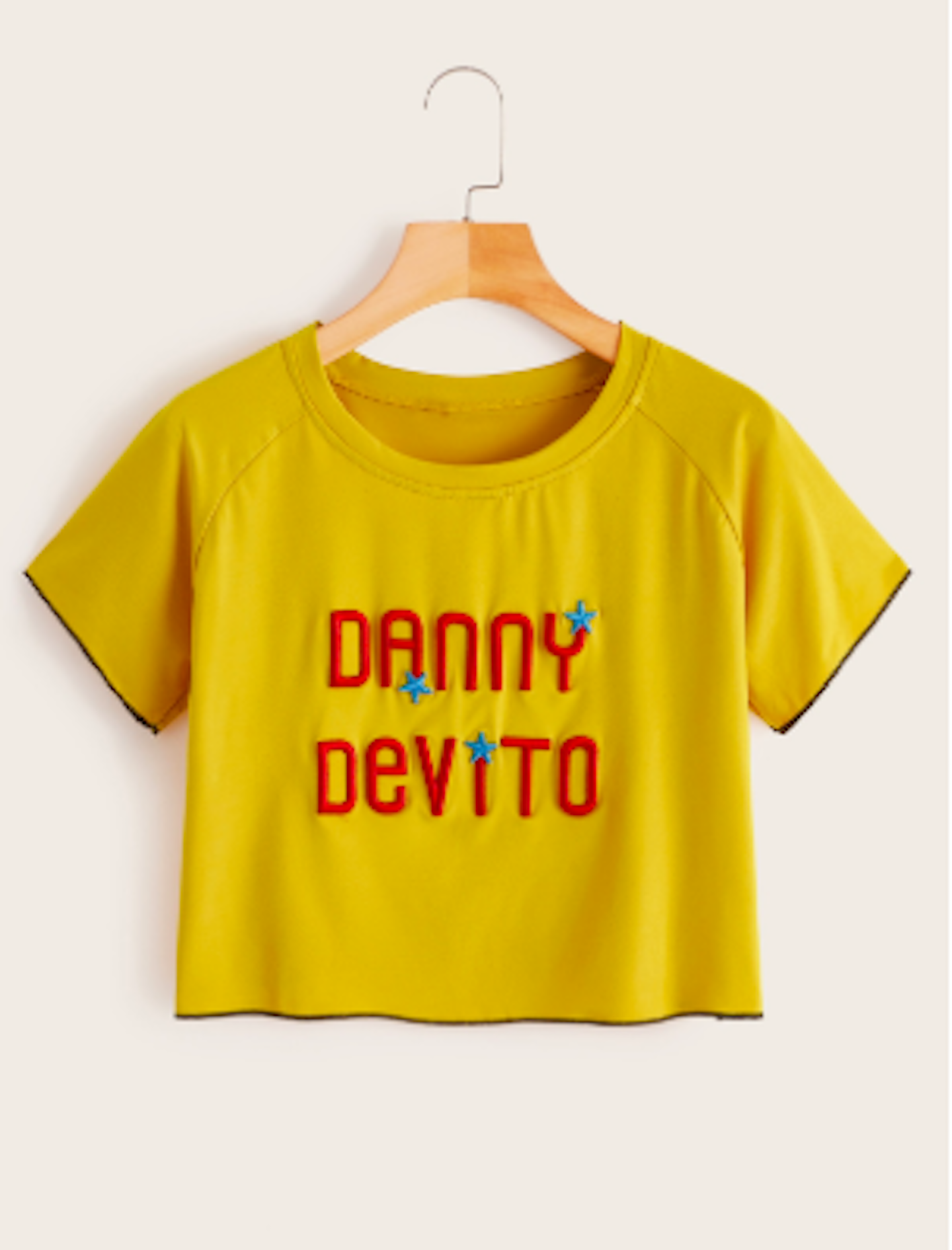 A possible answer to one, if not both, of those questions is "teens." Apparently, teens are obsessed with Danny Devito, an interest which has naturally manifested in the actor becoming a meme on TikTok. Their admiration ranges from seemingly wholesome (making Danny Devito's face out of melty beads!) to kinda off-putting (asking Danny Devito to be your godfather!), but the trend offers a likely answer as to why these very of-the-internet brands are putting the actor's name on a tiny shirt.
TikTok is a petri dish for a lot of things, most notably known (thus far) as ground zero for the juggernaut that is "Old Town Road." While the app's Devito obsession recalls an earlier era when the internet was really into Steve Buscemi, what makes something or someone a distinctly TikTok-worthy meme is hard to pin down. Are teens watching a few episodes of Always Sunny as a palate cleanser between endless bouts of Friends and The Office? Maybe. Or, as one Twitter user aptly wondered, "Do you think the DV obsession is connected at all to his very quotable shoutout in Mean Girls? It's like, if you watch that movie often on your phone... or it's on in the background when you're cleaning your room... does it work like subliminal advertising?" Definitely possible. We can (and do) pontificate until the cows come home about Why The Teens Do What They Do—chances are, we'll still never know.
As to why exactly this decidedly Gen-Z trend wormed its way into the digital marketing algorithms of millennial women… Who can never be sure? Even Mara Wilson—Devito's Matilda costar and, now 31, definitely not a teen—was targeted for the Devito crop top. Millennials do like Danny Devito, and novelty tees, and spending money. In a way, it adds up.
To the wearers of the Devito crop top, I can only imagine Devito's Mr. Wormwood saying, "I'm smart, you're dumb; I'm big [pants]; you're little [shirt]; I'm right; you're wrong." On that note, I ask: Where is the Rhea Perlman crop top?