Accordion Man. Photo by Eliza Soros
Watch a Mesmerizing Update of a Bauhaus Classic
Virtually There reboots Oskar Schlemmer's geometric ballet for digital age.
Accordion Man. Photo by Eliza Soros
The relationship between humans and machines might be a happy marriage or a never-ending détente, depending on your point of view. Virtually There, a captivating dance performance presented last year at New Jersey's Mana Contemporary by New York-based creative directors Mafalda Millies and Roya Sachs, takes a decidedly optimistic stance on the conjunction of flesh and metal. Now, a video released on the one-year anniversary of the live presentation—viewable below—beautifully documents this digital-age rethink of Bauhaus artist Oskar Schlemmer's Tridasche Ballet (Triadic Ballet), which made its debut in Stuttgart on October 20, 1922.

Schlemmer's original Gesamtkunstwerk was intended, in true Bauhaus spirit, to incorporate just about everything: dance, music, theater, art, architecture, people, and, yes, machines, in a meditation on the nascent age of industrialization. This translated onstage into a sequence of jerky marionette-like movements enacted—with varying degrees of grace—by dancers in cumbersome, cartoonish costumes, which merged decoratively with their onstage surroundings.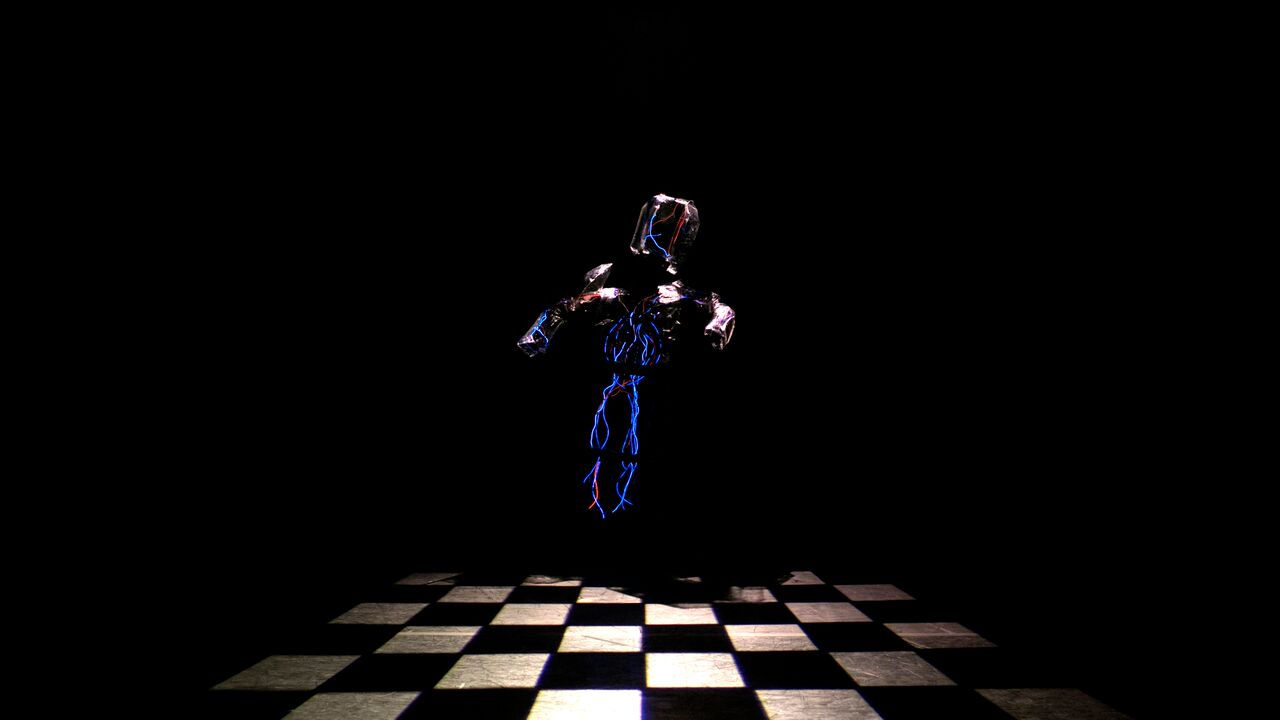 The ace team assembled by Millies and Sachs reboots the project, and features choreography by Karole Armitage, the classically trained "punk ballerina" whose work merges dance with science, music, and art. Armitage, who has has worked with the American Ballet Theatre and choreographed Madonna videos, collaborates here with Brazilian designers Humberto and Fernando Campana, who created five otherworldly costumes.
The Honeycomb Woman and Accordion Man from the Schlemmer original translate, for Virtually There, into androgynous, geometric entities. The latter performs as a humanoid stack of corrugated golden cylinders, particularly well suited to shimmying and rotating. The former, an origami-like crimson orb, has a conical head and hands made of triangular, bladelike mirrors; at one point, she opens her round torso to reveal a nimbus of white light.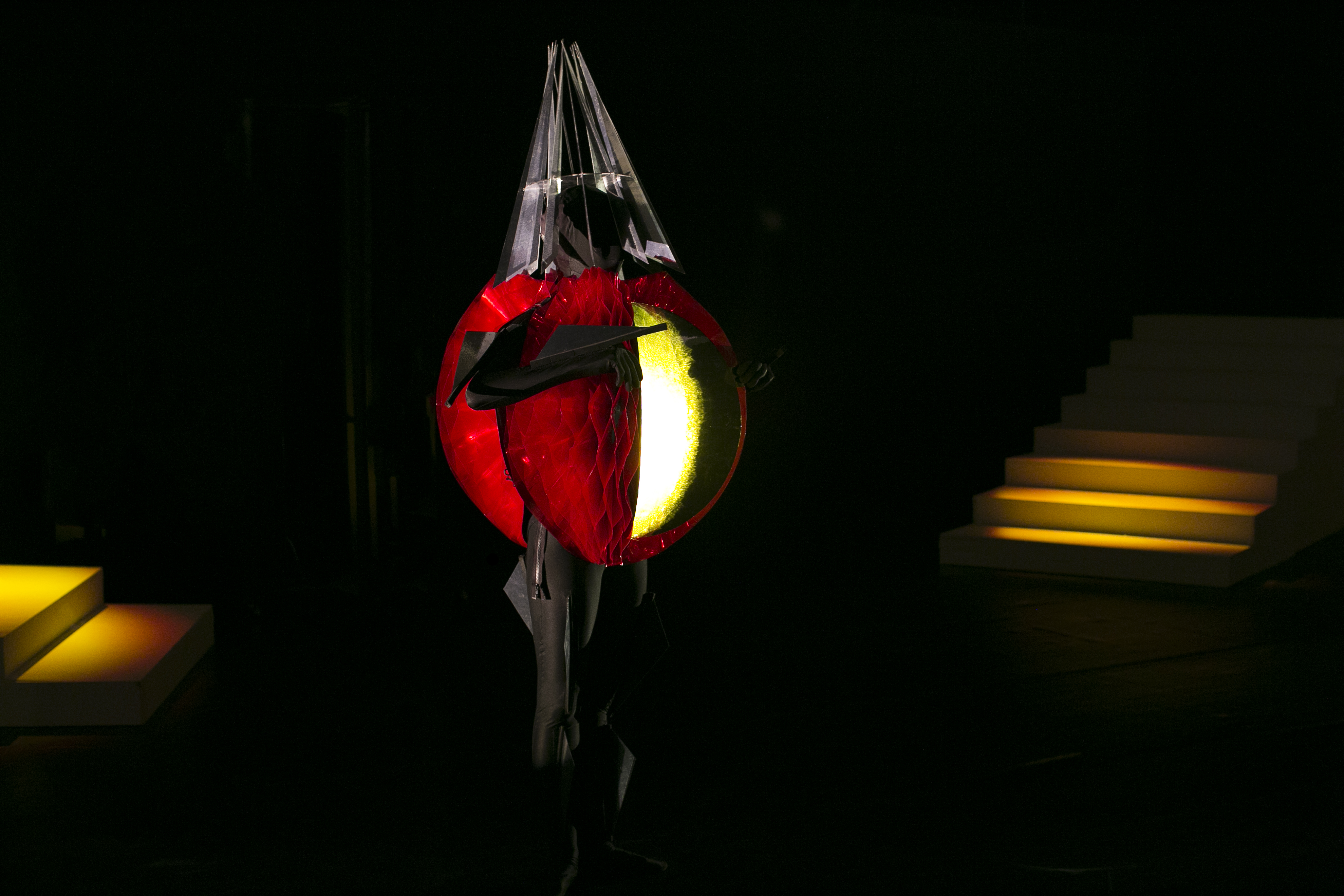 All costumes beautifully reflect and interact with the lighting by MATTE Projects, a creative agency known for immersive party environments. Crystal Woman's corporeality disappears into a costume of LED lights, PVC, and inflatable and holographic materials gathered from electronics, plastics, and gardening shops along Canal Street in Manhattan's Chinatown. Onstage, she resembles an iridescent jellyfish with a vaguely human shape, and provides a perfect counterpart for Inflatable Man, who wears a transparent suit lined with neon lights.
Visual artists Kate Gilmore and Heather Rowe designed the minimalist set, which frames each costume and movement with suitably machine-like geometric precision. Parisian musician Charles Derenne crafted the score, which consists of a violinist and drummer playing over a recorded track, yet another example of how the acoustic and the electronic might be able to not only coexist but also contribute to a harmonious multi-sensory environment that would have thrilled the Bauhaus founders.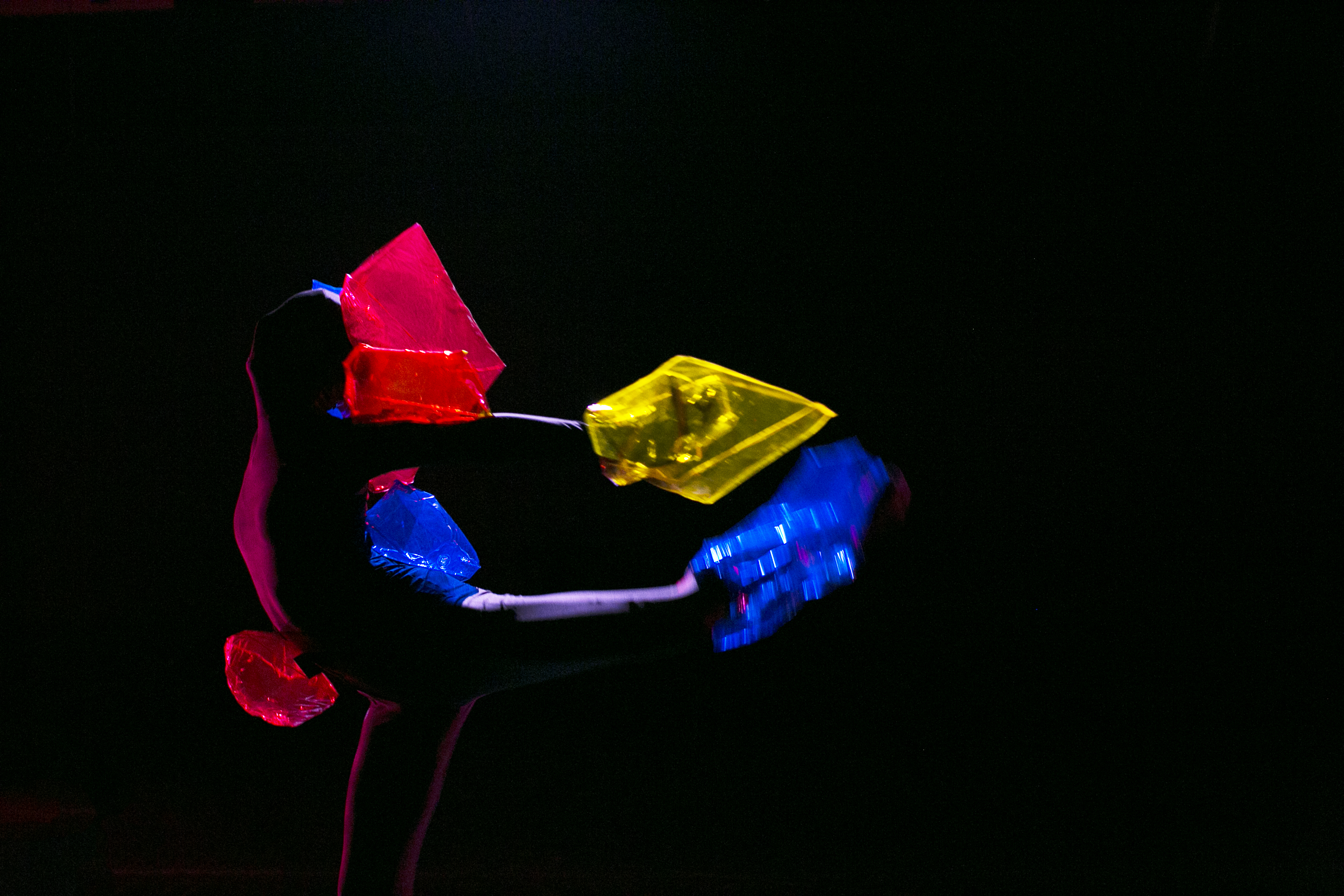 Virtually There was performed at Mana Contemporary, Jersey City, in November 2016.

Tagged: