The Story Behind Tilda Swinton's 'Suspiria'-Themed Schiaparelli Look
This Schiaparelli look has everything: hot pink, giant trousers, tiny baby hands...
Tilda Swinton appeared at the L.A. premiere of Luca Guadagnino's Suspiria on Wednesday night serving a mother of a Schiaparelli lewk (please note: this is a subtle and extremely intelligent pun on Argento's Mother of Tears, which, along with Suspiria and Inferno, constitutes Argento's "Three Mothers" series.) The outfit, which Swinton worked with her creative director Jerry Stafford and Schiaparelli design director Bertrand Guyon to create, was full of intentional references to the signature motifs of Suspiria.
"The silhouette is the perfect composite of Bowie-esque flamboyance and surreal theatricality. The hands clasping the tightly fitted jacket reminded us not only of Cocteau but of Lindsay Kemp's dancers for Ziggy Stardust and the wonderful exaggerated fuchsia pink sailor pant is quintessential Schiap," said Stafford in an email. "The hair and makeup is directly inspired by Man Ray's muse Lee Miller with a gentle blond wave and a perfect soft lip."
The Schiaparelli team told GARAGE that they wanted to create "a visual link with the film," using color and embellishment: "Last night's black jacket with the 'hands' buttons and the red-nail polished hand clutch [were] a subtle reference to Suspiria." (If you are hoping to get the look, a version of the jacket appeared in the Fall 2018 Couture collection.)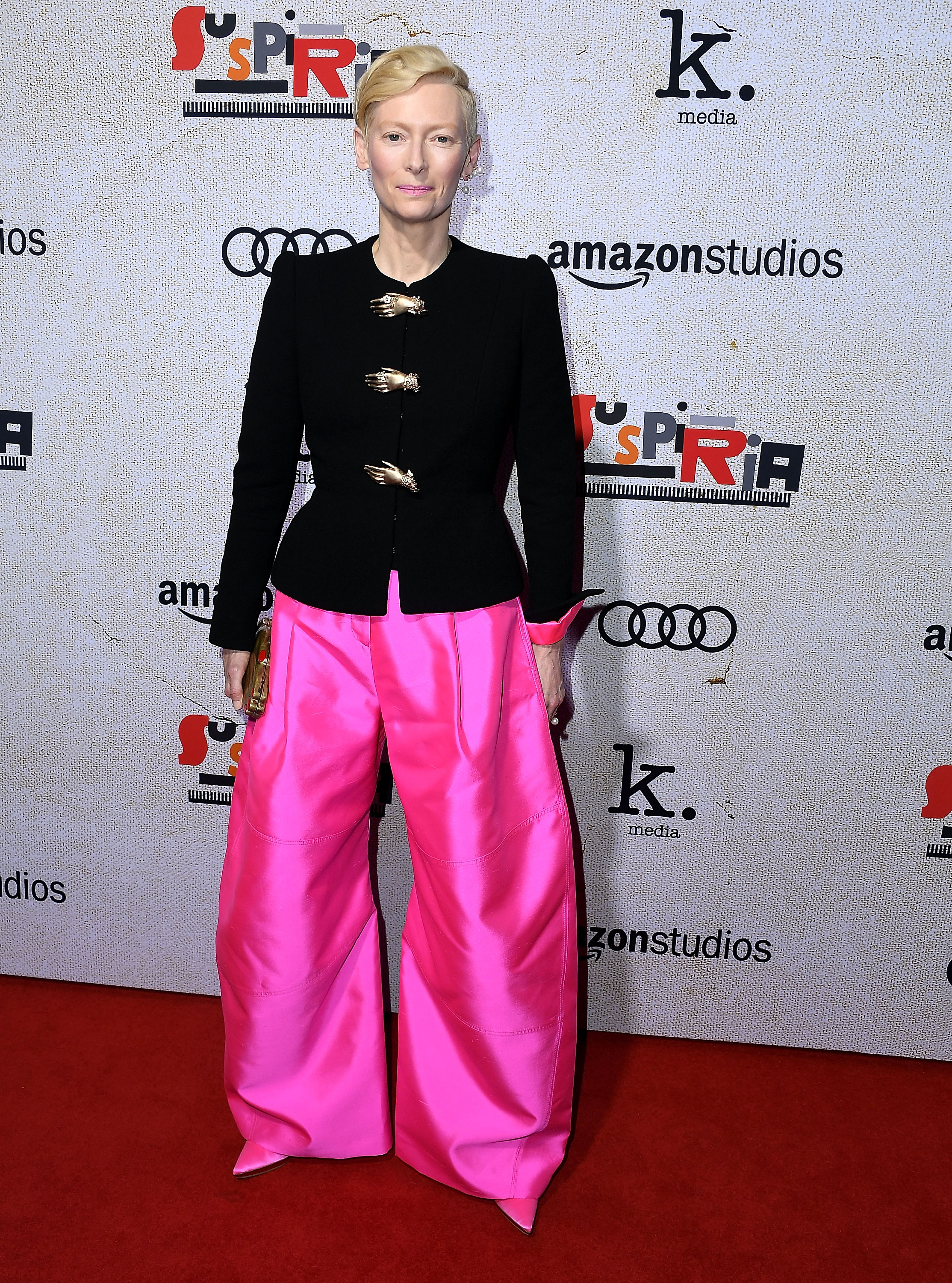 While the Daily Mail was focused on co-star Chloë Grace Moretz's "toned physique" (no shade! ILYSM, Daily Mail; never change), Swinton's Schiaparelli ensemble was, to put it simply, absolute peak Swinton. Let's take a look at some of the details, shall we?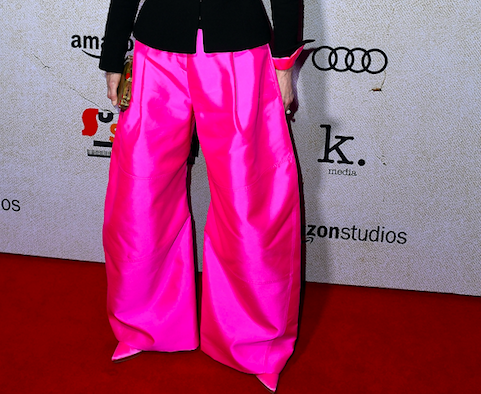 The pants/shoe combo. The lower half of Swinton's ensemble took its cue from the likes of Tracee Ellis Ross, who, as we all know, invented hot pink (okay, actually, Schiaparelli herself invented it). The sugary, aggressively femme shade of Schiaparelli's "shocking pink" stands in direct contrast to the menswear look that Alessandro Sartori of Zegna designed for Swinton's alias Lutz Ebersdorf in Suspiria. The pants, the house told us, are "wide semi-circular cut," and Stafford and Swinton had "wanted for a while to have a shocking pink moment in a nod to Schiaparelli's signature color."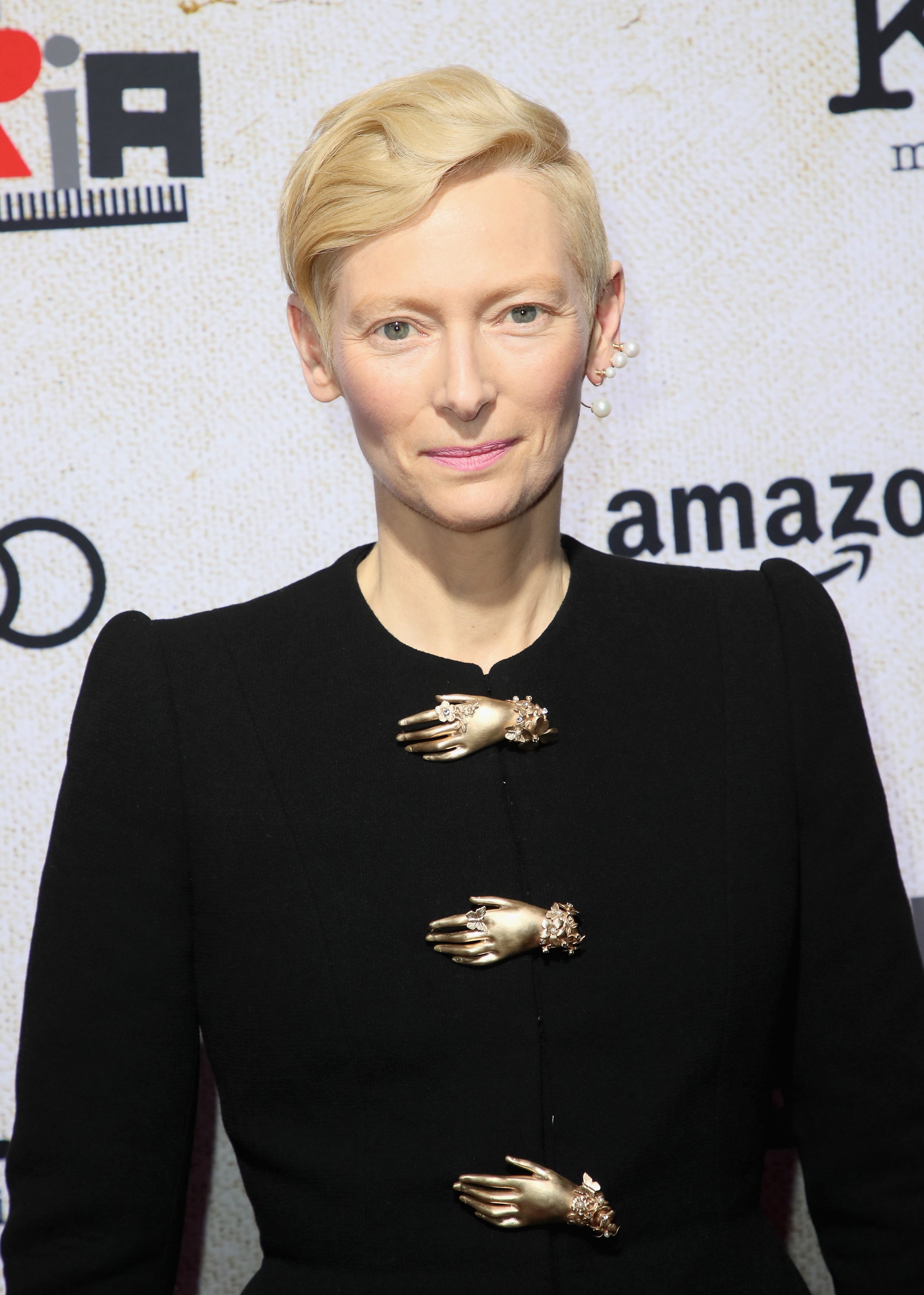 The blazer. The tiny hand clasps on Swinton's blazer are just so incredibly her: beautiful, ornate, perplexing, and vaguely terrifying, not necessarily in that order. The look harkens back to an evening belt from a 1934 Schiaparelli collection, which features a Surrealist pair of hands to cinch the look together, and is also a link to Suspiria's obsession with hands: Dakota Johnson's Susie (minor spoiler!) tells Tilda's Madame Blanc that she wants to serve as the ballet company's hands. The hand buttons themselves are tiny works of art: "the bejewelled buttons [are] embellished with tiny butterflies, flowers and crystals," the Schiaparelli team told GARAGE.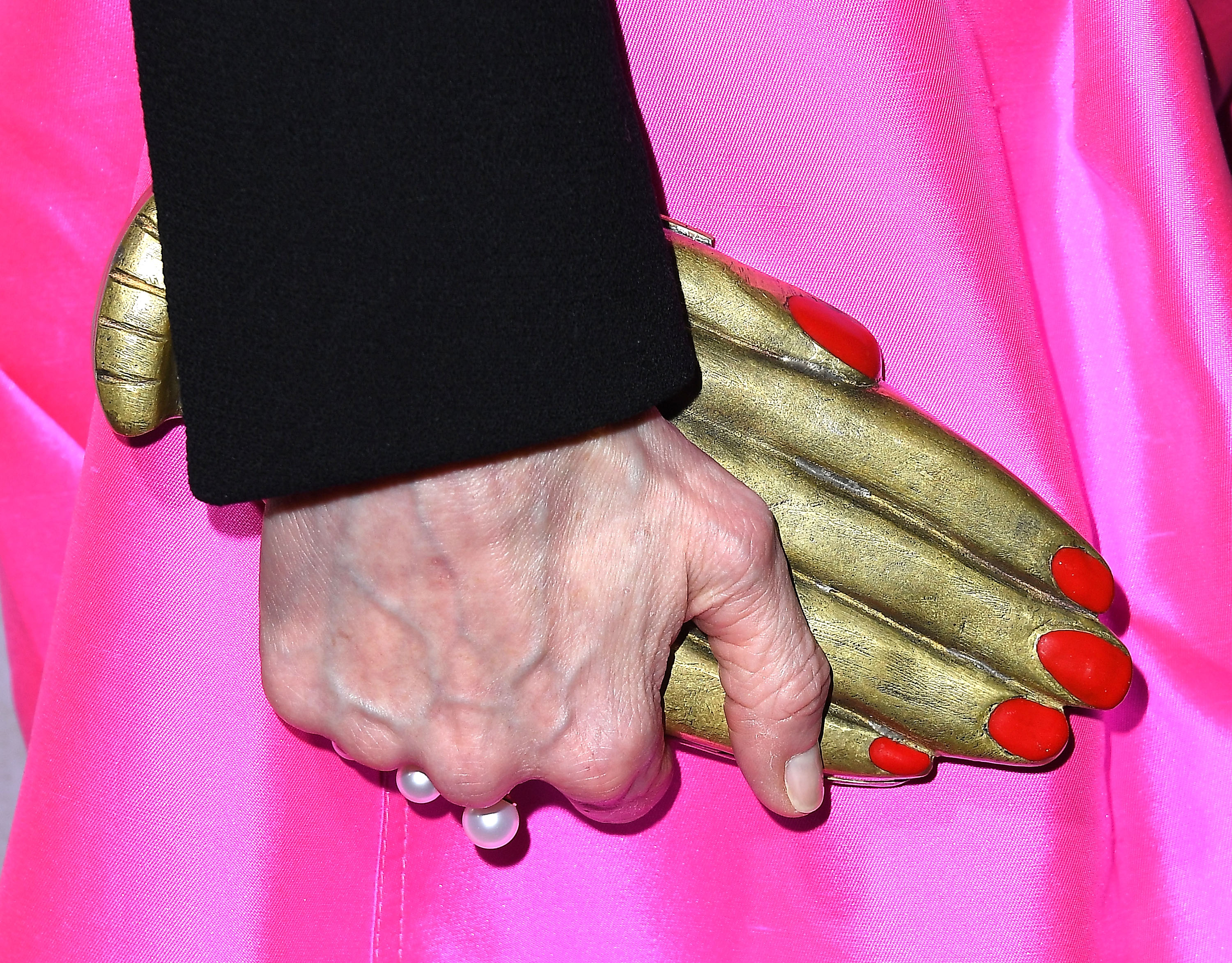 The PURSE! Somebody put this image in MoMA, stat. Is it weird if I go as "Tilda Swinton's own, human hand clasping a golden, disembodied, manicured hand" for Halloween? And that lacquer red is an eerie allusion to the film's obsession with rich, beautiful blood. (Ew, but chic.)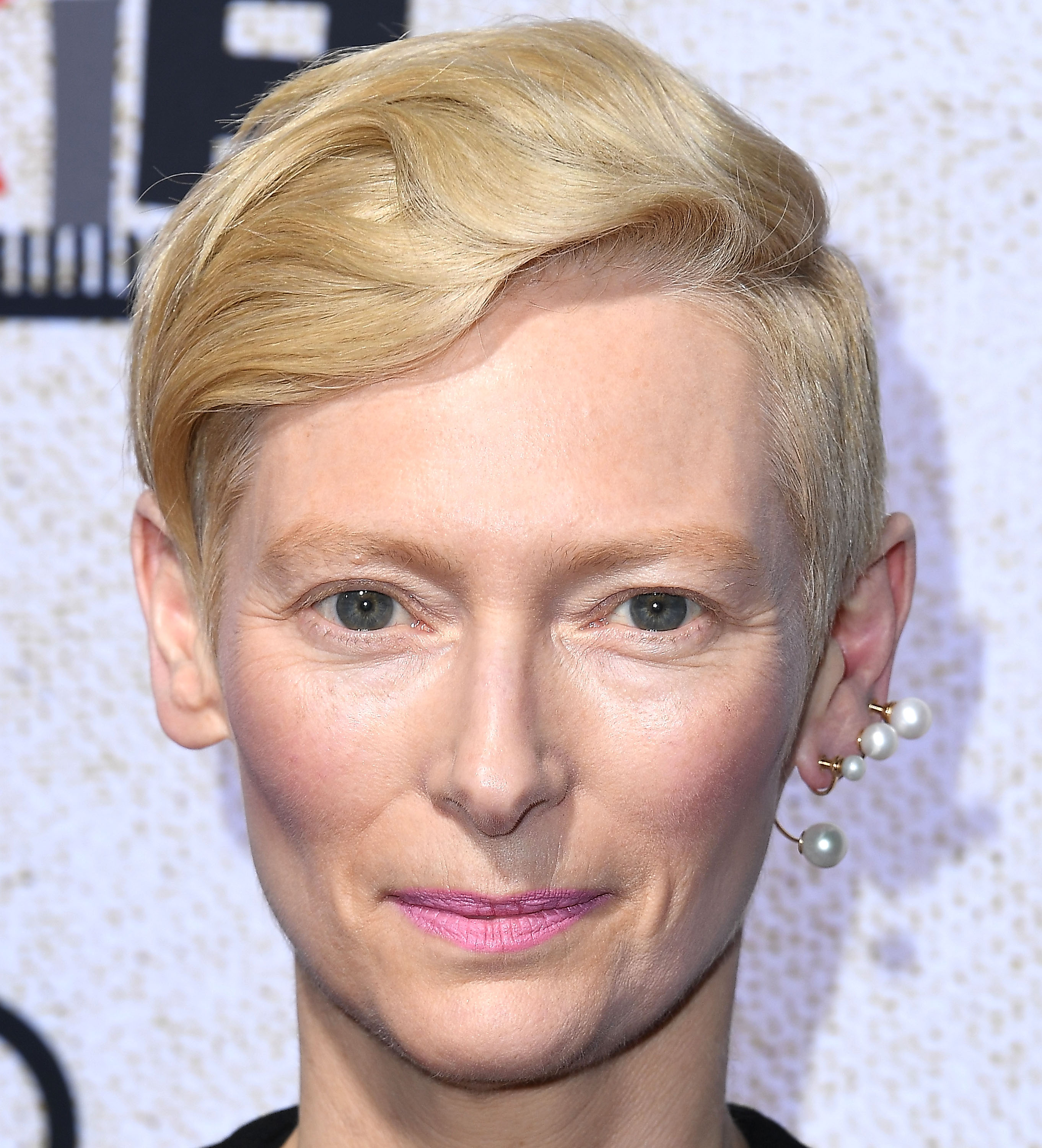 The ear. Only La Swinton could pull off looking like the world's coolest pincushion.
Editor's note: this piece has been updated with a quote from Tilda Swinton's creative director Jerry Stafford.