Photograph by Allan Tannenbaum for Getty Images.
The Most Important Thing Mick Jagger Ever Wore Was a Pair of Football Pants
The absurd outfits Jagger wore on the band's 1981 U.S. tour signaled a major change in the band's destiny.
Photograph by Allan Tannenbaum for Getty Images.
Mick Jagger loves a perverse wardrobe theme. In 1967, as the Stones took heat from the censors for their song (so quaint!) "Let's Spend the Night Together," and the Beatles were in the throes of their rococo-boho Sergeant Pepper phase, Jagger went more straight-laced, performed in suits and ties with little bohemian touches. In 1969, at Altamont, the ill-advised attempt to recreate Woodstock that ended in the death of attendee Meredith Hunter, Jagger skipped onstage holding a wicker basket and flung flowers all over an audience jostling under the malevolent watch of the Hell's Angels doing security. When he married the glamorous Bianca Pérez-Mora Macías in 1971, he started wearing makeup. When he started cheating on her with Texan model Jerry Hall, he wrote songs about truck stops and sang them in flannel shirts. He likes peace where there is chaos, yuppies where there is domestic disorder, more sex where there is sex—and role play.
So when Jagger's band mates dragged him on tour in 1981 (reportedly against his will, according to Keith Richards's memoir), and brought the band into sports arenas for outdoor concerts (something they seemed too artistically sophisticated to do), he put on football pants and barked out his lyrics like a quarterback yelling, "Hut hut!"
Jagger's football pants phase remains one of his most divisive wardrobe choices, in a career packed with strange attire, from skin-tight jumpsuits to giant capes to uncanny yuppie getups.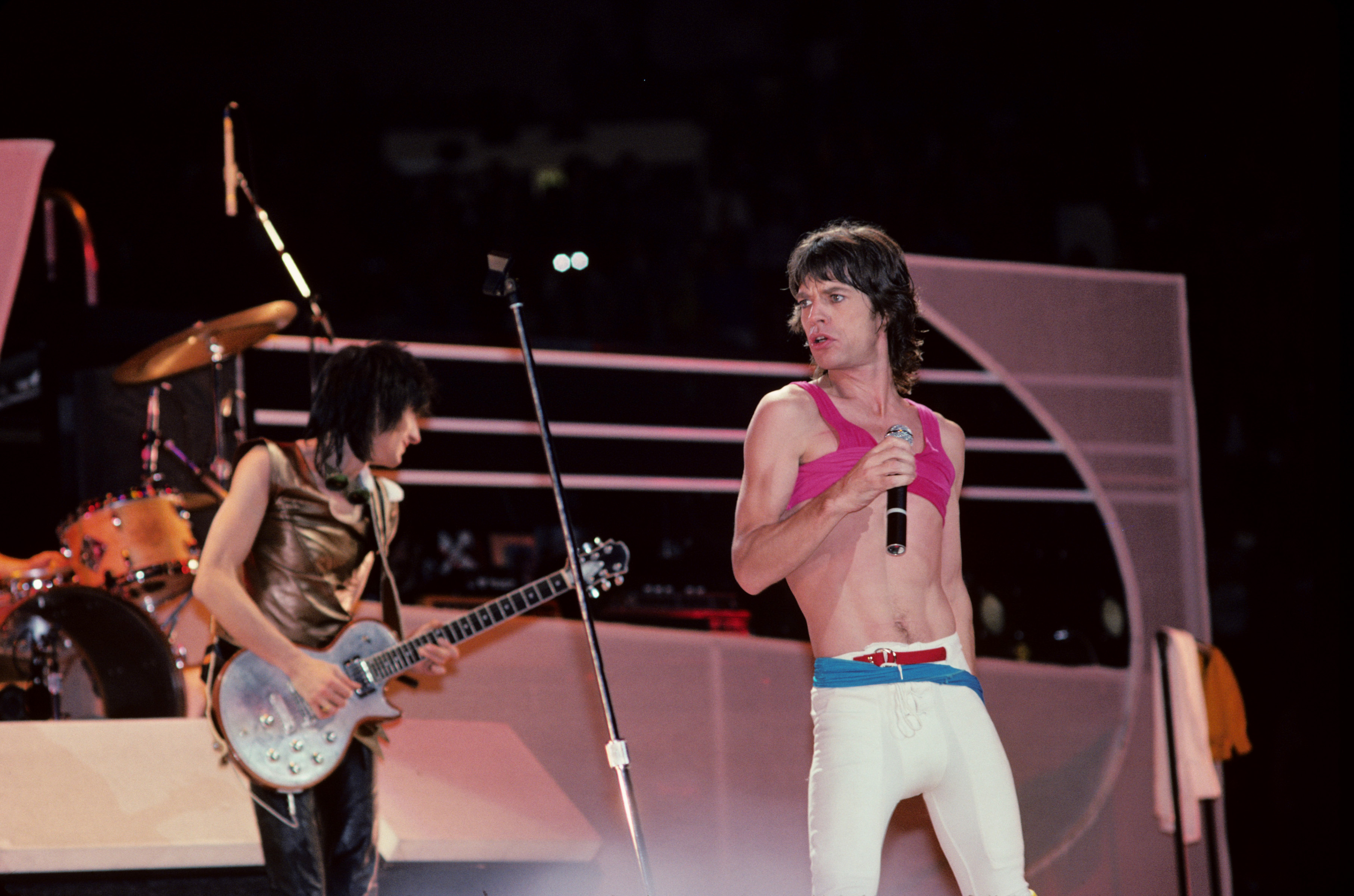 "I chose the football pants to wear this tour because they are easy to work in," Jagger told People at the time. "It was sort of an accident—I went into a sports store, and they fit better than anything, and they only cost 20 bucks. In Dallas I wore the Dallas Cowboy colors. People dig that, and it has a good look for outdoors where you've got to wear bright colors or people can't see you. You can't be too subtle in a situation like that."
The football pants allowed Jagger to move swiftly around the stage, and helped audiences see him from far-flung seats—that much is clear from the pictures. (Their fit and lace-up fly also had the benefit of highlighting Jagger's crotch.) But the clash of colors wasn't exactly in a harmonious team player spirit: he wore neon yellow pants with an electric blue tank top and a lavender blazer; white ones with either a neon teal puffer and a yellow quilted puffer; a construction cone-orange tank with tangerine pants. He'd often add red or blue kneepads, or a banded blue belt, which created an even more maniacal riot of color, and he'd take off his shirt and reassemble his outfit as he became increasingly sweaty or as the weather grew increasingly cool (the concerts, according to Rolling Stones message board IORR.org, often started at noon). Jagger's insistence that these were just easy to work in is typical Jagger swagger and posture— of course there was more to it than that. One orange and green jacket appears to be Issey Miyake, and he finished every one of these absurd, almost jester-like outfits with white Capezio jazz dance shoes. It sounds like a ludicrous combination, but that is, of course, the secret to all the best outfits in history—an assemblage whose whole is less insane than the sum of its parts.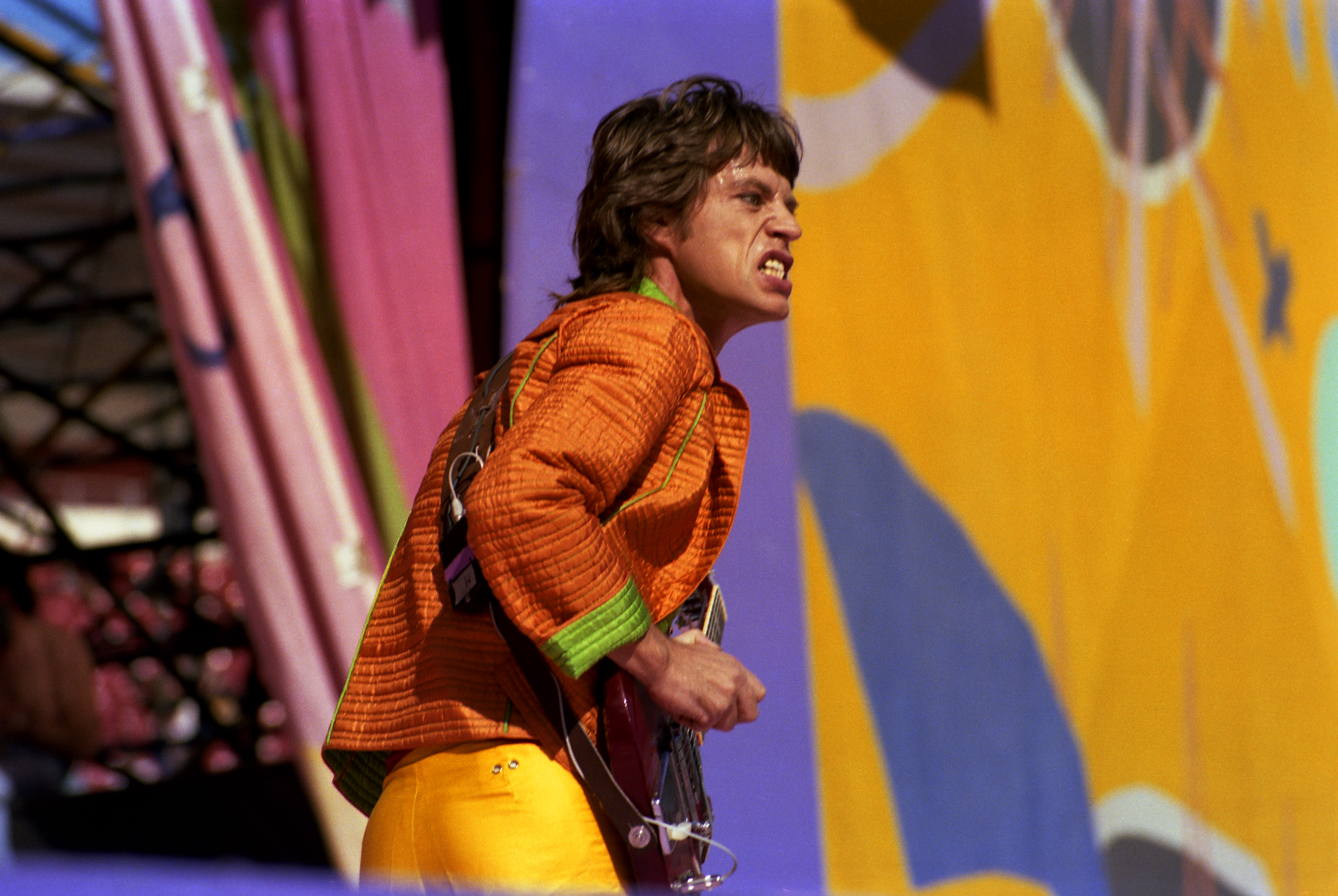 Certainly other of the Stones' costumes have gotten (deservedly) more attention—his Bianca-era dapper bohemianism, for example, or his skin-tight spangly Ossie Clark jumpsuits, or his elaborate glittery outfits by former partner L'Wren Scott, or his mid-70s oversexed chest-baring twang phase, when the Stones were at their artistic peak. In fact, the football pants look was only a small feature of the recent Stones paraphernalia tour Exhibitionism.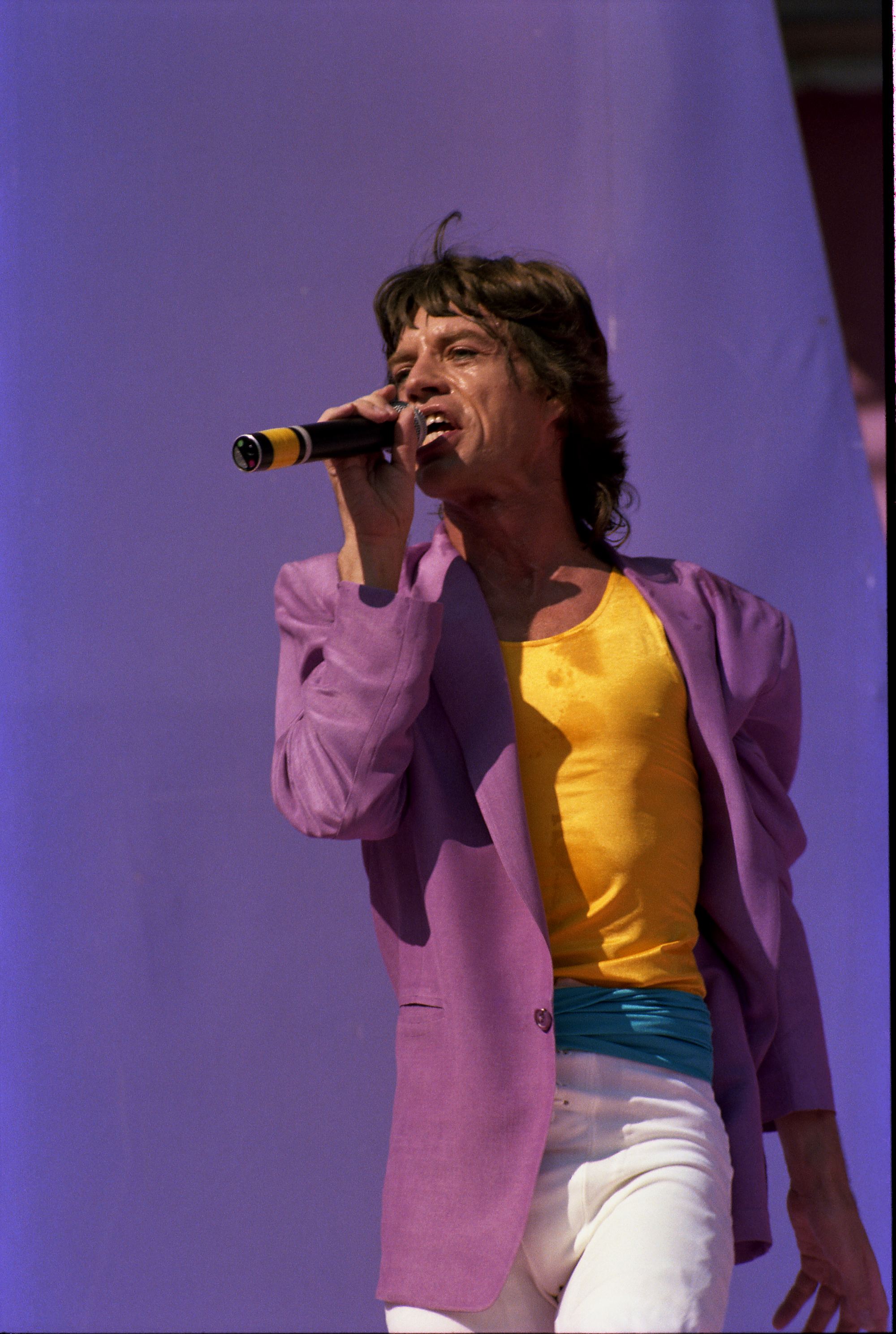 But while it's often derided or simply forgotten, the football pants era was also the one that fixed Jagger in a new echelon of fashion iconography. He has something of a fashion editor's eye—Jagger can make anything fashion, and his approval gives a garment a gloss of meaning it didn't have before or wouldn't have on any other body (compare his dandy or gender-bending looks with Bowie's contemporaneous ones—there is a definitive surge of Jagger sexuality). The football pants signaled a new era of commercialism for a band that had previously been the face of rebellion of the purest kind. The football pants revealed that when you took away the sex and drugs, the Stones were a band about work ethic: competitive, determined to go on the road, determined to make money, determined to keep releasing music regardless of whether they could get themselves in the studio. (Tattoo You, the album they were touring "in support of," was cobbled together from discarded tracks from their previous albums.) But it produced one of their biggest hits ever: "Start Me Up," which has all the bombast and machismo of the arena rock it traffics in. "Start Me Up" is the Stones' first jock jam.
The most curious thing about the Stones has always been their longevity: is it the least rock 'n' roll thing about them, or the most? That's a question I can't answer, but at least one secret to their enduring rock 'n roll credentials is that they make opposing ideas harmonize. Or at least, they make even selling out look and sound good.