Photograph via Getty Images.
The Complete History of the Goth Girlfriend, the Internet's Darkest Ingénue
Did Elon Musk and Grimes kill our favorite URL crush?
Photograph via Getty Images.
For almost three years now, Bella Hadid, Kendall Jenner, and practically every starlet with an instagram have been gradually adjusting their wardrobe to mimic the girl in their high school class that they probably ignored.
This progression toward the gothic has been supported by fashion at large, sterilizing, as it often does, a subculture's origins. Where there was once punk music, wild fringe, and DIY clothing, lies expertly smoked eyes, slashed designer denim, and producer-finessed music in its stead. This is not to say that the Goth that came out of the 1980s British punk scene is "better" or "cooler" or more "authentic;" nothing is innately wrong with the more contemporary mall goths of tumblr, or Rick Owens devotees. As Daria's popular younger sister Quinn once said, "Dressing in all black is a fashion statement. It's deep, it's meaningful, and it's slenderizing."
Earlier this year, Kendall Jenner, perhaps taking a cue from Lorde and her brother-in-law Kanye West, dressed up like a mall goth and went to McDonalds with her best friend Bella Hadid. They wore matching baby buns and deep blue eyeshadow, as well as the deep reds and blacks that define goth style. Though normal mall goths aren't decked out in full Anna Sui looks or followed by paparazzi to the food court, ditching NYFW to get a Big Mac seems decidedly goth, somehow.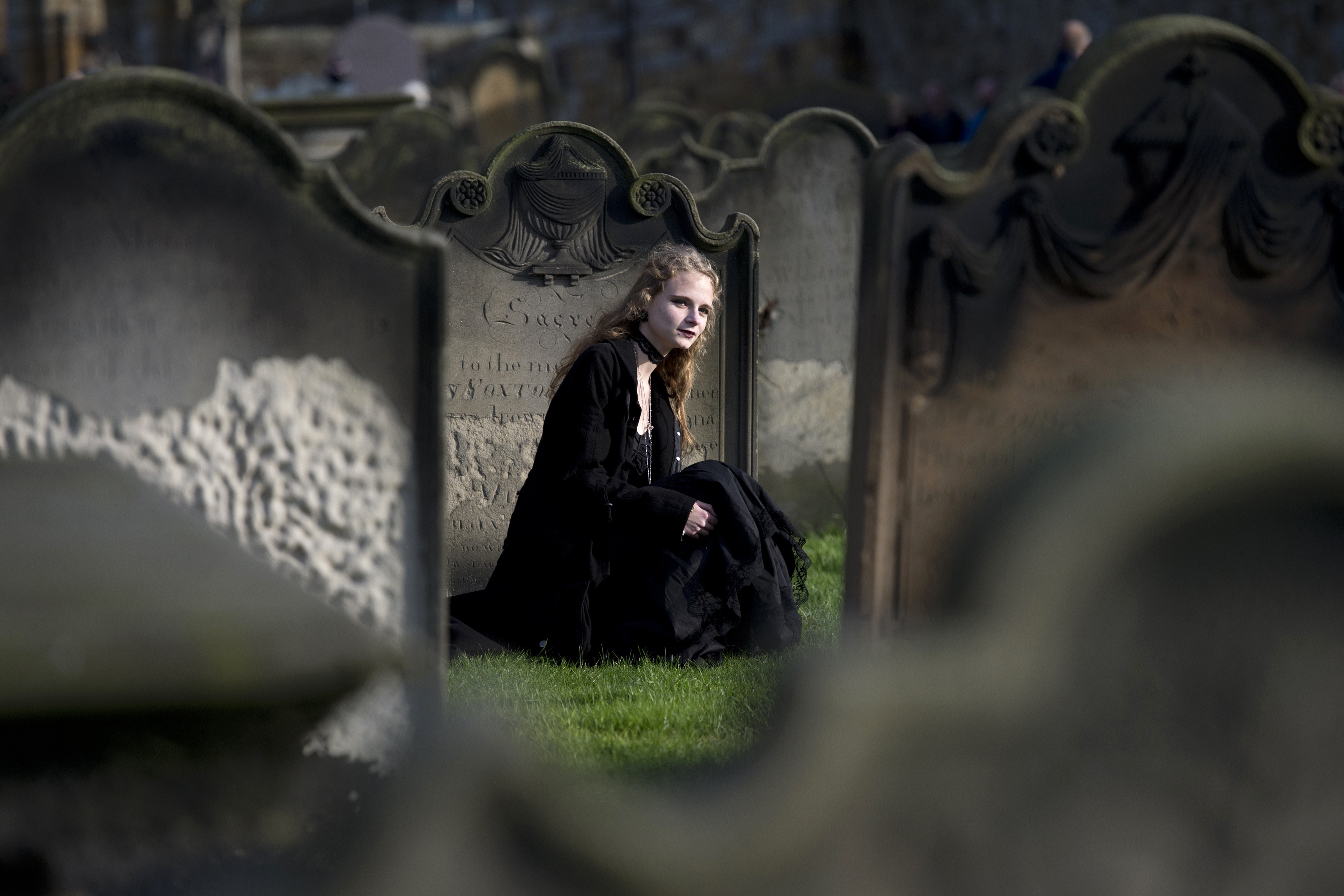 As Prometheus created man from mud, the ideal GF meme was created from shit (by 4chan.) Before 4chan was overtaken by the incels of the alt-right, its main purpose was to produce consistently funny memes. While much of the site's community has redirected their interests, some gems still come from 4chan. In 2016, a 4chan user uploaded an editable MS paint image of a female (triangle skirt bottom) stick figure with the prompt to create your ideal gf. Upwards of 500 ideal GFs were produced, ranging from Princess GF, Anarcho-Syndicalist GF, to my personal favorite, Clown College GF. However, the most potent of all was Goth GF, who emerged in many forms: there's Shadow-spawn from beyond the stars GF, social anxiety GF, despair GF. In this GF frenzy, the idea of a Goth GF trickled down through the social media to Twitter. Suddenly, a vast swath of the internet was begging to date women dressed in black and that Old English font.
Thousands of people have tweeted in said format, in which the subject voices their need for a Goth GF, but knows, somehow, that the love is destined to go unrequited. While her identity remains fixed, the identities of her admirers are deeply varied: normies, SoundCloud rappers, hypebeasts, skaters, weedheads, celebrities, and startup people have all expressed their need for a goth GF. (In part, the appeal of the Goth GF is the lack of the admirer's appeal. She is a low-risk target, someone they cannot disappoint. In this tweet, @leon_spottydog lists an ad for "a goth girl that's ready to be emotionally and physically disappointed full time.") Is it because, as one twitter user posits, they want a girl they can "fux the sad out of?"
The form the Goth GF takes is hotly debated, with some joking that she needs large breasts, others that she should be decked out in lace, and others doubting the authenticity of the Goth GF completely. As she is rooted in unfixed meaning, it seems the quest for an "authentic" Goth GF is not what appeals to those that desire her. It's less about her authenticity and more about the need for her. In Nylon, Sandra Song posited "that the 'goth gf' is our era's heir to the manic pixie dream girl—and this is a problem." It reduces her interests to an object of the male subject's desire.
But even as so many memes enter our lives with a whip and leave with nothing more than a nae nae, this lust for the Goth GF is incredibly resilient. It survived last year's Taylor Swift's Elvira but-make-it-boring black lipstick phase, Kylie Jenner's allegedly "Goth Mom" inspired makeup line, and Mattel's Bratz-esque childrens dolls called "Monster High."
Until now.
The fantasy hit an an unexpected apotheosis at the Met Gala, with the debut of unmistakably goth spritely-electronic musician Grimes and Tesla overlord Elon Musk as a couple. "I was a goth, and all my friends were goths or punks," Grimes told Pigeons and Planes in a 2012 interview. She famously tried to sail down the Mississippi River in a houseboat full of live chickens in 2009 (skull emoji). But now she dates Elon Musk, a neo-imperialist technocrat who makes fancy cars for the uber rich and attempts to privatize public transport under the guise of innovation (dying rose emoji). Musk's flaws are so great that perhaps the hypothesis is true: the Goth GF is prized as her internal darkness can drown out her "man's" glaring issues.
As a society, we have reached peak Goth GF. The meme was always about the desire for the Goth GF—now that the undeserving nerd has finally secured her, there's nowhere left to take it. The will of the 1% is nothing to be scoffed at. As with all things—trade unions, space travel, democracy—a billionaire has exceeded the power of mere mortals, and destroyed the Goth GF.
There she is, deleting anti-imperialist from her twitter bio, wearing a choker depicting her boyfriend's brand, posting about him on the internet. Even Weird Al is bemused. The Goth GF's reputation has been damaged. The Google Analytics for "Goth GF" have reached their apex, and steadily interest is declining.
As the Goth GF dies out, enter: a void that must be filled. Who will the internet's next ideal GF be? Aggregating internet data—an extraordinarily unscientific method—there appear to be three alternative archetypes for her eventual, necessary replacement.
The cowgirl is in fact so accepted by the institutional fashion community that New York brand Vaquera—Spanish for "cowgirl," and a brand that showed a matching corduroy cowboy hat and jacket for Fall 2018—was in the running for this year's CFDA award. Daisy, a favored Australian brand of Goth GFs Bella Hadid and and Kendall Jenner, likewise produces ponyhair-prairie looks that would not be out of place in Missouri or on Melrose. Meanwhile, at MadeMe, designer Erin Magee (who also designs at Supreme) gives us a full body cow-print workwear look modeled by Princess Nokia for Spring 2018. Will we, someday soon, see the internet-at-large declare its need for a girlfriend that can wrangle steer? Just the word cowgirl seems enough to excite the more licentious internet user.
If you walk around in certain downtown Manhattan neighborhoods you will find that some of the most beautiful women dress exactly like mechanics. They wear thick canvas workwear shirts, sometimes with two name tags, mimicking the uniform of automotive repairmen (though the primary pit stops they make are to matcha bars and art galleries).
The more esoteric—and therefore, perhaps the richest—possibility can be found in the form of Maryam Nassir Zadeh's alien farmgirl. She wears poofy sleeves, plaids and ginghams with PVC and plastic—materials absolutely not shorn from the family sheep. She ventures out with wet-look hair, with little makeup, her primping routines perhaps cut short by an abduction. Her outfits practically scream, "These crop-circles were not man-made." Plus, if the approval of soundcloud rappers is any indication of internet GF status, the late, great, Lil Peep's Gothboi clique affiliate, Lil Tracy, just released country soundcloud rap banger "Like a Farmer," in which he raps in an affected country twang, "I got horses in my car like a farmer / yeehaw finna pick up your daughter." Perhaps the farmer's daughter is the new virtual prized companion! Now all we need is Kacey Musgraves to start dating Sergey Brin.