Palace, Hot Ralph Lauren Collaborator, Peddles Demented Haikus & Skatewear
Everything you need to know about Palace is in their deranged product copy.
I don't buy clothing from skate brands, because I'm not 15, but that hasn't stopped me from appreciating what Palace is doing from a vantage of pure content. Since 2009, Lev Tanju's UK label has positioned itself, if not exactly in opposition to Supreme's codified brand of self-seriousness, then behind them and to the left a bit, doing a lewd gesture. Supreme's dominance is hard-won, rooted in a New Yorker's self-defensive pose, loath to make eye-contact. They've only recently begun having fun. Palace, much younger and with the benefit of a clearly defined lane, has been having fun all along. They Photoshop their logo onto the Queen's tweed jackets and film absurdist promo videos that make use of Betamax treatments or Jonah Hill's disembodied head. If the release this week of their union with Ralph Lauren, menswear's Mount Sinai, feels like a kind of polite society debut, they have, happily, not felt the need to button up for it. One of the better winks in the capsule riffs on Lauren's long-running Polo Bear, here doing a heel flip.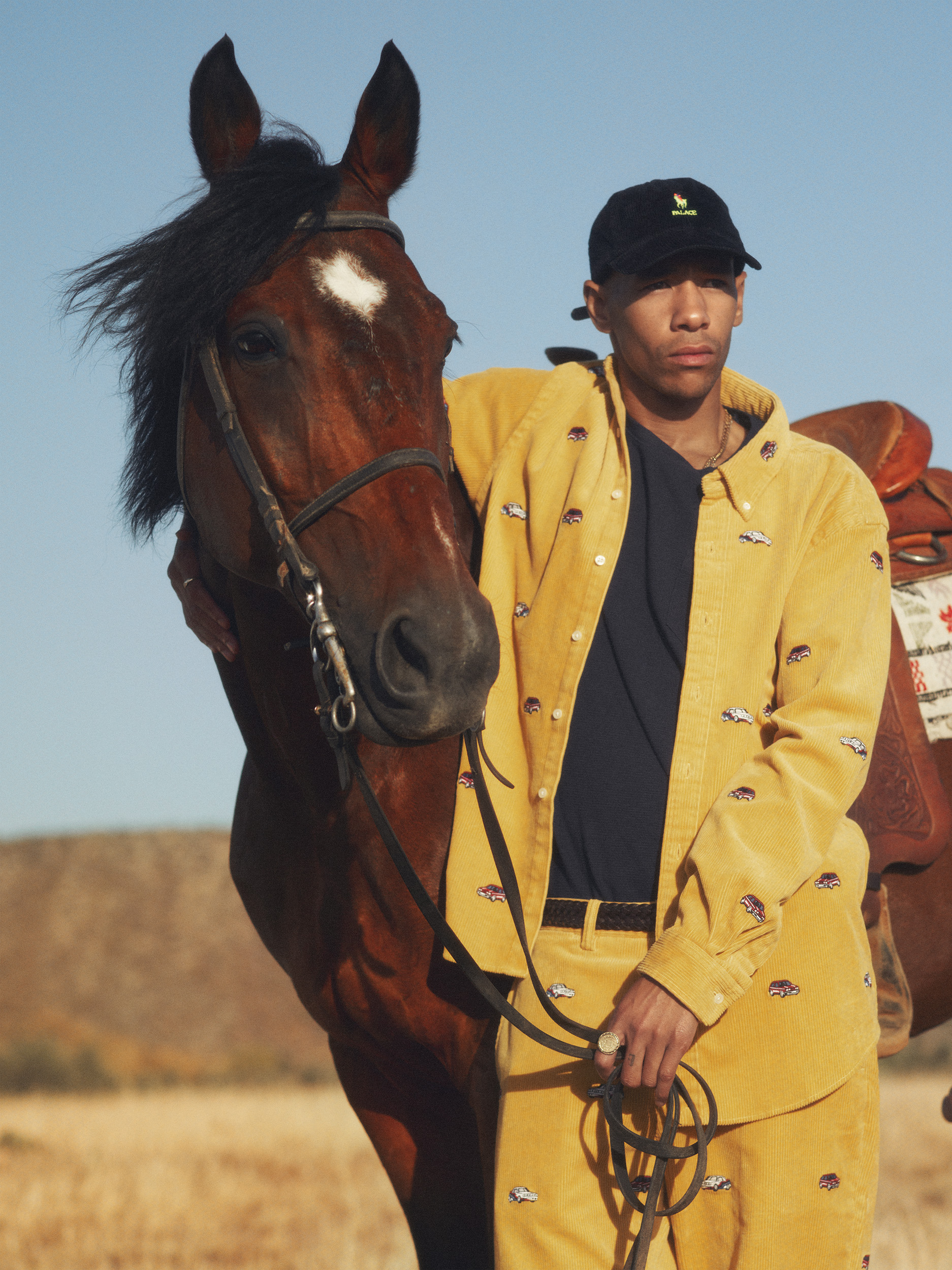 Their web copy, a gleeful antagonism of the standard, fawning form, functions in kind: manic, slightly imbalanced, and rendered in all-caps bullets, like an aggressive grocery list signifying nothing. It's by far the most enjoyable thing about them. They're product descriptions in the sense that they're the only words next to the product, though they rarely include any descriptive information, which is probably fine; if you're buying a stonewashed denim jacket spotted with bleached smiley faces, do you care about fabrication, or do you care that
• 100%
• SOFAS
• ARE THE ONE
The answer is: who knows? But it's sold out.
The clothes themselves, like much skate-adjacent apparel, are mostly unremarkable. The aesthetic is lodged somewhere in the '90s, which means much of it comes in an abrasive color palette and doesn't try to do too much. A knit polo with a chain link patterned body and a zipper where the buttons should be, for example, is awful. It looks like it's had one too many tinnies of Carlsberg and is about to administer a Glaswegian kiss for a laugh. The copy, which reads in full:
• THE BEST
• THING ABOUT
• ENGLAND
• IS I HAVE DOGS
• AND WEED THERE
is exactly right. It completely internalizes the studious nihilism you would have to practice to wear this. Do Palace customers care about what their clothes are made of, or is it better to make everything end in a joke about self-medicating? The copy for a funnel-neck sweat in what looks like loopback cotton but will remain a mystery forever, offers an answer:
• BEST PINT
• OF THE DAY
• IS ALWAYS
• THE FIRST
• AND THE SECOND
The product copy is the purest distillation of this sensibility, a slightly curdled affectlessness couched in a disbelieving laugh, apparently Tanju's own. "I sit in front the TV with a takeaway and type on my iPhone absolute nonsense in bullet points and people find it funny," he told the Guardian in 2016. It's an easy grin that effectively drowns out any shouts of selling-out, a concept that no longer carries the same weight. Alltimers, a New York City-based brand with recurring Adidas capsules of its own, plays at something close but not as full-throated. Their product copy is pithy and droll, the equivalent of a shrug: "So happy we didn't go to burning man" for a white logo hoodie, or "good for not getting punched" for a pocket tee.

Palace's can read like demented almost-haikus:
• DON'T KNOW WHAT
• I'M DESCRIBING
• SOUNDS ESSENTIAL THOUGH
for a nylon wallet; or gnomic zen koans that sputter into a limp punchline:
• I DO REALISE
• THAT THE WORLD
• IS ENDING
• DUE TO CLIMATE CHANGE
• BUT IT'S LOVELY AND SUNNY
• ISN'T IT
for crewneck sweatshirt; or self-aware pats on the back:
• I LIKE PEOPLE
• COPYING
• THIS STYLE OF DESCRIPTION
• AND THEN BLOWING IT
• IT MAKES ME FEEL SPECIAL
for a nylon shell.

They're a discursive stream of consciousness, the sensation of walking down to the off-license and forgetting why once you get there, which of course is a good excuse to pop into the pub instead. They're good digests of Palace's whole thing: a label named for Tanju's dump of a flat that stumbled its way into cultural primacy and landed the first streetwear collaboration with Ralph Lauren, a company that generated $6 billion last year—no big deal, we're just having a laugh.