Photo by David M Benett/Dave Benett/Getty Images
BFFs Edie Campbell and Christabel MacGreevy Talk About Their New Sappho-Inspired Collection
Itchy Scratchy Patchy's most recent collection just landed at NYC's Dover Street Market and channels female heroes: Sappho, Boudicca, Leonora Carrington, Jeanette Winterson, and Marie Colvin.
Photo by David M Benett/Dave Benett/Getty Images
Model Edie Campbell and artist Christabel MacGreevy, the pair behind clothing brand Itchy Scratchy Patchy, first met when they were five years old, at school. They weren't fast friends.

"I thought Christabel was mad, and Christabel thought I was uptight," Campbell said.
MacGreevy chimed in. "She had a really long, blonde ponytail, and I had a boy's bowl cut."
"An orange bowl cut! And you were mental."
We were sitting at a marble-topped table in the Rose Cafe at New York's Dover Street Market, a cozy shaft of light soundtracked by humming espresso machines. Upstairs was Itchy Scratchy Patchy's newest collection of embroidered tees, berets and tam o'shanters, socks, leather jackets, and workwear pants, launched a week before. Despite their childhood Ramona-Quimby-Susan-Kushner enmity, when Campbell and MacGreevy met back up as young adults they struck up a friendship, and launched their first line of patches together in 2015. They talk like old friends, as a unit, interrupting and building each other's sentences.
The unisex collection, titled "The Heroes Project," references an eclectic group of five women: the poet Sappho, British warrior queen Boudicca, artist Leonora Carrington, writer Jeanette Winterson, and war journalist Marie Colvin. They span the centuries: Sappho was born in the 7th century BCE and Winterson is alive and well today, living in the Gloucestershire countryside. Their legacies differ widely, as well. Boudicca, queen of the Iceni tribe and a British folk hero, razed London to the ground when it was still a Roman colonial outpost; Carrington painted rich Surrealist scenes (plus one fantastically weird children's book) and rubbed elbows with Max Ernst, Pablo Picasso, and Salvador Dalí; Colvin reported from conflict zones in Chechnya, Kosovo, and Sri Lanka, and tragically died in 2012 while covering the Syrian civil war.
The group, which reads like the guest list for the most interesting dinner party of all time, was culled from a much longer selection that also included men. But the five that Campbell and MacGreevy ended up choosing happened to be women. "They are all quite fearless, weird, very singular, eccentric, and powerful, and that's the thing, really, that unifies them," Campbell told me. Once they began research, odd connections emerged: Winterson, a boundary-breaking lesbian writer, references Sappho in her work; Colvin and Boudicca both experienced the violence of war firsthand; and MacGreevy told me that she and Carrington had gone to the same school, decades apart.
As a child, Carrington had a spooky tendency to write with both hands at the same time, forward with her right and backward with her left. "My school is really boring, run by nuns, so I can imagine the nuns being terrified," MacGreevy said.
"By this possessed child," added Campbell.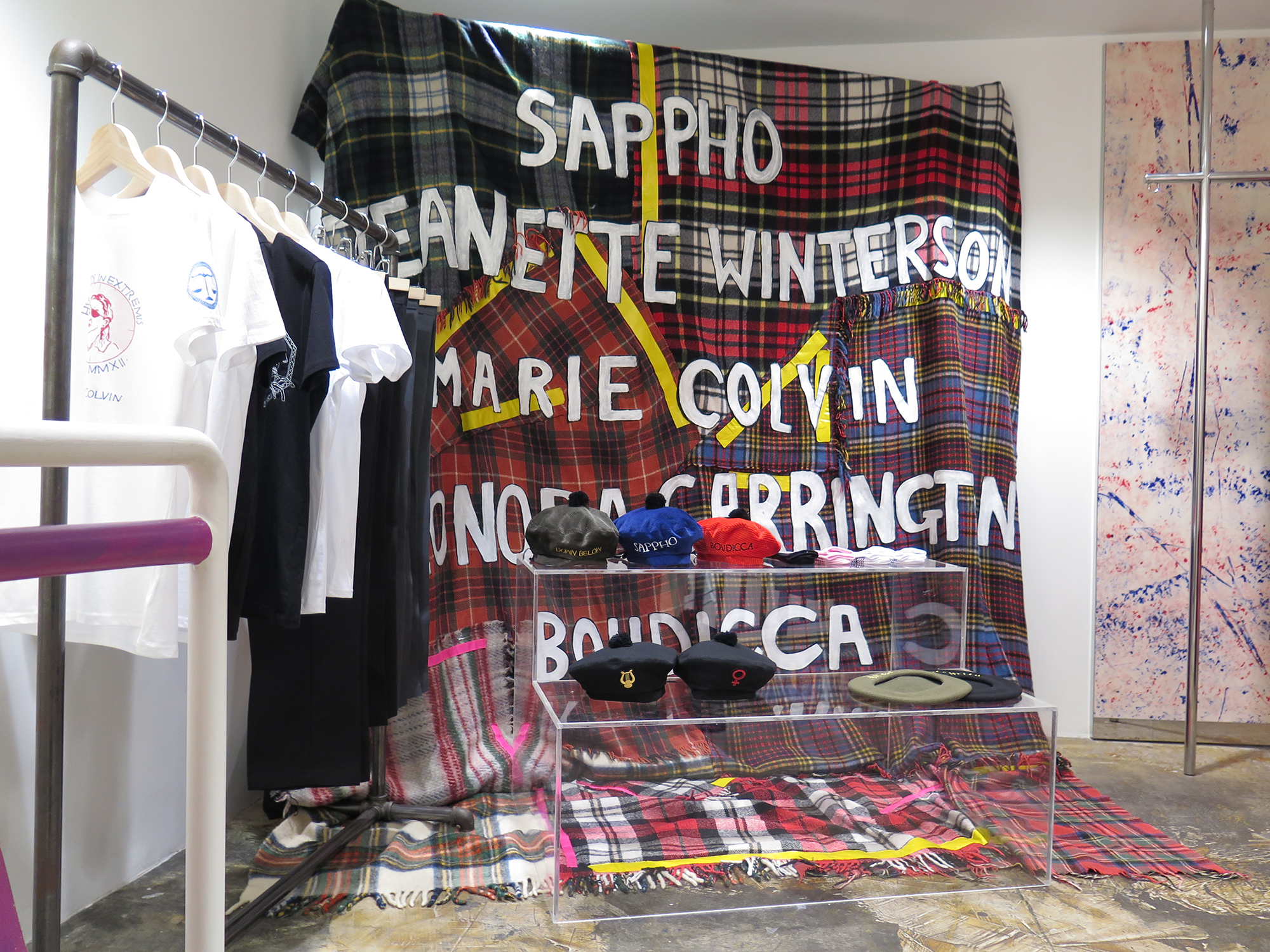 "The Heroes Project" includes Boudicca socks with a sword slicing down the ankle; a blue corduroy tam o'shanter emblazoned with Sappho's name; and Dickie's 874 pants, tailored to fit women as well as men, with stitched scales of justice and an all-seeing eye to represent Colvin. MacGreevy was wearing the an embroidered Lewis Leathers motorcycle jacket that serves as a kind of urtext of the collection, combining emblems of all five women: a quote from Winterson, Sappho's lyre, a phantasmic dragon by Carrington. She draped it over the table, flipping it over and folding the arms to point out each symbol. Campbell describes the insignias as "little talismans that have enough of this person's energy in them to make it worth embroidering onto a leather jacket. You get a little bit of Leonora Carrington's evil glint on your sleeve for your day."
Campbell and MacGreevy started Itchy Scratchy Patchy in 2015 with a line of six patches, a DIY reaction against the pared-down aesthetic dominant at the time that Campbell defined as "Céline minimalism," MacGreevy as "Kim Kardashian in tight beige" and "everyone slicking their hair back." When they noticed the patches sitting pristine in their packaging on friends' mantelpieces ("These are interesting people. If people like this don't know where to put a patch, it's obviously quite alarming," said MacGreevy), they expanded to embroidered clothing, including a collaboration with Levi's in 2017.
The label's marriage of utility with iconography means that the clothes aren't easily discarded—they pick up new memories (and holes, and stains, and patches) along the way. "You've gotta feel good, like you can get on with stuff, like your clothes don't hold you back, you can run for the bus you're not gonna fall over," MacGreevy said.
She added, "It's about busy women who have shit to do."