N. Hoolywood. Photograph courtesy of Black Frame.
At NYFW: Men's, a Corrective to "Everyone Dressing Like a Crazy Person"
Plus: the fanny pack gets a makeover as a corset.
N. Hoolywood. Photograph courtesy of Black Frame.
Are we in the midst of a radicality on par with the 1960s? "I believe we are," Christopher Bevans said Tuesday, after showing the Fall collection of his activewear label DYNE. "Listen to the political rhetoric being spewed," he said, referring to his use of Public Enemy's "Fight the Power. "Those brothers were making that music for a real reason. It still applies today."Bevans is a veteran of Sean John, Rocawear, and Nike, where he directed their "urban apparel" division. On Tuesday, he showed technically significant fabrications in slick shapes, like bonded nylon jackets and flak vests and plush down-alternative jackets—as if outfitting a very stylish, sustainability-conscious paramilitary unit. His models invoked the Black Panthers in berets, which are very popular this week, and rememerged to a coda of Hendrix's "The Star-Spangled Banner," at least the second time Hendrix has done heavy lifting this season.
Feng Chen Wang also has Nike cred. As part of her Fall 2018 collection, she debuted a Jordan 1 called "The Way Home," with those words raised on the heel as an updated chant for a globalized Dorothy Gale. An abstract idea of home pervaded—the runway was pocked with lumpy sculptures of what looked like white duvets molded into bathtubs and couches that recalled Claes Oldenburg's soft sculptures, or the artist Song Dong's installation "Waste Not," in which he displayed the full inventory of his childhood home in MoMA's atrium. This carried over into a shirt piled with more shirts, slumped knits, satin emergency blanket separates, and belted bubble down jackets, some with the numbers "239," the address of her own childhood home in Fujian, or, more concretely, the word "home" across the shoulders. It was wistful and warm, a designer comfortable to look backward for the way forward, and a happy reprieve from the unyielding horrors outside.
Earlier in the day, Elon Musk launched a 54 metric ton rocket into orbit, which is cool if you're into space and believe billionaire megalomaniacs have humanity's best interests in heart. At Death to Tennis, the news felt nearer to an end-of-days scenario, helped along by a pre-roll video of falling A-bombs spliced with historic runway shots and Diana Vreeland spinning into the void, likely aghast that she had been brought into all of this. Clearly it was all too much for the rapper Smokepurpp, who was sitting patiently in the front row and had to light a fat blunt (it seemed like he was lighting it more than strictly necessary, but then again, I'm not the one with a song called "Geek a Lot"). In any case, all this ambience was very distracting from the clothes, which were mostly admirable and navy with a jacquard floral print motif. There were also some notable utilitarian accessories, like a fanny pack taken to its logical end: cinched around the torso and tied in the back, like a corset. I personally am looking forward to seeing men try to wear a utility corset like a gun holster.
One of the day's highlights was the off-schedule debut collection of AGENT, the nascent label from Terrence Williams and Joshua Fronda, late of Creative Recreation and Clarks, respectively. Their clothes are tactile expressions of Japanese fabrics and Italian manufacturing (they linked up with the Italian factory that manufactures Margiela, among others, which helps), and a corrective, Fronda said, to "everyone dressing like a crazy person." Especially good were sumptuous thick-ribbed roll-necks and an excellent Harrington jacket with high pockets and a fuzzy, marine exterior, doubtless what the sprezzatura version of Cookie Monster would wear to take his Aperol spritz.
Fashion has been enamored with workwear for a few years, and there are a rapidly depleting number of shapes left to mine for authenticity. It helps when the source comes to you. Daisuke Obana's N.Hoolywood, long informed by a fondness for American heritage brands, showed in a space near the ascending Hudson Yards, which will eventually be Manhattan's next gold coast, but is for now a yawning mouth of a construction site. Besides an oversized trench coat that flirted with Absolute Unit territory, the sweatshirts, coveralls, and jackets felt dutiful where it could have easily slipped into Bob the Builder cosplay. Several pieces were stenciled with words like "Organize" (as in "unions") and "Obliterate" (as in "capitalism"). After the main line, a parade of actual metalworkers emerged in Obana's designs for Timberland PRO, who approached him to develop their global line of workwear, which will be worn by actual workers, who will actually work in them, and, perhaps, be inspired to seize the means of production.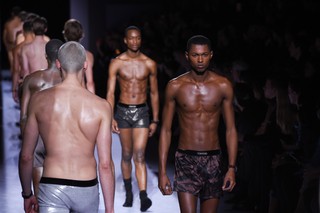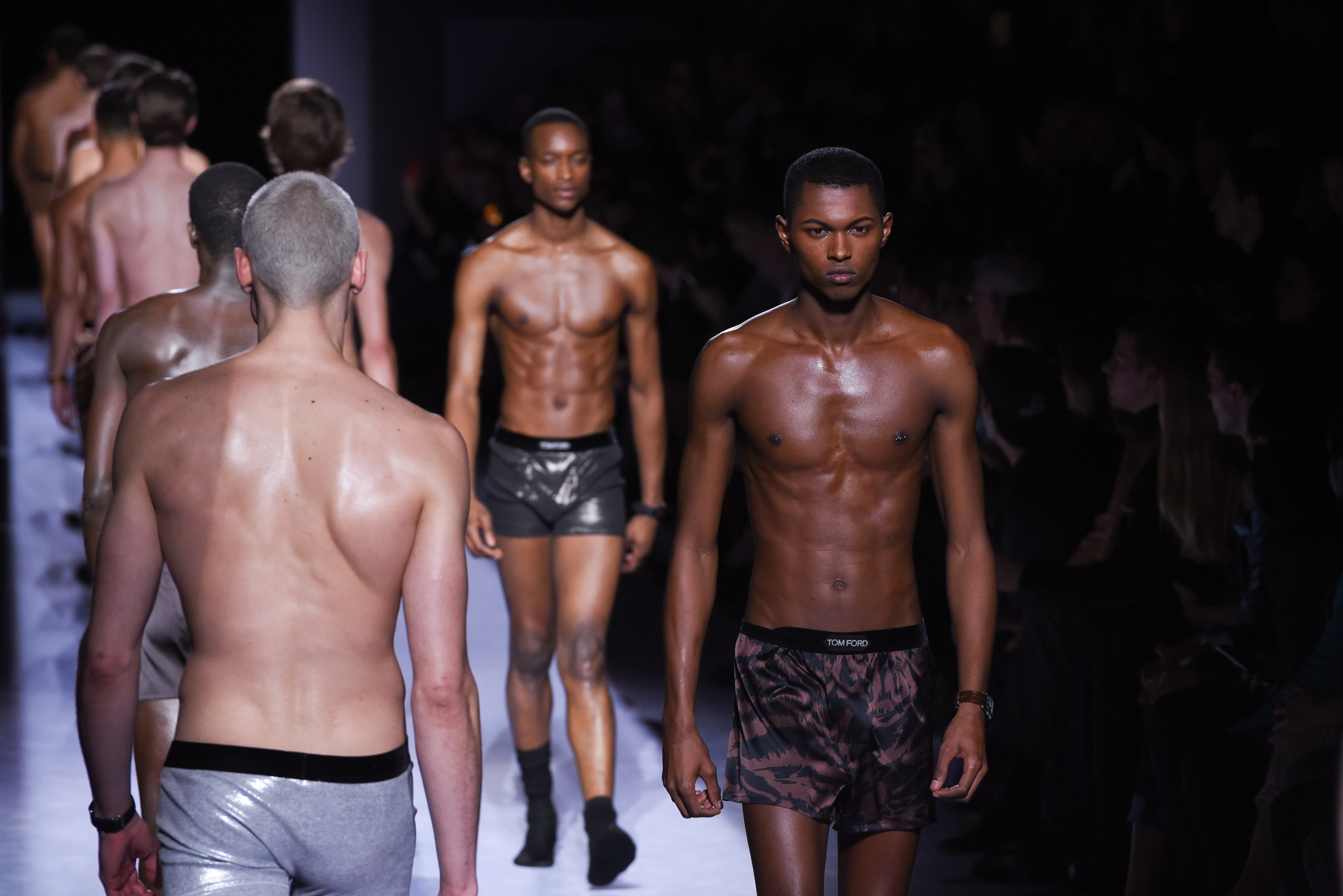 It's been ten years since Tom Ford started doing menswear, and we're all getting older. Ford was in his usual sexed-up mode, which meant his standard luxuriant tailoring, but also adding what he called casual wear, which for Ford means python-skin pants and leather motorcycle jackets the color of frosting. The certified Fashion Moment™ came at the end, in the form of a buffet of models emerging in nothing but socks and Ford's new underwear line in a range of flesh tones and, also, zebra prints. In interviews in advance of his show Tuesday night, Ford had been saying how great it is to cap off the last day of NYFW: M, blithely glossing over the full schedule of shows that would follow the next day. In the same interview, he professed he's now a vegan, though WWD called him out for recently eating donuts. Tom Ford: the man who can have his vegan lifestyle, and eat his donuts, too!