Still from Jacolby Satterwhite, BLESSED, 2018. Courtesy of Jacolby Satterwhite
Artist Jacolby Satterwhite's Hallucinatory 3-D Animations Need to Be Seen
The artist combines influences that range from BDSM sex culture to acid house music to the artwork of his late mother.
Still from Jacolby Satterwhite, BLESSED, 2018. Courtesy of Jacolby Satterwhite
Jacolby Satterwhite's dreamlike videoscapes explore queerness and corporeal identity by stitching together the physical and the digital. After four years of R&D, he's about to debut a new body of work that uses some of the thousands of drawings—and dozens of a capella recordings—that were left behind by his late mother, an artist who was diagnosed with schizophrenia. Satterwhite has produced an album, a set of 3-D digital animations, and a video that will appear in a series of exhibitions this year, beginning with a solo show at Gavin Brown's Enterprise.

GARAGE talked to the artist in his studio as he made some final edits to a video that will, after its debut in New York, be expanded and shown with LA's Moran Moran at Art Basel this June.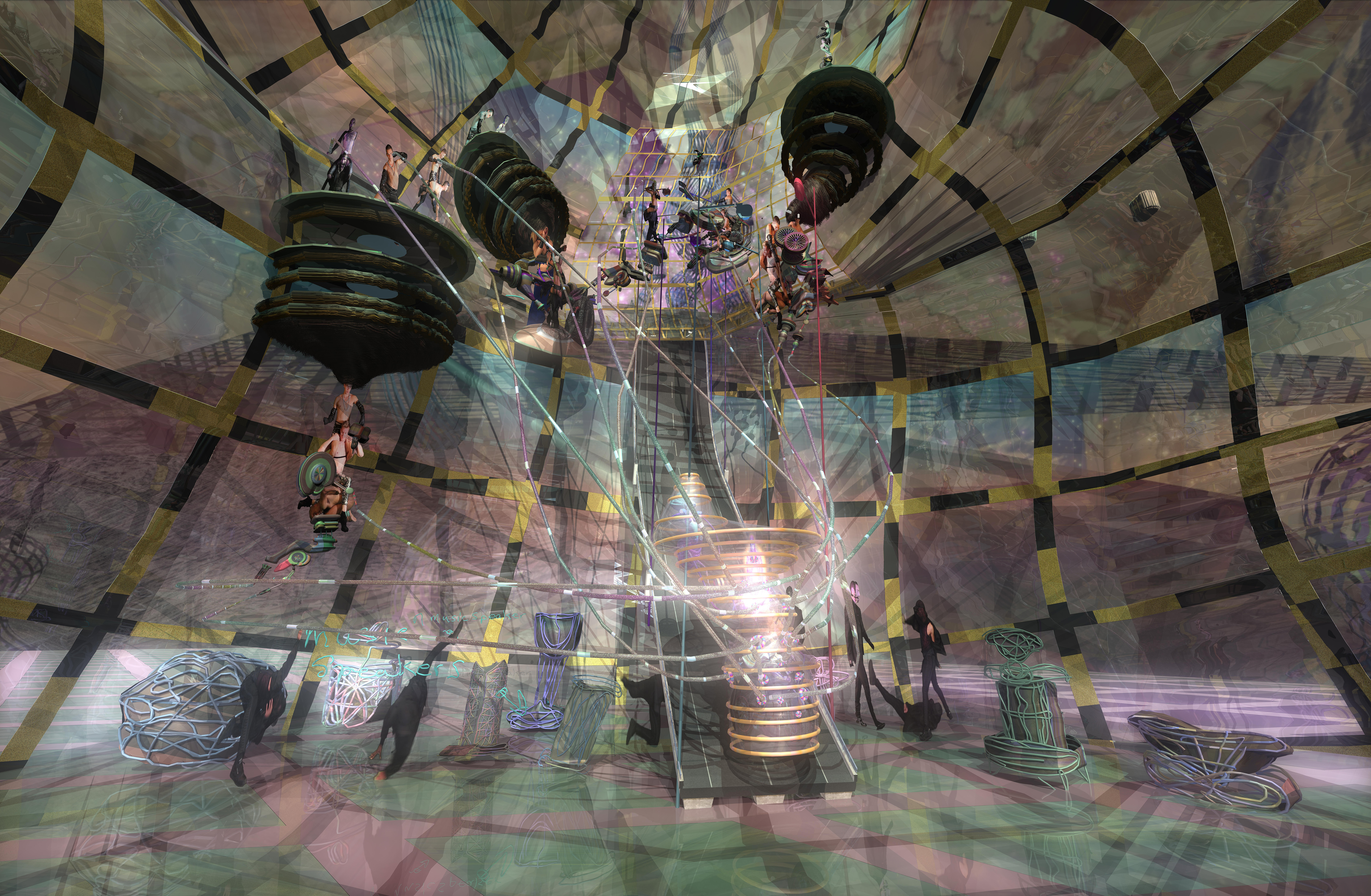 GARAGE: What are you working on?
Jacolby Satterwhite: I'm completing a video for my show that opens on Saturday at Gavin Brown's Enterprise. I'll be exhibiting a concept album that scores a 3-D animated film and a conceptual gift shop derived from my mother Patricia's drawings and a cappella song recordings. I collaborated with David Casavant to curate an interpretation of her drawings—she was an artist—as an actual store with affordable utilitarian objects (this being the initial purpose of the drawings, an entrepreneurial manifesto that she wanted realized in stores across the world). This body of work is something I've been aiming to complete since I started working in the medium of moving images and sound.
How did you bring her drawings into the digital realm?
I basically ignored the ways in which her schizophrenia affected her drawing and sound practice until I went to college, when I realized that her drawings were really sophisticated. They exhibited an amazing economy and an ingenious distribution of line and weight. Since then, I've traced hundreds of them and made them into 3-D animated objects that can be 3-D printed or inserted into virtual reality or 3-D digital landscapes. From there, I made my own landscape to dance and perform in. This hybridization of ideas allows me to construct compositions that emulate Hieronymus Bosch, Rubens, and Piero della Francesca. My mother also made songs, but at first I didn't know what to do with them because of my limited experience with sound. Developing an amazing friendship and working with Nick Weiss from Teengirl Fantasy was integral to my gaining confidence and sonic facility.

He's awesome.
Taking my mother's songs, Nick and I co-produced an album commissioned by San Francisco Museum of Modern Art. We've been working on it for three years and we're putting it out through my solo exhibition at Gavin Brown's Enterprise, and on their site. The album has 12 or 13 tracks and uses my mother's 155 a capellas, which she wrote and recorded in the mental hospital and at home with a tape recorder. They're sophisticated lyrically and align with the trends that were happening on Top 40 radio in the 1980s and '90s with a bit of folk and gospel. Overall, it's an eclectic, multi-genre record that spans from acid house to trip hop.
How does the music connect with the video?
It's an immersive, 3-D animated, choreographed visual album that scores a video. There are guest appearances in the video from Raul De Nieves, Dese Escobar, Lola Leon Ciccone, Eric Rutherford, Anne Slowey, Juliana Huxtable, Miami-based rapper Trina, and others. A lot of footage comes from studio collaborations with dancers and performers, like when Visionaire and Grindr commissioned me to create a relational aesthetics piece around my casting process. I recorded hours of inebriated transgressions performed by people I admire and am inspired by. It's a journal of the downtown scene manifesting its glory through my little camera.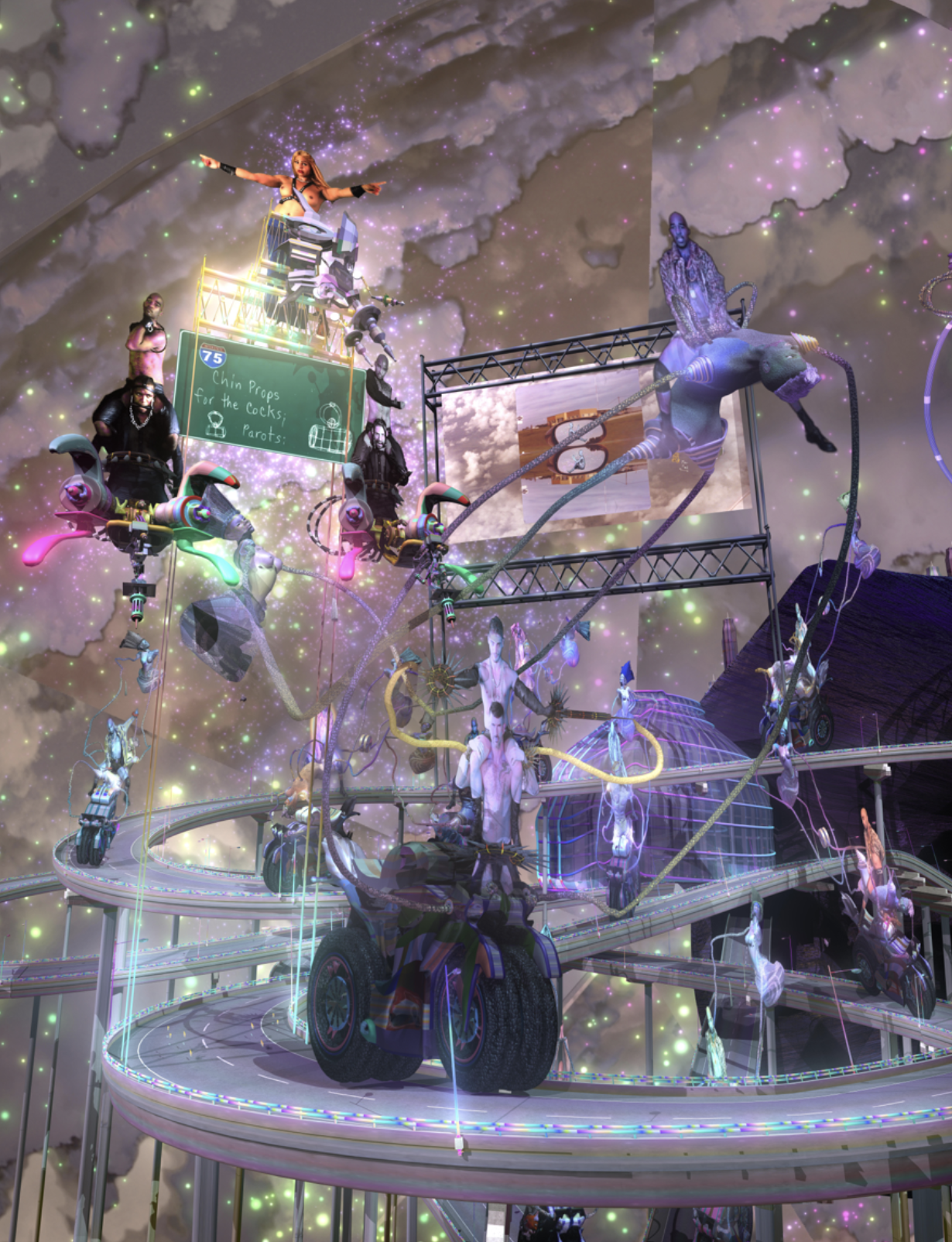 How did it feel to work with things that your mother made?
I trained in a rigorous way as an artist. I've been doing this so long that I have a very objective, removed approach to things. At the same time, I love my mother, and I love that collaboration has defined me. It's so ingrained in me, like breathing. However, it's just a peripheral archive that constellates with other performers, bodies of work, and influences. My strategy is to merge incongruent ideas and concepts, forcing them to find solidarity and create new forms.

Your mother's drawings sound exceptional.
I've curated her work; she is an artist in her own right and they're sophisticated. The Studio Museum in Harlem collected six of them. What are you showing with Moran Moran Gallery at Art Basel in June?
Broader extensions of the universe I've developed with my upcoming solo show at Gavin Brown's Enterprise.

Do you have a title for the work that opens this week?
Blessed Avenue.

B-L-E-S-S-E-D. And that's 2014 to 2018?
Just call it 2018.

Jacolby Satterwhite: Blessed Avenue opens at Gavin Brown's Enterprise on March 10 and remains on view through May 6.